AUTOMOTIVE INTERIOR LEATHER MARKET - KEY RESEARCH FINDINGS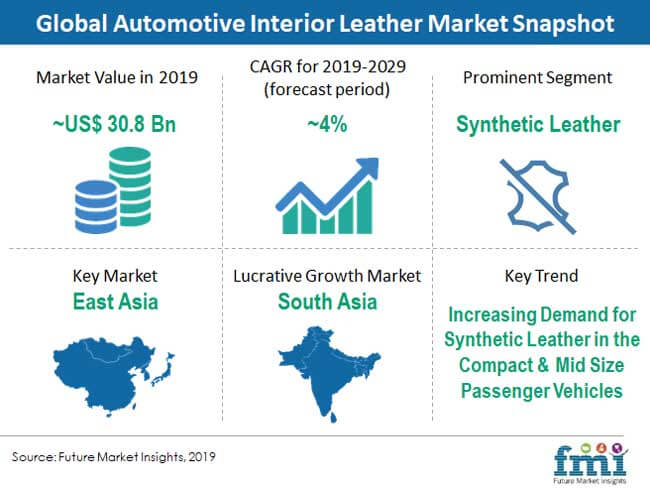 The global automotive interior leather market size in 2018 was valued at ~US$ 29.7 Bn.
The automotive interior leather market is expected to grow at a CAGR of ~4% during the forecast period of 2019-2029.
The synthetic leather segment is expected to remain the most preferred material segment in the automotive interior leather market.

The growth of this particular segment can be primarily attributed to the global growth of the automotive interior leather market.

Collectively, East Asia and North America are likely to account for half of the revenue shares in the automotive interior leather industry by the end of 2029.

The East Asia market will continue to be a prominent regional market for automotive interior leather manufacturers due to the increasing production and demand for passenger cars.

The passenger car segment is expected to remain as the prominent vehicle type, which creates significant growth opportunities for automotive interior leather market players.

The automotive industry has witnessed significant growth over the recent past. The increasing disposable income of middle class population increases the demand for passenger cars, which in turn, is expected to propel the demand for interior leather.
Noteworthy application potential of automotive interior leather has been identified in the wall upholstery.
KEY FACTORS SHAPING THE AUTOMOTIVE INTERIOR LEATHER MARKET
Rising Demand for High-quality Leather in Automotive Interiors
The increasing demand for high-quality, lightweight, and durable leather in automotive interiors, especially seats is compelling the use of synthetic leather. Automobile manufacturers are using synthetic leathers in vehicle interior parts such as steering wheels and door panels, owing to the rising consumer demand for aesthetic looks in automobiles.
Moreover, increasing consumer preference towards styling and comfort, along with the safety is expected to have a significant impact on the market growth. Many OEMs are gradually using genuine and synthetic leather in the interiors of luxury cars and other passenger vehicles such as SUVs and compact cars. Leather is extensively used in instrument panels, consoles, interior trim applications, brake handles, shift knobs & boots, and armrests.
Rising Demand for Fake/Synthetic Leather
With the increased disposable income of the middle and upper class population, the automation industry has experienced significant growth owing to the increased demand for light-weight and durable leathers in automotive interiors. Increasing consumer penetration towards comfort and aesthetic features in interiors is driving the growth of the automotive interior leather market. Furthermore, increased demand for cruelty-free products, is expected to upsurge the sales of synthetic leathers, and favorably impact the growth of the automotive interior leather market.
Increased Disposable Income of Middle Class Population
The automotive interior leather market is expected to generate significant growth during the forecast period. The increasing demand for climate-controlled automotive seats and other innovations in leather solutions is attracting a lot of consumers, which is estimated to fuel the sales of automotive interior leather in the forecast period.
Synthetic Leather as an Alternative to the Natural Leather in Passenger Vehicles
Synthetic leather give OEMs an option to customize automotive interiors due to its flexibility according to the consumers' requirements. Synthetic leather come in a broad range of colours, which gives aesthetic and luxurious appearance to the interiors. When compared to the natural or genuine leather, synthetic leather does not fade easily when exposed to sunlight over a longer period of time. Moreover, major vehicle owners find synthetic leather a better alternative to natural or genuine leather, owing to the relatively low price and aesthetic look.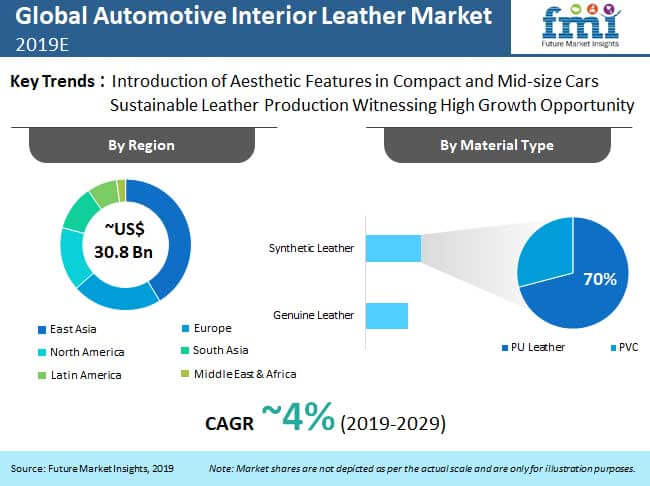 AUTOMOTIVE INTERIOR LEATHER MARKET STRUCTURE ANALYSIS
The global automotive interior leather market is a fairly consolidated market. Tier-1 players hold approximately ~50% of the share in the market.
Most of the key players sustain strategic focus on the development of new products and expansion of business in new regions.
Significant investment in developing new and durable products by companies is expected to exploit the automotive interior leather market growth prospects.

Key players in the automotive interior leather market such as Scottish Leather Group Limited, Wollsdorf Leder Schmidt & Co. Ges.m.b.H., Eagle Ottawa LLC, GST AutoLeather Inc., Bader GmbH & Co. KG, BOXMARK Leather GmbH & Co KG, Elmo Sweden AB, are developing new products and focusing on product innovations to sustain their positions in the market.

International and regional market players have extensive marketing network of branch, regional, and global offices across tier 1 and tier 2 cities, providing support to its customers.
Will Vinyl Take over Leather?
Though leather continues to reign supreme in the spectrum of automotive interiors, it takes a backseat when moral and ethical considerations enter the picture. Recently, use of leather for automotive interiors has been facing a strong backlash from growing animal welfare concerns, strongly backed by consumers shifting away from leather and leather-based products.
Consequently, the entry of viable alternatives, such as vinyl, is underlining that fact that non-leather materials can also excellently mimic the feel and appearance of leather. Additionally, vinyl's low maintenance and affordable price point play an important role in enhancing its visibility in the automotive interior materials space.
However, consumer sentiments considerably remain inclined towards leather, for its unmatched comfort and sophisticated aesthetic appeal. It is highly likely that vinyl will pose strong competition to leather banking on gradually developing proclivity for non-leather materials among consumers.
The possibility of vinyl completely outperforming leather, however, still remains uncertain. It would be interesting to see what new grades of automotive interior leather would make their debut in the coming years, which would help in underpinning the 'leather monopoly' in the automotive interior materials landscape.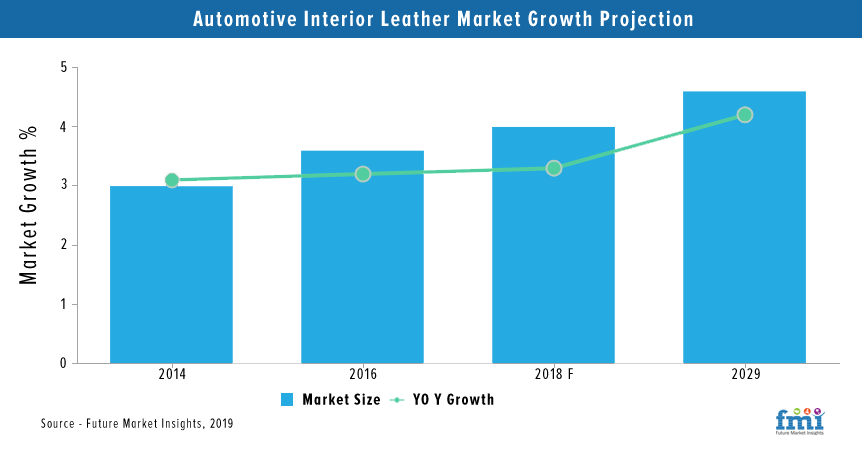 Lighter Weight, Heavier Impact - The Next Trend in Automotive Interior Leathers
Lightweight materials and designs have always managed to grab the attention of consumers in the global automotive space. The focus on resource efficiency has been, and will continue to work in favor of lightweight materials. As the trend of 'lightweighting' continues to spread its roots in the arena of automotive interiors, the demand for lightweight leather has revved up at a significant rate.
In addition, regulations and norms imposed by governments to incorporate lightweight materials is propelling the adoption of lightweight materials, with interior leather being no exception. However, high prices of lightweight leather will remain a significant challenge for manufacturers to generate the sales lift in price-sensitive regions.
Multifaceted Product Innovations for Successful Consumer Retention
Innovation and game-changing creativity remain in the manufacturer's arsenal to capture a major chunk of the market revenues. Several innovations have made their mark in the automotive interior leather market, wherein manufacturers have centered their focus on developing advanced leather grades aligning with dynamic consumer needs.
With 'chrome-free' emerging as the synonym of 'eco-friendly' among customers, manufacturers are focusing on offering chrome-free tanned leather with an objective of meeting customer expectations. Chrome-free leather remains a highly sought-after type for upholstery surfaces, as customers seek high-quality grades with an exceptional degree of exclusivity for interior upholstery.
Manufacturers are also focusing on the development of automotive interior leather grades that offer top-notch compatibility with electronic devices, in line with the shift of global automotive industry towards a 'smarter' future. Several smart functionalities, such as ambient lighting, sensors & switches, and heating systems, are being incorporated into automotive interior leather to not only fine-tune the interior appeal but also enhance the performance quotient.
Massive innovations in the automotive seating systems are resulting in persistent re-evaluation of materials used for seat covers. This, in turn, is placing high value on the roll-out of premium automotive interior leather grades supporting the advanced seating systems.
How Growth will Unfold
Given the proliferation of the automotive industry, automotive interior leather market will spectate several new innovations taking shape in the coming years. Consumer demand for performance-efficient and durable leather will continue to expand and manufacturers, in response to the same, will continue to implement consumer-centric strategies to render product developments.
The automotive leather market is witnessing a growing aversion to leather in varying colors and textures. On that account, manufacturers are focusing on commercialization of dyed leather with eye-catching prints and embossments.
Manufacturers are focusing on offering leather grades of exceptional quality, which would further contribute in enhancing the interior ambience. Customized leather remains a primary revenue generation point for manufacturers, wherein unique tailor-made leather grades are designed to evoke personality and inspire personalization. Manufacturers are vying to offer high-quality automotive leather at competitive prices, given that customer decisions remain predominantly governed by product prices.
Market participants are also participating in seminars and exhibitions for showcasing their products and this, in turn, also helps them in building a bigger network in the industry. In addition, the market players are also developing leather grades with VOC Controls (VC) technology, which in turn helps in significant reduction in emission of volatile organic compounds (VOCs).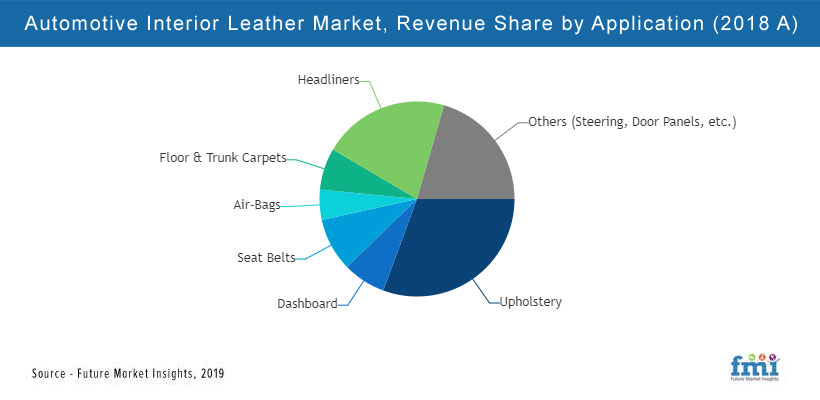 AUTOMOTIVE INTERIOR LEATHER MARKET TAXONOMY
The global automotive interior leather market is segmented in detail to cover every aspect of the market and present a complete market intelligence approach in front of the reader
By Material Type
Genuine leather
Synthetic leather
By Vehicle Type
Passenger Cars

Compact
Sub-Compact
Mid-size
Sedan
Luxury
Van

LCV
HCV
By Application
Upholstery
Dashboard
Seat belts
Air-bags
Floor & trunk carpets
Headliners
Others
By Region
North America
Latin America
Europe
South Asia
East Asia
Middle East & Africa
Need specific information?