Global Baby Cribs Market to Reach ~US$ 2,347.3 Mn by 2029
The global baby cribs market is projected to reach ~US$ 2,347.3 Mn by the end of 2029. The market was valued at ~US$ 1,351.8 Mn in 2019. If these figures hold true, the market will exhibit a CAGR of ~5.7% between 2019 and 2029. Regionally, North America is expected dominate the baby cribs market.
However, during the forecast period, East Asia will also exhibit more lucrative growth opportunities. In terms of product type, the baby cribs market can be classified into standard, portable, convertible, bassinet, travel, multifunctional, and others. The convertible segment holds the major market share as compared to other baby cribs.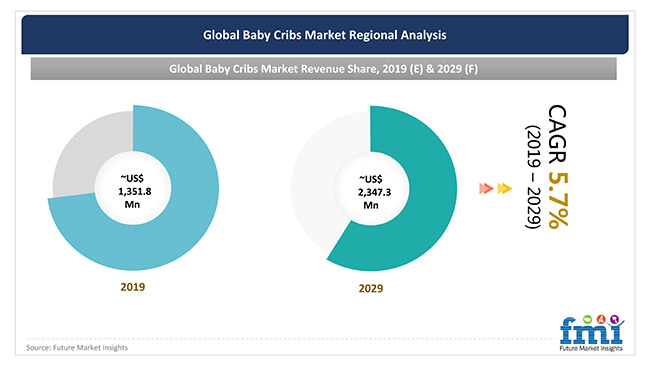 Multifunctional Baby Cribs is Catalysing Growth of Baby Cribs Market
The global baby cribs market is primarily dominated by convertible category as it is a cost effective alternative, offer high utility, and can be converted into multiple furniture such as chair, table, and sofa. The convertible segment holds the largest market share as compared to other products as they are mostly developed by using solid wood and can be converted into toddler bed.
However, the multifunctional segment is expected to expand at highest CAGR over the forecast period due to increasing demand for such products in smaller nursery and homes with limited space. Additionally, innovative multifunctional baby cribs incorporates one or more parts of furniture into its design along with shifting consumer focus towards environmental friendly and sustainable product to keep their baby healthy will fuel the global baby cribs market for further sales during the forecast.
How Growth will Unfold
Baby cribs market is primarily dominated by North America owing to high adoption of such products in the region along with growing demand for child safety products. Key companies in the baby cribs market are continuously seeking for sustainable certifications to compete in the market coupled with significantly increasing their market footprint on online platform to expand their customer base and product availability.
The East Asia market is expected to grow at the fastest CAGR in the global baby cribs market followed by South Asia attributed to expanding professional baby care centre in the developing countries which lead to increase in demand for baby cribs for their safety, comfort, and healthy sleep. Additionally, South Asia is anticipated to grow at significant CAGR during the forecast owing to rise in birth rate, growing trend of nuclear families, and expanding demand advanced baby safety products.
Moreover, rapidly gaining popularity of e-commerce platform among consumers to purchase products online due to availability of multiple brands, various discounts offered by third party e-commerce companies, and easy of convenience will also boost the baby cribs market to a new height. Online retailers are expected to grow with highest CAGR during the forecast and will contribute a significant revenue share to the global baby cribs market.
Key Segments
By Product Type
Standard
Portable
Convertible
Bassinet
Travel
Multifunctional
Others
By Sales Channel
Wholesalers/Distributors
Hypermarkets/Supermarkets
Multi-Brand Stores
Exclusive Stores
Independent Small Stores
Online Retailers
Other Sales Channels
By Material Type
Plastic
Metal
Wood
Others
By Price Range
Economy
Mid-Range
Premium
By Region
North America
Latin America
Europe
South Asia
East Asia
Oceania
Middle East and Africa (MEA)
Need specific information?