Manufacturers to Use Natural Ingredients in Baby Powder Production
The International Agency for Research on Cancer (IARC) have classified the use of talc-based baby powder on the genitals and buttocks as possibly carcinogenic to humans. The Center for Disease Control and Prevention, and the Occupational Safety and Health Administration cited that repeated inhalation of talc might harm the lungs. Moreover, the European Union has banned the use of talc in health and beauty products for health and safety concerns.
Thus, market players are shifting their focus from using talc to naturally derived ingredients in baby powder. Market players are formulating new products using natural ingredients such as corn-starch powders, arrowroot starch, oat flour, and baking soda as an alternative to talc as such natural ingredients contain larger particles and have no side effects.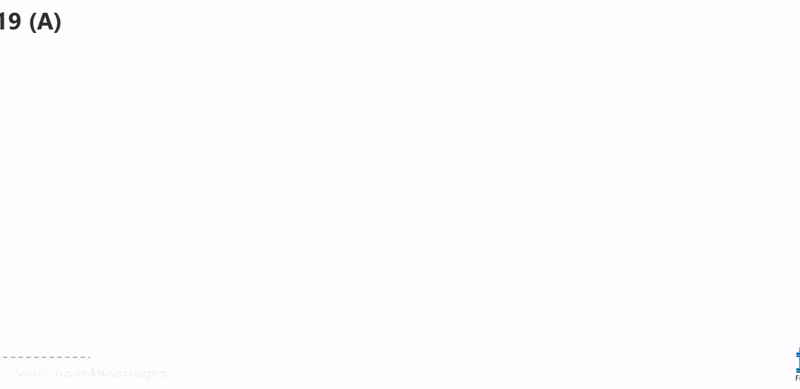 Opportunities Abound in Developing Regional Markets
Europe is expected to account for highest share in the global baby powder market by 2029. The baby powder market has a high penetration rate in high income countries in Europe and North America. These regions together are expected to account for the leading share in the global market. China has been a dominant country in the East Asia baby powder market in terms of consumption.
Countries such as China and India have high population out of which approximately 20% are babies. Thus, numerous opportunities could be created by general awareness of various products available in the market. This is helping the baby powder market to grow at a substantial rate over the forecast period.
Emerging Market Players to Focus on Creating Brand Loyalty
Emerging market players can focus on creating brand loyalty by personalizing their marketing strategies to align with consumer requirements. Consumers show a tendency to switch brands of baby powder owing to competitive prices and quality. Emerging players can gain profits by introducing high quality baby powder products at reasonable prices.
Positive word-of-mouth by consumers in the target region, discounts and gift cards for baby powder products are some strategies that can help to enhance the brand loyalty and increase sales. Moreover, baby powder brands recommended by a healthcare expert are perceived positively and witness higher sales.
How Growth will Unfold
The global baby powder market has a fragmented competition landscape, where majority of leading players maintain their strategic focus to market existing baby powder offerings. Companies are focusing on premium products as consumer spending on premium baby care products has increased, owing to growing concern for the hygiene of newborns.
Market players with organic certifications are expected to gain momentum and attract a large consumer base in a shorter time period. Steps taken to strengthen their distribution channels in emerging regions are anticipated to create significant expansion opportunities for players in the baby powder market.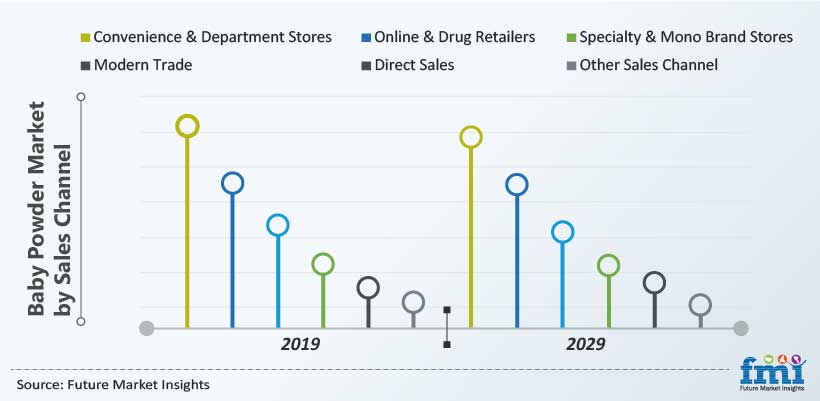 FREQUENTLY ASKED QUESTIONS ABOUT BABY POWDER MARKET
What are future prospects of the Baby Powder Market?
There will be steady growth in the demand for baby powder over the next decade, with market value increasing from US$ 879.7 Mn in 2019 at a CAGR of over 5% to reach US$ 1,449.2 Mn in 2029.
How innovative Baby Powders will create new value-adding business opportunities for market players?
The widespread awareness among consumers regarding ill-effects of talc-based baby powders has shifted the preferences of consumers towards natural and organic products. Thus, innovative baby powder product using organic ingredients is estimated to fuel the market growth substantially.
Which Baby Powder will have the largest sales growth in the next five years?
Mass produced baby powders is estimated to witness high sales in the next five years as affordability of product plays a major concern of parents while purchasing the product.
What revenues can market stakeholders derive from online sales over the next decade?
In 2019, Baby Powder worth over US$ 85.2 Mn were sold through e-commerce platforms, and the number is set to maintain an average 5.5% annual increase during the forecast period (2019-2029).
Which region is expected to lead global sales of Baby Powder?
In 2019, Europe region is anticipated to forefront of the global Baby Powder Market, with sales projected to grow at a CAGR of 5.2% during the predefined timeframe.
Which companies are investing significantly in the development of innovative products?
Investors continue to remain bullish in industry behemoths such as Kimberly-Clark Group, Artsana Group, Chattem, Inc., and Johnson & Johnson Company, bringing innovative products into the marketplace. It is pertinent to note that a large number of new players are also vying for a pie of this lucrative market.
BABY POWDER MARKET TAXONOMY
The global baby powder market is segmented in detail to cover every aspect of the market and present a complete market intelligence approach to readers.
Ingredient
Talc-based
Corn-starch-based
Price
Nature
Sales Channel
Direct Sales
Modern Trade
Convenience Stores
Departmental Stores
Specialty Stores
Mono Brand Stores
Online Retailers
Drug Stores
Other Sales Channels
Region
North America
Latin America
Europe
South Asia
East Asia
Oceania
Middle East and Africa
Need specific information?