Baby Diaper Market By Product Type (Training Pants/Underwear Pants, Swim Diaper, Preemie Diapers, Cloth Diapers), Style (Tape Style, Pant Style), Functionality (Disposable Diaper, Reusable Diaper) & Region – Forecast 2021 - 2031
Baby Diaper Market - Analysis, Outlook, Growth, Trends, Forecasts
May 2021

REP-GB-13125

300 pages
Baby Diaper Market Overview
[300 Pages Report] Baby Diaper Market is expected to reach a valuation of US$ 63.67 Bn by 2021. Baby diapers sales will rise consistently. FMI forecasts the market to exhibit 5% CAGR between 2021 and 2031
Currently, baby diaper manufacturers are increasing efforts to work with raw material suppliers in order to develop strategies to reduce supply chain risk associated with shortage of raw materials or risk of price volatility. Some of the leading players are endeavoring to lessen their dependency on sole source providers and raw material plants. Consequently, they are entering into annually or multi-year contracts with price stabilization provisions for their key raw materials.
Different clinical research studies have shown that enzymes in feces could be harmful for infant skin. Subsequently, organizations are developing diapers that allow feces to get into the core rather than on a superficial level. They are using new materials to make diapers that can absorb rapidly and offer dryness for an extensive stretch of time.
Thinner and lighter diapers are also being produced on a large scale that are skin-friendly as well as eco-friendly. This will help market players to increase their customer base and improve baby diaper sales in terms of both value and volume in the near future.
In its new study, ESOMAR-certified market research and consulting firm Future Market Insights (FMI) offers insights about key factors driving demand for baby diaper. The report tracks the global demand for baby diaper in 20+ high-growth markets, along with analyzing the impact COVID-19 has had on the baby diaper market.
How the Historic and Future Outlook of Baby Diaper Market Compares?
From 2016 to 2020, the baby diaper demand has reflected moderate growth of 3.5% CAGR. The baby diaper market expanded from a valuation of around US$ 53.15 Bn in 2016 to roughly US$ 60.87 Bn in 2020.
The Middle East & Africa (MEA) has high potential for growth owing to change in preferences in favor of baby diapers made from eco-friendly/plant-based materials. The demand for more sustainable options is increasing as consumers are aware of the harmful impacts of the chemicals in the baby care products on their baby's health as well as on the environment.
The change in consumer preference is steering transformation within the baby diapers market. An increasing number of companies have already begun using eco-friendly materials and shifting to more sustainable methods of production. This will have a positive impact on the market, helping it keep pace within dynamic consumer preference.
Regardless of relatively higher market infiltration and deteriorated growth for baby diapers in developed nations, emerging economies, explicitly across Africa and Asia, are anticipated to offer strong growth opportunities for baby diaper manufacturers in the foreseeable future. According to FMI's analysis, Baby Diaper sales would grow at a 5.0% CAGR between 2021 and 2031.
Will Advent of Smart Wearable Technology Drive Baby Diaper Sales?
With the advent of smart wearable devices, giant players in the market are focusing on manufacturing baby diapers incorporated with sensors, connected with mobile applications that will send alerts as sensors detect any leak. The technology will empower parents to take proper care of their babies. Other than taking effective care, smart baby diapers can also help in maintaining hygiene, in this manner forestalling any kind of skin infection.
Baby health is the fundamental aspect that needs to be taken care of. In this way, smart diapers with forthcoming advances, for instance, alert PLUS are utilized by different organizations. Smart Pee is one of the sensors which is utilized in infant's diapers for prior awareness, helps in monitoring constant humidity and temperature. Some of the leading companies are joining the bandwagon, which will continue enabling growth in the market.
For instance, in 2019, Pampers a subsidiary of The Procter & Gamble Company launched Lumi, which is a smart diaper that basically sends a pop-up message when the baby has a wet diaper. Lumi smart diaper has an in-built moisture strip with reusable sensor. At the point when the diaper is wet, the sensor alerts the Lumi mobile application through which the parents get an alert alarm to change the diaper.
Parents' Concern over Baby's Hygienic Driving Baby Diapers Sales
Parents' have been very conscious about their newborn babies' growth as well as hygiene. They want to make sure a healthy and clean environment to nurture their babies for which they have been taking extra-precautionary steps. Owing to this fact, various baby diaper manufacturers have become very particular about the materials used for production purposes and promoting the same effectively.
Trusted brand names are considered to be the most important factor in both developing and developed countries. As a result, in the global baby diaper market, the brand name always provides an assurance of quality. Taking this fact into accounts, there has been a rise in demand for baby diaper, especially from these concerned parents.
Manufacturers' Eye for Better Quality will Drive Sales
There have been growing concerns by today's parents over their baby's hygiene, for which manufacturers have been taking precautionary steps. As a result, they have been adopting various strategies to eliminate the use of potentially harmful materials from their production process.
For instance, companies such as The Procter & Gamble Co., Bumkins, Kimberly-Clark Corp., Cotton Babies Inc., The Honest Co., Hain Celestial Group, Parasol Co., Hello Bello, Johnson & Johnson Private Ltd., Bummis, Koninklijke Philips N.V., and many others focusing on to manufacturing baby diaper free of parabens fragrance, elemental chlorine, and clinically proven hypoallergenic which helps to avoid the skin rashes and other skin problems.
How will Recycling of Disposable Diapers Impact Companies?
With the ease of use and convenience offered, disposable diapers are increasingly preferred by most of the parents. However, environmental concerns posed by dumping of used diapers have been ringing the alarm bell. Consequently, some of the leading baby diaper manufacturers are adopting various initiatives which would help in the recycling process of disposable diapers.
Disposable diapers are lightweight and contain multilayer sheet which provides extra-layer protection and at the same time they are more convenient. Some of the leading brands focusing on product innovation to offer safer materials. They are using materials such as superabsorbent polymers that minimize the usage of chemicals and bulkier materials which have made baby diapers thinner and light in weight.
Is Neuromarketing a Favorable Strategy for the Market Players?
Diaper manufacturing companies are focusing on more sophisticated and aggressive marketing strategies. For instance, Procter & Gamble is adopting the strategy of connecting emotionally with the parents through the use of words that show genuine concern regarding comfort and protection. Companies are also ensuring that product packaging have an emotional connect, and use images that have a reassuring effect on the parents.
Neuromarketing is the application of neuroscience to marketing. Players such as The Procter & Gamble Co., Bumkins, Kimberly-Clark Corp., Cotton Babies Inc., The Honest Co., Hain Celestial Group, Parasol Co., Hello Bello, and Johnson & Johnson Private Ltd., among others are advertising their product in such a way that their message can effectively reach customers.
For instance Walmart's store brand diaper, Parent's Choice, focuses on three features on their packaging: "ultra-absorbent core"; "snug & comfy fit"; and "cottony soft outer cover". Target's store brand diaper, up & up, promotes "stretchable sides for excellent fit"; "thin, soft cloth-like comfort"; "hypoallergenic inner liner"; and "snug & cozy". Adoption of these strategies is likely to have a positive impact on the market.
What is the Impact of COVID-19 on Baby Diaper Market?
The COVID-19 pandemic is disproportionally affecting families who lack access to clean diapers and other fundamental necessities. Further, many individuals have lost their jobs or seen their incomes cut which has compelled lower & middle income families to go to charitable diaper banks.
In March 2020, Huggies subsidiary of Kimberly-Clark Corporation had donated five million diapers to the National Diaper Bank Network (NDBN) which would help the lower & middle income families who lack access to clean diapers and other essentials that babies and families need to thrive.
Will Declining Birth Rate Impact Baby Diapers Sales in Developed?
As per data from the World Bank, 2020 reflected a rate of birth of around 2.4 kids per woman, proceeding with a declining pattern since 1960. This has been a threat for the baby diaper industry. In addition, Europe is expected to be the first region to see long-term population decline, which is due to low fertility in Eastern Europe, especially in Russia. Population of the region is projected to decrease from 740 million to 732 million by 2050.
In developed nations, women are no longer dependent on men for social or economic security. Moreover, there are several factors such as rise in obesity, and increase in prevalence of sexually transmitted diseases, and other environmental factors that are impacting overall birth rates in developed regions. This is a primary factor expected to result in dwindling demand for baby diaper in the coming years.
Baby Diaper Market Country-wise Insights
What are the Factors Impacting the Baby Diaper Sales in the U.S.?
As per the National Diaper Bank Network, 1 out of 3 U.S. families need diaper. Approximately, 5.0 Mn kids in the U.S. aged three or under come from middle income or low-pay families. Infants, on a normal day, need approximately 12 diapers each day, with babies/toddlers needing around 8. Disposable diapers can cost up to US$ 85 – US$ 90 every month for each child. Further, no state or government baby safety program in the country has allotted reserves so far for the purchase of baby diapers.
Moreover, purchasing baby diapers from an independent store/convenience store instead of supermarket/hypermarket stores can considerably raise the month to month cost spend on baby diapers, which in turn impacting the demand for baby diaper in the US market.
What are the Aspects Affecting the Demand for Baby Diapers?
According to information from the Office of National Statistics, 2019 there were 640,370 live births in England and Wales in 2019, a drop of 2.5% since 2018, and 12.2% descend since 2012. The total fertility rate (TFR) of the U.K. diminished from 1.7 children per women in 2018 to 1.65 children per women in 2019.
TFR rates for women in aged under 30 years were at the lowest level since 1938. TFR diminished in all age groups with the exception of women who aged 40 years and above, among whom the rate increased to 16.5 births per 1,000 women.
The stillbirth rate for England tumbled to a record low for the third consecutive year to 3.8 stillbirths per 1,000 total births, while the stillbirth rate for Wales expanded from 4.4 to 4.6 stillbirths per 1,000 total births in 2019, possibly affecting the demand for baby diapers.
Will China Remain a Key Market for Baby Diapers?
As per the National Bureau of Statistics, China's birth rate has tumbled to its most minimal in the last seventy years, following the formation of the People's Republic of China. According to the report in 2019, the birth rate was 10.48 per 1,000. In 2019, new born babies dropped by approximately 580,000 to 14.65 million. In spite of this drop in the birth rate, a lower death rate has resulted in China.
In 2019 as per World Bank China's total population was 1,398.0 Mn and the country's one-child policy has largely appeared to have failed to reverse the country's falling birth rate. Thus, the vast population base ensure that the country is a key market for baby diapers through the projection period.
What are the Factors Driving Baby Diaper Sales in Australia?
Owing to high demand and spending capacity of buyers in Australia, various major players are focusinf on expanding their production capacity. Also, entry of new companies in various Asian countries is expected to increase the competition level, which will further affect product pricing. As a result of price war, cost of finished products is expected to be reduced by various players in the region in order to sustain in the competition.
What are the Opportunities for Baby Diaper Sales in South Africa?
Urbanization in major countries of Middle East and Africa (MEA) such as South Africa and Turkey is contributing to growth of various business sectors. There has been a dynamic shift in lifestyle and rise in purchasing power of the local population due to which people are accepting new technologies and Western living style.
The rapid increase in demand for baby diapers in the region is prompting baby diaper manufacturers to expand their production capacity. Ascend in production of baby care products is expected to fuel demand for baby diapers in Middle East and Africa (MEA) over the forecast period.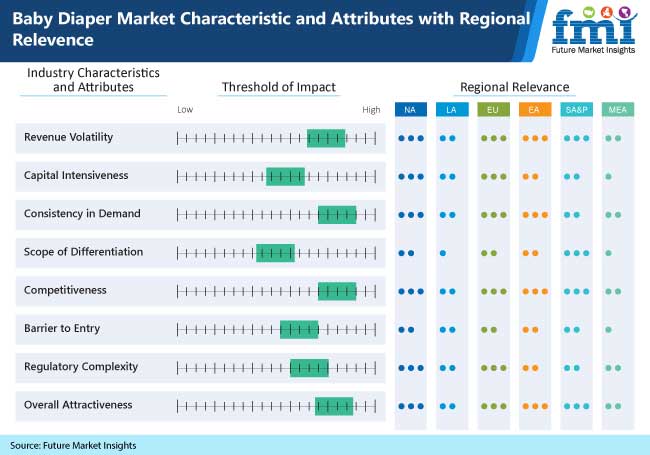 Baby Diaper Market Category-Wise Insights
Increasing Popularity of Pant Style Diapers
With the shift in the consumer preference pant style diapers are more in demand as they are easy to use, require no tacky material, and are comfortable. Nonwoven suppliers are likewise focusing on offering special fabric materials such as ultra-soft materials in pant style diaper with aesthetic properties and better performance which are highly sought-after among manufacturers.
Also, manufacturers are focusing on the inventory side by going into a multi-year supply contract for raw materials to be utilized in baby diapers. These developments are likely to create opportunities for sales of pant style diapers.
Online Retailers Emerging as Preferred Sales Channel
Over the past decade, internet penetration has been surging in major parts of the world. Consumers have become more and more dependable on various online channels to gain knowledge about the products as well as inculcating in various social activities as well. Sighting this critical factor, major baby diaper manufacturers have gone online to promote as well as selling their products in the global market.
The Procter & Gamble Co. went online by launching its own website "eStore site" which provides selling as well as detailed specifications of their product offerings. Likewise, Huggies Philippines launched the "Expert Panel" which is a new online consultation portal designed to guide new and experienced moms through their maternity and motherhood phase with expert advice on baby care. Hence, online channel has been one of the influential factors driving the demand for the baby diaper in the market.
Swim Diaper Emerges as Top-selling Product
The swim diaper segment was worth US$ 12,279.9 Mn out of 2020 and is anticipated to grow in the foreseeable future. Rising population, ease of use, and increase in awareness regards to infant wellbeing are a couple of components ventured to emphatically affect the worldwide baby diapers sales in coming forecast period.
Disposable Diapers Preferred for their Functionality
Amongst functionality type segments, disposable diaper segment is expected to dominate the market in terms of revenue share and expected to be valued at US$ 45,950.2 Mn by 2021 end. Further, reusable baby diapers are expected to register comparatively higher growth rate than disposable baby diaper over the forecast period owing to increase in awareness among individuals for utilizing the plant based/natural products for their infants.
Demand for Kids aged from 0 to 5 Months is High
With diaper utilization diminishing with age, diapers for infants aged 0 to 5 months will hold major market share, accounting to 35.2% in 2020. New-born babies between 0 to 5 months require 12 diapers every day, with babies aged above 24 months require around 8 diapers per day. Changes in stomach related tasks and efforts for potty training among older babies are anticipated to impact baby diaper demand in the coming forecast period.
Baby Diaper Market Competitive Landscape
The baby diaper companies are mainly focusing on marketing and product development on sustainability and the conservation of natural resources. They are using recycled and post-consumer materials in packaging, and bio-degradable, plant-based phosphate, and chlorine-free materials in their products to offer greater customer satisfaction.
Some of the leading companies operating in the baby diaper market are:
The Procter & Gamble Company
Unicharm Corporation
Ontex International N.V.
Bambo Nature USA,
PAUL HARTMANN AG,
C. R. Bard, Inc.
Aleva Naturals (D&G Laboratories Inc.)
B. Braun Melsungen AG
Babyganics (S.C. Johnson & Son Inc.)
Bambino Mio Ltd.
Bambo Nature USA (Abena Group)
The Honest Company Inc.
*The list is not exhaustive, and only for representational purposes. Full competitive intelligence with SWOT analysis available in the report.
Scope of the Report
Attribute

Details

Forecast Period

2021-2031

Historical Data Available for

2016-2020

Market Analysis

USD Million for value

Key Regions Covered

North America, Latin America, Europe, East Asia, South Asia, Oceania Middle East & Africa

Key Countries Covered

US, Canada, Brazil, Mexico, Germany, France, UK, Italy, Spain, Poland, Russia, China, Japan, South Korea, India, Thailand, Malaysia, Vietnam, Indonesia, Australia, New Zealand, GCC Countries, Turkey, Northern Africa, and South Africa.

Key Segments Covered

Product Type, Age, Style, Functionality, Sales Channel, and Region

Key Companies Profiled

Kimberly-Clark Corporation
Procter & Gamble Company
Kao Corporation
Unicharm Corporation
Cardinal Health Inc.
Ontex International N.V.
Bambo Nature USA,
PAUL HARTMANN AG,
C. R. Bard, Inc.
Aleva Naturals (D&G Laboratories Inc.)
B. Braun Melsungen AG
Babyganics (S.C. Johnson & Son Inc.)
Bambino Mio Ltd.
Bambo Nature USA (Abena Group)
The Honest Company Inc.
Bumkins
Charlie Banana USA LLC
ConvaTec Inc.
Earth's best (The Hain Celestial Group, Inc.)
ECOABLE
Seventh Generation, Inc.
Flip Diapers (Cotton Babies, Inc.)
Fujian Hengan Group Ltd.
Fujian Yifa Healthcare Products Co. Ltd.
GeffenBaby.com
GroVia
Hengan International Group
Medline Industries Inc.
Mega Soft (Fujian) Hygiene Products Co., Ltd.
Naty AB

Report Coverage

Market Forecast, brand share analysis, competition intelligence, DROT analysis, Market Dynamics and Challenges, Strategic Growth Initiatives

Customization & Pricing
World's Most Profilic Intelligence Engine
Get Access To The World's Largest Market Research Database.
Sign Up Now
Baby Diaper Market by Category
Product Type
Training Pants/Underwear Pants
Swim Diaper
Preemie Diapers
Cloth Diapers

Flat Cloth Diaper
Pre-Fold Cloth Diaper
Pocket Diaper
Fitted Cloth Diaper
Hybrid Cloth Diaper
All-in-One Diaper
Age
0 to 5 Months
5 to 8 Months
9 to 24 Months
Above 24 Months
Style
Functionality
Disposable Diaper
Reusable Diaper
Region
North America
Latin America
Europe
East Asia
South Asia
Oceania
Middle East and Africa (MEA)
Key Questions Answered in the Report
What is the baby diaper market size?
The global baby diaper market is expected to register a CAGR of 5.0% during the forecast period 2021-2031. As per FMI, the global baby diaper market valuation was around US$ 60.87 Bn in 2020.
Which is the most lucrative market for baby diaper?
Among regions, North America held the largest share in the global baby diaper market. The U.S. will account for the leading share of sales within the region.
Which are some of the leading companies in the Baby Diaper?
Some of the leading companies in baby diaper market are Kimberly-Clark Corporation, Procter & Gamble Company, Kao Corporation, Unicharm Corporation, Cardinal Health Inc., Ontex International N.V., Bambo Nature USA, PAUL HARTMANN AG, C. R. Bard, Inc., Aleva Naturals (D&G Laboratories Inc.), B. Braun Melsungen AG, Babyganics (S.C. Johnson & Son Inc.), Bambino Mio Ltd., Bambo Nature USA (Abena Group), The Honest Company Inc., Bumkins, Charlie Banana USA LLC, ConvaTec Inc., and Earth&rsq
Need specific information?
Our Clients