Introduction
Die casting services find application across several fields such as automotive sector, construction sector, industrial machinery, electrical and electronic appliances and others. Global die casting services market is driven by various factors. Some of the key factors are the expansion and growth of automotive sector and penetration of die casting parts in industrial machinery.
Furthermore, increasing use of die cast parts to reduce weight of the automobiles is also acting as one of the major drivers for the market. The global die cast services market is expected to record a CAGR of 9.7% between 2020 and 2030. With regulatory guidelines to cut down emissions and increase fuel efficiency of automobiles getting stricter by the day, the market is expected to reach market value of nearly US$ 90 Bn by the end of 2030.
However, Covid 19 pandemic and the resulting lockdown imposed by governments across the world has impacted the market in a significant way. With production halts and transport issues witnessed since March 2020, the market is still in the recovery phase.
Increasing Demand in Automobile Sector Remains Key Driver
Expanding automotive market is expected to fuel the demand for die casting services. Need for light weight parts in the automobiles is propelling growth of die cast services as they play a major role in reducing weight of automobile parts.
Furthermore, die cast process is perfect for mass production of complex metal parts and their rapid replication in thousands. This quality fits perfectly to the production segment of automotive industry which usually produces parts in huge numbers. Also, it is convenient as it requires no extra machining to replicate the parts which makes it appropriate for mass production.
The other mass production alternatives like plastic moldings are affected by heat and are vulnerable. Whereas die casting molds are much durable and accurate, hence more and more automobile industry players are using die casting for mass production of parts.
Diverse Applications Creating Scope for Expansion
Besides the automotive industry, die casting process is used by consumer electronics industry for manufacturing required parts. With a surge in spending power of consumers, the market for various consumer goods is seeing a positive ascent. This trend is boosting demand for die cast services as well to cater to the demand for lightweight consumer electronics.
Since these molds can be made into different textures and thinness, they are finding applications in production of a variety of mechanical, electrical, and electronic goods.
In the consumer electronics industry, die casting services are used in the mass production of precision parts. The ever growing demand of consumer electronic goods such as smartphones, cameras, artificial intelligence devices, and others is expected to propel growth witnessed in the market.
Experts also are favoring application since implementing the process helps in making the overall production more cost effective. For instance, the availability of smartphones at cheaper price across high potential markets has been encouraging manufacturing companies to invest in processes such as die castings services.
Other than consumer electronics and consumer goods sector, many other industries are active users of die casting services. One such prominent user is the engineering and construction sector. The sector has witnessed constant growth despite labor issues and cost pressures. Although it is facing difficulties due to the pandemic, but the fixed bid projects are still driving the market growth for die casting services.
Key Challenges
Die casting services find applications in many industries. Yet, they find some challenges which are affecting the rate of their adoption. The major one being that all available metal alloys cannot be used for die casting. This method is only possible for non-ferrous alloys.
Moreover, the method used for heavy die casting needs to be appropriate and highly precise. Issues in the supply of raw materials is another major challenge faced by the market. Apart from this, the volatility in the prices of raw materials also hampers the market growth.
Furthermore, the environmental regulations for metallurgy industry with respect to their emissions also act as barriers and may disrupt the market growth.
Work force is another challenge faced by die casting sector. As it is required to employ labors for functioning of the sector, situations like today, where pandemic has halted labor movement completely might have severe impact on the market.
Region Wise Analysis
North America Market
North America has the highest sales of passenger vehicles, led by countries such as the U.S. and Canada. This propels growth of die casting market in the region. Favorable policies undertaken by governments across the region also is expected to create scope for expansion.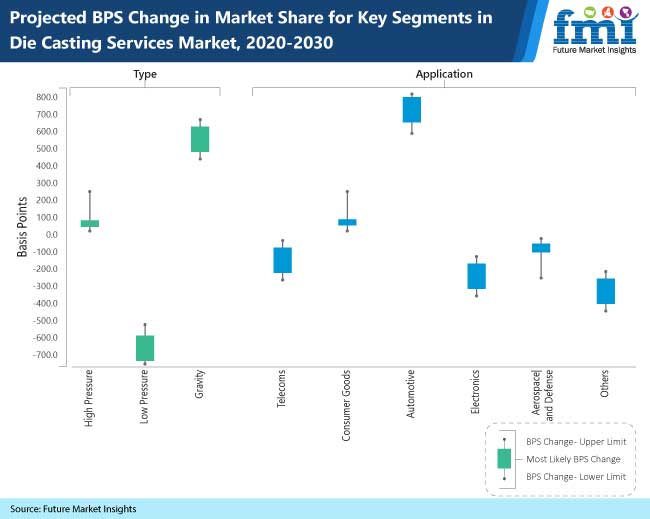 For instance, the North American Free Trade Agreement (NAFTA) was announced with the intent of achieving 54.5 mpg fuel efficiency in vehicles by 2025. This was to be done in two phases. Such policies have been compelling car makers to achieve at least 25% reduction in body weight of their vehicles, which in turn is expected to fuel the demand for die casting services.
North America die casting market, owing to the standards set by the American Society of Mechanical Engineers (ASME) and American National Standards Institute (ANSI) has highest quality industry standards in the world. Exhibiting a CAGR of 4.4 %, the region is expected to showcase steady growth through the forecast period 2020-2030.
Request a sample specific to North America market
Europe Market
Europe is showing a slow growth rate compared to several other regions in the global die casting services market. Europe is one of the worst hit regions among others by the pandemic. As a result, automobile sector along with construction, engineering, and energy sectors have suffered heavy losses.
However Germany is on a growth trajectory with respect to die casting industry among other European countries. With a double digit CAGR over the forecast period, the German light metal foundry dominates European market.
Request a sample specific to Europe market
East Asia Market
East Asia market is seeing accelerated growth in die casting services market. Developing countries in the region are contributing to this growth owing to increased demand for consumer goods and automobiles.
As the individual income in the developing region is increasing, it is contributing to market growth of various consumer goods and automotive which is boosting growth of die casting markets as a result.
Request a sample specific to East Asia market
Category-Wise Insights
High Pressure Die Casting Rules the Market
While gravity casting is predicted to exhibit higher growth rate than other types during the forecast period, yet high pressure casting will continue accounting for the leading share in the market.
High pressure casting die casts are predicted to cover nearly half of the market in the next decade owing to their higher production speeds in comparison to other types.
Also, the ability to produce specific dimensional flows contributes to the high demand for high pressure casting services.
Automotive Sector to Lead
Die casting caters to almost all production processes that create high-volume metal parts. A wide variety of manufacturing industries depend on die casting processes, especially automobile sector.
On a regular scale, die cast components are manufactured for production of parts such as wheels, blocks, cylinder heads, chassis, electronic connectors, valves among others.
High potential markets such as India are emerging as global hub for vehicles and consumer electronics. With growing income and changing lifestyle, the demand for these sectors is surging.
Competitive Landscape
The global die casting services market can be identified as a highly competitive one. With presence of several brands including both domestic and multinational players has rendered the market fragmented.
Focus of the companies mostly lies with changing industry dynamics they cater to. For instance, growing demand for light weight castings has pushed foundries to switch to aluminum die casts.
Apart from this, companies are looking for merger and acquisition as a strategy to expand their presence.
Furthermore, companies are making investments keeping the specific markets in mind.
For instance, Toshiba Machine Co., Ltd. has developed the new DC-KT series die casting machine to cater to South East Asian market and expand their footprint.
Report Scope
| | |
| --- | --- |
| Attribute | Details |
| Forecast Period | 2020-2030 |
| Historical Data Available for | 2015-2019 |
| Market Analysis | USD Million for value |
| Key Regions Covered | North America, Latin America, Europe, East Asia, South Asia, Oceania Middle East & Africa |
| Key Countries Covered | US, Canada, Germany, U.K., France, Italy, Spain, BENELUX, Russia, China, Japan, South Korea, Mexico, Brazil, Argentina, India, Thailand, Malaysia, Indonesia, Australia, New Zealand, GCC Countries, Turkey, Northern Africa, South Africa |
| Key Segments Covered | Product Type, Application, and Region |
| Key Companies Profiled | Spark Minda, Kuusakoski Group, NEMAK, Ryobi Limited, Linamar Corporation, Carlton Die Castings Ltd., Form Technologies, Handtmann Group of Companies, Koch Enterprises Ltd., Premier Die Casting Company, Expromet Technologies Global Limited, Elcee Group B.V., Dean Group of Companies, Koch Enterprises Inc., MRT Castings Ltd., JPM Group, NovaCast Limited, Arrow Butler Castings Ltd, Lupton & Place Ltd., and Harrisons Die Casting, among others. |
| Report Coverage | Market Forecast, brand share analysis, competition intelligence, DROT analysis, Market Dynamics and Challenges, Strategic Growth Initiatives |
| Customization & Pricing | |
Key Questions Answered by the Report
What is the growth rate of die casting services market?

The die casting services market is expected to grow at CAGR of 9.7% by the end of 2030.

What is the regional outlook for die casting services market?

North America is forecast to emerge dominant backed by favorable policies compelling the reduction of vehicle weight. East Asia too will emerge as a key market for die casting services.

Which are the top companies in global die casting services market?

Spark Minda, Kuusakoski Group, NEMAK, Ryobi Limited, Linamar Corporation, Carlton Die Castings Ltd., are among the leading players operating in the market.

Which is the most lucrative segment in terms of product type in the die casting services market?

High pressure die casting is the most lucrative segment. Over the forecast period, however, the gravity segment is likely to exhibit higher rate of growth.

What are the various application areas in the die casting services?

Telecom, consumer goods, automotive, electronics, aerospace and defense, and others are key segments in terms of application. Of these, the automotive sector is likely to remain dominant through the forecast period.
Key Segments
Product Type
High Pressure Casting
Low Pressure Casting
Gravity Casting
Application
Telecom
Consumer Goods
Automotive
Electronics
Aerospace and Defense
Other Applications
Regional Outlook
North America (U.S., Canada)
Latin America (Mexico, Brazil, Argentina, Rest of LATAM)
Europe (Germany, U.K., France, Italy, Spain, BENELUX, Russia, Rest of Europe)
Middle East and Africa (GCC Countries, Turkey, Northern Africa, South Africa)
East Asia (China, Japan, South Korea)
South Asia (India, Thailand, Malaysia, Indonesia)
Oceania (Australia, New Zealand)
Need specific information?