Plastic Dielectric Films Market - Key Research Findings
Global plastic dielectric films market is expected to close in on revenues worth US$ 1 billion in 2019
The plastic dielectric films market is expected to register a CAGR of 4.1% CAGR through 2029.
The global electrical & electronics industry was valued at around US$ 1.87 trillion in 2017.

The increase in demand for electronic products such as smartphones, tablets, and PCs has increased in the past few years which drives the market for plastic dielectric films.

East Asia and Europe will remain the most lucrative regions for growth of the plastic dielectric films market.

The presence of large number of established as well as local electrical & electronics equipment manufacturers in these regions is a key factor underpinning their relative lucrativeness in the plastic dielectric films market.

The plastic dielectric films market in South Asia will witness significant growth over the period of forecast.

The plastic dielectric films market in the South Asian region is fragmented in nature with the presence of medium-to-large local players in the market.
OEMs and electronic manufacturing service providers are looking to move their production sites to alternate locations such as India, Indonesia, Vietnam, and Malaysia on account of the cost optimization, convenient raw material supply, and low labor costs.

The AC film capacitor continues to remain sought-after in the plastic dielectric films market.

The demand for AC film capacitors is rising in industrial manufacturing and power utilities. The AC film capacitor sales are expected to record a CAGR of nearly 4% through 2029.
Top 3 Factors Shaping the Plastic Dielectric Films Market
Film Capacitors Sought-After in Light of Their Relatively Greater Beneficial Value

Film capacitors are widely preferred over other capacitor types, such as electrolytic capacitors and ceramic capacitors, owing to numerous advantages such as affordability, longer shelf & service life, and high precision capacitance values.
The plastic dielectric film that is used to manufacture film capacitors is extremely thin with its thickness being under one micrometer. Typical film capacitors have capacitance values ranging from 1nF to 30microF and voltage range from 50V to as high as 2kV.

Growing Preference for Film Capacitors to Uphold Growth of the Plastic Dielectric Films Market

Achieving energy efficiency is the main focus of manufacturers in the electronic & electrical industry. Technological developments in plastic film capacitors are expected to increase their demand in military and defense applications, high voltage power transmission, oil & gas, and medical industries. Plastic film capacitors such as AC & DC film capacitors made from polytetrafluoroethylene (PTFE), polyphylene sulphide (PPS), and polyethylene naphthalate (PEN), are expected to impart self-healing and help increase the life and durability of film capacitors.
The demand for capacitors worldwide is expected to witness strong growth in the coming years owing to the increasing significance of capacitors with growing demand for consumer electronics worldwide.
The plastic dielectric films market is primarily driven by the ever-increasing demand for low-cost and effective film capacitors. The AC film capacitors market is expected to grow significantly to bring in over US$ 600 Mn revenues in 2020.

Renewable energy systems to create enormous growth opportunities for plastic dielectric films

Use of solar energy as a renewable power generation source is increasing across the globe. This, in turn, has created lucrative growth opportunities for the plastic dielectric films market players.
It is witnessed that the plastic dielectric films are gaining widespread popularity for use in renewable energy systems, such as solar and wind power.
There are a number of similarities between circuits found in solar and wind power systems. This alludes significant demand prospects for plastic dielectric films for application in renewable energy systems in the near future.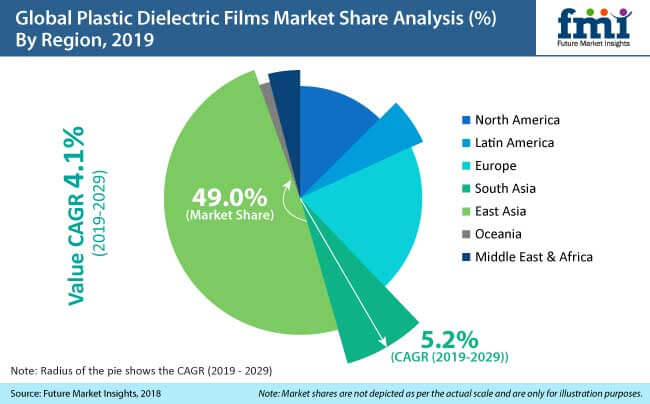 Plastic Dielectric Films Market Structure Analysis
The global plastic dielectric films market represents a fragmented competitive landscape.
Leading players operating in the plastic dielectric films market include Treofan Group, Toray Plastics America, Bollore Group, etc.
While most of the key players maintain a strategic focus on North American and Western European plastic dielectric films market, the report states that technology assessment will be an important developmental strategy for the market players.
Leading electronic & electrical equipment manufacturers are concentrating on technological developments, thereby increasing the demand for plastic dielectric films.
European plastic dielectric films manufacturers such as Steiner GmbH & CO. KG and Kopafilm Elektrofolien GmbH, are some large market players contributing significantly towards the growth of the plastic dielectric films market.
Need specific information?