An Incisive, In-depth Analysis on the Digital Writing Instruments Market
This study offers a comprehensive, 360 degree analysis on the Digital Writing Instruments market, bringing to fore insights that can help stakeholders identify the opportunities as well as challenges. It tracks the global Digital Writing Instruments market across key regions, and offers in-depth commentary and accurate quantitative insights. The study also includes incisive competitive landscape analysis, and provides key recommendations to market players on winning imperatives and successful strategies.
COVID -19 : Impact Analysis
Request the coronavirus impact analysis across industries and markets
Request Covid -19 Impact
Digital pens and pencils to stay lucrative throughout the forecast period
As technological advancements are taking place, there is a visible increase in the demand for different digital writing instruments. People are using digital writing instruments to operate several gadgets, be it PC, laptop, or smartphones. There are mainly two types of instruments available to people, namely, digital pens and digital stylus. A digital pen is barely bigger than a stylus, supplies extra performance and features than the latter, and includes a digital eraser, smart camera, internal memory, and programmable buttons. Most digital pens, often simply called pens, are pressure-sensitive. A digital pen can be integrated with a smart writing system to recognize individual pages, different paper tablets, and specific times and dates. In some cases, a digital pen can also be used as a multifunctional scanning pen by text readers.
A digital stylus is generally smaller and much thinner than a digital pen, because it contains no internal electronics. A stylus is generally used to tap, write, and draw on touchscreen devices, with features including precision accuracy, pressure sensing, and palm rejection. Moreover, a digital stylus is a small metal or plastic device that looks like a tiny ink pen, but uses pressure on input screens such as tablets, smartphones, notebooks, and PDA (personal digital assistant) devices. Majorly, a stylus is primarily used to input and manipulate information on a PDA device. Among these two, digital pens and pencils are ahead of digital stylus in terms of both market size and growth rate. Digital pencil and pens segment is expected to reach a market size of over US$ 1,400 Mn by the end of 2027, growing at a CAGR of 9.7% during the forecast period.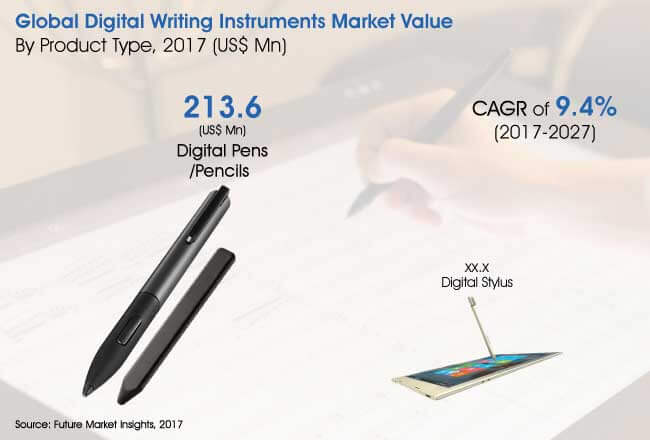 Digital pens and pencils to be in high demand mostly for smartphones
The smartphones market is rising at a significant rate. Advanced smartphones are available with new and innovative features, which is expected to increase the demand for digital pens and pencils. Advanced electronic devices, including smartphones and tablets, are gradually gaining traction among young population who are using digital writing instruments for sketching, learning, scanning, etc., in smartphones and tablets. This trend is expected to have a positive effect on the growth of the digital writing instruments market. There's also a rise in the import of electronic goods, due to the rise in its demand. Companies are focusing on research and development of computing and electronic devices, with the objective to improve product life cycles and gain a competitive edge in the market. But as the production cost of these products is not affordable for many companies, manufacturers and distributors are focusing on manufacturing and importing smartphones, tablets, laptops/notebooks, computer peripherals, and other electronic accessories from other regions, or assembling the components that are manufactured worldwide. Along with import of these products, the demand for digital writing instruments is expected to rise in the coming years.
The demand for digital writing instruments can be hindered by high import taxes
As sellers are importing new and advanced digital products like writing instruments in order to meet rising demands, they are also expected to face restrictions like high import taxes. Due to high import taxes on consumer electronic devices such as digital pens, styli, e-Book readers, smartphones, tablets, notebooks, etc., the prices of these products rise and price conscious consumers find it difficult to purchase these products. High price has always been a major concern for consumers and the factor is expected to adversely affect the growth of digital writing instruments market over the forecast period.
The comprehensive research report on digital writing instruments market by Future Market Insights supports the reader with assistance in slating and accumulating all possible strategies based on valuable insights in order to maintain the correct tempo with the changing dynamics of the market in the present as well as few years down the line.
Global view of the market in a nutshell
Global digital writing instruments market research report focuses on several trends, drivers, restraints and opportunities across important regions in the globe. This provides a global view of the market covering all key areas thus putting forth an all-inclusive market picture in front of the reader. This research report is expected to support the reader to get an in-depth market understanding and assess various regions with optimum potential in order to slate informed decisions, devise strategies and execute them to achieve an edge over the competition. Also, the research report excludes biasness giving a more realistic angle to the market insights and statistics.
Market Taxonomy
Weighted market segmentation is essential to garner key insights on each and every aspect. Below is a detailed market taxonomy covering various segments of the global digital writing instruments market.
By Country

By Product Type

By Device Compatibility

By Application

By Distribution Channel

North America

Latin America

Western Europe

Eastern Europe

APEJ

Japan

MEA

Digital Pens/Pencils

Digital Styli

PCs/Laptops

Tablets

Smartphones

Digital Scanning

Digital Learning

Art & Design

Gesture Recognition

Others
A "one of its kind" research methodology
Credibility of the researched data and statistics lies in the uniqueness of the research methodology which ensures higher accuracy. In depth assessment of the global digital writing instruments market is underlined by an extensive research process which includes primary and secondary research to glean relevant market statistics. The data collected undergoes several funnels of validation and re-examination at each step, as the research progresses. This ensures delivering value with data having higher degree of accuracy. The expert opinions of the market observers and the domain experts is extrapolated and triangulation of these enables the analysts to arrive at a much accurate global market representation. Each data point can be used as a drinkable asset as it represents higher precision thus emphasizing segment's future.
Complete intelligence package
The analytical research report on global digital writing instruments market is a complete package that includes key insights on the key players operating in the market. The chapter on competitive scenario involves the strategies applied by the key players, their product portfolios, their innovations, developments and product evolutions, their area wise spread and future expansion plans, the mergers and acquisitions taken place, the market shares and revenues of these tier players, financials, key personnel, etc. This intelligence dashboard completes with the inclusion of the analyses of the various aspects of the key competition in the market, how they are shaping the market along with the market dynamics.
Actionable Insights – true value addition to the existing research acumen
The extensive research report on global digital writing instruments market provides valuable insights with weighted analysis. Every organization has its own integral research team, which strives to gather sufficient research data of the market. Future Market Insights aims at doing all the heavy lifting by providing unbiased insights that can be actioned by the reader's internal research team and supporting in achieving their research milestones.
Harish Tiwari
Global Head - Business Development
Akshay Godge
Client Partner - Global Business Development
CASE STUDIES
See how our work makes an impact.
At FMI, we design strategies that are adaptive, impactful, and implementable.