Introduction
Dimethylolpropionic acid is a free flowing white crystalline solid consisting of one tertiary carboxylic group and two hydroxyl groups. The carboxylic acid group is less reactive and hence, DMPA act as a diol. The free acid group promotes resin water solubility, eases the introduction of a polar group in order to improve coating adhesion and synthetic fibre dye receptivity. In addition, the free acid group also increases the alkali solubility of deposited films, which finds numerous applications in processing of water soluble resins.
The key raw materials for producing DMPA are formaldehyde and propionaldehyde. DMPA is most widely used in Polyurethane Dispersions (PUDs) in order to improve hydrophilic properties of polyurethane polymer. PUDs is further used in applications such as adhesives, glass fibre sizing, automotive topcoats, wood finishing and other such applications. In resin coating application, DMPA is used in water soluble alkyd resins and polyester resins for improved hydrolytic stability, minimal coupling solvent.
DMPA improves early water spot resistance in air dried resins. In powder coatings application, DMPA is used in epoxy-polyester systems to improve gloss, impact resistance and flow properties and flexibility of coatings. Usage of DMPA in electrodeposition coatings improves the cure response and enables the resin to be water soluble. Overall revenue of the powder coating market is witnessing substantial growth. Appliances industry is the foremost end-user of powder coating, accounting for over 20% share.
The automobile industry is the fastest growing end-user of powder coating, owing to which demand for powder coating is projected to increase at a CAGR of 6.5% during the forecast period. This in turn is expected to fuel demand for DMPA. Increasing urbanisation, changing lifestyles and growing building and construction industry is bolstering growth of the global polyester resin market. The global polyester resin market recorded revenue of US$ 10.98 Bn in 2014, which is anticipated to increase at a CAGR of 7.3% during the forecast period.
Availability of large number of substitutes for DMPA such as TMP, TME and DMBA are available at a lower cost and thus pose a threat to growth of the global DMPA market. DMBA holds one tertiary carboxylic acid group and two reactive hydroxyl groups, which is similar to DMPA. Over the past few years, penetration of DMBA in the polyurethane dispersion industry has increased at a faster rate in comparison to DMPA. This continues to negatively impact demand for DMPA, prompting some manufacturers globally to shut down plants.
Drivers & Trends
Growing polyurethane dispersion industry, especially in developing economies, coupled with intensifying penetration of powder coatings in the automobile industry is fuelling demand for DMPA. Demand for DMPA is also driven by the substantial increase in application in polyurethane dispersions, primarily in Asia Pacific Excluding Japan (APEJ).
Also, increasing application of powder coatings in the automobile industry and increasing investments in the polyesters resins market is driving growth of the global DMPA market.
DMPA is primarily used in the manufacture of polyurethane dispersions and resins. However, it also finds application in the production of various products such as printing inks and photographic chemicals. Over the past two years, demand for these products has increased substantially across the globe. This in turn is likely to fuel growth of the global DMPA market in the near future
Analysis by Geography
Geographically, the global Dimethylolpropionic Acid (DMPA) market is segmented into seven regions: North America, Eastern Europe, Western Europe, Asia Pacific Excluding Japan (APEJ), Middle East and Africa (MEA), Latin America and Japan, of which the most prominent regional markets are Western Europe and APEJ, which together constituted around 58.4% of the revenue in 2014.
APEJ market is expected to remain dominant in the global DMPA market throughout forecast period, 2014–2020, owing to increasing consumption in the concerned region. MEA region is expected to witness a moderate increase in Y-o-Y growth rate over the forecast period. Increased investments in the chemicals and petrochemicals industry is also expected to contribute to growth of the DMPA market in the region.
The market in the North America is expected to account for US$ 14.0 Mn by 2020 end, from US$ 9.1 Mn in 2013, expanding at a CAGR of 6.8% over the forecast period. Demand for DMPA in Latin America is expected to increase significantly due to increasing applications in protective coatings, wherein PUDs and resins are used. Demand for DMPA from developed countries in Western Europe such as Germany, Italy, France and the U.K. was second highest as compared to countries in other regions in 2014.
Europe was second largest in terms of manufacturing capacity of polyurethane dispersions, wherein Western European countries accounted for higher manufacturing capacity as compared to Eastern European countries in 2014. Owing to increased production of PUDs, demand for DMPA was high in Western Europe.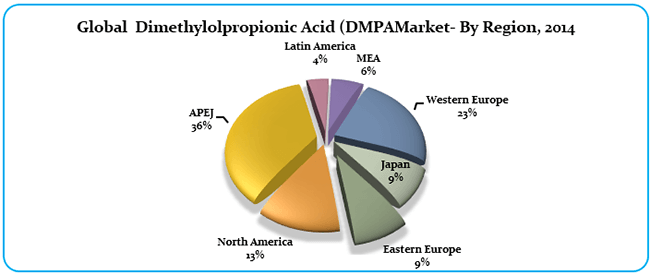 Key Segment
By Applications
Adhesives
Glass Fibre Sizing
Automotive Topcoats
Wood Finishing
Other Such Applications
By Product Type
Polyurethane Dispersions
Resins
Powder Coatings
Electrodeposition Coatings
By Regions
Eastern Europe
Western Europe
North America
Apej
Japan
Latin America
Mea
Need specific information?