Disposable Plastic Pallet Market
Market Insights on Disposable Plastic Pallet covering sales outlook, demand forecast & up-to-date key trends
Disposable Plastic Pallet Market: Global Industry Analysis 2013 - 2017 and Opportunity Assessment; 2018 - 2028
Lower initial investments costs are expected to skyrocket the sales of disposable plastic pallets
A disposable plastic pallet is a less expensive alternative to a wooden pallet. Disposable plastic pallets are less expensive than plastic and timber pallets because they are more resistant to deterioration. Makers of disposable plastic pallets seek lighter pallets for shipments. This lowers the amount or extent of wear that occurs on the equipment throughout transit, as well as the price of shipment or transportation. The lightweight design of disposable plastic pallets increases container load capacity.
These disposable plastic pallets reduce costs connected with floor space, manpower, load weight, and sanitization, as well as help to reduce shipment expenses and save time. Furthermore, factors such as lower product rupture due to pallet damage, lower cleaning expenses, lower repacking costs, as well as a problem-free replaceable system all encourage the increased use of disposable plastic pallets in the transportation sector of multiple industries such as pharmaceutical, grocery, and automotive. Since there are no nails, splinters, or sharp edges on disposable plastic pallets, they are safe and easy to use. It also eliminates timber as a source of contamination in food-grade vegetation.
Plastic pallets are used for several journeys rather than being discarded after just a single use, reducing packaging waste generated by landfills and hence making them extremely sustainable, although they are composed of non-biodegradable materials. Growing government emphasis on recycling and reusing packaging items, combined with increased consumer environmental consciousness, is likely to support market expansion.
According to the future Market Insights research, the most important factor to consider when choosing a pallet material, particularly in the food and beverages as well as pharmaceutical industries, is whether the material is free of contamination. For instance, wooden pallets are a breeding ground for bugs, bacteria, and fungi, and their splinters or projecting nails can damage or interfere with the package. As a result of the aforementioned problems associated with wood pallets, plastic pallets have been developed. Such factors have been propelling the growth of disposable plastic pallets during the forecast period.
Region-wise, Asia Pacific dominated the market in 2021, accounting for more than 33% of annual revenues, and is expected to grow at the quickest CAGR from 2022 to 2032. Rapid urbanization and industrialization in the region as well as the exponential rise of e-commerce are two significant drivers driving the region's business growth throughout the forecast period. North America has been the second-largest sector in 2021 and is predicted to grow at a 6.1% CAGR from 2022 to 2032. Advantageous trade agreements, including the T-MEC among Canada, the United States, and Mexico, are likely to promote manufacturing operations in the region, driving the North American market.
Disposable plastic pallet is an economical alternative to wooden pallet. Disposable plastic pallet are cost effective compared to plastic pallet and wooden pallet, as they are resistant and durable to damage. Manufacturers of disposable plastic pallet are preferring to provide lighter pallet for shipments. This reduces the amount of wear and tear for the equipment during transportation and as it is lighter, it also reduces the cost of shipment and transportation. Light weight of disposable plastic pallet increases payload capacity of the containers.
The disposable plastic pallet minimizes costs associated to floor space, load weight, labor and sanitization, and helps in cutting the shipment expenditures and saving time. Also, factors such as decrease in product breakage due to pallet damage, drop in cleaning expenses, decline of repacking costs and problem-free disposable system significantly contributes to the growing applications of disposable plastic pallet in the logistics section of various industries like, grocery, pharmaceutical and automotive. Disposable plastic pallet is safe and easy to handle since they don't have splinters, nails or sharp edges. Furthermore, it eliminates wood as a source for contamination in food grade plants.
Global disposable plastic pallet market: Segmentation
On the basis of product type, the global disposable plastic pallet market has been segmented as
Single faced disposable plastic pallet
Double faced disposable plastic pallet
Based on technology type, the global disposable plastic pallet market has been segmented as
Injection Moulding
Thermoforming
Blow Moulding
In terms of material type, the global disposable plastic pallet market has been segmented as –
High density polyethylene (HDPE)
Polypropylene (PP)
Polyethylene terephthalate (PET)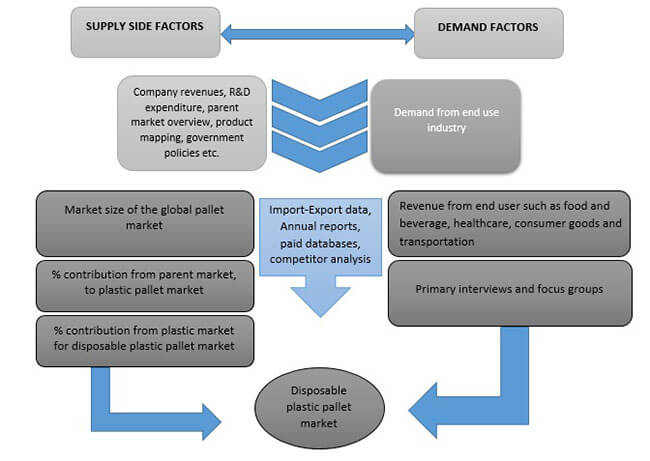 Download Report Brochure
HDPE material segment is dominating the global disposable plastic pallet market. The demand for HDPE material is increasing in the automotive and shipping industry, due its ability to handle heavy loads. HDPE disposable plastic pallet are extensively used in the food and beverage industry as they are resistant to organic and inorganic chemicals at normal temperature.
On the basis of end use industry, the global disposable plastic pallet market has been segmented as
Food and Beverage
Healthcare
Consumer goods
Logistics
Chemical
Others
On the basis of region, the global disposable plastic pallet market has been segmented as
North America
Latin America
Western Europe
Eastern Europe
Asia Pacific excluding Japan
Middle East & Africa
Japan
Global disposable plastic pallet market: Developments
Bulk-Flow company has designed disposable plastic pallet to carry other loads with the addition of a clip-on accessory that renders its surface flat for other type of cargo, such as smaller sacks or regular finished products
Talk to Analyst
Find your sweet spots for generating winning opportunities in this market.
Talk to Analyst
Global disposable plastic pallet market: Key players
The key players of disposable plastic pallet market offers customized pallet that meet the specific requirements of customers. To sustain the extreme competition in the market, vendors are offering pooling services on a large scale to their customers, and are adopting new technologies, such as equipment tracking, and refining their service offerings. The increased implementation of modern logistics and the rapid growth of the retail industry will attract new vendors during the forecast period.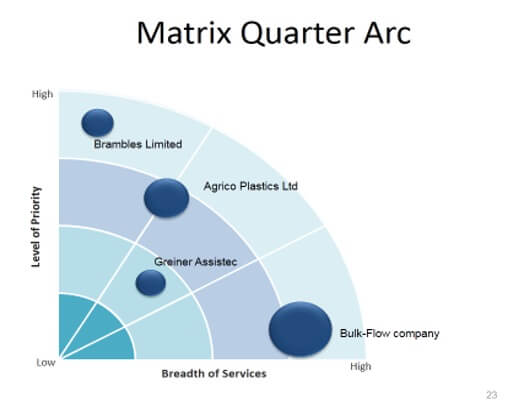 Download Report Brochure
The global disposable plastic pallet market is highly competitive due to increasing preference of consumers to buy disposable plastic pallet. Some of the key players in the global disposable plastic pallet market are Bulk-Flow company, Goplastic pallet, Greiner Assistec, Agrico Plastics Ltd., SDI Packaging, Cabka North America, Inc., CTC Plastics, Enlightening Pallet Industry Co., Ltd., Schoeller Alliber, Rehrig Pacific, Brambles Limited, Plastic Products, Inc., Purus Plastics GmbH and others.
The research report presents a comprehensive assessment of the market and contains thoughtful insights, facts, historical data, and statistically supported and industry-validated market data. It also contains projections using a suitable set of assumptions and methodologies. The research report provides analysis and information according to market segments such as geographies, application, and industry.
The report covers exhaust analysis on:
arket Segments
Market Dynamics
Market Size
Supply & Demand
Current Trends/Issues/Challenges
Competition & Companies involved
Technology
Value Chain
Become a MarketNgage Insider
A unified Market Research Subscription Platform, built for today's disparate research needs.
Regional analysis includes:
North America (U.S., Canada)
Latin America (Mexico. Brazil)
Western Europe (Germany, Italy, France, U.K, Spain)
Eastern Europe (Poland, Russia)
Asia Pacific (China, India, ASEAN, Australia & New Zealand)
Japan
Middle East and Africa (GCC Countries, S. Africa, Northern Africa)
The report is a compilation of first-hand information, qualitative and quantitative assessment by industry analysts, inputs from industry experts and industry participants across the value chain. The report provides in-depth analysis of parent market trends, macro-economic indicators and governing factors along with market attractiveness as per segments. The report also maps the qualitative impact of various market factors on market segments and geographies.
Table of Content
NA
List of Tables
NA
Talk to Analyst
Find your sweet spots for generating winning opportunities in this market.
Talk to Analyst
List of Charts
NA