Fire Extinguishers Market - Key Research Findings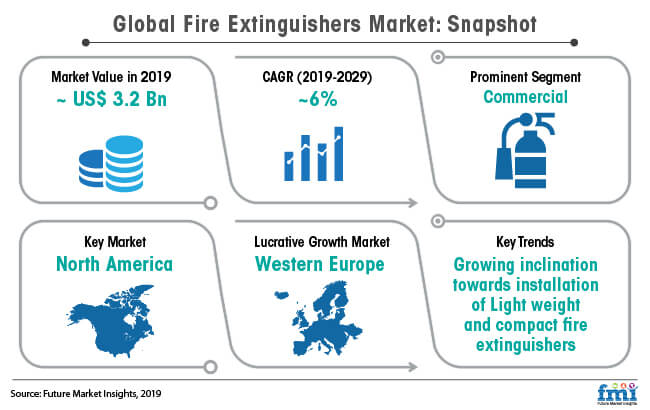 The global fire extinguishers market was valued at ~US$ 3 Bn in 2018.
During the forecast period of 2019-2029, the fire extinguishers market is anticipated to grow at a CAGR of ~ 6%.
Industrial application of fire extinguishers is likely to result in increased market share through 2029.
North America is anticipated to hold relatively high revenue share in the fire extinguishers market by the end of 2029.

North America will continue to be an opportunistic market for fire extinguisher manufacturers and distributors, owing to increasing industrial and infrastructure developments.
The fire extinguishers market in Western Europe is also anticipated to grow with significant rate, complying with the increasing infrastructural development and stringent regulations imposed by the government for fire safety in industrial as well as residential sectors.
Key Factors Shaping the Fire Extinguishers Market
Advanced Technologies Emerging as Product Differentiators among Manufacturers

Due to rising integration of automation in the industrial sector, the demand for cost-effective and advanced products is increasing, which is creating pressure on manufacturers to offer technologically-advanced and unique product offerings. Significant investments in research and development to develop unique technologies by manufacturers of equipment can be seen, which will help them differentiate their products in the fire extinguishers market.

Preference for Lightweight and Compact Fire Extinguishers

By virtue of their high efficiency, dry chemical, carbon dioxide, and foam-based fire extinguishers are getting employed in industries as well as residential sectors for extinguishing purposes, gradually. However, these technologies are now getting inefficient to adhere the current regulations imposed by several countries and environmental organizations. Also, these technologies are feasible under certain conditions, which vary among industries and processes.

This, in turn, has raised the need for developing systems, which are effective over a wide spectrum. Moreover, formerly used halon gas fire extinguishers cause ozone depletion. Thus, water mist and clean agent systems are being implemented on account of being an alternative of ozone depleting halon gas fire extinguishers.

For portable operation in emergency conditions, lightweight and compact fire extinguishers are being preferred in the residential and commercial sectors. Complying with demands, several market players are developing systems, which use integrated technology aligned with flame detector working on dual or triple stages. This is estimated to project significant opportunities for growth in the global fire extinguishers market.

Safety Concerns and Stringent Government Regulations

Owing to an increased incidents of fire breaking in the industrial sector, several countries are emphasizing on crafting regimes for fire safety and management. National Fire Protection Association (NFPA) of U.S. has laid down various regulations related to the mandatory installation of fire extinguishers.

One such regulation is NFPA10 for the mandatory usage of portable fire extinguishers in kitchens. Such initiatives taken by government are expected to fuel the demand for fire extinguishers across the globe.Owing to these concerns, installation of fire protection systems and automatic fire supression systems (AFSS) have incereased across the globe, which in turn is anticipated to drive growth of fire extinguishers market.

Manufacturing Industry Creating Greater Sales Opportunities

Manufacturing activities in Asia Pacific are expected to attract many new market participants to invest in the region, simultaneously promoting the augmentation of the fire extinguishers market. Such manufacturing industries are anticipated to have a medium level impact on the fire extinguishers market.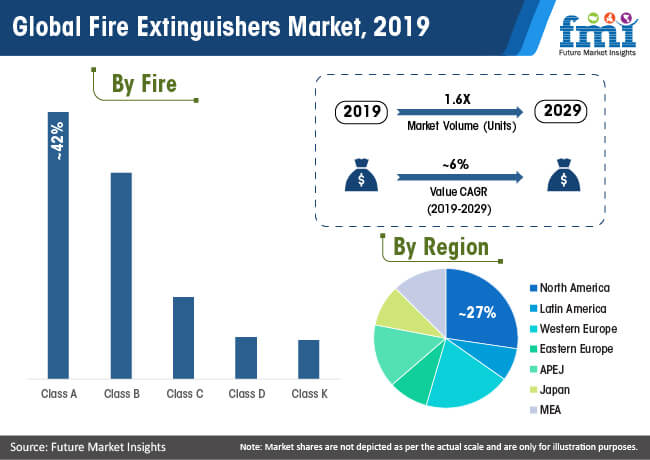 Fire Extinguishers Market Structure Analysis
The fire extinguishers market is a moderately competitive market, globally.
Strategies followed by key players in the fire extinguishers market are business expansion by mergers and acquisitions, product launches, collaborations, and alliances. Key market players focus on strategies such as product expansions and innovations through new dealership networks and collaborations.
Noteworthy investments in research and development for novel and sturdy products are anticipated to boost the growth of the market.
Key players in the fire extinguishers market are United Technologies Corporation, Johnson Controls International Plc., Hochiki Corporation, Gunnebo AB, Naffco Fazco, Amerex Corporation, Yamato Protec Corporation, Ceasefire Industries Pvt ltd., etc.
Fire Extinguishers Market: Segmentation
Product
Water
Foam
Wet Chemical
Carbon Dioxide
Dry Chemical
Dry Powder
Others
Fire
Class A
Class B
Class C
Class D
Class K
End Use
Residential
Commercial
Industrial
Public Areas
Others
Region
North America
Latin America
Western Europe
Eastern Europe
Asia Pacific Excluding Japan (APEJ)
Japan
Middle East and Africa (MEA)
Need specific information?