COVID-19 Impact Analysis
Consumer demand for protein-rich dietary supplements has stepped up due to biological appearance and better processing of amino acids. Amino acids are considered to be one of the essential clusters of primary nutrients, being the prime component of protein sources. Rising cognizance towards the worthiness of the nine essential amino acids, including histidine, lysine, leucine, tryptophan, valine, threonine, isoleucine, and methionine have alerted the consumers for the dangers associated with latter's' deficiency.
The average intake of food in developed nations is above the required amount, which is accomplished with the sufficient intake of protein or amino acid to sustain development, health, and nutrition among children and adults. The use of these products as dietary supplements supports some practical biological advantages.
Few examples of benefits include acceleration of tissue repair after trauma or fire, muscle protein regeneration, neuronal activity enhancement, immune function potentiation, hepatic toxicity defense, reduction of blood pressure, pain relief effects, cholesterol metabolism control, insulin secretion or growth hormone stimulation, ammonia reduction in the blood, and much more. Therefore, advantages blended with rising consumer awareness for protein rich food are anticipated to nurture a high growth over the coming eight years.
The demand for protein rich dietary supplements is likely to remain high despite the impact of coronavirus outbreak. Due to the spread of the virus, consumers are likely to become more cautious about their food choices. Therefore, despite sluggish growth during lockdown, the market is likely to gain pace once normal life resumes.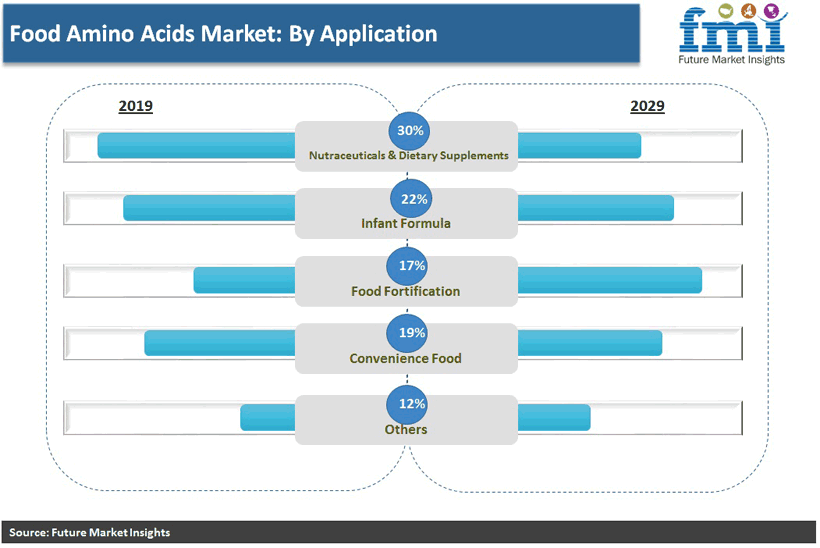 Economic Expansion to Offer Major Growth Opportunities in Developing Nations
In the food amino acids market in 2018, Asia-Pacific accounted for the major market share of 30 percent among regions. Dietary amino acids are one of the key ingredients in the dietary supplement development cycle. The production of dietary supplements is increasingly growing in the Asia-Pacific region's emerging economies. In addition, the consumption of dietary supplements is increasing at a rapid pace, especially in China, India, and other developing economies, which in turn propels the growth of the demand for food amino acids during the forecast period.
Across the forecast period, China is expected to maintain its dominance. North America and Europe have collectively accounted for 54% market share in global food amino acids market and is projected to witness a moderate growth owing to the mature market. Apart from that, Middle East region is projected to expand at a substantial growth rate during the forecast period. Among the Middle East region, UAE, and Saudi Arabia are estimated to hold significant market share throughout the forecast period. Demand witnessed across these markets however might get affected due to the recent coronavirus outbreak.
Rising Awareness among Athletes will Stoke Growth Opportunities
Nowadays, energy drinks, low carbohydrate food products, and nutrition bars and supplements are steadily consumed by athletes and other sportsmen to enhance their efficiency. This has prompted manufacturers to launch food products and drinks that contain large portions of amino acids. Besides this, surfactants based on amino acids are becoming more common than conventional surfactants as they are derived from different chemical structures and are more human friendly and less harmful.
For example, because of their optimum detergent and solubility, N-acyl amino acid-based surfactants can be used in skincare and cleaning products. Apart from this, amino acids also play a vital role in the animal feed industry as they help in improving the efficiency of protein utilization in the animals.
How Growth will Unfold
Growing awareness regarding benefits of feed additives coupled with the recent outbreak of diseases has prompted increased consumption of additives in animal feed. Population expansion coupled with increasing per capita disposable income is expected to fuel the demand for animal feed additives, especially in emerging Asia Pacific economies such as China and India, and in effect, increase the growth of the amino acids industry. Product demand for pharmaceutical applications is projected to increase living standards combined with greater consumer buying power. Rising sweeteners demand from convenience food and ready-to-drink beverages is projected to drive demand for L-aspartic acid and phenylalanine. It is anticipated that tight supply of raw materials will present challenges for industry participants, and ca
n impede global development. Rising prices of raw materials including corn, soybean and wheat are expected to affect market profitability in recent years. The emergence of microfiltration processes to increase yield is expected to provide lucrative opportunities for participants in the industry
FOOD AMINO ACIDS MARKET TAXONOMY
The global Food Amino Acids market is segmented in detail to cover every aspect of the market and present complete market intelligence to readers.
Type
Lysine
Glutamic Acid
Methionine
Tryptophan
Others
Source
Application
Food & Dietary Supplements
Pharmaceuticals
Animal Feed
Region
North America
Latin America
Europe
East Asia
South Asia
Oceania
MEA
Need specific information?