Food Certification – More Than Just a Tag
Over the course of the last couple of decades, focus on food safety has emerged as one of the biggest concerns for food manufacturers. Further, the onset of evolving business models, rapidly changing regulations, and rampant globalization in food supply have collectively influenced food safety standards worldwide. In addition, as the demand for 'organic' and 'free-form' foods sourced from cleaner and minimalistic ingredients ramps up, the food certification market is expected to witness a significant growth in the coming years. In the current scenario, despite some restraints, food manufacturers are striving hard to modify their products in-sync with the changing consumer demands to gain a strong foothold in the flourishing health-centric food industry.
The food certification market is expected to grow owing to several key drivers including heavy social and political pressure to enhance food safety and prevalence of infectious food-borne diseases in both, the developed as well as the developing regions.
COVID -19 : Impact Analysis
Request the coronavirus imapact analysis across industries and markets
Request Covid -19 Impact
Food Certification Market – Key Research Findings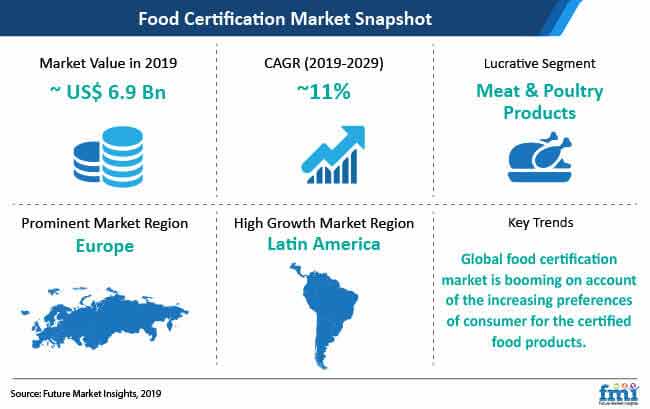 Global food certification market value expected in 2019 – US$ 6.9 Bn
Prominently driven by meat and poultry products, the global market for food certification is likely to progress at an impressive CAGR of ~11% over the predefined forecast period, 2019-2029.
Europe is expected to remain the key regional market for investors in the food certification landscape, whereas developing regional markets are slated to emerge lucrative in years to come – particularly Latin America.
Increasing awareness among consumers about certified, clean-labeled food products is envisaged to remain a precursor to the growth of food certification market.
Top 3 Factors Shaping the Food Certification Market
Industrialization and Urbanization is Boosting Global Food Certification Market
Increased urbanization and industrialization in the developing economies such as China, India, Brazil and other MEA countries are resulting in the fastest growth rate. The food and beverages sectors in these countries is increasing at a rapid rate. Developed countries such as U.S., Germany, Japan, U.K., the Netherlands, etc. are among the countries that depend on other countries for the supply for food and export most of the food from other countries. This is resulting in the globalization of food supply chain. The rules and regulation of the food and beverages industry are more stringent and robust in the developed countries as compared developing countries. And in order to export the products, manufacturers are obliged to follow the rules and regulations and hence, creating promising outlook in the food certification market.
Penetration of Key Market Players in the Remote Geographies with the Heightened M&A Activities in the Food Certification Market
The key players in the global food certification market are penetrating in the Asian, Middle Eastern and African and Latin American market. The big firms are frequenting the merger & acquisition activities in order to increase the market penetration. Asian, Middle Eastern and African, and Latin American markets are flourishing and creates excellent market opportunity. The heightened trend of M&A activities is prominently seen in the food certification market.
Increased Trend for the Transparent Food Products in the Global Food Certification Market
Increased trend of transparency and clean label products is driving the global food certification market. The consumer perception about the certified and claimed food and beverages products is changing. The certified food products are perceived more safe for human consumption and though to cause lesser or no risks to human health. Because of the prevalence of the health issues and diseases in the world, consumers are preferring healthy food and beverage products to avoid issues. This is creating increased demand for the certified food products and food certification market.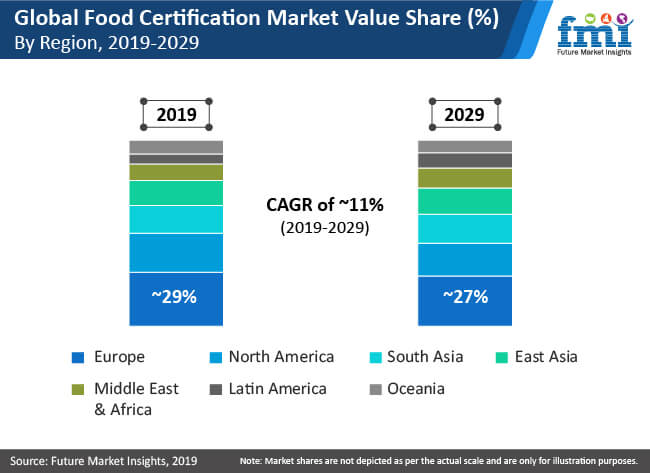 Food Certification Market: Structure Analysis
The global food certification market is classified into three tiers, where tier-1 companies hold essentially large market share and have a strong presence across the globe.
Leading companies operating in the global food Certification market include Intertek Group Plc., SGA SA, Bureau Veritas SA, Eurofins Scientific SE, ALS Limited, etc.
Most of the key players in the global food certification market are headquartered in European and North American region, with the strong presence and penetrating in the emerging market with heightened M&A activities.
Consumers Find a Voice
In the digital era, social media and other online platforms have made it easier for consumers to access information. Thus, at present, consumer awareness regarding food safety, quality of ingredients, nutritional value, and more is at their peak. In addition, consumers are highly aware of what they are eating and the ingredients that constitute their food.
Another trend that can be observed is growing consumer understanding of transparency and authenticity of food. Food companies are focusing on satisfying an array of diets and lifestyle trends and at the same time provide assurance that the ingredients are minimalist in nature. Although 'clean foods' are attracting consumers worldwide, for long-term success, its growth prospects will depend on parameters such as transparency. In a nutshell, purchase decisions now heavily rely on product transparency and in-depth product information. The 'clean label' movement has gained momentum in the last few years and the trend is set to continue owing to high consumer awareness regarding diets, nutritional and health value, and quality of ingredients among others. The trend will play an instrumental role in the growth of the global food certification market especially in the developing regions of Asia and Latin America.
East Asia - A Promising Market with Lucrative Opportunities
In the current scenario, the major players in the food certification market are located in North America and Europe. However, in recent years, East Asia has emerged as one of the most lucrative markets for food certification owing to growing consumer awareness regarding food safety, digitalization, and quality of ingredients among others. Further, the prevalence of food-borne diseases coupled with strong political and social pressure to formulate robust food safety standards in Asia are likely to fuel the growth of the food certification market in the region. Key players rely on inorganic strategies such as mergers and acquisitions to penetrate the market in developing regions.
* This data is only a representation. Actual data may vary and will be available in report.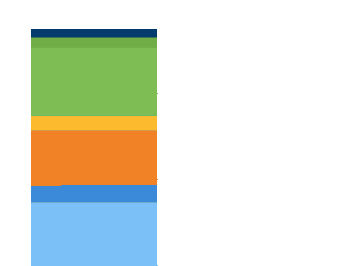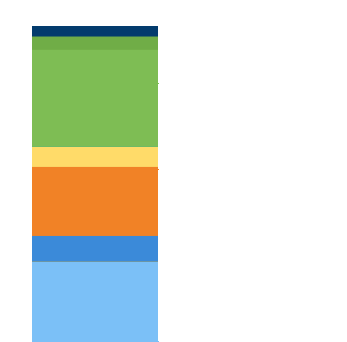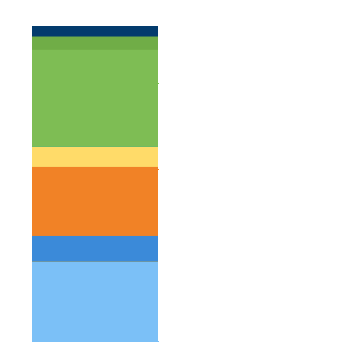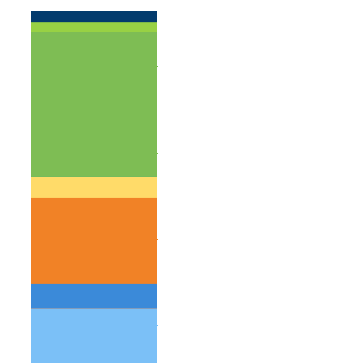 Demand for Food Safety Standards High in Asia
The demand for food certification is on the rise in the major Asian economies including, India, China, and Japan. Further, nations such as Malaysia, Thailand, and South Korea have also upped their efforts to formulate an efficient framework for food safety owing to growing concerns among consumers regarding food quality and standards.
In Asia, India, Japan, and China were at the forefront to adopt Food Safety System Certification (FSSC) 22000 which is the most established certification scheme for ISO 22000. Further, the FSSC 22000 is also recognized by the Global Food Safety Initiative (GFSI) and gained acceptance worldwide. In just five years since its inception, the FSSC 22000 is the world's fastest growing certification scheme and more than 7000 companies currently hold the FSSC 22000 certification.
In the last few years, food safety certifications have played a pivotal role in establishing trust and credibility for food manufacturers. Further, food certification plays a major role in influencing food trade in Asian countries; a crucial parameter for growth of the food market in Asia.
For several years, food safety standards have been a focal point of discussion among the ASEAN countries without any concrete solutions. Experts in the food industry have voiced their desire for harmonization of food industry standards for the ASEAN countries. Further, the harmonization of food standards within the industry is largely proposed to enhance trade and ensure consumer safety. Some of the glaring challenges market players are desperate to overcome include, technical trade barriers and halal certification.
Significant applicability identified in meat, poultry, and seafood
Application in functional foods gathering momentum
ISO 22000 certification accounts for substantial shares
Organic certification gaining prominence at rapid pace
How Growth will Unfold
The growing global trend for food transparency and authenticity among consumers is one of the biggest drivers that is expected to shape the growth of the food certification market. At present, consumer purchase decisions are largely influenced by in-depth product information and transparency. Major market players are focusing their efforts to build their credibility and customer loyalty by offering products with 'clean label'. In addition, as consumers continue to demand for healthier and clean foods worldwide, food certification is becoming a growing concern for food manufacturers. The onset of new food products coupled with growing consumer awareness is anticipated to propel the growth of the food certification market in the coming years.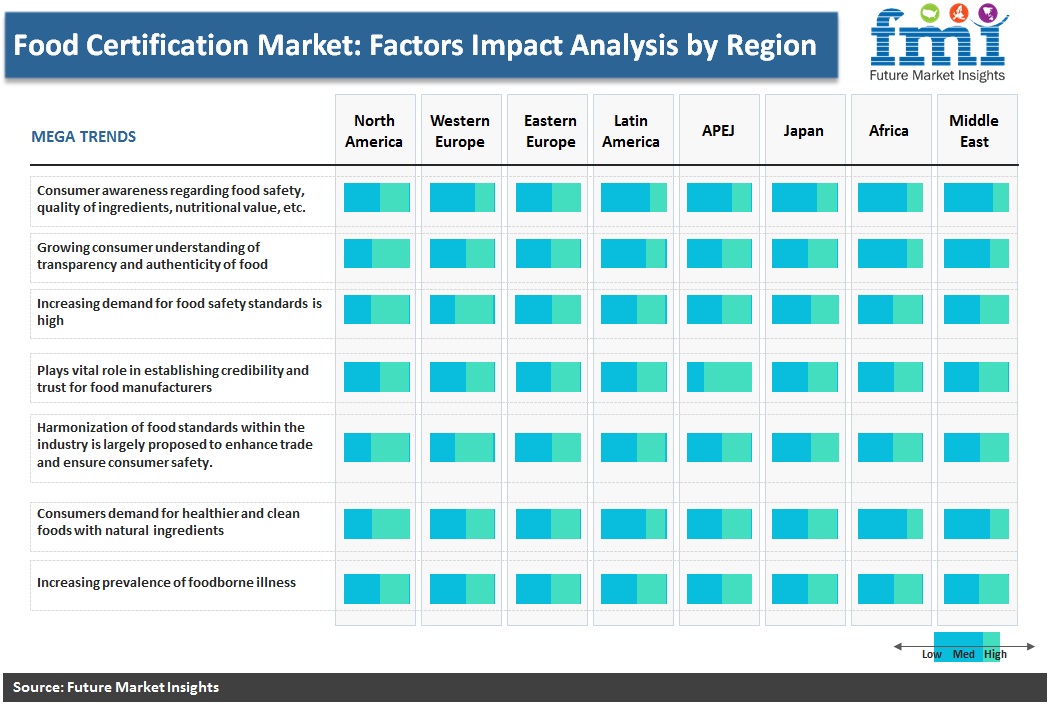 * This data is only a representation. Actual data may vary and will be available in report.
Click Here To Know How The Growth Will Unfold
Custom Market Research Services
FMI offers custom market research services that help clients to get information on their business scenario required where syndicated solutions are not enough.
Overview
Food Certification Market Analysis 2019 - 2029
A recent market study published by FMI "Food Certification Market: Global Industry Analysis 2014-2018 & Forecast 2019-2029" offers a comprehensive assessment of the most important market dynamics. After conducting thorough research on the historical, as well as current growth parameters of the food certification market, the growth prospects of the market are obtained with maximum precision.
Food Certification Market Taxonomy
The global food certification market is segmented in detail to cover every aspect of the market and present complete market intelligence to the reader.
By Certification Type
BRC Food
IFS Food
ISO 22000
FSSC 22000
HACCP
Global GAP
Organic
Kosher
Halal
Others
By Application
Bakery & Confectionery
Dairy Products
Processed & Packaged Food
Infant Food
Alcoholic & Non-alcoholic Beverages
Functional Food
Meat & Poultry Products
Seafood
By Region
North America
Latin America
Europe
Middle East and Africa
East Asia
South Asia
Oceania
How the research was conducted?
Primary Research
C - Level Executives
Marketing Directors
Sales Heads
Production Managers
Distributors Heads
Sales Executives
Product Manufacturers
Distributors
Traders
Industry Experts
End Users
Current Market Dynamics and Challenges
Market Characteristics
Market Performance and Growth Quadrants
Competition Structure and Market Structure
Strategic Growth Initiatives
Near-term and Long-term Market Growth Prospects
Market Segment Splits and Authenticity
Opinions on Market Projections and Validity Of Assumptions
Secondary Research
Industry Publications

Industrial Week
Industrial Product Review
Industrial Magazine

Industry Associations
Company Press Releases
Annual Reports and Investor Presentations
Research Papers
Government Websites and Publications

Food and Agriculture Organization of United States (FAO)
United States Department of Agriculture (USDA)
United Nations (UN)

Trade Websites
Primary Interview Splits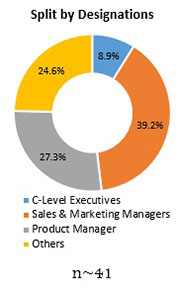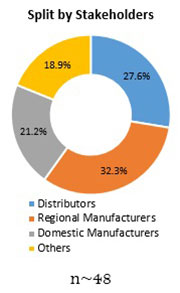 To Learn More About our Comprehensive Perspective on Food Certification Market,
Get in touch
Harish Tiwari
Global Head - Business Development
CASE STUDIES
See how our work makes an impact.
At FMI, we design strategies that are adaptive, impactful, and implementable.