KEY RESEARCH FINDINGS
The clean label movement has gained momentum within the recent past. The subsequent concerns such as diet, organic cultivation process, health worth, and quality of ingredients continue to push demand for food certification authorities.
Prevalence of food-borne diseases pressurize formation of strong food safety standards in Asia, thereby bolstering market growth.
Fast developing Asian economies such as India, China, and Japan register the maximum demand for food certification.
A notable surge in meat and meat products consumption over the recent past underscores the need for having stringent food certification norms to warrant safety and authenticity of meat, including Halal, and Kosher.
Food certifications will continue to gain traction as a necessity, with dynamic business models, frequently evolving legislation and regulatory standards, and globalization of the food sector.
KEY FACTORS SHAPING FOOD CERTIFICATION MARKET
Urge to Appeal to Target Customers
A large number of companies operating in food processing sector are adopting food certification methods with an aim to garner consumer trust in terms of quality and safety. As the entire food certification process covers safety of all parameters from production, packaging, storage, and distribution, industry stakeholders are developing indulging more in presenting certified food products to appeal to target customers.
Popularity of Multi-domestic Foodservice and Retail Chains
The food sector is going global and the fusion food culture is flourishing. With a sizeable consumer population shifting towards processed and convenience foods, the demand for food certification will remain the paramount. Emergence of multi-domestic retail chains in food and foodservice sectors, particularly in developing economies, is compelling government authorities to step in and monitor safety and security. This is another strong factor driving food certification market.
COVID-19 Impact
The COVID-19 pandemic is posing a profound impact on the food certification market. Protecting measures like tariffs and trade barriers could lead to food shortage and increased worth of products. Product shortfalls and supply chain disruptions are most likely to conjointly impact the market performance in near term. Some countries square measure limiting the exports amid the coronavirus outbreak, which would further alter the demand for certified food products.
The economic consequences of social distancing norms in an effort to achieve virus containment also have a deep impact on the market too. Speedy and unprecedented policy responses to each counter and mitigate these declines highlight the necessity for firms to establish property growth amidst these tough times.
FOOD CERTIFICATION MARKET STRUCTURE ANALYSIS
Some of the leading players are focusing on satisfying an array of diets and lifestyle trends and at the same time provide assurance that the ingredients are minimalist in nature. Most of them are actively involved in mergers and acquisitions, following the thriving globalization trend in food sector.
REPORT SCOPE
Base year considered - 2019
Actual estimates/Historical data - 2015 - 2019
Forecast period - 2020 - 2030
Forecast units - US$ Mn
Segments covered - Type, Application, and Region
Regions covered - North America, Latin America, Europe, East Asia, South Asia, Oceania, and MEA
Key Players - AsureQuality Limited, Bureau Veritas, DEKRA SE, DNV GL, Eurofins Scientific, Intertek Group Plc., Lloyd's Register Group Limited, SGS SA, TÜV SÜD, and Underwriters Laboratories Inc.
Growth Drivers

Rapidly surging consumption of meat and meat products
Prevalence of food-borne diseases
Clean label movement

Report Coverage - Revenue forecast, competitive landscape, growth factors, and trends
Processed Meat Product Certification Stay in Demand
With the increasing demand for processed meat merchandise, the cases of meat fraud are increasing. The worldwide increase in malpractices, and an oversized variety of fraud, and adulteration incidents for meat & meat merchandise have resulted in a controlled growth of the food certification for the meat market. Non-secular issues among shoppers, particularly monotheism and Jewish populations, drive the demand for halal and kosher certification for meat & meat merchandise.
The demand for meat certification is driven by the increasing stringency of regulatory bodies over safety and credibility of meat. The same, in turn, is driven by the increasing shopper demand for certified merchandise.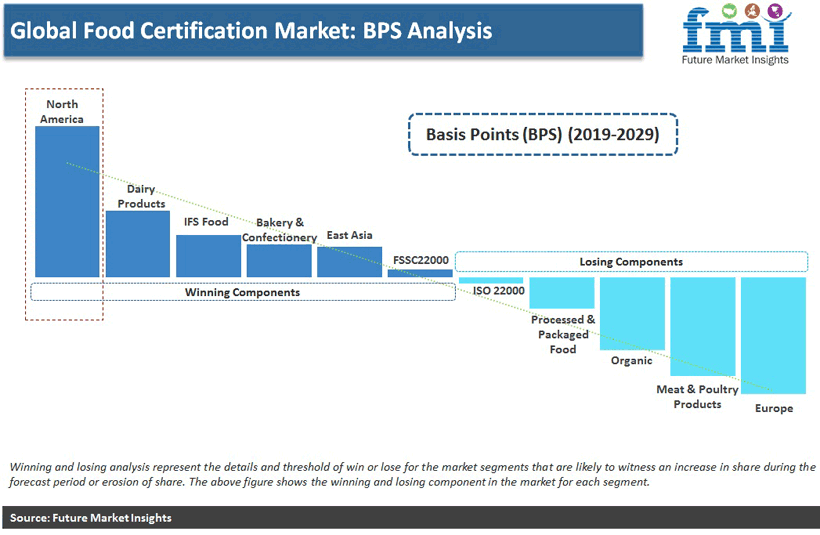 North America Holds Distinguished Share In The Market
In the North American region, the certification bodies, via follow-up and thorough audits, certify that the businesses engaged in food and alcohol production follow adequate food management processes. USDA's strict restrictive norms force makers to fits the laws and still drive the market. The food trade is deeply compact by new FSMA rules and shoppers demand bigger transparency once it involves food consumption.
This is often expected to drive the demand for food certification. The U. S. junction rectifier the North American market, thanks to the growing health consciousness and shopper awareness on the aspect effects of impure food merchandise within the region. Somerdale International, the leading businessperson of British cheeses and farm merchandise to the U. S., has launched the primary, fully-accredited, and non-GMO British cheddar cheese. The new "Westminster Sharp" has been licensed as non-GMO by independent agency International.
Lack of Infrastructure and Cash for Food Security in Developing Countries
In developing countries, there's a necessity to update and revise the present legal framework concerning food quality and safety. The infrastructure of food management bodies in several developing countries is probably going to be scarce thanks to restricted resources, restricted technology, and poor management. Laws governing food standards are typically lacking necessary standards or are concurrent.
Food management infrastructure could also be non-existent, poorly organized, or inadequately supported due to the dearth of enough money resources. In several countries, totally different government ministries or agencies are concerned in food regulation and management however their failure to coordinate their activities leads to a waste of resources due to overlapping and redundant work efforts.
There's typically a necessity for improved restrictive food scrutiny and laboratory services, development of food management social control programs, and also the administration and coordination of food management activities in developing countries. Coaching in technical areas of food management is sort of invariably required in such countries.
How Growth will Unfold
The ongoing trend for food transparency and credibleness among shoppers is one amongst the largest drivers that's expected to form the expansion of the food certification market. At present, shopper purchase selections ar mostly influenced by in-depth product info and transparency. Major market players are focusing their efforts to create their credibleness and client loyalty by giving merchandise with 'clean label'. additionally, as shoppers still demand for healthier and clean foods worldwide, food certification is turning into a growing concern for food makers.
The onset of latest food merchandise plus growing shopper awareness are anticipated to propel the expansion of the food certification market in the coming years. The working class is currently resorting to buying groceries and alternative edibles from supermarkets, out of sheer convenience. This has junction rectifier to evident increase in a sales of frozen foods as they last longer in refrigerators, and facilitate save preparation time
With rising disposable income (DPI) among the urban population, families in metropolitan cities are obsessed with prepackaged foods on the market at hypermarkets, convenience stores, and supermarkets. Increase in awareness of health issues has made shoppers fastidiously browse product labels to understand whether merchandise are properly certified or not. The ongoing shopping pattern supports the expansion of the food certification market.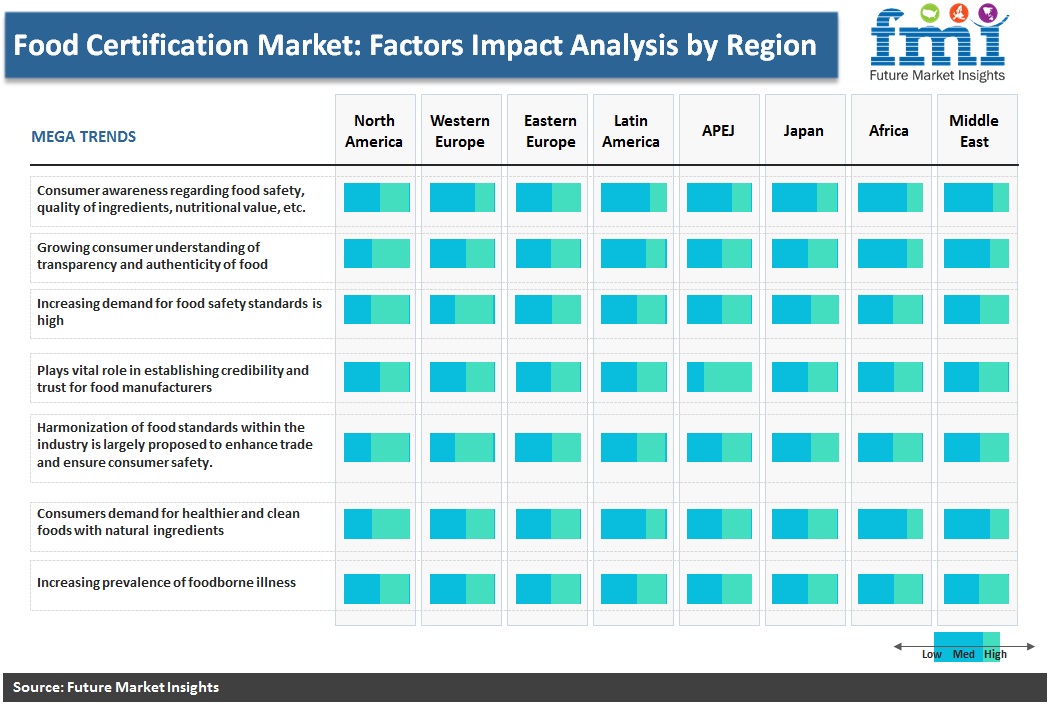 FOOD CERTIFICATION MARKET TAXONOMY
The global Food Certification market is segmented in detail to cover every aspect of the market and present complete market intelligence to readers.
Type
ISO 22000
BRC
SQF
IFS
Halal
Kosher
Free-From Certifications
Others
Application
Meat
Poultry
Seafood
Dairy
Infant Food
Beverages
Bakery & Confectionery
Others
Region
North America
Latin America
Europe
East Asia
South Asia
Oceania
MEA
Need specific information?