Health Consciousness Among Consumers will Stoke Growth Opportunities
Increasing safety issues and customer awareness of having the ingredient source on product labels and eating healthier foods would boost demand for organic goods in the food glazing industry. Consumers are more mindful of their wellbeing and tend to eat safe and balanced foods by ensuring the traceability and consistency of the ingredients used in the goods they buy. Consistent customer preference for organic goods leads to increased preference for organic glazing agents, which will be one of the significant trends in the food glazing agents industry to gain momentum.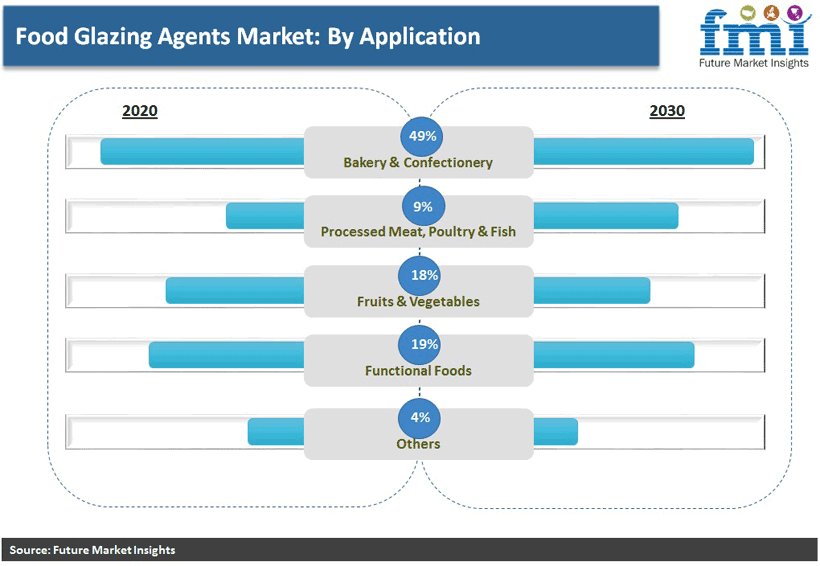 Economic Expansion to Offer Major Growth Opportunities in Developing Nations
Europe is an important region in the food glazing industry, largely contributing the growth from cakes and bakery products. In recent years, North America and Asia-Pacific have also taken in large market share owning to a shift in consumers preference for decorative yet healthy food habits. India and China are the key contributors for growth of food glazing agents in Asia pacific region.
Argentina and Brazil are gaining momentum being key exporters of raw materials for food glazing market in both Latin America and North America. For African market, despite having a small market share during the forecast period, it is expected that central Africa will perform well in the future as the nation moves towards industrialisation.
In developed economies, including U.S., U.K., Germany, on account of higher purchasing power, the confectionery food items have always witnessed a high demand. A crucial trend in developing economies is to find value in the items they spend in. in countries such as India, Malaysia, Indonesia and Thailand, consumers prefer those brands which are ethical, serve environment and provide health benefits. The preference for food ingredients has now been shifted in such countries. "Pant Based", "Vegan" and "Natural" are now not just trends, but a part of mainstream business.
Changing Food Preferences of Consumers will Stoke Growth Opportunities
The global food glazing agents market is expected to witness significant growth over the forecast period. This is due to increased consumption of plant based and natural confectionery and bakery goods, and increased consumer awareness of the benefits of organic food consumption. Another major factor expected to drive growth of global food glazing agents market over the forecast period are its palatability properties, enhanced texture and flavour.
Ready-to-eat food consumption, improved shelf life and enhanced aesthetic appeal of food products are the opportunities to focus for players operating in the food glazing agents market. Choice of food glazing agents is also influenced by the factors such as sustainability and convenience of packaging solutions, raw materials costs, aesthetic appeal of packaging and labelling claims.
Food glazing agents are used as coating on fruits & vegetables for maintaining its beauty and freshness, and thus aid in exporting fruits & vegetables to the various countries.
How Growth will Unfold
The demand for food glazing agents is significantly affected by two specific factors-an increase in bakery and confectionery consumption, and an increase in customer awareness of various foods. In the case of European and American countries both these influences are especially prevalent. In addition, the growth of urbanized and high-income consumers in these regions is cited as major reasons for the factors involved.
For bakery and confectionery goods, customers are more concerned about the attractiveness. These glazing agents are also used as a protective coating for food. It is expected the rising food & beverage industry will fuel demand for food glazing agents. Increasing consumer inclination toward the appearance of food products is boosting market demand for food glazing agents.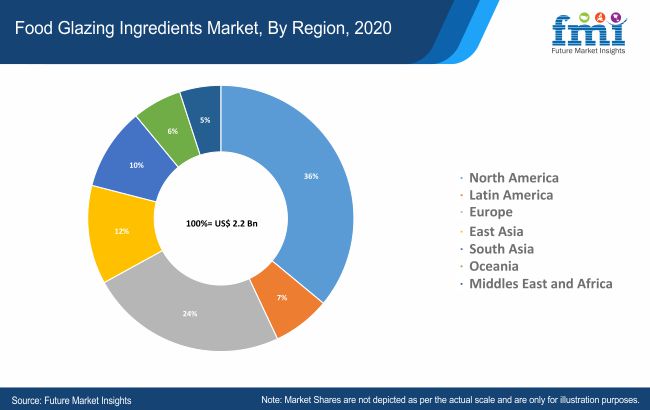 FOOD GLAZING AGENTS MARKET TAXONOMY
The global Food Glazing Agents Market is segmented in detail to cover every aspect of the market and present complete market intelligence to readers.
Ingredient Type
Stearic acid
Beeswax
Carnauba wax
Candelilla wax
Shellac
Paraffin wax
Others (montan and lanolin wax)
Application
Bakery
Confectionery
Processed meat
Poultry & Fish
Fruits & vegetables
Functional foods
Others (dairy products & convenience foods)
Ingredient Function
Coating agents
Surface finishing agents
Firming agents
Film agents
Others (binding agents and stabilizing agents)
Region
North America
Latin America
Europe
East Asia
South Asia
Oceania
MEA
Need specific information?