Food Waste Management Market Outlook
The global market for food waste management witnessed a minor slowdown in the Covid-19 crisis as all the factories were closed and supply of only basic necessity goods was permitted. Since the lockdown has been lifted up to improve economic conditions, the manufacturing companies are trying hard to gain traction and attract customers globally through innovative launches and technological upliftments in 2021.
Major manufacturing companies including Advanced Disposal Services Inc., Republic Services Inc., Waste Management Inc, Waste Connections Inc, Stericycle Inc, Clean Harbors Inc., FCC Environment Ltd., Veolia Environment SA, CT Environmental Group Ltd., and Recology Inc, are investing in the establishment of a strong distribution network to remain competitive in the market. They are adopting business strategies such as sales contracts, strategic alliances, acquiring technical expertise, product approvals, patents and events, joint ventures, partnership agreements, collaborations, digital marketing, mergers and acquisitions, capacity utilisations, technological advancements etc to lead the global market for food waste management with largest market share.
For instance, Waste Management Inc acquired all the outstanding shares of Advanced Disposal in October 2020. The acquisition aimed at helping the growth of Waste Management's footprint and enabling sustainable waste management and recycling services to more than 3 Million commercial, industrial and residential customers in 16 states in the eastern half of the US. Post acquisition of shares, Waste Management and Advanced Disposal completed the sale of all the assets required by the US Department of Justice to GFL Environment. The acquisition aimed at a strong ending to 2020. The expected Annual Cost and Capital Expenditure Synergies by Waste Management Inc. were exceeding $100 Million.
In addition to this, organizations across the world are running food waste management initiatives such as Feeding the 5000, Food recovery Network, FUSIONS (Food Use for Social Innovation by Optimising Waste Prevention Strategies), Love Food, Hate Waste and many more. Europe is predicted to rule the global market for food waste management through 2030 owing to increase in shopping, improper food management, production ratios, and increasing percentage of food wasted. Export of food products to North American and European countries from Asia Pacific Countries is forecasted to drive the market in the region. The government initiatives and rising innovations are creating immense opportunities that are propelling growth for the key players to extend their presence throughout the world.
The food waste management market is anticipated to advance at an average growth rate during the forecast period, with a number of factors at play. Manufacturers are focusing on the research and development activities for the development of efficient waste management systems to meet the required standards.
Besides this, an uptick in industrialisation and establishment of companies are likely to hold a positive influence on the growth of the food waste management market during the forecast period. Moreover, growing reliance on the utilisation of organic waste for producing animal feeds and fertilisers is also exerting an influence on the food waste management market.
The current trend in the food waste management market is to use advanced technology such as gasification for the treatment of wastage, which could unlock new opportunities. The gasification technique boosts the conversion of organic materials into a combustible gas, which requires a strong food waste management system. In addition, anaerobic digestion is yet another recent technological trend that has been practised for recovering energy as well as nutrients. On the flip side, rising concern regarding the impact of landfill techniques on the environment is anticipated to create a roadblock for the food waste management market.
During the COVID-19 crisis, the lockdown was observed in numerous parts of the world. As a result, instances such as expiration, overstocking, overproduction, and inefficient production were low. Some of the industries even stopped their operations, and this led to an imminent impact on the demand for the food waste management market.
After the COVID-19, the food waste management market could witness a spike and recover from the impact of the gloomy market scenario, as industries would commence their operations. In addition, the advent of new technologies and techniques are likely to bring in a revolution in the waste management system market during the forecast period
KEY TRENDS SHAPING FOOD WASTE MANAGEMENT MARKET
Soaring Demand for Renewable Energy
Rise in the demand for renewable energy and development in infrastructure creates opportunities for emerging as well as existing players in the market for recycling and processing food waste.
In April 2017, the U.S. Energy Information Administration published a report on energy consumption by energy source in 2016. In this report, it was estimated that approximately 10% of the renewable energy consumed constitutes 46% of the biomass source, including biomass waste, biofuels, and wood.
Key Players to Invest in Technological Innovations
Players in the food waste management market are focusing on technological development to provide advanced services to their customers. Technological innovations help various organizations to collect and segregate food waste at the source level and expedite the food waste recycling process. Some of the recent technological innovations include anaerobic digestion process for treatment of food waste, enzyme-based food management solutions, automated waste collections, and novel sensor based technology for waste management among others.
Increasing Efforts towards Food Waste Reduction Shaping Market
The current socio-economic landscape is witnessing a rise in immigration along with political instability. Increase in wastage and spoilage of food has led to a reevaluation of usage and sustainability of resources. Governments and organizations are striving to minimize regional and local waste and increase consumer awareness of the impact of food wastage. Besides, increasing cost of living, lack of resources, and rise in raw materials costs are pushing businesses and consumers to make efforts to reduce waste.
Big companies like Cargill Inc., Archer-Daniel Midland Company are investing in waste reduction and food waste management by monitoring factors that contribute to food loss, educating staff about food and waste management, improving food storage, and the production process to minimize waste generated at every level.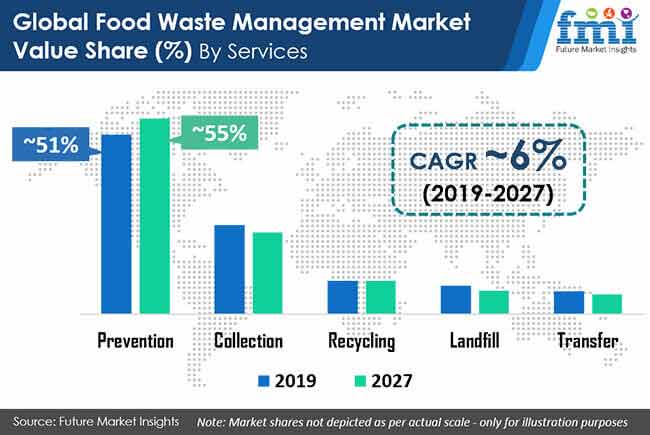 FOOD WASTE MANAGEMENT MARKET STRUCTURE ANALYSIS
Food recycling creates growth prospects for players in the food waste management market.

In U.S., most anaerobic digesters compost manure and sewage, but not food. However, Turning Earth, a Pennsylvania-based recycling company, produces natural gas and electricity from food waste using anaerobic digestion.
Quest Recycling Services, a Texas-based company, provides services for recycling of food to help companies reduce waste-disposal costs. Quest recycles vegetables, deli, fruits, bakery foods, and dairy for conversion to bio-diesel, animal feeds, and alternative fuels.

Food waste management companies are focusing on inorganic growth, including mergers and acquisitions, to upscale their business and expand their regional footprint and customer base.

In January 2017, Waste Connections, Inc. acquired Groot Industries, Inc., which is an Illinois-based, privately-owned solid waste management firm with annual revenue of US$ 200 Mn. The acquisition enabled Waste Connections to serve around 300 thousand customers in Illinois with a network of two recycling facilities, six transfer stations, and six collection operations.
In January 2016, Waste Management Inc. of Florida, a subsidiary of Waste Management Inc., acquired Southern Waste Systems LLC, a waste management company engaged in the collection, recycling, and processing of residential, municipal, industrial, and commercial waste-based in Davie, Florida. The acquired business assets include industrial, commercial, and residential solid waste collection, transfer, recycling, and processing.

Major players in the food waste management market are Advanced Disposal Services, Inc., Republic Services, Inc., Waste Management, Inc., Waste Connections Inc., Stericycle, Inc., Clean Harbors, Inc., FCC Environment Ltd., Veolia Environnement SA, CT Environmental Group Ltd., and Recology Inc.
Food Waste Management Market Report Scope
Attribute

Details

Forecast Period

2012-2018

Historical Data Available for

2019-2027

Market Analysis

US$ for Value and MT for Volume

Key Regions Covered

North America, Latin America, Europe, Asia Pacific Excl. Japan, Eastern Europe, Japan, and Middle East & Africa (MEA)

Key Countries Covered

U.S, Canada, Mexico, Brazil, Rest of Latin America, Argentina, Germany, United Kingdom, France, Italy, Spain, Nordic Region, Rest of Europe, Russia, Poland, Rest of Eastern Europe, China, India, ASEAN, Australia, New Zealand, Rest of APEJ, Japan, GCC, South Africa, and Rest of MEA

Key Segments Covered

Services, Waste Type, End Use, Region

Key Companies Profiled

Waste Management, Inc.
Advanced Disposal Services, Inc.
Republic Services, Inc.
Waste Connections Inc.
Clean Harbors, Inc.
Stericycle, Inc.
FCC Environment Ltd.
CT Environmental Group Ltd.
Veolia Environnement SA
Recology Inc.
DeIorio's Foods Inc

Report Coverage

Market Overview, Key Market Trends, Key Success Factors, Demand Analysis, Market Background, COVID-19 Analysis, Segmental Analysis, Regional Profiling, Market Structure & Competition Analysis

Customization & Pricing
Food Waste Management Market Segmentation
The global food waste management market is segmented in detail to cover every aspect of the market and present complete market intelligence to readers.
Services
Prevention
Collection
Transfer
Recycling
Landfill
Waste Type
Food Production Wastes

Agricultural Produce Wastes
Poultry, Fish and Meat Wastes

Bovine
Poultry Meat
Pork
Fish & Other Marine Food

Food Processing Wastes

Agricultural Produce Processing Waste
Poultry, Meat and Seafood Processing Wastes
Dairy Food Processing Waste
Other Food Processing Wastes

Distribution and Supply Chain Wastes
Retail Wastes
Consumption Wastes

Household Food Waste
Food Services, Hospitality & Institutional Waste (FSHI Waste)
End-use
Animal Feed
Fertilizer
Renewable Energy & Biofuels
Others (Cosmetic, Soap, Bio-plastic, and Other Products)
Region
North America
Latin America
Western Europe
Eastern Europe
Asia Pacific Excl. Japan (APEJ)
Middle East and Africa
Japan
Need specific information?