Enterprise Asset Management Market – Key Research Findings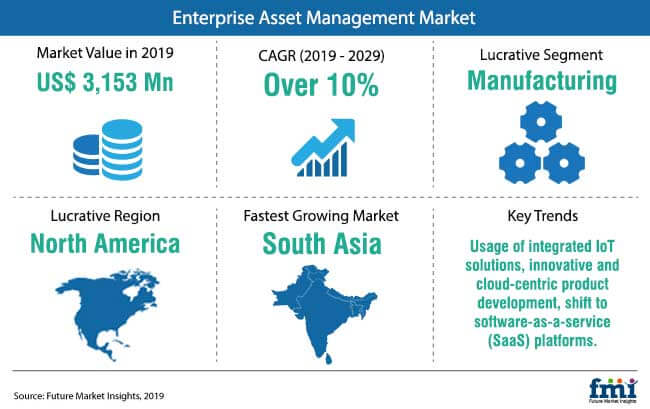 The global Enterprise asset management market was valued at approximately US$ 3,153 Mn in 2019.

The Enterprise asset management market is projected to expand at a CAGR of more than 10% during the forecast period (2019-2029).

The rapid integration of IoT application is expected to support the growth of the global Enterprise asset management market during the forecast period.

North America and Europe will remain leading regional markets for enterprise asset management deployment.

Strong investments, rigorous R&D activities across these regions, and increase in the penetration of advanced technologies has been boosting the deployment rate of enterprise asset management within North America and Europe.

South Asia holds attractive growth potential for the enterprise asset management market

The South Asian countries like India, China, and South Korea are witnessing technological advancements in the field of IT, manufacturing, industrial sectors, and others – creating lucrative opportunities for the enterprise asset management solution providers in the region.

The software sub-segment is the more attractive component for enterprise asset management market.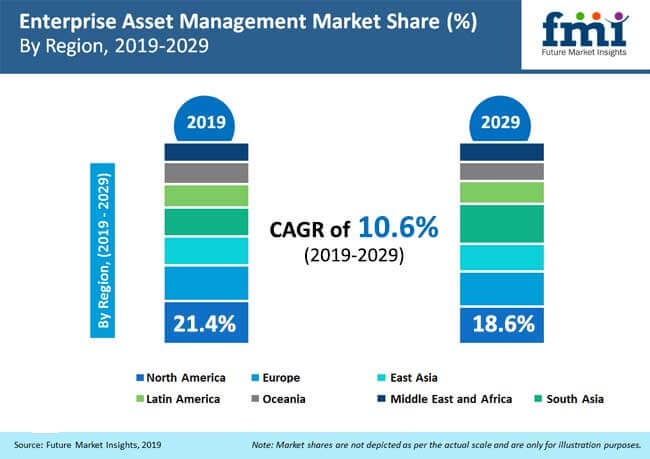 Top 3 Factors Shaping Enterprise Asset Management Market
Consistently Increasing Number of Enterprises
Aligning with the thriving global economy, the number of start-ups as well as fast-growing enterprises is also on a constant rise. The rising enterprise establishments accompanies with the soaring need for effective management of valuable organizational assets. In addition, start-up companies have been recently receiving government funds for new ventures and product development. Small and large enterprises continue to opt for enterprise asset management software for cost effective asset lifecycle optimization, for a modular and fully scalable solution that fulfils organizational needs.
The Proliferation of IoT-Enabled Devices
Several companies in the global enterprise asset management market are integrating the Internet of Things (IoT) technology to manage and facilitate high level of quality assurance required for the purpose of EAM solutions. For instance, the IBM Maximo solution can be integrated with IoT applications to optimize operations and aid in better decision-making.
Businesses are Seeking Advantages beyond Asset Management
Key vendors are investing their efforts in surpassing traditional asset management, as companies are now seeking additional benefits from enterprise asset management solutions. In addition to providing access of organizational asset information to every department and employee at every location, the latest industry trend includes enterprise asset management solutions that also involve several other important factors, such as energy usage, lifecycle costs, maintenance histories, warranty catalogs, purchase orders, audit records, and others.
Enterprise Asset Management Market Structure Analysis
SAP SE, IBM Corporation, Oracle Corporation, ABB, Schneider electric, and Infor constitute the leading players actively participating in the competitive landscape of enterprise asset management market.
A majority of the key players are concentrating on the latest industry trend of IoT integration of EAM systems.
Several enterprise asset management solutions providers are also investing efforts in alignment with the increasing market value share of cloud-based deployment of enterprise asset management systems.
The Evolution of IoT Applications in the Global Enterprise Asset Management Market
Enterprise Asset Management (EAM) provides real-time information and visibility into almost all physical assets, and across the Maintenance, Repair, and Overhaul (MRO) supply chain network. For managing the asset lifecycle and to better address business requisites, asset-intensive organisations require better, clear visibility, control, and automation across their business and assets management. FMI's global perspective offers a holistic analytical approach on the growth in adoption and innovations during the forecast period.
EAM Market Set to Grow 2X through 2029
According to FMI analysis, cloud-based systems are continuously evolving. This cloud-based sub-segment is expected to witness significant technological developments during the forecast period. Moreover, the adoption of enterprise asset management solutions in the manufacturing and healthcare industries for the purpose of quality management is expected to increase significantly during the forecast period.
Developing Economies Point to Ample Upcoming Opportunities
In the first wave of growth, EAM solution providing companies across North America and Western Europe became the early adopters of enterprise asset management. In the second wave, the developing economies of South Asia were expected to be at the forefront of growth. Countries, such as China and India, are expected to fuel the growth of the EAM market in the Asia Pacific (excluding Japan) region.
The Broader Outlook
Increased accuracy in data analysis, improvements in decision-making, and optimised operation management outcomes are among the major factors driving the growth of the global enterprise asset management market. However, adherence to standard regulations and mobility analytics are some of the recent trends in the enterprise asset management market. Market players are focusing on the implementation of AI and advanced IoT technologies.
How Growth Will Unfold
While most of the key players are focused on maintaining a strong market presence in the North America, Europe, and South Asia markets, the report underscores that technology assessment will be an important developmental strategy for companies. Leading players in the EAM market are also concentrating on entering into partnerships and collaborations with other company providers, and this will remain a strong differentiating strategy.
Manufacturing, transport & logistics, and banking & finance industries have been the early adopters of enterprise asset management solutions. The adoption by various other end-use industries, including healthcare, oil & gas, and retail is highly likely to see a remarkable upsurge over the forthcoming years. Government sector also holds notable growth potential for the enterprise asset management market.
World's Most Profilic Intelligence Engine
Get Access To The World's Largest Market Research Database. Ngage with a revolutionary intelligence engine that scale and pricing that flexes as per your needs
Sign Up Now
ENTERPRISE ASSET MANAGEMENT MARKET TAXONOMY
The global Enterprise Asset Management market is segmented in detail to cover every aspect of the market and present a complete market intelligence approach to the reader.
By Deployment
By Industry
Government
Healthcare
Manufacturing
Transportation & Logistics
Oil & Gas
Banking & Finance
Retail
Others
Region
North America
Latin America
Europe
South Asia
East Asia
Oceania
Middle East & Africa
Need specific information?