Food Preservatives Market By Product Segment (Natural, Synthetic), Function Segment (Antimicrobial, Antioxidants), Application (Dairy and milk products, Meat, poultry and sea food products, Bakery products, Beverages products) & Region - Forecast to 2013 - 2020
Food Preservatives Market - Analysis, Outlook, Growth, Trends, Forecasts
November 2015

REP-GB-99

93 pages
Introduction
The food preservatives market has grown significantly over the past few years. Growth of the global food preservatives market is majorly driven by increasing demand for food products with extended shelf life. In addition, widening distribution channels and increasing demand for natural and organic foods are some of the other factors contributing towards the market growth.
High demand for processed food and increasing awareness about food safety is driving the global food preservatives market currently. Synthetic is the fastest growing segment of the global food preservatives market. Presently, healthy eating trends and preferences for quality food are fuelling the demand for food preservatives globally.
Market Value and Forecast
The global food preservatives market is anticipated to expand at a high CAGR in terms of value during the forecast period. Rise in the number of food borne diseases is driving the growth of the food preservatives market as preservatives are needed to maintain the overall quality of the food products and to increase their shelf life.
Being perishable, food items need to be stored by adding preservatives, which reduce the chance of bacterial and microbial growth. Increase in food borne diseases, such as diarrhea, stomach flu, vomiting, abdominal pain, and botulism, among others, is driving the growth of food preservatives currently.
Segmentation by Product
The global food preservatives market can be segmented on the basis of products such as natural and synthetic. Synthetic is the largest segment in the food preservatives market. Growing consumer awareness regarding natural food ingredients and side effects of chemical preservatives are major drivers for growth of the natural food preservatives market globally.
Segmentation by Function
The global food preservatives market is also bifurcated, by function, into antimicrobials, antioxidants and others. In 2013, among the three function segments of food preservatives, antimicrobials held the highest share followed by antioxidants.
Segmentation by Application
The global food preservatives market is further divided on the basis of applications into bakery and processed foods, beverages, dairy and milk products, meat, poultry and seafood, and others. Meat, poultry and sea food segment has dominated the food preservatives market over the years, since these foods are an integral part of human food habits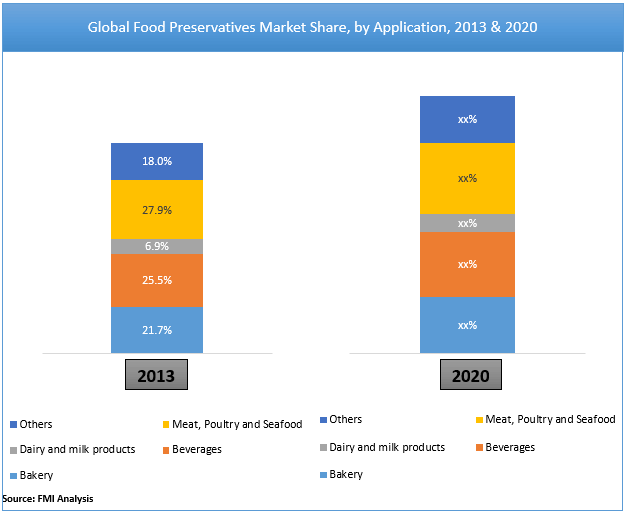 Key Regions
The global food preservatives market includes four major regions, namely North America, Europe, Asia-Pacific and Rest of the World. By region, in 2013 the global food preservatives market was dominated by North America, which holds the largest value share of the overall food preservatives market, followed by Europe and Asia-Pacific.
Key Players
Key vendors identified across the value chain of the global food preservatives market include: BASF SE, Cargill Incorporated, Celanese Corporation, Chr. Hansen A/S, Corbion N.V., DuPont, JEY'S F.I. Inc, Kerry Group, Koninklijke DSM N.V and The Archer Daniels Midland Company. The companies are focusing on developing new products and improving the quality of their existing products through research and development activities. Besides, these companies are focusing on geographical expansion in order to gain a competitive advantage.
World's Most Profilic Intelligence Engine
Get Access To The World's Largest Market Research Database.
Sign Up Now
Key Segments Covered
Food Preservatives Market

By Product Segment
By Function Segment

Antimicrobial
Antioxidants
Others

By Application

Dairy and milk products
Meat, poultry and sea food products
Bakery products
Beverages products
Others
Key Regions/Countries Covered
North America

U.S.
Rest of North America

Europe

Germany
France
U.K.
Scandinavia
Rest of Europe

Asia-Pacific

China
India
Japan
Australia
Rest of Asia-Pacific

Rest of the World

Latin America
Middle East
Africa
Need specific information?
Our Clients