This High Pressure Heat Exchanger market study offers a comprehensive analysis of the business models, key strategies, and respective market shares of some of the most prominent players in this landscape. Along with an in-depth commentary on the key influencing factors, market statistics in terms of revenues, segment-wise data, region-wise data, and country-wise data are offered in the full study. This study is one of the most comprehensive documentation that captures all the facets of the evolving High Pressure Heat Exchanger market.
Market Outlook
A heat exchanger is a mechanical device which works on the principle of conduction and convection and is used in several end-use industries where it is used as an energy consuming equipment. Several new innovative technological developments have been announced in the heat exchanger market which will help reduce energy consumption during the operation. A heat exchanger exchanges heat by conduction or convection. Heat exchangers play a vital role in any manufacturing industry as they provide a cooling as well as heating effect as per the process requirement. Several different types of heat exchangers, such as double pipes, spirals, shell & tube heat exchangers, etc. are used in manufacturing units. High pressure heat exchangers are used in those manufacturing industries where high pressure and high temperature is a mandatory requirement. High pressure heat exchangers offer intensive heat transfer with anti-fouling and low pressure drop. That apart, use of high pressure heat exchangers results in energy proficient heat recovering at a low working cost.
Market Growth Analysis
Disclaimer: This data is only a representation. Actual data may vary and will be available in the report.
Need granular data and specific insights that are hard to get?
style="box-sizing: border-box; margin: 0px 0px 10px; color: rgb(51, 51, 51); font-family: "Helvetica Neue", Helvetica, Arial, sans-serif; font-size: 14px;">
Reasons for Covering this Title
There are several factors responsible for the positive growth of the market, such as growing investments in projects responsible for providing clean fuels, such as shale gas processing, LNG projects, etc. In addition to this, growing investments in refinery expansion projects, thermal power plants and fertilizers plants are also estimated to surge the demand for high pressure heat exchangers in near future. Increasing growth in developing economics globally will also boost the adoption of energy saving equipment as well as promote growth in industrialization across the globe over the next ten years. Additionally, growing HVAC equipment demand in emerging economies will also lead to positive growth of the market in near term.
The only key factors which can hamper the growth of high pressure heat exchangers is increasing competition from new vendors in domestic as well as regional markets.
Global High Pressure Heat Exchanger: Market Segmentation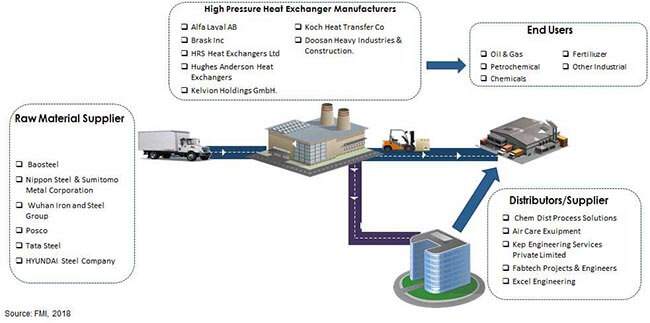 Global High Pressure Heat Exchanger Market: Key Players
Some of the key players operating in the global high pressure heat exchanger market are Alfa Laval AB, Brask Inc., HRS Heat Exchangers Ltd., Hughes Anderson Heat Exchangers Inc., Manning and Lewis, SPX Corporation, Southern Heat Exchanger Corporation, Kelvion Holdings GmbH, Koch Heat Transfer Co, Xylem, Doosan Heavy Industries & Construction and Kelvion, among others.
Regional Market Outlook
The global high pressure heat exchangers market will offer significant opportunities for key market players in near future owing to rapid growth and increasing disposable income in both developed and developing economics. On the basis of geographical region, the rapid growth of the process industries in Asia Pacific and their manufacturing operations globally is expected to fuel the growth of high pressure heat-exchanger market. However, fluctuating raw material prices and shifting of key players to developing countries, such as Asia Pacific, is expected to resist the growth of the high pressure heat exchanger market during the forecast period.
Moreover, growth in per capita consumption income in developing countries, such as India, China and Korea, has led to rigorous development of end-use industries in these regions. Western Europe has strong potential to become one of the key markets for high pressure heat exchangers in near future as Western Europe is home to most of the key global leaders in high pressure heat exchanger production. The sale of high pressure heat exchangers in the region is estimated to grow with significant CAGR during the forecast period. The demand in Western Europe region is expected to be boost by growing need to replace old high pressure heat exchangers.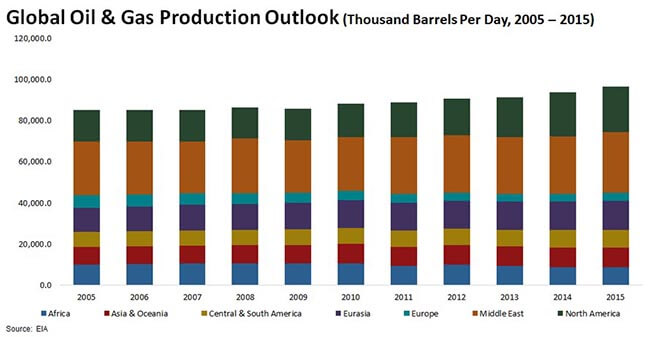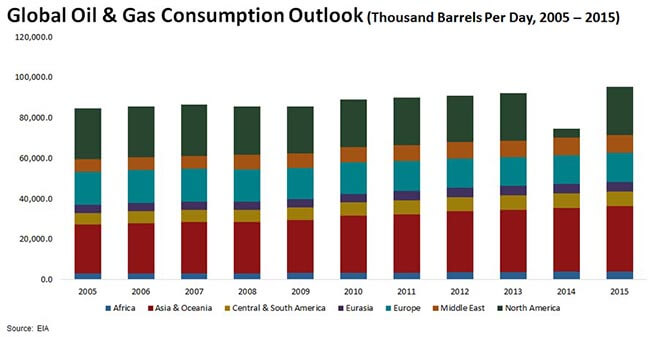 Opportunities for Market Participants
Manufacturers have significant opportunities in the high pressure heat exchanger market to gain maximum revenue share also, the increasing stringent regulations imposed by the governments globally to safeguard the environment will further accelerate the opportunities created by the market players.
Brief Approach to Research
FMI will follow a modelling-based approach and triangulation methodology to estimate data covered in this report. A detailed market understanding and assessment of the product type, pressure range and end uses of the product segments covered in the study is followed by carrying out a demand-side approach to estimate the sales of target product segments, which is then cross-referenced with a supply-side assessment of value generated over a pre-defined period. The statistics and data is collected at a regional level and consolidated and synthesized at a global level to estimate the overall market sizes.
Key Data Points Covered in the Report
The research report presents a comprehensive assessment of the market and contains thoughtful insights, facts, historical data, and statistically supported and industry-validated market data. It also contains projections using a suitable set of assumptions and methodologies. The research report provides analysis and information according to market segments such as geographies, application, and industry.
The report is a compilation of first-hand information, qualitative and quantitative assessment by industry analysts, inputs from industry experts and industry participants across the value chain. The report provides in-depth analysis of parent market trends, macro-economic indicators and governing factors along with market attractiveness as per segments. The report also maps the qualitative impact of various market factors on market segments and geographies.
NOTE - All statements of fact, opinion, or analysis expressed in reports are those of the respective analysts. They do not necessarily reflect formal positions or views of Future Market Insights.
Unique Requirements? Customize this Report
Customize by Region, Country, Application, Product, & other segments
Integrate our Insights with your Existing Data
Determine the scope of the study to suit your requirements
Gain Insights on Key High Pressure Heat Exchanger Market Impacting Forces
Know the Winning Strategies of Market Leaders
Get Deep-Dive Analysis on Each Segment
Identify the Sources that will Drive Top-Line Revenue
On the basis of type, the global high pressure heat exchanger market is segmented as follows –
Shell and tube
Plate Heat Exchanger
Others
On the basis of pressure, the global high pressure heat exchanger market is segmented as follows
Up to 10 Bar
10 Bar – 35 Bar
Above 35 Bar
On the basis of end use, the global edible casing market is segmented as follows –
Petrochemical
Oil & Gas
Thermal Power Plants
Chemical
Other Industrial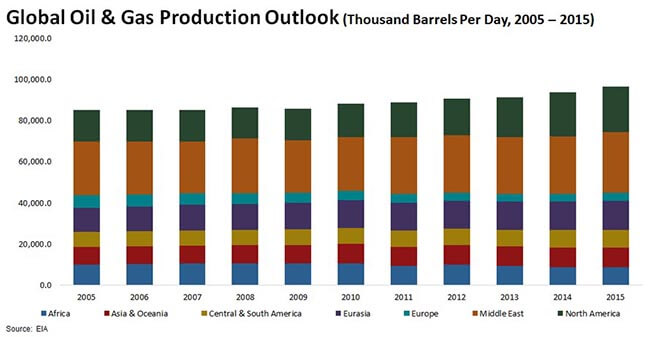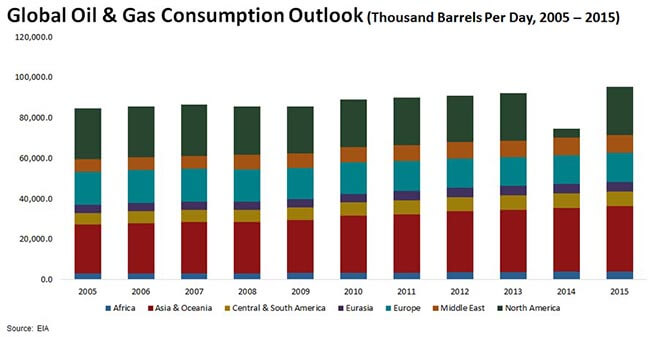 Some of the key data points covered in our report include:
An overview of the high pressure heat exchanger market, including background and evolution
Macroeconomic factors affecting the high pressure heat exchanger market and its potential
Market dynamics, such as drivers, challenges and trends
Detailed value chain analysis of the high pressure heat exchanger market
Cost structure of the products and segments covered in the global high pressure heat exchanger market
In-depth pricing analysis, by key product segments, regions and by major high pressure heat exchanger market participants
Analysis of supply and demand, such as top producing and consuming geographies, imports/exports and overall trade scenario in the global high pressure heat exchanger market
Analysis of the global edible casing market structure, including a tier-wise categorization of key high pressure heat exchanger market participants
Competitive landscape of the market, including detailed profiles of the top players in the high pressure heat exchanger market
The report covers exhaust analysis on:
Market Segments
Market Dynamics
Market Size
Supply & Demand
Current Trends/Issues/Challenges
Competition & Companies involved
Technology
Value Chain
Regional analysis includes:
North America (U.S., Canada)
Latin America (Mexico. Brazil)
Western Europe (Germany, Italy, France, U.K, Spain)
Eastern Europe (Poland, Russia)
Asia Pacific (China, India, ASEAN, Australia & New Zealand)
Japan
Middle East and Africa (GCC Countries, S. Africa, Northern Africa)
Report Highlights:
Detailed overview of parent market
Changing market dynamics in the industry
In-depth market segmentation
Historical, current, and projected market size in terms of volume and value
Recent industry trends and developments
Competitive landscape
Strategies of key players and products offered
Potential and niche segments, geographical regions exhibiting promising growth
A neutral perspective on market performance
Must-have information for market players to sustain and enhance their market footprint
Harish Tiwari
Global Head - Business Development