Imitation Whipped Cream Market By Nature (Organic, Conventional), Form (Powder, Liquid), Product Type (Soy Creamer, Almond Creamer, Oat Creamer), End-Use (HoReCa/Food Service, Food & Beverage Processing, Household/Retail), Sales Channel (Direct Sales, Indirect Sales) & Region - Forecast to 2020 - 2030
Imitation Whipped Cream Market - Analysis, Outlook, Growth, Trends, Forecasts
May 2020

REP-GB-419

250 pages
IMITATION WHIPPED CREAM MARKET - KEY RESEARCH FINDINGS
The growth of imitation whipped cream market is majorly driven by millennial generation, owning to their changing preference in and changing eating habits.
North America dominates share the imitation whipped cream market and expected to maintain its dominance share during the coming years as well over the other regions.
Asia Pacific is projected to be the fastest growing market driven by rising usage of imitation whipped cream in the food service industry.
At present, conventional imitation whipped cream accounts for more than one-third of the market share and expected to maintain its dominance during the coming few years.
Imitation Whipped cream are expected to find immense application in food and beverage industry over the HoReCa and Household sectors.
KEY FACTORS SHAPING IMITATION WHIPPED CREAM MARKET
Higher Shelf Stability of the Imitation Whipped Cream Comparison with Regular Creamers
Imitation whipped cream is produced using either the vegetable oils or the plant-based milk and are then spray-dried to achieve change them into a powder form. Imitation whipped cream in the powdered form have the highest economic contribution due to its higher shelf life, which has an impact on the choice of consumers as well as the retailers that sell the product.
Imitation whipped cream is easily storable and do not require any additional efforts. The storage of imitation whipped cream in supermarkets is also easier and cost-effective as these non-dairy creamers have an extended life. Thus, the value of the imitation whipped cream is higher in the global market.
Increasing Application of Imitation Whipped Cream in Snack Products
According to the International Food Information Council Foundation, 57% of people snack at least once a day to treat themselves, satisfy their hunger, or to gain energy. The number of individuals who consume snacks every day is increasing, and thus, the demand for snack products is increasing rapidly.
Customers prefer innovative and unique snack products and cream is widely used for the preparation of various snack products such as chips, pizzas, nachos and burgers to add different flavors and improve the taste. The increasing sales of snack products help boost the growth of the imitation whipped cream market for the food service industry.
APEJ Shows Higher Growth than Other Regions
Asia Pacific (APEJ) represents the most lucrative imitation whipped cream market. Rising population of young people and their changing eating habits particularly in developing countries such as India and China are critical in influencing growth in the regional market. FMI reveals that consumers in emerging countries are showing greater interest towards trendy food and beverages. As such, market players are focusing more on APEJ and channelizing their resources over there.
However, the coronavirus (COVID-19) pandemic has created disruptions in global food supply chains. The impact of the pandemic across the food system, especially in China – has resulted in loss of demand for the market. The food and beverage industry as well is facing challenges owing to curbs imposed on transport. Social distancing and stay at home orders have further shuttered restaurants and food chains, which is negatively impacting the market.
IMITATION WHIPPED CREAM MARKET: STRUCTURE ANALYSIS
Some of the major players operating in imitation whipped cream market includes Kraft Heinz Company, Rich Products Corporation, Nestlé S.A, Danone, Trader Joe's Company, Grupo Chantilly SA de CV, Ilsa Frigo, Kerry, Dos Anclas, Eurocas Group of Companies, Hydrosol GmbH & Co. KG, PURATOS, Arla Foods and others
Manufacturers in this market are focusing on developing research and development to find the more new source to derived imitation whipped cream. Such as cashews, oats and hemp imitation whipped cream are few new addition in the product category.
Base year considered - 2020
Historical Period - 2015 - 2019
Forecast period - 2020 - 2030
Market Value in 2020 - US$ 958.7 Mn
Segments covered - Nature, Form, Product Type, End-Use, Sales Channel and Region
Regions covered - North America, Latin America, Europe, Asia Pacific, Japan, Oceania and MEA
Key Players - Kraft Heinz Company, Rich Products Corporation, Nestlé S.A, Danone, Trader Joe's Company, Grupo Chantilly SA de CV, Ilsa Frigo, Kerry, Dos Anclas, Eurocas Group of Companies, Hydrosol GmbH & Co. KG, PURATOS, Arla Foods and others.
Growth Drivers -

Rising number of lactose intolerance population around the worldwide
Clean label trend driving the market
The Natural Ingredient-based products boosting the growth
Rising trend of ready to drink beverages
Shifting manufacturers towards the organic food manufacturing.
Manufacturers to Capitalize on High Adoption of Organic Products
The trend of consumers buying organic products has been increasing over time. The consumption of organic food products is anticipated to be a major contributor to the revenue growth. Organic food products are made from organically grown ingredients and are processed naturally without inclusion of any chemicals. Such products are considered healthy for consumption.
The demand for food containing organic ingredients is increasing. Currently, the production of organic cream is not up to the mark as manufacturing and obtaining certifications are time consuming and expensive processes. Thus, there is a demand-supply gap. However, the supply is likely to increase in the foreseeable future. Rising demand for healthier imitation whipped cream recipes will aid the expansion of the market.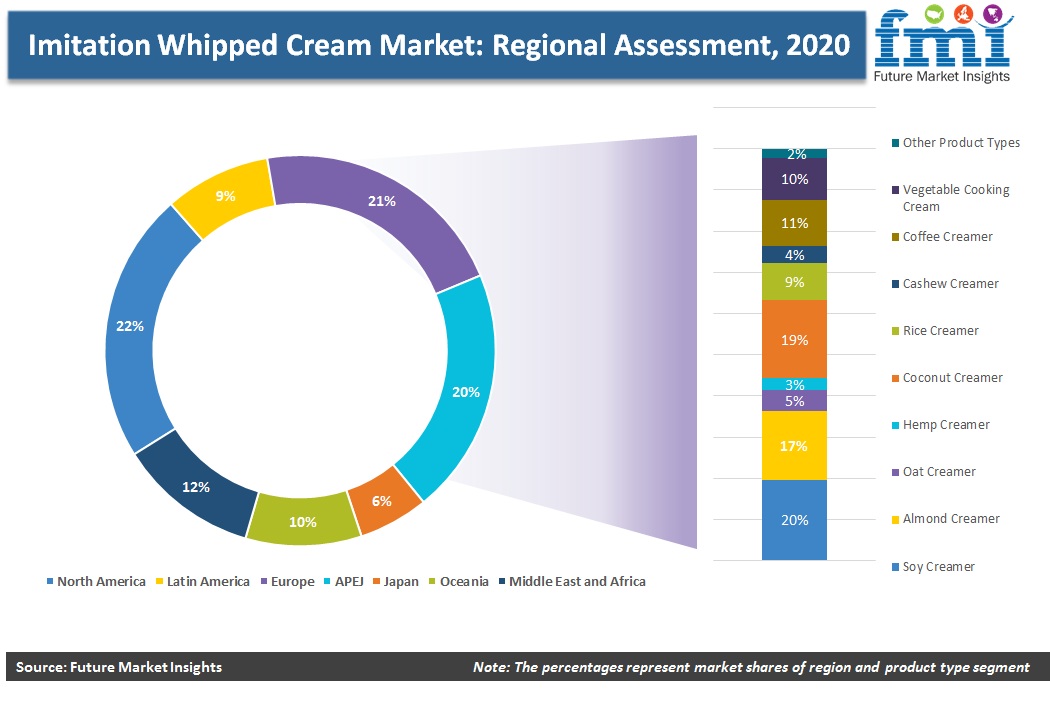 Asia Pacific Market is anticipated to Witness Significant Growth
Asia Pacific is the fastest-growing market for imitation whipped cream. It is projected to record the highest CAGR during the forecast period. Asia Pacific is also one of the leading consumers of imitation whipped cream and imitation whipped cream frosting. The rise in the millennial population, rising popularity of plant-based ingredients, increasing consumption of healthy food, and expanding HoReCa and food service sectors are major factors driving the market in Asia Pacific.
In Asia Pacific, India is projected to contribute the highest revenue in the near future due to relatively high consumption and high daily intake of imitation whipped cream among Indian consumers. Oceania, however, is expected to see rapid growth over the forecast period due to increased market awareness of imitation whipped cream products and increased consumer preferences for nutritionally rich food products in countries such as Australia and New Zealand.
Lactose Intolerance among Consumers May Give Headwinds to Growth
The consumer base for non-dairy products is increasing around the world. Consumers who choose dairy alternatives either \prefer dairy alternatives more than the dairy products or have lactose intolerance. They often use imitation whipped cream frosting and products from various whipping cream brands in their beverages and other food products. Considering this, in the future the imitation whipped cream market is likely to entertain an increasing number of consumers.
Approximately more than 3/4 of human does not have ability to digest food containing lactose after infancy. This has led to many manufacturers produce dairy alternatives such as plant-based products with the same taste and appearance.
How Growth will Unfold
Increasing investment in innovation and product development in the food and beverage industry, especially in developing countries, is driving the imitation whipped cream market. Over the past few years the popularity of ready to drink beverages, coffee, and bakery food consumption has significantly risen. The increasing incidence of lactose intolerance has been bolstering the demand for imitation whipped cream containing plant-based ingredients.
The fluctuation in the pricing of milk is also compelling manufactures to shift towards plant-based sources. These factors are driving the dairy based whipped cream adoption. The growing use of imitation whipped cream in the food and beverage industry also helps in market expansion. In addition to this, growing demand for convenience food items and rapidly changing lifestyles, are likely to increase the growth rate of the plant-based Ingredients in the food industry.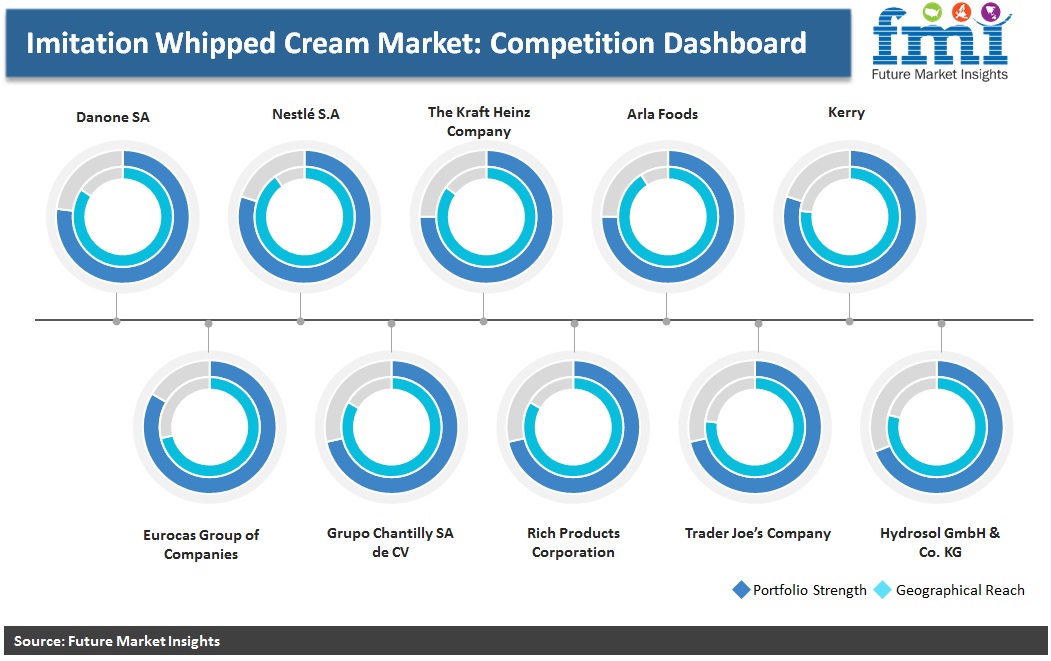 World's Most Profilic Intelligence Engine
Get Access To The World's Largest Market Research Database.
Sign Up Now
IMITATION WHIPPED CREAM MARKET TAXONOMY
The global imitation whipped cream market is segmented in detail to cover every aspect of the market and present complete market intelligence to readers.
Nature
Form
Product Type
Soy Creamer
Almond Creamer
Oat Creamer
Hemp Creamer
Coconut Creamer
Rice Creamer
Cashew Creamer
Coffee Creamer
Vegetable Cooking Cream
Other Product Types
End-Use
HoReCa/Food Service
Food & Beverage Processing

Food Premixes
Soups and Sauces
Beverage Mixes
Coffee Mixes
Tea Mixes
Bakery Products and Ice Cream
RTD Beverages
Others

Infant Food
Prepared and Packaged Food

Household/Retail
Sales Channel
Direct Sales
Indirect Sales

Modern Trade
Convenience Store
Departmental Store
Online Retailers
Specialty Store
Other Sales Channel
Region
North America
Latin America
Europe
APEJ
Japan
MEA
Oceania
Need specific information?
Our Clients