Introduction
Future Market Insights forecasts the global IP multimedia subsystem market revenue to increase from nearly US$ 14.3 Bn in 2017 to nearly US$ 50.4 Bn by 2026 end. This represents a compound annual growth rate (CAGR) of 15.0% from 2016 to 2026. The global IP multimedia subsystem market is expected to represent an incremental opportunity of nearly US$ 38 Bn between 2016 and 2026.
IP multimedia subsystem services are creating new opportunities for network operators and end users
Due to IP multimedia subsystems, network operators can expand the portfolio of their services such as multimedia communication and integrated voice services. This aids in the collaboration of multiple media, multiple points of access and multiple modes of communication into a single network due to which a large number of network operators are adopting IP multimedia subsystem services.
IP multimedia subsystem services also include a feature to add, modify or delete a session in the existing multimedia call and help end users have a personalised experience for voice, data and multimedia sessions. IP multimedia subsystem services help users to choose the most suitable medium of communication in real time, and allow them to control when and how they want to communicate.
Security threats acting as a restraint in the global IP multimedia subsystem market
When any system is connected to the internet, it increases the possibility of cyber-attacks and easy data hacking, which is a risk that is not associated with internal security systems. Due to this, enterprises are not eager to use internet based IP multimedia subsystem services so as to not expose their applications to the internet. Authentication into these services needs to ensure appropriate levels of protection with strong multifactor security options.
Many service providers are providing IP multimedia subsystem services without strong security services due to which cyber criminals can access such internet-based services easily and can also hack the confidential or personal information of users. This acts as a restraint to the IP multimedia subsystem market growth.
Expansion of existing service portfolio by network operators creating wide opportunities in the global IP multimedia subsystem market
Operators have invested significantly in their broadband infrastructure in order to provide better and advanced services to their customers. Network service providers are adding new communication services such as IP multimedia subsystem services to their offerings that can help address the needs of existing customers and aid in the process of business expansion. Many companies have started to offer wireline IP multimedia subsystem solutions that help operators directly offer IP telephony and improve Voice over Internet Protocol (VoIP) services with multimedia capabilities such as video conferencing, buddy list and instant messaging.
This type of expansion of services has increased the penetration of IP multimedia subsystem services in the market as it allows the operators to introduce new revenue generating services and reduce operating costs as well as capital expenditure.
Global IP Multimedia Subsystem Market Attractiveness By Application Type, 2016–2026
The internet and web service segment was valued at nearly US$ 3,000 Mn and accounted for 23.9% revenue share in 2016. The segment is expected to be valued in excess of US$ 14,000 Mn by 2026 end, accounting for 29.0% revenue share at a CAGR of 17.2%. Internet and web based services are being increasingly adopted by users due to high usage of social media services on personal devices.
The VoIP segment is also expected to witness robust growth, despite demand being relatively lower. This segment was valued at over US$ 3,000 Mn, and accounted for 24.4% value share in 2016. By 2026 end, this segment is projected to reach a value of nearly US$ 14,000 Mn, and account for 27.3% revenue share at a CAGR of 16.3%.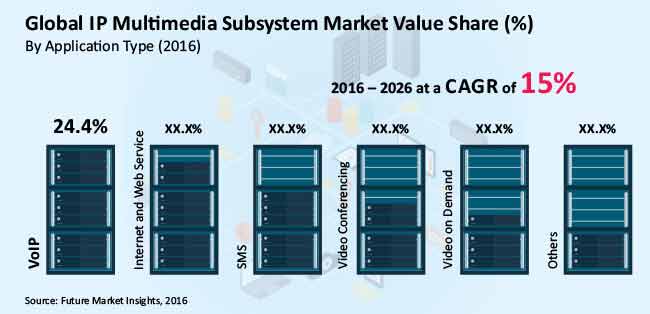 Increasing usage of multimedia applications is a growing trend in the global IP multimedia subsystem market
IP multimedia subsystem services are enabling devices such as smartphones and laptops to access services through various networks such as cellular, broadband, Wi-Fi and others. In addition, along with a rising use of smartphones, individuals are using multimedia applications in order to improve their communications.
IP multimedia subsystem services allow users to use services such as multimedia conferencing, instant messaging, push-to-talk and other services along with maintaining the quality of services without increasing costs. Going with this current trend, many operators have started offering multimedia capabilities through IP multimedia subsystem services such as video, messaging, audio, push service and others to improve their offerings.
Market Taxonomy
By Mode of Communication
Mobile/Wireless
Cable/Wireline
By End User
By Application
Internet & Web Service
VoIP
SMS
Video Conferencing
Video on Demand
Others
By Region
North America
Latin America
Western Europe
Eastern Europe
Asia Pacific Excluding Japan
Middle East and Africa
Japan
Need specific information?