Medical Face Shield Market by Material (Polycarbonate, Polyethylene terephthalate glycol, Acetate, Propionate), Type (Anti-fog, Anti-glare, Others), Usage (Disposable, Reusable), End User (Hospital Pharmacies, Retail Pharmacies, Online Pharmacies) & Region - Forecast to 2020 – 2030
Medical Face Shield Market - Analysis, Outlook, Growth, Trends, Forecasts
July 2020

REP-GB-11864

241 pages
Medical Face Shield Market Outlook and Key Findings
The global medical face shield market to witness a CAGR of ~11% through 2030
Consumer preference for added protection can cause medical face shields to become as ubiquitous as face masks
Demand for anti-fog medical shields expected to grow during the forecast period
Medical face shield market witnessing entry of non-specialists, such as Apple, Ford, and Nike
Market Witnessing Foray of Non-Traditional, Non-Specialist Players
Prior to the COVID-19 pandemic, the face shield market was a niche, with specialized players catering to the demand.
However, as the pandemic has intensified, many non-specialist brands have made a foray – some sensing an opportunity, while others are motivated by 'doing their bit' sentiment.
For instance –
GIR, the company dealing with kitchen utensils, has shifted a part of its production to developing breathable face shields made from LGFB- and FDA-approved medical-grade silicone. It could be cleaned after every use in oven, microwave, dishwasher, autoclave, or hand washing with hot water and soap
In May 2020, Ripclear (known for making advanced protective film for outdoor sports eyewear), announced the launch of its V2 Shield. The objective is to help EMS workers, police, nurses, and operations personnel fight Covid-19.
Apple, in Apr 2020, jumped in with its easy to sanitize, pack, and adjust "face shields". These face shields comprise 3 parts – latex-free silicone strap, face shield, and forehead band.
Steelbird Helmets, in Apr 2020, came up with medical face shields to hand over to the healthcare workers for fighting Covid-19
In Apr 2020, Mahindra retooled its manufacturing facility at Detroit for producing medical face shields for the localized frontline healthcare workers along with first corresponders
In Mar 2020, Bauer, the company manufacturing hockey gear, shifted its production from helmet visors to medical face shields to address the novel coronavirus pandemic
Ford, from Apr 2020 onwards, started manufacturing medical face shields at their European facilities as a constructive measure of providing safe working environment for employees returning during Covid-19 pandemic
In Mar 2020, Mahindra started production of medical face shields to distribute amongst medical attendants, nurses, doctors, and support staff. This production started at its Mumbai-based plant in Mumbai
Medical Face Shield Market Trends
Several educational institutes, universities, and medical face shield market players are coming up with novel varieties of medical face shields to cope up with the Covid-19 crisis. This trend is expected to continue even in the forecast period, as the demand for medical face shield will persist to avoid the further outbreak.
For instance –
In Mar 2020, a team from Massachusetts Institute of Technology (MIT) declared devising a new technique for meeting the growing demand for medically disposable face shields. As such, machines would be cutting design from hoards of flat sheets/hour.
On arrival of these flat sheets in hospitals, the health care personnel could easily fold them into 3D face shields prior to adjusting with respect to their faces. Budmen Industries, in Mar 2020, converted the 3D-printer business into production site pertaining to face shields for being used by those at Covid-19 test sites all over the US.
Disposable Medical Face Shields
On the other hand, the trend of disposable medical face shields is on the rise. Medical practitioners specially prefer them as the chances of contamination are reduced to a great extent. For instance – Halyard's full length anti-fog disposable non-sterile face shield is designed for dental offices, hospitals, and labs.
Medical Face Shield Market Characteristics & Attributes with Regional Relevance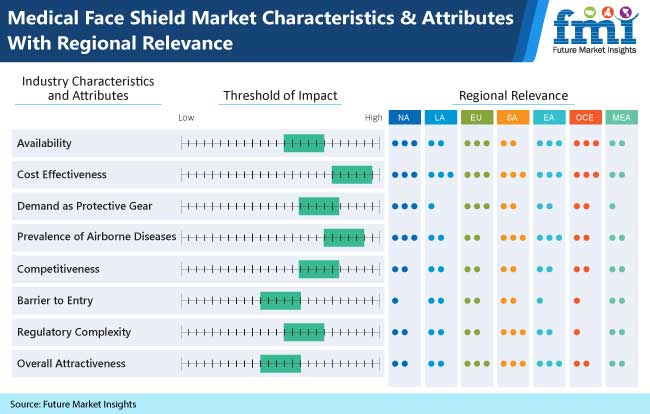 Though the entry barriers aren't that stringent, regulatory complexity are the factor acting as restraint. The competitive landscape speaks volumes of relentless efforts taken by the players to stand out in the market.
Besides, the outbreak of Covid-19 has changed the paradigms of medical face shield market. The market was into linear transition mode prior to the pandemic. However, it has grown by more than 100% in the last 2 months.
The pandemic has increased the demand for medical face shield market to the extent of even the non-seasoned players going for manufacture of medical face shields. So, the upward transition will see the medical face shields draw 10X revenue from the seasoned as well as offbeat players in the upcoming months.
Medical Face Shield Market: Region Wise Analysis
The US and East Asia continue to be the most lucrative markets for personal safety equipment specifically for medical face shield
East Asia's market accounts for about one-third of global medical face shield market and is expected to witness staggering growth in the future.
Australia, India and Brazil represent significant opportunity for medical face shield market.
With increasing production facilities and product adoption the opportunity for the market players for medical face shield has increased manifold.
Major Players in the Medical Face Shield Market
The global medical face shield market is dominated by top manufacturers (Honeywell International Inc., Paulson Manufacturing, Marian Inc., Inovus Medical, MSA Safety) with a revenue share of ~40%.
The players have their distribution networks in place to ensure the consumers of on-time delivery along with reaching out to broader geographies.
Further growth opportunities are likely to be provided by growing incidences of infectious and contagious ailments, stern regulatory framework, and increasing adoption of medical face shields by the end-users to maintain workers' health.
Kimberley-Clark Corp. designs face shields especially for environments and procedures prone to exposure to blood/bodily fluids by splashing. The company is likely to scale high in Asian economies that are known for more number of mishaps, as being at the spot is likely to cause infection.
Ruhof manufactures medical as well as non-medical face shields. The chin length guard permits airflow, so as to make way for extended wear. Being known for making the first enzymatic detergent to clean surgical instruments, Ruhof's medical face shields could go great guns with consumers being able to lay their hands on these cleaning solutions in one go.
Key Surgicals LLC differentiate themselves from their counterparts in terms of "Tyvek" expanders. These anti-glare, anti-fog face shields could be used with reusable frames. They could be of great use in small-scale hospitals where frames could be reused and affability could be maintained.
Other major players in the market are-
Hobart Welding
Medline Industries
Hager & Werken GmbH & Co. KG.
DiaDent Group International
Dymax Corporation
GETT Gerätetechnik GmbH
Linear Medical
Magid Glove & Safety
Univet S.r.l.
Medical Face Shield Market: The Way Forward
The healthcare industry has been on the toes since the emergence of Covid-19. Medical face shields were spoken of and also used during the other pandemics like SARS, Zika, and likewise.
However, this time around, the fatalities are more to count. The situation has not yet come under control. In line with this crisis, everything – right from production to delivery has been catalyzed and continues to do so.
Even those not into healthcare have pitched in. With this short-term increase, the growth rate in the forecast period is projected to be ~11% as per FMI.
As WHO has confirmed; Covid-19 won't stop to be a part of our lives. So, living with this disease, using medical face shields proves to be a viable option. The medical face shield market is all set to witness an exponential growth in the near future.
Moreover, with the advent of 3D printed medical face shields, technology and medical science are expected to make greater strides in the forecast period.
World's Most Profilic Intelligence Engine
Get Access To The World's Largest Market Research Database.
Sign Up Now
Medical Face Shield Market: Segmentation
Material
Polycarbonate
Polyethylene terephthalate glycol
Acetate
Propionate
Type
Anti-fog
Anti-glare
Others
Usage
Distribution Channel
Hospital Pharmacies
Retail Pharmacies
Online Pharmacies
Region
North America
Latin America
Europe
South Asia
East Asia
Oceania
MEA
Need specific information?
Our Clients