Narcolepsy Drugs Market by Therapeutic Type (Central Nervous System Stimulants, Tricyclic Antidepressants, Sodium Oxybate, Selective Serotonin Reuptake Inhibitor, & Other Therapeutic Type) Product Type, Application & Regions, Forecast, 2018-2028
Narcolepsy Treatment Market - Analysis, Outlook, Growth, Trends, Forecasts
November 2018

REP-GB-7641

155 pages
Programmes to Increase Awareness Regarding the Importance of Narcolepsy Treatment
The burden of chronic sleep disorders, with low awareness among the general population, creates a major barrier for the growth of the narcolepsy treatment market. Policymakers require a well-coordinated approach to improve sleep-related healthcare. Increasing awareness improves the treatment and diagnosis of sleep disorders such as narcolepsy. Over the past few years, it has been observed that the number of sleep complaints has been increasing.
Around 76% of the Brazilian population observed complains of sleep apnea, narcolepsy or snoring. However, despite these issues, the number of individuals seeking medical services for sleep problems did not change. This has been surging the demand for sleep treatment and thus, is expected to drive the overall narcolepsy treatment market. Moreover, increasing awareness programs are expected to effectively reduce sleep problems and increase the adoption of sleep aids, thereby boosting the narcolepsy treatment market.
Increasing Usage of Portable Sleep Apnea Devices
Sleep apnea devices such as positive air pressure devices which includes CPAP, BiPAP and APAP are used as treatment therapies for sleep-related disorders such as narcolepsy, insomnia, circadian rhythm sleep disorders and others. CPAP is a medical device that comprises a pump and mask connected through a tube. The adoption of CPAP is increasing as it helps maintain proper sleep and provides relief from snoring.
Companies such as Philips Respironics, ResMed, Inc. and others have increasingly been focusing on manufacturing different types of CPAP devices such as in- CPAP humidifiers, which keep the air inside the device moist. Portable CPAP devices are lighter, smaller and easier to carry and thus, people are using these devices as home-based units.
Increasing Prescription of Sleep Aids
According to CDC, around 50 to 70 Million Americans suffer from some sleep disorders and sleep deprivation conditions. Approximately 4% of the U.S. adults aged 20 and above use prescribed sleep aids as well as wearable sleep trackers. The percentage of the population using prescription sleep aids is increasing with education and age. About 9 Million U.S. adults take prescription sleep aids, wherein women (5.0%) use more prescription sleep aids than men (3.1%). This increase in the prescription of sleep aids is expected to boost the market of narcolepsy treatment globally.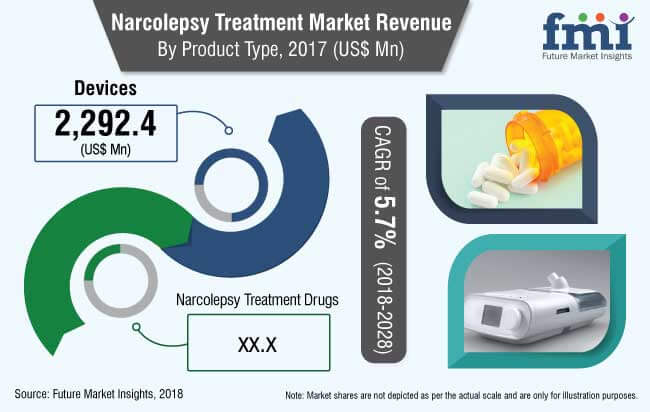 Lack of Skilled Professionals and Standard Usage Guidelines
The lack of skilled healthcare professionals for operating narcolepsy treatment devices within the healthcare domain represents a prime obstacle to the growth of the narcolepsy treatment market in this region. Presently, the demand for skilled employees is rising, especially in the Middle East and Africa, due to the limited availability of resources. Furthermore, the lack of proper documentation for the usage and licensing of narcolepsy drugs and the improper equipment standardization associated with narcolepsy treatment devices hamper the growth of the global narcolepsy treatment market.
Competitive Landscape
The competition section of the narcolepsy treatment market features profiles of key players operating in the industry based on their market share, product offerings for narcolepsy treatment, differential strategies, company dashboard and marketing approach. Some of the key players featured in this report include Merck & Co. Inc., Pfizer Inc., ResMed Inc., GlaxoSmithKline Plc., Fisher & Paykel Healthcare Limited, Drive DeVilbiss Healthcare LLC, Teva Pharmaceutical Industries Ltd. (Cephalon, Inc.), Jazz Pharmaceuticals plc, Mylan N.V., and others.
These companies offer wide ranges of narcolepsy treatment drugs and narcolepsy treatment devices. Emerging players operating in the narcolepsy treatment market are majorly focusing on new marketing strategies in order to expand their product footprint in the global narcolepsy treatment market.
Definition
Narcolepsy is a sleep disorder categorized by overwhelming daytime drowsiness and sudden attacks of sleep. Some of the common symptoms associated with narcolepsy include excessive daytime sleepiness, loss of muscle tone, hallucinations and sleep paralysis. Obesity and lethargy are some of the complications associated with narcolepsy. Its treatment includes the use of stimulants, selective serotonin reuptake inhibitors, tricyclic antidepressants and sodium oxybate.  
About the Report
The narcolepsy treatment market report offers a comprehensive evaluation of the business opportunities in the narcolepsy treatment market along with insights on the narcolepsy treatment consumer adoption process, competition blueprint, pipeline assessment, epidemiology study, list of key distributors and suppliers for the duration from 2018 to 2028.
Additional Questions Answered
Some of the additional questions addressed in this report on narcolepsy treatment market-
What is the revenue potential of narcolepsy treatment across regions of North America and Europe?
Who are the key competitors in the narcolepsy treatment market and what are their portfolios?
What are the major challenges influencing the growth of the narcolepsy treatment market?
How is intervention from regulatory authorities shaping the narcolepsy treatment market growth?
Research Methodology
FMI utilizes a triangulation methodology that is primarily based on experimental techniques such as patient-level data, to obtain precise market estimations and insights on Molecule and Drug Classes, API Formulations and preferred modes of administration. Bottom-up approach is always used to obtain insightful data for the specific country/regions. The country specific data is again analysed to derive data at a global level.
This methodology ensures high quality and accuracy of information. Secondary research is used at the initial phase to identify the Age specific disease epidemiology, diagnosis rate and treatment pattern, as per disease indications. Each piece of information is eventually analysed during the entire research project which builds a strong base for the primary research information.
Primary research participants include demand-side users such as key opinion leaders, physicians, surgeons, nursing managers, clinical specialists who provide valuable insights on trends and clinical application of the drugs, key treatment patterns, adoption rate, and compliance rate.
World's Most Profilic Intelligence Engine
Get Access To The World's Largest Market Research Database.
Sign Up Now
Segmentation
The report offers a comprehensive taxonomy of the narcolepsy treatment market on the basis of product type, distribution channel and region. On the basis of product type, the global narcolepsy treatment market has been segmented into narcolepsy treatment drugs and devices.
On the basis of distribution channel, the global narcolepsy treatment market has been segmented into retail pharmacies, hospital pharmacies, e-commerce, drug stores and others. From a geographical perspective, the narcolepsy treatment market has been segmented into North America, Latin America, Europe, Asia Pacific and Middle East & Africa (MEA).
Need specific information?
Our Clients