An Incisive, In-depth Analysis on the Neurological Biomarkers Market
This study offers a comprehensive, 360 degree analysis on the Neurological Biomarkers market, bringing to fore insights that can help stakeholders identify the opportunities as well as challenges. It tracks the global Neurological Biomarkers market across key regions, and offers in-depth commentary and accurate quantitative insights. The study also includes incisive competitive landscape analysis, and provides key recommendations to market players on winning imperatives and successful strategies.
Genomics emerges as the trending biomarker type, and is expected to witness impressive growth
Neurology disorders are affecting major percentage of the global population and it is considered a major cause of disability around the globe. The prevalence of neurological disorders is growing at a very high pace, in which biomarkers are expected play a vital role in better understanding of the disease and development of personalized medicine specific to the patient. There are different types of biomarkers in the market, such as Genomics Biomarker, Proteomics Biomarker, Metabolomics Biomarkers, Imaging Biomarkers, Others. Among these, geonomics biomarker is expected to hold a higher market value reach over US$ 2,700 Mn by the end of 2025.
With the advancements taking place in the healthcare industry and expansion of neurological biomarkers market, new trends are being introduced in the market. A latest trend introduces genomics to the biomarkers market. The process is considered to be an efficient process of examining a disease at the genetic level. It can play major role in the drug development and personalized medicine too. Imaging biomarkers has also come up as one attractive biomarker type, which is expected to witness growth at a high rate in the years coming ahead. Metabolomics biomarkers is also one of these attractive category in the market which is expected to be a lucrative segment in the coming years.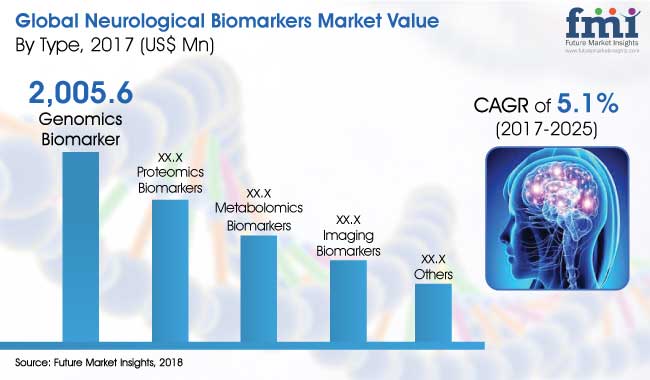 Neurological biomarkers market stands strong in terms of business, as the market demands personalized medicines
Early diagnosis of neurological diseases plays a crucial role in successful management of the disease. Neurological system has limited accessibility and thus, makes diagnosis of the disease a difficult process. Moreover, presently available diagnostic procedures lack sensitivity and specificity for evaluation of disease progression and prognosis. Neurological disorders are diagnosed with cognitive testing, clinical history, structural MRI and neurological examination. However, there are few circumstances wherein identification of specific biomarker is required to understand the diagnosis and treatment of the disease. Biomarker is considered as an indicator in evaluation and measurement of a pathological and physiological process or indicator for pharmacological response to a treatment. Biomarkers are common reference point for diagnosis of disease and play a major role in the development of personalized medicine. There has been significant progress in understanding of onset and development of neurological diseases at the epigenomic and genomic levels. It leads to rapid development of biomarkers in diagnosis of disease with main emphasis in personalized medicine. The growth is expected to take place rapidly, with the requirements of personalized medicines in the coming years.
The market is expected to be stay active also with the increase in research initiatives taking place. There is a huge demand for identifying and validating biomarkers from a large number of population and conducting the research process with the help of this method. It is anticipated to be major factor marking the growth of neurological biomarkers market.
Heterogeneity of Disease turns out to be a stout hindrance in the growth of neurological biomarkers market
In case of heterogeneity, the same disease phenotype is produced with multiple interrelated processes and it increases the difficulty of discovery of biomarkers in degenerative diseases. Such cases can be misleading and increases the complications of the detection and analysis process. It leads to confusion between abnormal and normal health conditions. The clinical symptoms of one disease may be identified by number of heterogeneous Omics variations. Such cases can tone down the expectations of people from neurological biomarkers process and also hamper the growth of its market globally.
Global Healthcare Services Sector Outlook
There is growing consensus among healthcare providers that the current fee-for-services payment mechanism needs an overhaul. While fee-for-services is the pervasive method of billing patients, alternative processes, such as capitation and pay-for-performance are also being considered. We anticipate fee-for-services to be supplemented by capitation and pay-for-performance in the future. In addition to charging patients for screening and doctor visits, pay-for-performance can lead to higher quality of care, as other essential tasks will also be billed. It may lead to an increase in healthcare costs, with the promise that quality of care will go up.
The healthcare system is in a phase where access to capital is constantly diminishing. Big spends are rare and there is increasing uncertainty among borrowers about their ability to repay loans and funding. Healthcare institutions are either postponing large capital-intensive projects or allocating resources to specialty areas that offer a high ROI. Cash-constraints will result into an increase in mergers and acquisitions and lead to fundraising from healthcare providers. However, as only a select few will qualify for an acquisition or funding, the effects of cash-crunch will be palpable in this sector.
Healthcare providers and insurers are aware of the rapidly increasingly population and their growing healthcare needs. The impact is more palpable in the U.S. and Japan – important markets in terms of their standing in the global healthcare market. Providers and insurers are strategizing to tap into the available opportunities in this demographic. Baby boomers around the globe are actively taking charge of their health. Smartphone remains the primary source of information-seeking for this segment. With over 70,000 websites and hundreds of apps disseminating information, providers and insurers will focus on strengthening their digital presence to effectively target this demographic.
Research Methodology
FMI utilizes robust methodology and approach to arrive at market size and related projections. The research methodology for this report is based on 3 dimensional model. We conduct about 45-60 min duration detailed interviews with product manufacturers; apart from this we also collect market feedback from industry experts. To validate this data, we interact with senior panel members having more than 10 years of experience in relevant field. The panel members help in validating the findings and fill the gaps if any. In addition, we leverage on our existing pool of information, paid database and other valid information sources available in public domain. Usually industry interactions extend to more than 50+ interviews from market participants across the value chain.
Data Collection
FMI collects data from secondary sources including company annual reports, association publications, industry presentations, white papers, and company press releases apart from these we leverage over paid database subscriptions and industry magazines to collect market information and developments in exhaustive manner. After being done with desk research, detailed questionnaire and discussion guide is formulated to initiate primary research with key industry personnel; the discussion aims at collecting key insights, growth perspectives, prevalent market trends and quantitative insights including market size and competition developments. Both of these research approaches help us in arriving at base year numbers and market hypothesis.
Data Validation
In this phase, FMI validates the data using macro and micro economic factors. For instance, growth in electricity consumption, industry value added, other industry factors, economic performance, growth of top players and sector performance is closely studied to arrive at precise estimates and refine anomalies if any.
Data Analysis and Projection
Data analysis and projections were made based on proprietary research frameworks and statistical analysis, which was further validated from industry participants. These frameworks include Y-o-Y growth projections, macro-economic factor performance, market attractiveness analysis, key financial ratios, and others.
For public companies we capture the data from company website, annual reports, and investor presentations, paid databases. While for privately held companies, we try to gather information from the paid databases (like Factiva) and based on the information we gather from databases we estimate revenue for the companies. In addition, the team tries to establish primary contact with the companies in order to validate the assumptions or to gather quality inputs.
Standard Report Structure
Executive Summary

Market Definition

Macro-economic analysis

Parent Market Analysis

Market Overview

Forecast Factors

Segmental Analysis and Forecast

Regional Analysis

Competition Analysis
Target Audience
Physicians

Surgeons

Pathology In charge

Procurement Manager

Laboratory Technicians

Hospital Accountants

Independent Consultants

Government Authorities
Market Taxonomy
By Type
Genomics Biomarker

Proteomics Biomarker

Metabolomics Biomarkers

Imaging Biomarkers

Others
By Application
Alzheimer's Disease

Parkinson's Disease

Huntington's Disease

Schizophrenia

Depression

Multiple Sclerosis

Spinal Muscular Atrophy
By End User
Research Organizations, Pharma & Biotech Companies

Clinical Diagnostics
By region
North America

Latin America

Europe

Asia-Pacific

Middle East & Africa
COVID -19 : Impact Analysis
Request the coronavirus impact analysis across industries and markets
Request Covid -19 Impact
CASE STUDIES
See how our work makes an impact.
At FMI, we design strategies that are adaptive, impactful, and implementable.