Introduction
Kidneys are one of the most vital organs in the human body, and act as blood filters by reabsorbing essential elements and discarding water-soluble waste products. The renal function tests are used for diagnosing any defect in functions of kidney.
Symptoms that indicate kidney-related problems include blood in urine, high blood pressure, frequent urges to urinate, swelling in hands & feet on the back of fluid build-up in the body, and difficulty in urination. Some commonly used products in renal function tests include dipsticks, reagents, and disposables.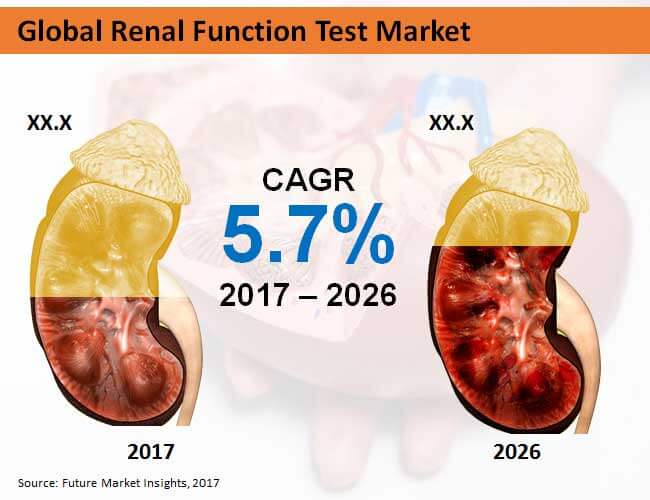 Technological Advancements providing Early Disease Identification & Diagnosis of Specific Conditions
Prevalence of chronic kidney disease is witnessing a surge globally on the back of unhealthy lifestyle of people. This has prompted clinicians in using renal function tests in order to diagnose various kidney-related diseases. Technological advancements in the renal function tests has provided early disease identification, and diagnosis of specific conditions.
Some of these advancements include computer-assisted interpretation, usage of automated analyzers, and advanced parameter estimation, which have offered numerous benefits such as efficient parameter monitoring, automatic variable adjustment, enabling real-time automation, and greater process control. These tools also deliver analysis of a wide variety of samples, providing rapid results, thereby reflecting their potential applications in emergency wards, outpatient clinics and hospitals in the foreseeable future.
Private and public healthcare organizations are increasingly taking initiatives and providing recommendations, in a bid to attain efficient management of chronic kidney disease. For example – the CDC has launched the Chronic Kidney Disease (CKD) Initiative, which is dedicated to developing exhaustive public strategies and promoting awareness for curbing down the incidences of CKD. Initiatives such as this encourage clinicians in using early diagnostic procedures such as renal function test, which in turn influences expansion of the market.
According to a recently compiled report of Future Market Insights (FMI), the global market for renal function test will ride on a steady CAGR through the forecast period (2017-2026). Over US$ 900 Mn revenues are estimated to be amassed from worldwide usage of renal function tests by 2026-end.
North America to Remain Largest Market for Renal Function Test
Presence of highly supportive government initiatives, along with their consistent implementation by several healthcare organizations have led to a widespread awareness and adoption of renal function tests in North America. North America will remain the largest market for renal function test, in terms of revenues. Asia-Pacific excluding Japan (APEJ) is projected to register the fastest expansion in the global renal function test market through 2026.
This mainly because of robust outsourcing of contracts by leading market players to organizations in APEJ countries, such as China and India. In addition, gradual rise in investment for research & development activities by the region's market players, and potential untapped opportunities will drive the market expansion in APEJ in the near future.
Key Research Findings from FMI's Report on Renal Function Test Market
Dipsticks will continue to be sought-after among products in the global renal function test market
Hospitals will remain the most attractive end-users of renal function tests
Microalbumin renal function test will be the fast expanding test type segment in the market during the forecast period
Competition Tracking
The global renal function test market is expected to witness an extensive competition on the back of increasing collaborative strategies between key companies for obtaining a competitive edge. New product development, high R&D investment, and mergers & acquisitions are other key strategies adopted by players in the market. Key market participants identified by FMI's report include Siemens, Beckman Coulter, Roche, Abbott, Sysmex, Nova Biomedical, Urit Medical, Acon Laboratories, Elektronika, and Randox Laboratories.
Market Taxonomy
Region
North America
Latin America
Europe
Japan
APEJ
MEA
Product Type
Dipsticks
Disposables
Reagents
End User
Hospitals
Diagnostic Laboratories
Research Laboratories and Institutes
Other End Users
Test Type
Urine Protein
Microalbumin
Creatinine Clearance
Serum Creatinine
Other Test
Need specific information?