An Incisive, In-depth Analysis on the Renal Function Test Market
This study offers a comprehensive, 360 degree analysis on the Renal Function Test market, bringing to fore insights that can help stakeholders identify the opportunities as well as challenges. It tracks the global Renal Function Test market across key regions, and offers in-depth commentary and accurate quantitative insights. The study also includes incisive competitive landscape analysis, and provides key recommendations to market players on winning imperatives and successful strategies.
Kidneys are one of the most vital organs in the human body, and act as blood filters by reabsorbing essential elements and discarding water-soluble waste products. The renal function tests are used for diagnosing any defect in functions of kidney. Symptoms that indicate kidney-related problems include blood in urine, high blood pressure, frequent urges to urinate, swelling in hands & feet on the back of fluid build-up in the body, and difficulty in urination. Some commonly used products in renal function tests include dipsticks, reagents, and disposables.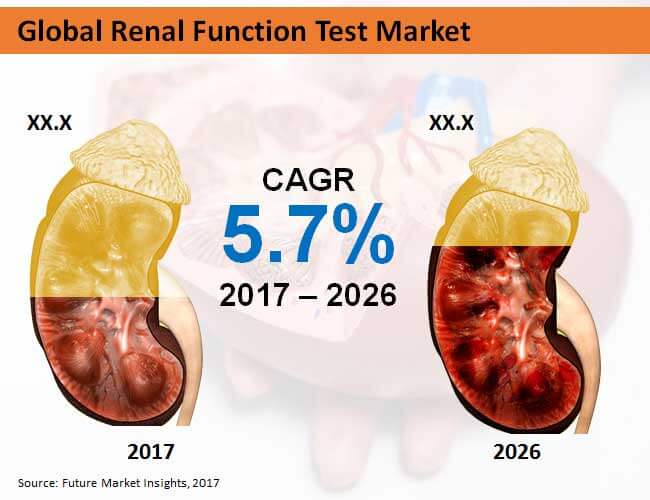 Technological Advancements providing Early Disease Identification & Diagnosis of Specific Conditions
Prevalence of chronic kidney disease is witnessing a surge globally on the back of unhealthy lifestyle of people. This has prompted clinicians in using renal function tests in order to diagnose various kidney-related diseases. Technological advancements in the renal function tests has provided early disease identification, and diagnosis of specific conditions. Some of these advancements include computer-assisted interpretation, usage of automated analyzers, and advanced parameter estimation, which have offered numerous benefits such as efficient parameter monitoring, automatic variable adjustment, enabling real-time automation, and greater process control. These tools also deliver analysis of a wide variety of samples, providing rapid results, thereby reflecting their potential applications in emergency wards, outpatient clinics and hospitals in the foreseeable future.
Private and public healthcare organizations are increasingly taking initiatives and providing recommendations, in a bid to attain efficient management of chronic kidney disease. For example – the CDC has launched the Chronic Kidney Disease (CKD) Initiative, which is dedicated to developing exhaustive public strategies and promoting awareness for curbing down the incidences of CKD. Initiatives such as this encourage clinicians in using early diagnostic procedures such as renal function test, which in turn influences expansion of the market. According to a recently compiled report of Future Market Insights (FMI), the global market for renal function test will ride on a steady CAGR through the forecast period (2017-2026). Over US$ 900 Mn revenues are estimated to be amassed from worldwide usage of renal function tests by 2026-end.
North America to Remain Largest Market for Renal Function Test
Presence of highly supportive government initiatives, along with their consistent implementation by several healthcare organizations have led to a widespread awareness and adoption of renal function tests in North America. North America will remain the largest market for renal function test, in terms of revenues. Asia-Pacific excluding Japan (APEJ) is projected to register the fastest expansion in the global renal function test market through 2026. This mainly because of robust outsourcing of contracts by leading market players to organizations in APEJ countries, such as China and India. In addition, gradual rise in investment for research & development activities by the region's market players, and potential untapped opportunities will drive the market expansion in APEJ in the near future.
Key Research Findings from FMI's Report on Renal Function Test Market
Dipsticks will continue to be sought-after among products in the global renal function test market

Hospitals will remain the most attractive end-users of renal function tests

Microalbumin renal function test will be the fast expanding test type segment in the market during the forecast period
Competition Tracking
The global renal function test market is expected to witness an extensive competition on the back of increasing collaborative strategies between key companies for obtaining a competitive edge. New product development, high R&D investment, and mergers & acquisitions are other key strategies adopted by players in the market. Key market participants identified by FMI's report include Siemens, Beckman Coulter, Roche, Abbott, Sysmex, Nova Biomedical, Urit Medical, Acon Laboratories, Elektronika, and Randox Laboratories.
Growth of the global renal function test market is primarily being driven by growing prevalence and incidences of chronic kidney disease across the globe. The risk is relatively higher in the geriatric population that form a major chunk of the global population. Growth in the number of diabetic patients, along with high rate of incidences associated with renal fibrosis significantly contribute to demand for renal function tests. According to WHO, over 1.4 Mn patients undergo renal replacement therapy each year, and the incidences related to chronic renal disease are growing at the rate of 8% annually. However, insufficient healthcare expenditure, unfavorable reimbursement policies, and strict regulatory approvals for products related to renal function test are factors that might restrain expansion of the market.
Future Market insights (FMI) has recently developed a report on the global renal function test market, and offers insights on growth of the market through the forecast period, 2017 to 2026. The global renal function test market is analyzed in detail, and key market dynamics are delivered comprehensively. Along with the information on propelling factors, impeding factors, and trends that guide the market expansion, insights on data across various market parameters has been included in the report for attaining significant market numbers pertaining to renal function test.
Report Structure
The report's first chapter submits an executive summary of the global renal function test market, which offers an abstract of the market coupled with relevant market numbers namely, compound annual growth rates (CAGRs) for historical period (2012-2016) and the forecast period (2017-2026). A chapter titled overview trails the executive summary in the report. A formal definition of "Renal function test" and a succinct market introduction is incorporated in this chapter. This chapter depicts a clear scenario of the global renal function test market's scope to the report readers. Chapters proceeding the overview illuminate crucial dynamics impacting the global renal function test market, and incorporate key nodes viz. bottom line of enterprises, the fiscal stimulus, and the global economy.
Market Taxonomy
In its succeeding chapter, the report analyses the global renal function test market in terms of segmentation analysis. The market is segmented by the report into product type, end-user, test type, and region. The Y-o-Y growth comparison, coupled with revenue as well as the market share comparison of all the segments have been delivered in this chapter, along with the most significant market numbers apropos to the segmentation analysis. The global renal function test market is segmented regionally into Japan, Latin America, North America, Europe, Middle East & Africa (MEA), and Asia-Pacific excluding Japan (APEJ).
| Region | Product Type | End User | Test Type |
| --- | --- | --- | --- |
| | | | |
| | | | |
| | | Research Laboratories and Institutes | |
| | | | |
| | | | |
| | | | |
Competition Landscape
The report gives a detailed analysis on the competition landscape of the global renal function test market, incorporating information about proactive industries contributing significantly to the market expansion. The occupancy of key players in the market has been represented through an intensity map. The competition landscape emphasizes on rigorously profiling the market players, and providing insights on these players on the basis of product overview, company overview, key financials, SWOT analysis, and key developments. This weighted chapter is the most important for the report readers, as it offers all necessary intelligence apropos to the market participants, along with the novel strategies employed by them for staying at the front edge of the market.
COVID -19 : Impact Analysis
Request the coronavirus impact analysis across industries and markets
Request Covid -19 Impact
CASE STUDIES
See how our work makes an impact.
At FMI, we design strategies that are adaptive, impactful, and implementable.