Non-Dairy Creamer Market - Key Research Findings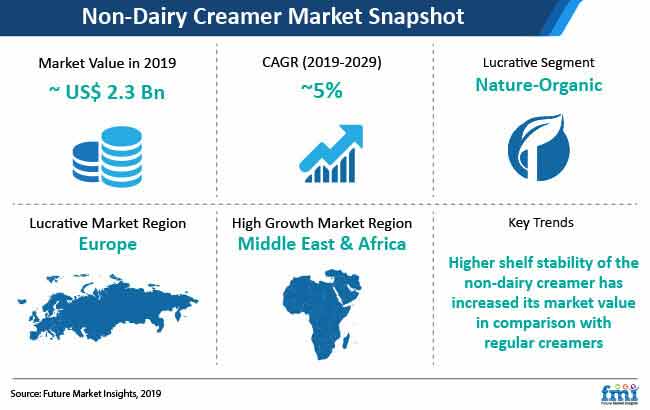 The global non-dairy creamer market size in 2019 is estimated to be valued at ~US$ 3 Bn.
The non-dairy creamer market is anticipated to grow at a CAGR of ~5% during the forecast period for 2019-2029.
The liquid extract of non-dairy creamer is expected to remain highly preferred among the
North America is stipulated to account for maximum revenue shares in the non-dairy creamer market by the end of 2029.

North America is estimated to continue to be the opportunistic market for non-dairy creamer manufacturers and distributors, owing to increasing production and demand for organic non-dairy products.

Growing use of non-dairy creamer in households and retail sector is expected to result in increased market share during the forecasted period.

Consumption of non-diary creamer by the food and beverage industry is likely to account for relatively high sales. As demand and consumption of beverages continue to increase rapidly, manufacturers are launching innovative and unique flavours in all beverages to attract customers, which in turn, complements the growth of the non-dairy creamer market.
Key Factors Shaping the Non-Dairy Creamer Market
Non-Dairy Creamer Gains Impetus from Fluctuating Milk Prices

During the past two years, milk prices have been fluctuating, resulting in the uncertainty of dairy products prices, which is ultimately benefitting the non-dairy creamer manufacturers. The cost of production of the non-dairy creamer is somewhat stable, as the prices of the raw material remain constant. The consumer base, especially the lactose-intolerant and the vegan population, for non-dairy creamer is also increasing at a high rate.

Lactose-intolerant consumers and those supporting veganism can use these non-dairy creamer for their beverages as an alternative to the traditional creamers. In the current scenario, non-dairy creamer is available in a wide variety of products including base as well as flavors, catering to specific demands and preferences.

Growing popularity of vegan culture has led many manufacturers to offer several dairy alternatives such as plant-based non-dairy creamer with the same taste and appearance as that of the dairy creamers. Non-dairy creamer is made either with the vegetable oil or the plant-based milk such as soy, almond, and coconut. as the base, thereby aligning with the emerging trends.

Low Penetration in Developing Countries Has Led to Slow Growth

Although rising disposable income in developing countries has offered significant market opportunities, awareness and penetration of the non-dairy creamer in these nations are comparatively less than that in the developed countries. As knowledge of lactose intolerance and adoption of veganism are still low in these countries, resulting into slow growth of the non-dairy creamer market.

However, in the upcoming years, the developing countries such as China, India, and Mexico are expected to have substantial growth in the non-dairy creamer market. Use of non-dairy creamer in household is also less due to the lack of knowledge about the benefits and nutritional composition of the plant-based non-dairy creamer.

Coffee Culture – Expansion into Traditional Tea Markets

The coffee culture is being adopted in APAC and Southeast Asian regions that are traditionally tea-drinking markets. This has increased the demand for instant coffee mixes that provide a gourmet coffee taste and appearance, even in a sachet. To that end, manufacturers are trying their best to provide a luxury out-of-the-home experience in instant coffee mixes that they manufacture with the help of non-dairy creamer.

Instant-mix has become a popular product in the global market, and manufacturers are trying to enhance their products to increase the consumer base. Various processed food manufacturers also use non-dairy creamer as an ingredient in the final products, which are very popular in the Asian and MEA regions that have seen a rise in the disposable income in recent years.

Thus, non-dairy creamer market in these regions is expected to experience a very high growth rate in the upcoming years. Additionally, Europe will continue to be in the vanguard of the non-dairy creamer market, owing to strong presence of the market players.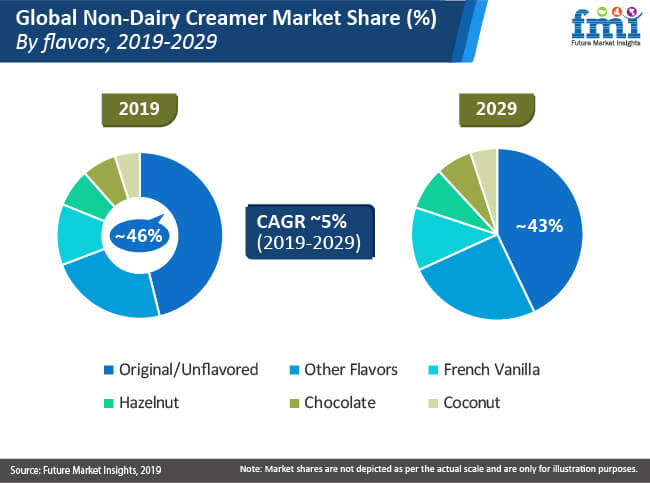 Non-Dairy Creamer Market Structure Analysis
The global non-dairy creamer market is a moderately competitive market. Approximately 35% - 40% share of the market is held by tier-1 players.
Expansion of the business through mergers, acquisitions, collaborations, and alliances is one of the strategies followed by key players in the non-dairy creamer market. Key market players focus on strategies such as adoption of new technologies to develop innovative products, and further enlargement of sales and distribution channels.
Noteworthy investments in the research and development for novel products is projected to boost the growth prospects of the non-dairy creamer
Major players in the non-dairy creamer market are Nestlé S.A., TreeHouse Foods Inc. Company, The White Wave Foods Company, Custom Food Group, Compact Industries, Inc., DreamPak LLC, Stancodex Pvt. Ltd., Super Group Ltd., Viceroy Holland B.V., PT Santos Premium Krimer, Shandong Tianjiao Biotech Co. Ltd., Almer Malaysia Sdn. Bhd., FrieslandCampina Kievit BV, Fujian Jumbo Grand Food Co Ltd., Balchem Corporation, Frusela Ltd., Korn Thai Co. Ltd., Cremio JSC, CoreFX Ingredients, Rich's Products Corp., Califia Farms.
Key Segment
Form
Nature
Flavor
Original/Unflavored
French Vanilla
Chocolate
Coconut
Hazelnut
Other Flavors
Type
Base
Plant-based Milk

Almond
Coconut
Others (Soy, Hemp, Cashew)

Vegetable Oil
End Use
HoReCa/Foodservice
Food and Beverage Processing

Food Premixes
Soups and Sauces
Beverage Mixes

Coffee Mixes
Tea Mixes
Bakery Products and Ice Creams
Infant Food
Prepared and Packaged Food
Household/Retail
Packaging
Retail

Sachets
Bags
Pouches
Canisters
Bottles
Plastic Jars

Bulk
Distribution Channel
Direct
Indirect

Hypermarkets/Supermarkets
Modern Grocery Stores
Specialty Stores
Online Retail
Region
North America
Western Europe
Eastern Europe
Latin America
APEJ
Japan
MEA
Need specific information?