Organic Cheese Market By Product Type (Cheddar, Hard Continental, Soft Continental, Territorials), Distribution Channel (Speciality Stores, Modern Trade, Convenience Stores, Traditional Grocery Stores, Online store), Form (Cubes & Blocks, Slices, Spreadable) & Region – Forecast 2017 – 2022
Organic Cheese Market - Analysis, Outlook, Growth, Trends, Forecasts
October 2017

REP-GB-5324

170 pages
Organic Cheese – A Chemical-free Journey from Farm to Table
With technology at the forefront, various cutting-edge research and development (R&D) activities have been taking place in the cheese industry. However, the emergence of 'organic' trend is causing a radical upheaval in conventional as well as technological processes of cheese production.
Scientific evidences on negative health impacts of synthetic pesticide residues in food along with rising concerns of animal welfare issues in dairy industry has led to surge in demand for organic cheese. Future Market Insights, in its new study, explores consumers shift from conventional to organic cheese, and offers in-depth and unbiased analysis of the global organic cheese market.
In 2019, worldwide sales of organic cheese is estimated to surpass the US$ 2 Bn mark, and witness 3X as that of conventional cheese by 2025. Today, environmental issues are becoming a key focus area of pressure groups, legislators, and individuals.
While cheese is firmly established as a snacking choice of consumers, manufacturers are targeted towards connecting more closely to modern trends and being relevant to changing food habits and needs. The result is projected to lead to increased demand for organic cheese.
Organic Cheddar Cheese Leads, Continental Attracts Affluent Consumers
Cheddar cheese is estimated to contribute half of the total sales of organic cheese in 2019. Gains remain propelled by growing popularity of organic cheddar cheese as a versatile ingredient and increasing use in many cooked dishes. In line with rapid penetration of internet, widening exposure to exotic and foreign varieties for foods is expected to influence the demand for continental organic cheese.
Demand for both hard and soft organic continental cheese is gaining further boost from rising consumer interest in specialized cheeses, taste differentiation and the story behind the cheese.
Amid the rise of 'convenience' culture and fast-growing demand for ready-to-use cheese, manufacturers are focusing on offering organic cheese in a wide range of packs holding cubes, blocks, slices, and other forms. Growing consumers' inquisitiveness about foods and their origin coupled with emergence of 'clean-label' trends has further compelled manufacturers to redefine their packaging strategies.
In order to build stronger connection with their customers, organic cheese manufacturers are preparing to create a more modern packaging design that drives great taste appeal, communicate product benefits, and amplifies brand personality, in addition to ensuring lower environmental impact.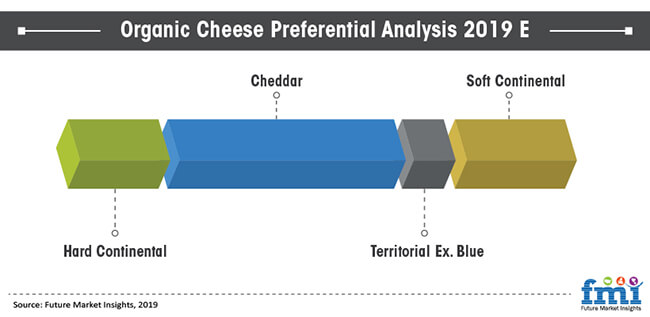 Developing Markets – The Second Wave of Growth
Organic cheese market in Europe accounts for 40% of the global revenue share, leading the first wave of growth with strong presence of market players. Value-added cheese products, specialties in product portfolio to attract younger consumers, and wider sales channels are offering significant profit margins to manufacturers in Europe. In the second wave, developing countries in Asia Pacific are projected to remain at the forefront of market growth.
With rising levels of disposable income and growing appetite for newer products, high sales opportunities are expected in the region. Greater focus on role of food in well-being amid the increase in affluence and education in Asia Pacific will remain instrumental to the demand for organic cheese. Moreover, the trend for 'hyper local' food remains a prominent driver for organic products worldwide, and organic cheese is no exception.
Rapid Product Launches to Dictate Stakeholders' Growth Strategies
In an attempt to pick pace with sales of conventional cheese, a number of players in the organic cheese market are focusing on enhancing and expanding their core business through new product launches. Introducing unique flavors to cream cheese and launching organic cheese snack packs to retain and attract new segment of customers also remain a key focus area of the manufactures.
In recent times, organic products are becoming more relevant to consumers, especially to eco-conscious and health conscious millennials. They are making ethical choices on food and drink and other aspects including waste, packaging and energy.
Organic cheese manufacturers are therefore reacting to challenges on sustainability and animal-derived foods while confronting packaging-related issues. However, it is imperative to note that, plant-based products, vegan cheese in particular, is gaining increasing momentum, on the account of rising veganism and lactose intolerance among various consumers. This is expected to represent a threat to the growth of organic cheese market.
Specialty Stores to Ramp Up the Sales of Organic Cheese
In Europe, specialty stores maintained strong sales of organic cheese, as these stores offer specialist knowledge, and innovative products and approaches which appeal to a large number of consumers. As more consumers shop locally and often, sales of organic cheese through modern trade channels including supermarkets and hypermarkets are also flourishing across the globe. This can be lucrative for modern trade and online stores alike.
While modern trade focuses on stocking more varieties of organic cheese to maintain strong share in the market, online stores are targeting millennial consumers who hone their shopping skills on the internet, checking product ratings and review to help with decision making. In addition, by offering doorstep delivery service and new box schemes, traditional grocery stores are experiencing new opportunities and renewed interest from consumers in local markets. These factors, in turn, are projected to boost the sales of organic cheese worldwide.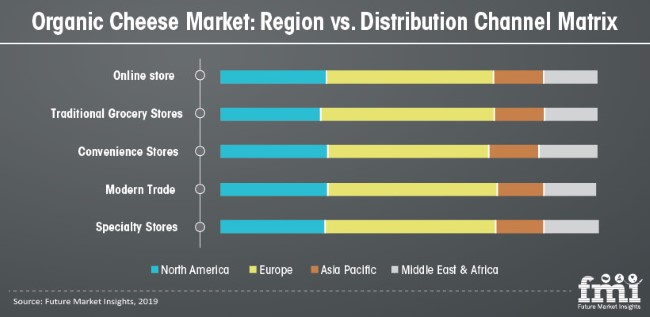 World's Most Profilic Intelligence Engine
Get Access To The World's Largest Market Research Database.
Sign Up Now
Market Taxonomy
The report has gauges the global market for organic cheese on the basis of specific segments. The segment-wise analysis of global organic cheese market is conducted by evaluating Y-o-Y growth, revenue and market share of key regions. Based on region, the market has been segmented into North America, Europe, Japan, the Middle East & Africa (MEA), Asia-Pacific excluding Japan (APEJ) and Latin America.
Product Type
Cheddar
Hard Continental
Soft Continental
Territorials Ex.Blue
Others
Distribution Channel
Speciality Stores
Modern Trade
Convenience Stores
Traditional Grocery Stores
Online store
Other Distribution Channel
Form
Cubes & Blocks
Slices
Spreadable
Other Forms
Need specific information?
Our Clients