Physiotherapy Equipment Market Outlook & Key Findings
Physiotherapy equipment market shall expand at a CAGR of 7.2% between 2020 & 2030
Musculoskeletal physiotherapy to generate massive green spaces in terms of revenue expansion
Surging cases of orthopedic disorders will elevate the North American market
East & South Asia emerging as lucrative markets
Introducing product innovations remain the principal expansion strategies of global physiotherapy equipment players
Sedentary Lifestyles and Increasing Incidence of Physical Injuries
According to the World Health Organization, the burden of sedentary living is rising exponentially. It has established that over a billion adults remained insufficiently active as of 2016. Heightened stress levels due to professional and personal responsibilities have ushered in lethargy in undertaking physically demanding activities, increasing orthopedic disorders.
To add fuel to the fire, rising urbanization levels have led to increased pollution levels caused due to construction activities and traffic jams, combined with a decline in green spaces. This has led to a deterioration in air quality, thus demotivating people from undertaking any type of exercise or sports.
As this level of physical exertion decreases, chances of injuries due to brittleness of bones and frozen joints have augmented. To address these issues, individuals are increasingly availing physiotherapy treatments, thus generating white spaces for vendors to expand sales of essential equipment across prominent regions.
Moreover, rising incidences of road accidents have provided fertile ground for market expansion. Besides causing mental trauma, accidents cause major physical deformities such as whiplashes, herniated discs and knee trauma, which can be corrected through physiotherapy. Devices such as pain relievers and braces are widely used to prevent aggravating injuries.
Rise in Geriatric Population
According to data from World Population Prospects: 2019 Revision, the proportion of the elderly population will increase to one in every six adults by 2050, up from the present 9%. At least one in four persons living in North America and Europe is aged 65 and above.
Based on these statistics, it is prudent to conclude that the incidence of age related physical and psychological ailments will increase multifold in the coming years. This also incorporates orthopedic and muscular disorders. Hence, the demand for physiotherapy has risen in recent years, providing stimulus to the market.
Furthermore, geriatric physiotherapy has acquired priority because elderly people suffer from several co-morbidities such as cardiovascular degeneration, visual impairment, hearing loss, diabetes, etc. To reduce the degree of suffering, manufacturers are heavily investing in designing advanced physiotherapy equipment for the elderly.
Ultrasound Devices to Hold Maximum Sway, Heat Therapy Follow Suit
Growing preference for minimally invasive surgical procedures is driving the ultrasound physiotherapy devices growth to new heights. The highly innocuous and safe nature and non-thermal effect makes ultrasound devices highly suitable for providing physiotherapeutic treatment. Additionally, ultrasound devices also offer benefits such as improving healing rate of soft tissues.
Additionally, ultrasound devices help enhance blood flow to the affected area in order to improve resolution time of the inflammatory process. Moreover, it also assists in stimulating the production of collagen during tissue healing. Based on these trends, the ultrasound devices segment will increase impressively during the 2020-2030 forecast period.
Trailing behind is the heat therapy segment. This treatment has boded extremely well for stiff joints and relaxation of muscles prior to exercising or sports. Over the years, heat treatment has found heightened applications to relieve rheumatic pain, sprains, lumbago and sciatica. In addition, heat treatment boosts metabolism within the body.
Musculoskeletal Physiotherapy Gaining Ground
The global physiotherapy equipment market will surge on the back of increasing incidences of musculoskeletal conditions. According to the World Health Organization, musculoskeletal disorders encompass over 150 diagnoses associated with bones, joints, muscles, ligaments and tendons. These typically involve short-term conditions such as fractures to long-term conditions like persistent pain or disability.
Musculoskeletal conditions are all-pervasive, affecting both the geriatric and younger populations. At least one out of every five persons is affected by this condition, severely limiting their mobility and dexterity. This has a larger impact on the individual, manifesting as early retirement, reduced income and inability to fulfil social responsibilities.
To offset this social cost, patients are increasingly seeking sophisticated treatment, providing market players with an opportunity to manufacture technologically enhanced physiotherapy equipment. For instance, Life Care Systems (India) offers the LCS Short Wave Diathermy Unit which helps address joint inflammation by penetrating deep into muscle tissues, providing immense relief.
End-User Insights: Hospitals to Emerge as Market Hegemon, Rehabilitation Centers to Acquire Traction
When it comes to seeking physiotherapy treatment, patients prefer to visit hospitals due to the availability of the required surgical or non-surgical procedures. Studies have inferred that physiotherapists across primary healthcare settings are highly adept at providing the best course of treatment, possessing ample amounts of experience and skill.
Over and above, heightening government expenditure on enhancing healthcare is leading to increased footfalls in hospitals to seek physiotherapy treatment across the world. Emphasis on healthcare infrastructure is especially large across the developing world, attributed to the presence of a large population base with orthopedic and muscular anomalies.
Simultaneously, rehabilitation centers are grabbing their fair share of the revenue pie, owing to the fact that they offer treatment at comparatively lower costs than hospitals and other primary healthcare settings. Rehabilitation centers are especially helpful for people belonging to the lower and middle income groups in developing nations.
Asia to Offer Lucrative Opportunities for Prominent Vendors, North America to Retain its Lucrativeness
A rapidly expanding population pool coupled with lucrative benefits offered by regional governments is transforming the Asian physiotherapy equipment market into a revenue generating machine. Collectively, the South and East Asian countries will capture nearly 25% of the total revenue share, with ultrasound equipment emerging as a potential cash cow.
Amongst all Asian countries, the Indian market shall reach the summit, expanding staggeringly throughout the forecast period. This is primarily ascribed to a high population base. This is prompted the government to streamline healthcare infrastructure, providing services at affordable rates. This has also led to an increase in medical tourism.
North America will continue to enjoy its dominant position, accounting for over 40% market share from 2020-2030. According to the American Psychological Association (APA), approximately 25-35% of American adults are inactive, accounting for nearly 50 million people. This has made them susceptible to various orthopedic diseases, accelerating the need for physiotherapy.
Also, heightened federal spending on healthcare has led to the emergence of various physiotherapy degree programs across prominent universities across the US, thereby prompting prominent companies to establish their headquarters here and offer placements to prospective students.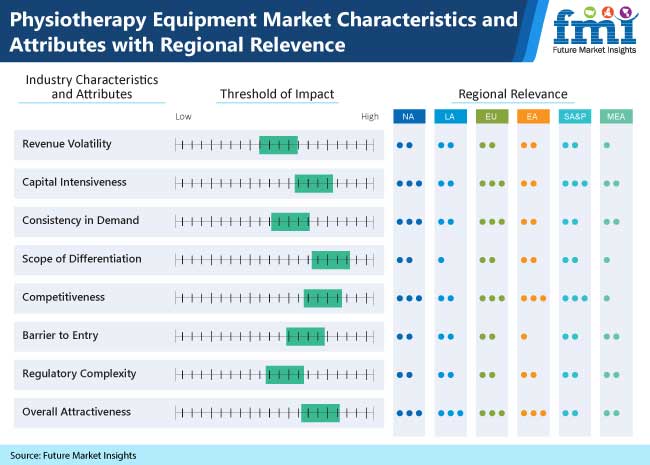 COVID-19 Crisis Analysis: Market to Experience Significant Shortfalls in the Near Future
The COVID-19 pandemic has ushered in an era of massive uncertainty. The healthcare industry is on tenterhooks, striving to keep the infection at bay. While several healthcare domains have benefitted from the pandemic, there are others which have registered significant downturns, including the physiotherapy equipment market.
Physiotherapists are constantly in direct contact with their patients, thereby making them vulnerable to several communicable diseases. Being highly contagious, the COVID-19 has compelled physiotherapists to reduce or suspend their frequency of patient visits, causing delays in procedures and consequently the demand for essential equipment.
The imposition of nationwide lockdowns to enforce social distancing has induced a massive recessionary phase in the global economy, akin to the 2008 global financial crisis. Manufacturers have experienced significant supply chain disruptions in the wake of limited availability of raw materials, hindering physiotherapy equipment production.
Projections for the North American market, particularly the United States, look extremely bleak until the final quarter of 2020. With over 5.5 million cases, the healthcare industry is becoming unnerved with each passing day. This is forcing patients to delay elective procedures, inducing a further downturn in the market.
Fortunately, several countries across East Asia and Oceania are experiencing a flattening of the infection curve, brining favorable tidings to the physiotherapy equipment market growth. Countries such as New Zealand and Australia have had minimum to no single day spike in COVID-19 cases, permitting the resumption of non-elective surgical procedures, thereby uplifting the growth curve.
Competitive Intelligence
Prominent vendors profiled in the global physiotherapy equipment market report include: DJO Global, Enraf-Nonius, Kindred Healthcare, Inc., Select Medical, Concentra Operating Corporation, BTL Industries, U.S Physical Therapy, Inc., Isokinetic, Inc., EMS Physio Ltd and Zynex Medical Inc. Forging partnerships, new product launches and acquisitions form the principal marketing strategies of these players.
For instance, in June 2020, DJO Global introduced the DonJoy X-ROM Post-Op Knee Brace, incorporating an improvised user-friendly fastener which is easy to adjust and easy to apply. In 2019, the company launched the first fully sterile surgeon-controlled leg and retractor holder for Anterior Approach Hip Arthroplasty.
In 2017, U.S Physical Therapy Inc. successfully acquired a Houston-based local physical therapy practice at a purchase price of US$ 11.4 million, with the practice's clinical owners retaining 30% of the stake. The acquisition was announced in 2016.
In the present scenario, companies have been leveraging artificial intelligence platforms to augment their business practices. A case in point is of EMS Physio Ltd which has remained in touch with its distributors in the UK and around the world and provides them with necessary logistical support.
Key Segment
Equipment Type
Cryotherapy
Hydrotherapy
Electrotherapy
Continuous Passive Motion Units
Multi-exercise Therapy Unit
Heat Therapy
Ultrasound Physiotherapy
Other Therapy Types
Application
Neurological
Musculoskeletal
Cardiovascular and Pulmonary
Others
End-user
Hospitals
Rehabilitation Centers/Clinics
Homecare Settings
Region
North America
Latin America
Europe
Middle East & Africa (MEA)
East Asia
South Asia
Oceania
Need specific information?