Introduction
The edible oil industry is highly unpredictable in terms of adequate supply of oils. All edible oils such as sunflower oil, safflower oil, palm oil, olive oil, etc., are used alternatively as per the supply of each oil.
Climate has often played a major role in deciding the fate of edible oils in the market. Fluctuating yield and poor supply of a particular edible oil is mostly compensated through another alternative edible oil in the market. In times of shortage of palm oil or other specialty oils such as olive oil, the supply of safflower oil has compensated for this shortage, and is expected to do so in the future.
Hence, edible oil commodity brokers and traders play a major role, which is resulting in the stable demand for safflower oil. Furthermore, safflower oil is also a healthier substitute to coconut oil and palm oil that are high in saturated fats, and hence, is expected to attract a larger consumer base from the health conscious bracket.
Safflower Oil Being Used as a Healthy Alternative in Salad Dressings
The enhanced nutritional content of safflower oil, especially oleic acid and linoleic acid, is contributing to its increased utilization in various end-use industries such as food & beverage processing, dietary supplements, etc.
Safflower oil usage is becoming increasingly common, especially amongst the health-conscious demographic preferring high oleic and cold pressed edible oils in their food.
Producers of processed food products such as salad dressings have replaced traditional oils with safflower oil which also contributes to the consistency and flavour desired in various recipes.
In terms of value, the global safflower oil market is expected to represent an incremental opportunity of 8.2 Mn by 2018 end over 2017. By type, the high oleic segment is expected to register a CAGR of 5.4% in the safflower oil market.
The organic segment is expected to register a CAGR of 4.8% over the forecast period.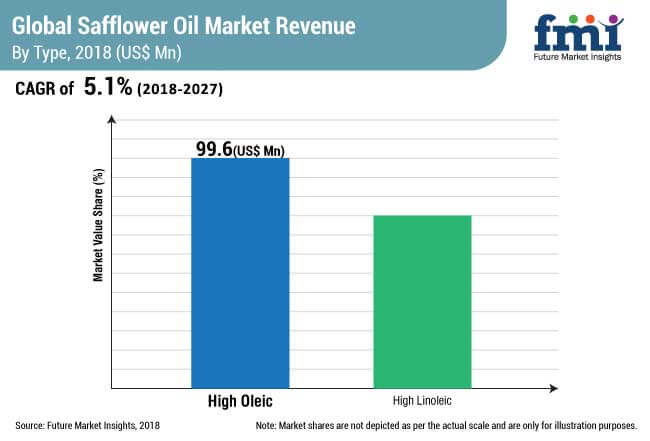 Research Activities are Leading to Development of Unique Blends of Safflower Oil
Biotechnology has made room for new strains in the agriculture industry, and research is heating up to create better strains that overcome the flaws of the natural variety of safflower seeds.
Some of the prominent characteristics that are targeted by researchers are improving the beneficial aspects of safflower oil to match those of olive oil, and improving the yield of safflower oil.
A strain with improved yield of safflower oil is especially important in developing regions, where local farmers have taken to cultivating other competing crops, due to lower yield of safflower that earns them a very low profit.
A higher oleic acid content from safflower oil is likely to help farmers get a better price, and thus, augment the cultivation acreage of safflower.
Continuously Declining Acreage of Safflower Cultivation
Growing urbanization in developing regions has led to a severe decline in agricultural acreage, and since safflower is grown and processed in a large quantities in these regions. This factor is impacting the safflower oil market in a major way.
This factor is further burdened with low safflower oil yield, which has compelled many farmers to opt out of the safflower oil business and cultivate other profitable crops.
Subdued Demand from Biodiesel Producers to Impact the Growth of Safflower Oil Market
Safflower oil is an important part of the paint and biodiesel industry. However, the consumption of specialty fats and oils across the biofuel sector has been declining for the past few years.
This is mainly attributable to the uncertainty in biofuel policies, and the encouragement to use alternative vegetable oils, such as waste vegetable oils, in certain countries. This uncertainty in the regulatory scenario is topped with the growth in the electric vehicles segment, which has decreased the opportunities for the biodiesel market, furthering restricting the growth of the safflower oil market in this area of application.
Asia Pacific to Set the Pace for Safflower Oil Demand over the Forecast Period
On the basis of region, the market in APEJ is anticipated to have a substantial share in the global safflower oil market in 2018. North America and Europe are expected to gain significant market shares in revenue terms by 2027 end, in the safflower oil market.
Safflower Oil Market: Segmentation
Analysis by Nature
Analysis by Product Type
Analysis by End Use
Retail/Household
Foodservice
Food & Beverage Processing
Pharmaceuticals
Dietary Supplements
Cosmetics & Personal Care
Others
Analysis by Sales Channel
Direct Sales
Modern Trade
Convenience Stores
Specialty Stores
Online Stores
Others
Analysis by Region
North America
Latin America
Europe
Asia Pacific excluding Japan
Japan
Middle East & Africa
Need specific information?
Talk Show:
The Rise of Intelligent Packaging
Personalized, Connected and Sustainable
November 18, 2021
11:00-11:45 AM PST (USA & Canada)
This is a LIVE session