Sharp Waste Disposal Market
Market Insights on Sharp Waste Disposal covering sales outlook, demand forecast & up-to-date key trends
Sharp Waste Disposal Market: Global Industry Analysis 2013 - 2017 and Opportunity Assessment; 2018 - 2028
Improvisation in the Healthcare Practices Promotes the Usage and Adoption of Sharp Waste Disposal Equipment
Safe practices related to the handling and disposal of sharp instrument in healthcare settings are being adopted these days in order to protect the staff, patients and visitors from exposure to any blood-borne infection. Along with this, various initiatives regarding sharp waste disposal has been taken by the concerned agencies these days such as NHS and FDA in order to reduce the associated risks.
This waste is classified under the biomedical waste which includes objects used to puncture skin such as blades, needles, syringes, lancets, knife, scissors, glass, sharp plastic, etc. The foremost objective in sharps waste management is to carefully handle all the materials until their disposal.
The growing use of sharps with the increase in number of healthcare facilities, increasing number of surgical procedures, as well as growing healthcare concerns promotes the market for sharp waste disposal products. More than sixteen billion injections are administered annually worldwide, the largest contributor of sharps waste. Several studies revealed that health facilities still dispose injections and other sharp wastes in open pits or in cardboard boxes instead of using disposal containers. Thus, generating the need for adopting effective sharp waste equipment at these facilities.
Essentiality of Sharp Waste Disposal
Sharp wastes from the healthcare sector are suspected to contain pathogenic microorganisms in adequate concentration or quantity, which can cause various diseases to a susceptible host. These sharp wastes may be found in operating rooms, emergency rooms, general wards, laboratories, collection bins and hospital laundry.
Improperly discarded sharp wastes may get exposed to patients, healthcare staff and the waste pickers, thus spreading the infection. This factor generated the need of sharp waste disposal equipment at medical facilities. In view of this, there are also several guidelines issued by regulatory agencies for proper management of sharp waste disposal. Product types used in the sharp waste disposal include sharps disposal kits, disposal containers and destroyers.
Sharp Waste Disposal Market Assessment by End Users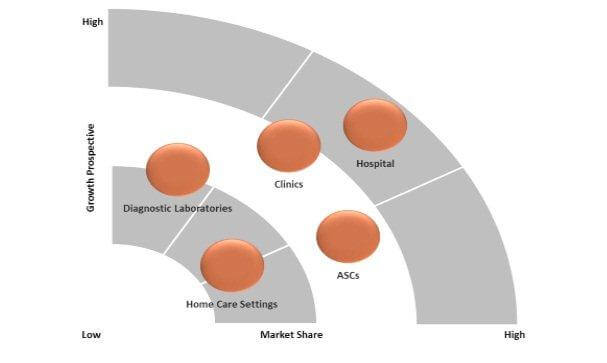 Download Report Brochure
Factors Driving the Sharp Waste Disposal Market
Imposition of guidelines regarding the safe disposal of sharp wastes such as imposition of Health and Safety regulations in the U.K. in May 2013 promotes the usage and adoption of these equipment at medical facilities, which fuels the growth of the sharp waste disposal products market.
The market is also dependent on the number of surgical procedures and diagnostic tests being performed. There is also several published data regarding the injuries caused by 'inappropriate disposal', which also fuels the adoption of sharp waste disposal products at healthcare facilities. However, lower adoption in rural areas and absence of regulations in low-income countries restricts the global market growth of sharps waste disposal.
Talk to Analyst
Find your sweet spots for generating winning opportunities in this market.
Talk to Analyst
Disposal Containers for Sharp Waste
Significant portion of the market has been covered by disposal containers, kits and destroyers segments. However, the disposal containers segment holds a large revenue share and is anticipated to do so over the forecast period. Greater adoption of containers at every facility, easy availability and cheap price support the penetration for this segment in the overall market.
Manufacturers are involved in the development of effective, economical, safe and durable sharp waste disposal equipment. These commercial products are available with different colors and size.
Sharp Waste Disposal in Ambulatory Surgical Centers
Hospitals and diagnostics laboratories segment pose a strong position in the market owing to the occurrence of large volume of sharp wastes at these facilities. These end users share a significant portion of revenue share in the overall market. However, increasing number of ambulatory surgical centers these days due to growth in outpatient surgeries, less expenditure, reduced hospital stays, etc. provides remarkable growth opportunities for the manufacturers of sharp waste disposal equipment.
Regional Market Outlook
North America represents the highest market share for the sharp waste disposal equipment owing to the strict guidance followed in healthcare settings. Additionally, huge healthcare infrastructure spending in these regions also supports the growth of sharp waste disposal market in the region. Western Europe with leading the market share is supported by the large number of advanced healthcare infrastructure facilities and regulatory compliance. APEJ region is anticipated to have significant market growth for sharp waste disposal owing to the large number of healthcare facilities present in the region.
Further, increasing support by governmental and non-governmental agencies for imposing regulations regarding safe disposal of bio-hazardous waste also supports the market growth in the region. Latin America region represents low market share but a good growth rate owing to the increasing private sector in healthcare environment. Eastern Europe followed by Middle East & Africa is anticipated to have the lowest share in the sharp waste disposal market over the forecast period due to the absence of regulations.
Become a MarketNgage Insider
An unified Market Research Subscription Platform, built for today's disparate research needs.
Competition Outlook
Examples of some of the players identified in the global sharp waste disposal market include Seton, BD, SoClean India, Thermofisher Scientific, GPC Medical, Frontier Medical Group, Daniels, etc. The companies in the sharp waste disposal equipment market are involved in the manufacturing of convenient, safety-engineered disposal products complying all safety regulations. The market for sharp waste disposal is mostly fragmented with the presence of regional players operating at small level.
There are very few large players operating at the international level. The manufacturers in the sharp waste disposal market are also focused on engineering equipment with specialized features. The ongoing training and awareness programs regarding the safe disposal of bio-hazardous products also has a long-term impact on the product adoption and sales. In addition to the sharp waste disposal equipment, the market of service providers for disposing sharp waste is also advancing.
Small-Scale Manufacturers/Providers:
Safety First Aid Group Ltd
Kays Medical
Brady Corporation Ltd.
Sharps Compliance, Inc.
SoClean India
Frontier Medical Group
Famed Healthcare Appliance Co.
Berovan Marketing Inc.
Medium-Scale Manufacturers/Providers:
Large-Scale Manufacturers/Providers:
Becton, Dickinson and Company
Thermo fisher Scientific
Medtronic
Stericycle
Nolato AB
Key Data Points Covered in the Report
The report covers exhaustive analysis on:
Sharp Waste Disposal Market by product type, usability, end user and region
Regional level market analysis of North America, Latin America, Europe, Asia Pacific Excluding China & Japan, China, Japan, Middle East & Africa by test type, end user segments and country
Sharp Waste Disposal Market Dynamics & Opportunity Assessment
Historical Actual Market Size, 2013 - 2017
Sharp Waste Disposal Market Size & Forecast 2018 - 2028
Sharp Waste Disposal Agents Current Trends/Issues/Challenges
Competition & Companies involved
Research Methodology
The market sizing of sharp waste disposal will be done by the adoption data triangulation approach. The demand-side approach will be followed to assess the actual market size of sharp waste disposal. Secondary research will be done at the initial phase to identify the feasibility of the target products categories and its respective segments, product and service offerings, equipment installed base in end-use facilities, adoption rate and future impact of new technologies. Each piece of information will be eventually analyzed during the entire research project, which will help build a strong base for the primary research information.
Primary research participants include demand-side respondents such as laboratory managers, procurement managers, research supervisors at academic and research institutes, as well as key opinion leaders in addition to supply-side respondents such as equipment manufacturers, custom solution and service providers who provide valuable insights on trends, research application of products and technologies, purchasing patterns, services offered and associated pricing.
The research report presents a comprehensive assessment of the market and contains thoughtful insights, facts, historical data, and statistically supported and industry-validated market data. It also contains projections using a suitable set of assumptions and methodologies. The research report provides analysis and information according to market segments such as geographies, application, and industry.
The report covers exhaust analysis on
Market Segments
Market Dynamics
Market Size
Supply & Demand
Current Trends/Issues/Challenges
Competition & Companies involved
Technology
Value Chain
Regional analysis includes
North America (U.S., Canada)
Latin America (Mexico. Brazil)
Western Europe (Germany, Italy, France, U.K, Spain)
Eastern Europe (Poland, Russia)
Asia Pacific (China, India, ASEAN, Australia & New Zealand)
Japan
Middle East and Africa (GCC Countries, S. Africa, Northern Africa)
The report is a compilation of first-hand information, qualitative and quantitative assessment by industry analysts, inputs from industry experts and industry participants across the value chain. The report provides in-depth analysis of parent market trends, macro-economic indicators and governing factors along with market attractiveness as per segments. The report also maps the qualitative impact of various market factors on market segments and geographies.
By Product Type
Sharps Disposal Kits
Sharps Disposal Containers
Sharps Destroyers
By Usability
By End User
Hospitals
Clinics
Ambulatory Surgical Centers
Diagnostic Laboratories
Home Care Settings
By Region
North America
Latin America
Europe
Asia Pacific Excluding Japan & China
China
Japan
Middle East & Africa
Table of Content
NA
List of Tables
NA
Talk to Analyst
Find your sweet spots for generating winning opportunities in this market.
Talk to Analyst
List of Charts
NA