Food texture largely influences consumer preference for food products
There has been a marked increase in textural food ingredients over the years owing to specific consumer preferences that are inclined towards particular textures in food products. Texture and flavour play an important role in dairy products, bakery and confectionery, sauces, dressings, condiments, and beverages.
An increasing consumer preference for different types of textures such as creamy, crispy, crunchy, pulpy, gelled, and many more is defining the global market for textural food ingredients, and food manufacturers are incorporating different types of textures in their food and beverage formulations. This has resulted in a whopping 144% increase in the number of food products with texture claims that have been launched over the years.
North America, Western Europe, and APEJ to remain top regional markets for textural food ingredients
Consumers in the developed regions of North America and Western Europe are showing an increasing preference for various types of textures in the food they consume. This has led to massive innovation in food products manufacturing, with texture playing a very important role in defining the quality of the food products being offered on store shelves. North America is likely to remain the dominant regional market, estimated to hold almost 30% share of the global market by the end of the forecast period in 2027.
This is followed by Western Europe at about 27% share. The developing region of Asia Pacific Excluding Japan – which currently is the third largest market for textural food ingredients – is likely to witness rapid growth in the local markets over the forecast period.
With a projected 24% value share by 2027 end, the textural food ingredients market in APEJ is likely to witness tremendous growth in the coming years, resulting in a CAGR of 6.1% during the period of assessment – the highest among the various regional markets.
The North America textural food ingredients market however, will retain its leading position, with an estimated market value of US$ 3,253.7 Mn by 2017 end that will increase to US$ 5,284.3 Mn by the end of the forecast period in 2027. Western Europe will maintain good growth during the forecast period, anticipated to reach a market valuation of US$ 4,833.3 Mn by the end of 2027, up from US$ 2,870.6 Mn by 2017 end. In terms of CAGR, North America will record 4.9% while Western Europe will witness a growth rate of 5.3% over the forecast period.
It is interesting to note that though North America and Western Europe continue to remain the top two regional markets, both markets will witness a decrease of 129 and 17 basis points respectively in their market share in 2027 over 2017. APEJ on the other hand will record an impressive increase of 152 basis points in its market share during the forecast period.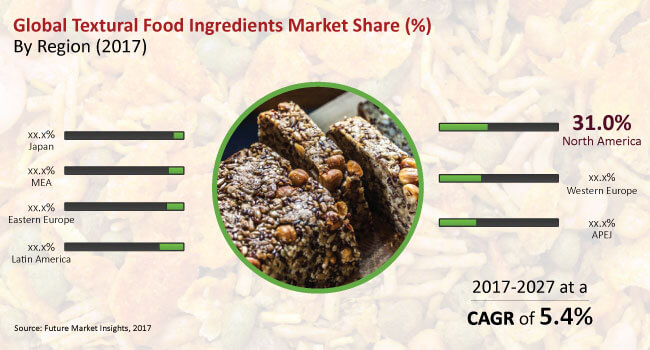 Regional trends observed in the textural food ingredients market
North America: An increasing demand for textural food ingredients with hydrocolloids is likely to gain traction during the forecast period. Food ingredients manufacturers are shifting from sensory to functional ingredients, with innovation and technology driving high growth margins.
Latin America: Brazil will remain the prominent country and gain substantial growth during the forecast period. This market is characterised by open innovation and rapid new product development, with tailored food ingredients driving the market.
Western Europe: The market for dairy products and frozen food especially drinking milk products will witness significant growth during the study period. An increase in demand for healthy food ingredients is rampant in this market. Manufacturers are launching new blends of starches for confectionery texturing solutions.
Eastern Europe: Hydrocolloids segment will hold largest share during the forecast period, owing to the multi-functionality of hydrocolloids that will continue to drive the market. A growing demand from the pet food industry and an increasing demand for processed food can be witnessed in this region.
APEJ: The developing economies in the region coupled with changing consumer consumption behaviour patterns will catapult the APEJ market for textural food ingredients towards significant growth in the coming decade. The APEJ region has been witnessing an increasing demand for culture groups within texturing solutions.
Japan: The dry form of textural food ingredients that includes powder and flakes will dominate this regional market during the period of assessment. The Japan market is witnessing a growth in demand for convenience food and food ingredients with better taste.
MEA: The MEA region is expected to display greater potential for growth during the forecast period. There is a rising demand for clean label textural food ingredients in this region. Manufacturers are launching new texturing ingredients for sauces, soups, and condiments.
Global Textural Food Ingredients Market: Taxonomy
By Functionality
Emulsifying Agent
Thickening Agent
Stabilising Agent
Gelling Agent
Others
By Application
Dairy Products and Frozen Food
Bakery and Confectionery
Sauces, Dressings, and Condiments
Beverages
Snacks and Savoury
Meat and Poultry Products
Pet Food
By Type
Hydrocolloids
Starch and Derivatives
Emulsifiers
Others
By Form
Concentrate
Powders
Flakes
By Region
North America
Latin America
Western Europe
Eastern Europe
APEJ
Japan
MEA
Need specific information?