About the Report
Demand for veterinary imaging devices has increased following the COVID-19 outbreak in 2020, particularly owing to people turning to animal care during the lockdown. Presently, due to the increasing insistence on pet insurance schemes, hiking expenditure, and willingness of pet lovers to spend more in the domain of animal healthcare, the market is expected to expand considerably by 2030.
Other driving factors which are expected to contribute to growth include an increasing population of veterinary practitioners and focused research and development undertaken globally in this domain to develop innovative products aiming to provide specific results.
Key Developments in Veterinary Imaging Market
Key players such as Esaote S.p.A (Italy), GE Healthcare (US), Carestream Health, Inc. (US), IDEXX Laboratories, Inc. (US), Agfa-Gevaert N.V. (Belgium), Canon Inc. (Japan), Mindray Medical International Limited (China), Heska Corporation (US), FUJIFILM Holdings Corporation (Japan), Siemens Healthineers (Germany), Samsung Electronics Co. Ltd. (South Korea), and Konica Minolta (Japan) are currently focusing on meeting the dynamic and ever-increasing demand to improve their global presence.
For instance, Heska GmbH (Germany) recently (in January 2020) ratified a concurrence with Covetrus, Inc and Covetrus Animal Health Holdings Limited to secure the whole of the capital stock in the domain of animal care from Covetrus Animal Health Holdings Limited, a subsidiary company of Covetrus, Inc.
The introduction of upgraded web PACS relating to veterinary applications by IDEXX Laboratories (US) in January 2020 has helped the company to expand its global presence.
Besides this, the acquisition of Scil Animal Care Company GmbH (Germany) by Heska Corporation (US) which helped the company to improve its presence in the European market is an example of a key strategy adopted by leading players.
US and Europe will continue to account for a significant revenue share, particularly due to an expected increase in pet adoption. In addition to this, an expected increase in the population of veterinary practitioners will aid the overall expansion.
Key Findings
The global veterinary imaging market is expected to witness a CAGR of over 6.4% between 2020 and 2030.
North America and Europe altogether account for more than 60% of share.
Growing focus on animal wellness will create opportunities for key players
Academic institutes contributing towards extensive research in the forecast period
At a Glance
Increasing expenditure on pet insurance and animal health are amongst the factors driving the sale of veterinary imaging products
Also, the demand for meat and dairy products has seen a substantial rise in the last few years. This also calls for livestock to be looked after better.
Growing emphasis on maintaining animal health and wellbeing is likely to create substantial opportunities for key players during the forecast period.
Key Trends
Clinical trials are on the rise all across the globe to develop novel medications and treatment options.
Small animals are being used to study certain kind of drug development with regards to diseases.
Genetically modified animal models could be used effectively for fast-tracking development of the product candidates to have better outcomes through drug development pipeline.
As such, small animal imaging systems are being increasingly used at every stage of drug development. This factor is likely to positively influence the veterinary imaging sector in the years to come.
Besides, the advantage of veterinary imaging systems is that they facilitate visualizing brain tumors without need for photo processing supplies, film jackets, or films, dark room. This results in cost-effective diagnosis.
Pet Humanization Trend will Drive Growth
As per the American Pet Products Association, more than 44% of the US households owned dogs and 35%+ owned cats. This number is expected to witness an upswing in the forecast period. Plus, there is growing willingness amongst the populace across the globe regarding paying for pet health.
Along with terrestrial animals, aquatic species and exotic animals are also being included in the spectrum. Though their adoption is at a nascent stage (barring the fish in aquarium), awareness regarding care on their part is likely to help the sales stand in a better stead in the forecast period, and also due to the fact that CT imaging, ultrasound, and radiography are the vital modalities used for diagnosing exotic pets.
The diagnostic results get enhanced with proper radiographic equipment, radiographic projections, and film-screen combinations.
Veterinary imaging is finding an increasing use in traumatology and orthopaedics. With a steep increase in injuries amongst animals, the demand for precise diagnostic solutions has been growing at an exponential rate. This has also resulted increase in availability of animal care facilities.
The other ailments catered to by veterinary imaging include growing incidences of brain cancer, stroke (ischemic infarcts), encephalitis, traumatic brain injuries, and hydrocephalus.
Growing Adoption of Veterinary Imaging in Point-of-Care Facilities
As of now, veterinary hospitals, reference laboratories, academic & research institutes, and point-of-care facilities are the end-users finding a place for veterinary imaging.
Technological advancements are expected to drive the sales further. They include cloud-based information management systems and appropriate pet owner mobile technologies.
Academic & research institutes weren't that active in the last few years. However, with adoption of pets rising stupendously, they are expected to witness linear transition in the years to come.
Previously, research used to rest solely with reference laboratories. Now with research institutes taking the plunge, the market is expected to see transience.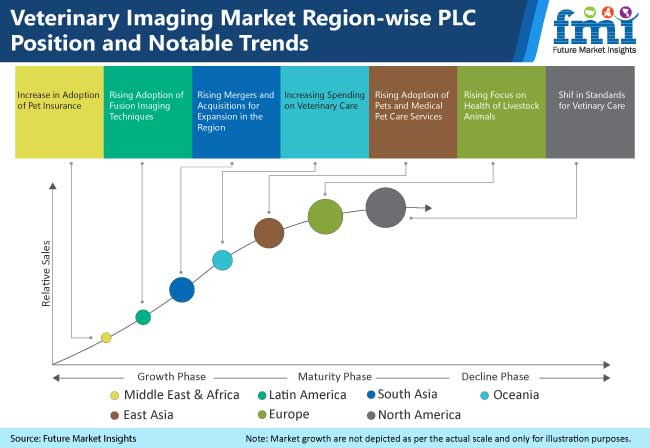 Covid-19 Impact
Though the outbreak of Covid-19 has thrown life all over the world out of gear, the market has shown a marked resilience.
People have turned towards pet care amidst mandated lockdown. This trend has resulted in an increase in demand for veterinary imaging systems.
The scenario has been observed since Mar 2020. It is expected to continue going forward as well, as normalcy, in spite of getting restored, won't wean off the presence of pets in the form of companions.
Region-Wise Analysis
North America veterinary imaging sector continues to grow at a steady pace. A number of factors specific to Canadian and US veterinary imaging sector are likely to hold good during the assessment period.
The American Society for the Prevention of Cruelty to Animals has confirmed that rate of pet adoption has increased significantly of late.
The Europe veterinary imaging sector is also likely to witness steady growth throughout the forecast period. Currently, Europe accounts for over 30% of global share, and sustained growth is expected during the assessment period.
The Asia-Pacific, Latin America, and MEA are catching up, mainly growing emphasis on livestock's health, rising spending on animal care, and shift in standards regarding the same.
Also, the key players are looking to expand their presence as techniques like film-based radiography and computed radiography turn out to be cost-effective over here.
Competitive Landscape
The sector is witnessing fierce competition owing to requirement for apt diagnostic solutions in animal health monitoring and diagnostics.
Inorganic growth initiatives taken in this regard are fueling the sales. Also, established players are collaborating with local ones with the objective to expand their distribution channels.
For instance –
Esaote, in Mar 2019, did launch the novel ultrasound platform called "MyLabX8" to improvise on ultrasound machines
IDEXX Laboratories, Inc., in Jun 2017, entered into collaborative agreement with rVetLink for helping in expanding adoption of products based on cloud technology.
The other players include:
Carestream Health
SUNI Medical Imaging
Universal Medical Systems, Inc.
VetZ Limited
FUJIFILM Holdings America Corporation
GE Healthcare
The Way Forward
The market is expected to go strong between 2020 and 2030, with growth of over 6.4% CAGR. Covid-19's outbreak has resulted in upsurge in veterinary imaging. This trend will continue in the forecast period as well.
The key players need to focus on strategic collaborations apart from introduction of new veterinary imaging systems, so as to have a broader reach all through the market. These collaborations at the local level will help them to stay put in the forecast period.
Key Segment
Product Type
Equipment
Software
Imaging Reagent
Application
Cardiology
Orthopedics
Neurology
Oncology
Others
Animal Type
Small Animal
Large Animal
End-User
Veterinary Clinics
Veterinary Hospitals
Veterinary Institutes and Research Centres
Geography
North America
Latin America
Europe
East Asia
South Asia
Oceania
Middle East and Africa
Need specific information?
Talk Show:
The Rise of Intelligent Packaging
Personalized, Connected and Sustainable
November 18, 2021
11:00-11:45 AM PST (USA & Canada)
This is a LIVE session