Sensors and Motors Capturing Physical Abnormalities and Human Error
Manufacturers are leveraging sensor technology such as vibration sensors, to monitor current status of vibrating screen assets and aid the users predict machine failures, for instance, misalignment, electrical disturbance, and mechanical looseness. Integrating sensors into vibratory screens waives the need for any personnel to scale every screen which leads to inaccurate data due to human error. Further, the data captured by the vibration sensors is sent to a local database or a cloud-based network in real time, allowing users to keep a constant eye on the vibrating screen and its accessories.
Furthermore, incorporation of electric motor, a DC motor, has enabled firsthand notification to the user without sound or vibration owing to its magnetic properties, light weight and compact size, thereby enhancing performance of the motor and eventually of the vibrating screens.
Vibrating Screens Market - Key Research Findings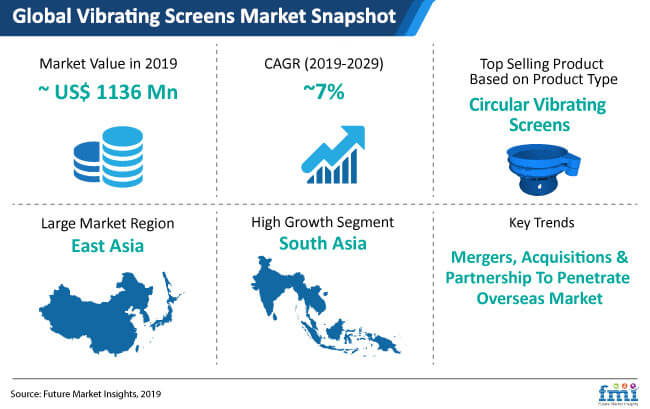 The global vibrating screens market size in 2018 was valued at ~US$ 1 Bn.
The vibrating screens market is expected to register a CAGR of ~7% during the forecast period 2019-2029.
Emerging nations are showcasing growth in the vibrating screens market, whereas, developed nations are showing signs of market saturation.
On the global front, construction and mining end-use industries are estimated to account for majority of the revenues generated by the purchase of vibrating screens.

The construction segment, on the back of the increasing growth of population, migrants, and infrastructure development, is expected to showcase high growth potential for the vibrating screens market during the forecast period.
The mining segment is also showing signs of recovery following the opening up of mining blocks and increased foreign direct investment inflows relating to the purchase of such mining blocks by global conglomerates in order to meet their requirements of minerals and metals going forward. This is also a key factor, which will contribute to the growth of the vibrating screens market.

East Asia is expected to account for the majority of volumes and revenues generated by the global vibrating screens market, during the forecast period, propelled by China, which accounts for the maximum value and volume of vibrating screen procurement and deployment. However, South Asia is expected to be the fastest growing market.

Vibrating screens are expected to be used primarily by construction and mining sectors, which are looking forward to automating mission critical work areas as these are not safe for workforce.
Circular vibrating screens are the most preferred types of vibrating screens owing to their ability to screen materials of huge batch sizes and their suitability to handle any type of material.
Key Factors Shaping the Vibrating Screens Market
Flourishing Residential Construction Sector Driving the Market Growth
Increasing population and growing migrant workforce have led to high floating population in many developing countries. In order to fulfil the accommodation needs of this humungous population, a number of residential project permits are being granted by governments and numerous such projects have commenced in the last few years. These require screening of a large number of construction materials such as sand and gravel, among others, in order to offer quality buildings and living spaces. This is one of the key drivers, which is fueling the growth of the vibrating screens market.
Growing Market for Precious Metals Propelling the Growth of the Vibrating Screens Market
Mining activities account for a significant share of the overall GDP in several developing countries, such as APAC, Latin America, and MEA. Governments and mining companies in countries such as Mozambique, Mauritania, and South Africa, among others, are expected to focus on unexplored and untapped investment opportunities for mining of mineral resources to drive economic growth. In addition, the steady growth in demand for precious metals, such as gold and platinum, is expected to drive the growth in mining activity of precious metals, thereby fuelling the growth of the vibrating screens market over the forecast period.
Infrastructure Development Driving the Market Growth
Population growth is directly proportional to the required development of infrastructure. Governments of developing nations are making huge investments in either improving or commissioning new infrastructure such as high speed railways and road construction. For instance, under its latest five-year plan, China is focusing on developing new highways, airports, oil and gas pipelines, etc. In the coming years, we will see massive development related to construction of roads, buildings and bridges across India, which will give traction to the growth of the vibrating screens market over the forecast period.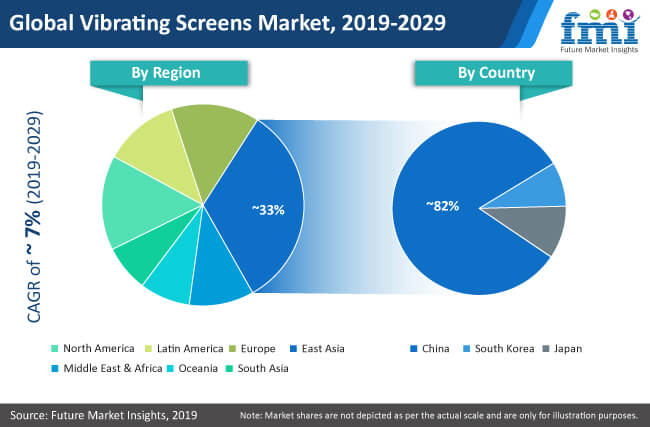 Vibrating Screens Market Structure Analysis
The global vibrating screens market is fairly consolidated and big players in the market command ~ 60-70% of the global market share. The barrier for entry in this market is high as it is capital intensive and hence, the major players have an upper hand. As a result, several small players are getting acquired by bigger companies.
The vibrating screens market is relatively moderate in size due to the high initial investment required to be made in the procurement of manufacturing equipment.
Prominent manufacturers of vibrating screens are currently diverting majority of their yearly budget towards R&D and new product launches to keep pace with rapidly changing technologies such as automation and telematics.
Manufacturers of vibrating screens are also focusing on customizing their product portfolio so as to provide solutions to customers based on their specific requirements.
In order to grow their market shares wherein their presence is limited, prominent manufacturers of vibrating screens are likely to deploy inorganic growth strategies through mergers and acquisitions of smaller localized players who have a good distribution network in the region
The Battle between Polymeric Integration and Ebbing Demands
Vibrating screens made of polyurethane materials are ideal for grading, dehydration and processing of coal, iron ore, gold and other minerals on account of their ability to separate most of the materials from coarse stones to granular materials, making them a perfect fit for both dry and wet materials. The polyurethane vibrating screens assure noise-abated operations as they have a high vibration-absorbance. They offer screening processes with an efficacy of about 2-5 times that of the usual vibrating screen and load-handling capacity of about twice that of a rubber sieve. Further, various industries such as, wood processing, construction aggregate, recycling, and iron and steel producing, are cherry-picking polyurethane vibrating screens owing to their high durability.
However, the demands for vibrating screens is set to tumble slightly in the upcoming years due to their long life-cycle, requiring lesser maintenance, and high capital investments. Additionally, fatal accidents happening at mining sites resulting in huge number of morbidities are compelling miners to drop out from mining exploration activities, which will impede the growth of the vibrating screen market.
East Asia - the Storehouse of Lucrative Opportunities
Stakeholders are eyeing the economies of East Asia for promising return on investment (ROI), with South Asia exhibiting growth at a sweeping rate. The upward trajectory is attributed to upsurge in mining operations to satiate the demand for coal and rare-earth minerals, such as, gold, and construction activities to build infrastructure assets in countries including, China, India, and others.
China has been dominating the gold production globally for almost a decade, accounting for about 12% of the overall world production last year. The country also rules the global coal production, followed by India, realizing the rising demands for electricity to power air-conditioners, especially in the summer season. The '5-year plan' of China encompasses the construction of highways, airports, oil and gas pipelines, and others, whereas the 'Make in India' initiative promises voluminous infrastructural development including, roads, buildings, and bridges across the nation.
Innovative Value-added Amenities to Define Stakeholders' Market Tactics
The global vibrating screen market is a fairly consolidated market with the leading market actors holding substantial shares of the total market revenues. Manufacturers are coming up with ultrafine vibrating screens that houses a collective assembly of up to 10 individual screen decks and a feed splitter box, enabling accurate feed distribution across the decks, improved overall efficacy, smaller pumps than hydro-cyclones, and decreased initial capital investment. Further, coupling with hydro-cyclones in a 2-phase classification circuit ensure better operational return on investment (ROI).
Leading market players are banking on steel-reinforced rubber or polyurethane vibrating screens to avoid abnormalities at the side plates occurring due to vibrations. To upend maintenance costs, manufacturers are including a self-tensioned motor-base to shield both the electric motor and drive belts from tension caused by vibration. Some of the emerging markets are substituting traditional bolts and nuts with huck-bolted vibrating screens to ensure workforce safety. In addition, pairing of sliders with the front chutes is dismissing the need of a lifting tool by allowing smooth movement and easy access to the screen in a few minutes.
Furthermore, market players are reducing the price of vibrating screen to extend their product portfolio in emerging economies including, South Africa, Chile, Australia, and India by entering into long-term contracts with local sellers.
Circular vibrating screen remain highly preferred
Linear vibrating screen demand surging significantly
Use of direct drive takes the lead
Indirect drive gaining high traction
High consumption in mining industry
Demand in construction industry significant
How Growth will Unfold
The global vibrating screen market is on the journey of an impressive growth over the predefined timeframe despite a slowdown in the mining vertical. Escalating demands for private ownership of residential areas in advanced economies, which require filtering of unwanted materials from gravel, cement, and others, is one of the gold mines of the progress. The US Census Bureau and the US Department of Housing and Urban Development announced the completion of 1, 161, 000 residential projects and commencement of 1, 220, 000 new ones for this year in June. The United Nations DESA estimated that about 66% of the global demographic will reside in urban regions by 2050, which will gear the growth of vibrating screen market globally.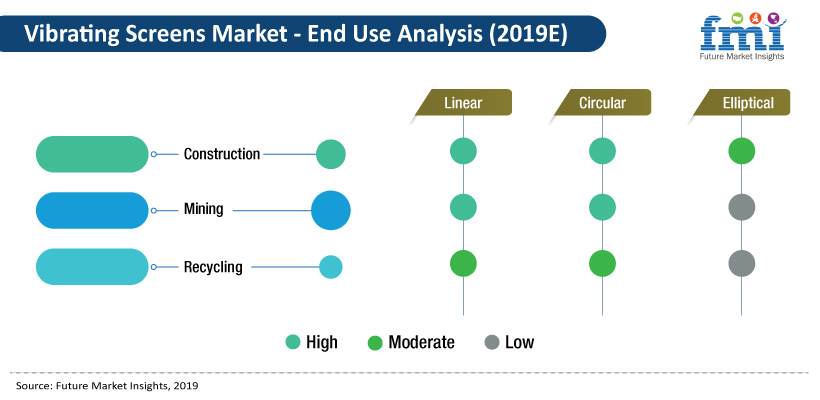 * This data is only a representation. Actual data may vary and will be available in report.
Click Here To Know How The Growth Will Unfold
Custom Market Research Services
FMI offers custom market research services that help clients to get information on their business scenario required where syndicated solutions are not enough.
Overview
Vibrating Screens Market: Global Industry Analysis 2014-2018 & Opportunity Assessment 2019-2029
A recent market study published by FMI on the vibrating screens market includes global industry analysis 2014-2018 & opportunity assessment 2019-2029. The report delivers a comprehensive assessment of the most important market dynamics. The report has been prepared after conducting thorough research on the historical as well as current growth parameters of the vibrating screens market.
Vibrating Screens Market Taxonomy
The global vibrating screens market is segmented in detail to cover every aspect of the market.
By Product Type
Linear Vibrating Screens
Circular Vibrating Screens
Elliptical Vibrating Screens
By Drive Type
Direct Drive
Indirect Drive
By End-Use Industry
Construction
Mining
Recycling
Others (Iron & Steel, Power, etc.)
By Region
North America
Latin America
Europe
East Asia
South Asia
Oceania
Middle East & Africa
Emerging Countries
How the research was conducted?
Primary Research
C - Level Executives
Marketing Directors
Product Managers
Business Development Officers
Production Managers
Sales Executives
Distributors
Traders
Raw Material Suppliers
Industry Experts
End Users
Current market dynamics and challenges
Yesteryear trends
Market characteristics
Competition structure and market structure
Strategic growth initiatives
Near-term and long-term market growth prospects
Market segment splits and authenticity
Opinions on market projections and validity of assumptions
Secondary Research
Industry Publications

Association of Equipment Manufacturers (AEM)
Japan Mining Equipment Manufacturers Association
China Mining Equipment Manufacturers Association
VDMA Mining Equipment Association
Canadian Association of Mining Equipment and Services
Association of British Mining Equipment

Factiva
Company Press Releases
Annual Reports and Investor Presentations
Research Papers
Government Websites and Publications
Primary Interview Splits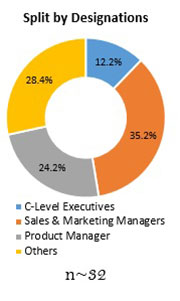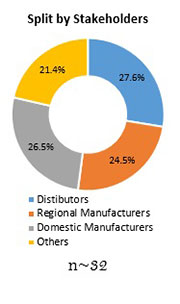 To Learn More About our Comprehensive Perspective on Vibrating Screens Market,
Get in touch
COVID -19 : Impact Analysis
Request the coronavirus impact analysis across industries and markets
Request Covid -19 Impact
CASE STUDIES
See how our work makes an impact.
At FMI, we design strategies that are adaptive, impactful, and implementable.