The Battle between Polymeric Integration and Ebbing Demands
Vibrating screens made of polyurethane materials are ideal for grading, dehydration and processing of coal, iron ore, gold and other minerals on account of their ability to separate most of the materials from coarse stones to granular materials, making them a perfect fit for both dry and wet materials.
The polyurethane vibrating screens assure noise-abated operations as they have a high vibration-absorbance. They offer screening processes with an efficacy of about 2-5 times that of the usual vibrating screen and load-handling capacity of about twice that of a rubber sieve.
Further, various industries such as, wood processing, construction aggregate, recycling, and iron and steel producing, are cherry-picking polyurethane vibrating screens owing to their high durability.
However, the demands for vibrating screens is set to tumble slightly in the upcoming years due to their long life-cycle, requiring lesser maintenance, and high capital investments. Additionally, fatal accidents happening at mining sites resulting in huge number of morbidities are compelling miners to drop out from mining exploration activities, which will impede the growth of the vibrating screen market.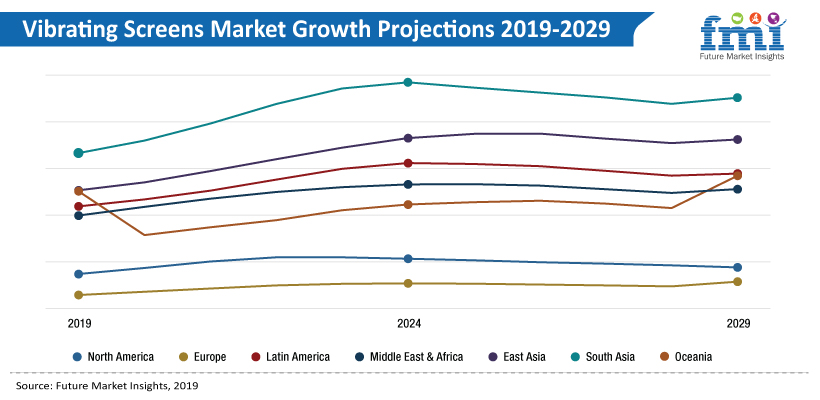 East Asia - the Storehouse of Lucrative Opportunities
Stakeholders are eyeing the economies of East Asia for promising return on investment (ROI), with South Asia exhibiting growth at a sweeping rate. The upward trajectory is attributed to upsurge in mining operations to satiate the demand for coal and rare-earth minerals, such as, gold, and construction activities to build infrastructure assets in countries including, China, India, and others.
China has been dominating the gold production globally for almost a decade, accounting for about 12% of the overall world production last year. The country also rules the global coal production, followed by India, realizing the rising demands for electricity to power air-conditioners, especially in the summer season.
The '5-year plan' of China encompasses the construction of highways, airports, oil and gas pipelines, and others, whereas the 'Make in India' initiative promises voluminous infrastructural development including, roads, buildings, and bridges across the nation.
Innovative Value-added Amenities to Define Stakeholders' Market Tactics
The global vibrating screen market is a fairly consolidated market with the leading market actors holding substantial shares of the total market revenues. Manufacturers are coming up with ultrafine vibrating screens that houses a collective assembly of up to 10 individual screen decks and a feed splitter box, enabling accurate feed distribution across the decks, improved overall efficacy, smaller pumps than hydro-cyclones, and decreased initial capital investment.
Further, coupling with hydro-cyclones in a 2-phase classification circuit ensure better operational return on investment (ROI).
Leading market players are banking on steel-reinforced rubber or polyurethane vibrating screens to avoid abnormalities at the side plates occurring due to vibrations. To upend maintenance costs, manufacturers are including a self-tensioned motor-base to shield both the electric motor and drive belts from tension caused by vibration.
Some of the emerging markets are substituting traditional bolts and nuts with huck-bolted vibrating screens to ensure workforce safety. In addition, pairing of sliders with the front chutes is dismissing the need of a lifting tool by allowing smooth movement and easy access to the screen in a few minutes.
Furthermore, market players are reducing the price of vibrating screen to extend their product portfolio in emerging economies including, South Africa, Chile, Australia, and India by entering into long-term contracts with local sellers.
How Growth will Unfold
The global vibrating screen market is on the journey of an impressive growth over the predefined timeframe despite a slowdown in the mining vertical. Escalating demands for private ownership of residential areas in advanced economies, which require filtering of unwanted materials from gravel, cement, and others, is one of the gold mines of the progress.
The US Census Bureau and the US Department of Housing and Urban Development announced the completion of 1, 161, 000 residential projects and commencement of 1, 220, 000 new ones for this year in June. The United Nations DESA estimated that about 66% of the global demographic will reside in urban regions by 2050, which will gear the growth of vibrating screen market globally.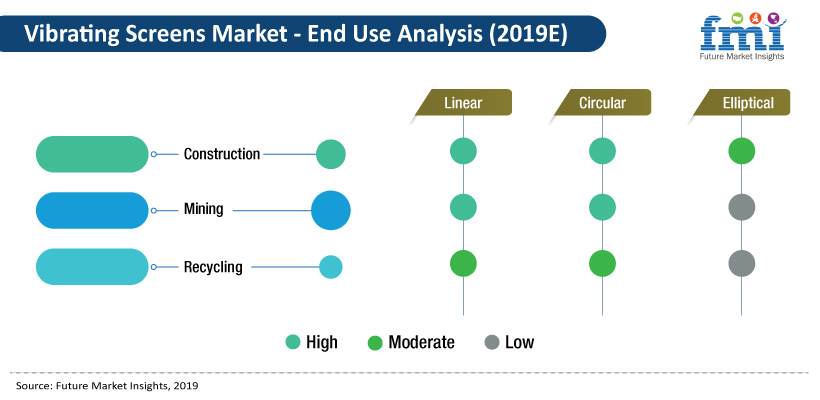 Market Taxonomy
The global vibrating screens market is segmented in detail to cover every aspect of the market.
By Product Type
Linear Vibrating Screens
Circular Vibrating Screens
Elliptical Vibrating Screens
By Drive Type
Direct Drive
Indirect Drive
By End-Use Industry
Construction
Mining
Recycling
Others (Iron & Steel, Power, etc.)
By Region
North America
Latin America
Europe
East Asia
South Asia
Oceania
Middle East & Africa
Emerging Countries
China
Australia
Serbia
Need specific information?
Talk Show:
The Rise of Intelligent Packaging
Personalized, Connected and Sustainable
November 18, 2021
11:00-11:45 AM PST (USA & Canada)
This is a LIVE session