About the Report
The global valuation of the air fryers market is expected to reach US$ 1,861.4 by the end of 2031, rising at a CAGR of 7.3%. The adoption of air fryers is expected to rise strongly owing to advancements in features including LED screens, intelligent sensors, and touchpads, for improvements in accessibility and time-saving functionalities. Changing consumer trends toward technology-led products drives the demand for energy-efficient air fryer appliances.
Increasing levels of health consciousness among consumers and the adoption of oil free diets to limit body cholesterol levels is fundamentally driving the adoption of air fryer products. Moreover, higher spending on home appliances, and access to extensive product related research including design improvements and innovative features is a key factor that drives the sales of air fryers across the globe.
Extensive marketing and advertising efforts by leading brands is increasing consumer interest, expanding demand from residential demographics. Higher levels of consumer comfort and convenience has boosted sales through e-commerce channels, which also allow consumers to gain detailed information of kitchen appliances like air fryers, with comparisons of costs and functions, before product purchases. Such factors further point towards a positive industry growth outlook.
In its new study, ESOMAR-certified market research and consulting firm Future Market Insights (FMI) offers insights about key factors driving demand for air fryer products. The report tracks the global demand for air fryer in 20+ high-growth countries, along with analysing the impact COVID-19 has had on the air fryer market.
How Do Historic Sales Figures Compare with Future Outlook?
Prior to the introduction of air fryers, convection ovens were popular for cooking fried foods. However, modern air fryers are now available in a number of models, technologies, and prices. The growing trend of low fat or oil-based cooking has accelerated sales.
Air fryer manufacturers have been focusing on trending product features including time-saving and high cooking capacities. In addition, despite the simplicity of the cooking process, the gradual transition of consumer preferences from manual to digital air fryers has been witnessed in recent times. This is attributed to lower cooking times and consistency in flavour and texture. Consequently, digital air fryers are rapidly gaining ground for commercial and domestic applications.
According to FMI's analysis, air fryer market sales are projected to grow at a 7.3% CAGR between 2021 and 2031.
How are Health Consciousness Trends Propelling Sales?
Growing health consciousness and awareness of side effects from excessive consumption of unhealthy diets has led consumers to transition towards healthy, low fat alternatives. This has also influenced purchase patterns especially in regard to kitchen appliances.
Changes in consumer preferences with reduced consumption of junk food and increased popularity of low fat or low oil-based foods has pushed kitchen appliance manufacturers towards innovative health conscious product launches.
Modern air fryers, use only around one tablespoon of oil, while circulating air at high temperatures to cook food. This is promoted and perceived as guilt-free, healthy way to cook and consume popular fried foods. Also, unhealthy buildup of compounds such as acrylamide, are known to cause cancer, and pancreatic diseases. Thus, consumers around the world prefer low oil-based food or air fried food, which accelerates sales.
Health & wellness trends are also increasingly noticeable on social media, blogs, and websites that promote low or no oil-based foods, and associated benefits. These factors contribute to increasing demand. Moreover, growing engagement in sports & fitness activities have also bolstered the consumption of low-oil-based food, thus paving the way for air fryer sales in the near future.
How is Urbanization Influencing the Adoption of Air Fryers?
Rural and urban consumer perceptions towards kitchenware are notably different. While kitchen products are seen as products that express the personality of urban individuals, those in rural areas generally view kitchenware products as utilitarian purchases.
Individuals from urban areas are keen to buy products with sophisticated aesthetics and high costs. Due to increasing disposable incomes and household incomes, the urban population is more likely to purchase air fryers. A larger working class population supports the sales of cookware products, driving the demand for low oil cooking appliances.
Air fryers are an upgrade from conventional electric fryer models. Access to novel cooking features has brought about a transition in customer preferences fuelling sales in coming years.
How are Hospitality Sector Requirements Affecting Manufacturers?
Demand for low oil-based food has had a significant impact on the commercial hospitality sector. Hotels and restaurants have moved towards the adoption of low oil-based cooking appliances.
The demand is not only limited to hotels & restaurants, but is also witnessed in hospitals. Strict dietary requirements of patients, has pushed hospitals to provide low oil-cooked food, which further creates demand for air fryers in the market. Supported by demand from the restaurants sector, air fryer sales figures are anticipated to grow at a rapid pace.
What is the Impact of COVID-19 on the Air Fryer Industry?
With the onset of the COVID-19 pandemic, major regional markets have faced dual impacts from a shortage of workers and higher cost of production. Also disruptions to raw materials supply chains has hampered growth in the air fryer market.
However, through 2021, as the pandemic winds down, relaxation of stay at home orders the demand for technology-led kitchen appliances has soared. Consumers are increasingly reliant on refrigerators, microwaves, ovens, and air fryers.
Sales of air fryer increased between March and April 2020 with up to 40% of consumers turning to home-cooked meals. In addition, the NPD team reports that in the week of March 14, 2020, sales of home appliances increased by almost 8% as compared to the previous year. These factors will play key roles in driving overall market growth.
Counterfeiting Goods a Restraint for Air Fryer Manufacturers?
According to the World Customs Organization (WCO), 7-9 per cent of global trade consists of counterfeit products. The inability of procurement networks to combat this problem has emerged as a challenge to market players. The impact of counterfeiting is felt in trade, and in the health and safety of consumers.
The issue is especially prominent in e-sales, where orders are picked up by e-sellers and delivered directly by suppliers to consumers without an appropriate verification process.
Also, with the development of sophistication in counterfeiting processes, it is difficult for consumers to distinguish between a genuine and a counterfeit product. This contributes to reduced product sales and revenue with unrestricted online access.
How are Cost and Toxic Material Concerns Influencing Sales?
A number of air fryers offerings use plastic coatings on cooking surfaces. Often long-term use result in the emission of toxic materials. Moreover, the use of high heat can ruin nutritional profiles.
Thus, manufacturers need to focus on replacing non-stick coatings safer substitutes, which will aid manufacturers in product differentiation, aiding them to attract a larger consumer base.
In general, air fryers operate within the temperature range of 250 to 450 Fahrenheit, which limits cooking applications. Moreover, air fryers are costly and often require additional accessory purchases, at additional cost. This is a major challenge restricting sales to consumers from lower socio-economic backgrounds.
Novel Product Design Supports Adoption
The rising demand for low-oil cooking appliances makes it necessary for manufacturers to offer novel functional features. Moreover, improved technology and aesthetics, and changing food consumption habits, are creating a conducive environment for sales.
Also, many air fryer models have smaller capacities, and are not meant for serving more than 5 people at a time. Thus, manufacturers are now focusing on the introduction of larger models. The demand for such product offerings has primarily been observed in the commercial sector, which includes hotels, restaurants, and hospitals facilitating industry growth.
Country-wise Insights
What Factors Hold the U.S Market in the Lead?
The U.S. is expected to dominate the air fryer market in near future. Increasing adoption of smart kitchen devices and modular aesthetics among consumers are supporting sales. Manufacturers are also pushing for investments into R&D and improved market access. Additionally, the U.S. market is moderately consolidated with major share going to well-established, and globally renowned manufacturers aside from tier2 companies and start-ups, which offer a wider range of product options.
Population growth in urban centres has encouraged the demand for energy-efficient kitchen appliances. This generates significant opportunity for companies to launch innovative air fryer appliances in the American market
Why is Germany Emerging as a High Potential Market?
Germany is a dominant regional market in Europe. Higher levels of health awareness among consumers, growing online penetration, easy financing options, in addition to discounts and offers by e-commerce giants continue to encourage sales in the country.
In addition, the presence of major companies such as Philips, Ninja, and Prestige is expected to have a positive impact on the demand for air fryers in Germany.
What are the Various Opportunities in India for Manufacturers?
In India, the air fryer market projected to grow at double digit rates supported by rapidly growing populations, changing consumer spending patterns, a transition to urban lifestyles, easier access to major brands.
Rising consumer income and flexible lifestyles, have bolstered an inclination toward sophisticated kitchen designs. Consumer preferences for easier cooking experiences and comfort, especially among working women is a driving force in the market.
Major players are looking to consolidate their presence in the Indian market, with robust distribution channels to improve access to local markets.
What are the Opportunities for Air Fryer Market in Australia?
Australia is a lucrative market in the Oceania region, with a competitive market landscape owing to the presence of numerous local players and international brands.
The rising number of growth opportunities in the market are attracting new players who have adopted geographical expansion strategies. Moreover, collaborations and acquisitions of smaller companies is also accelerating market growth.
What are the Opportunities Producers in Saudi Arabia?
Factors such as growing demand for next-generation home appliances integrated with technology such as Wi-Fi, and Bluetooth is a prominent factor behind the rapid growth of sales in Saudi Arabia.
Further, consumer preference towards energy-efficient kitchen appliances and technological advancements are anticipated to aid the rise of the home appliance sector through the forecast period.
Category-Wise Insights
Why are Digital Air Fryers Gaining Popularity?
Driven by transitions to urban lifestyles and features such as multidisciplinary cooking modes, sales of digital air fryers is expected to more than 26% of revenue share by 2021.
Digital air fryers are equipped with new features such as LCD displays, temperature sensors, flexible thermostat controls, and multiple cooking modes such as max crisp, air fry, air roast, air broil, bake, reheat, and dehydrate. Such features facilitate convenience, driving demand. The manual air fryer on the other hand, only offers grills, and basic frying options. Consequently, most manufacturers are focusing on digital air fryers ensuring product innovations leading to sales in the global market.
How are Online Sales Channels Influencing Sales?
FMI forecasts the online retail of air fryers to grow from US$ 103.7 Mn in 2021 to US$ 402.3 Mn in 2031, representing a CAGR of 14.5% from 2021 to 2031. The growing popularity of e-commerce vendors including Amazon, and Flipkart is an important factor aiding product sales. In addition, prominent companies have their own websites, which contributes to the growth of the segment. In addition, large offers and discounts offered by online retailers help increase product sales.
Why Do Residential Applications Drive Adoption?
There is an increase in the demand for air fryer among residential end users due to lifestyle changes and increased disposable incomes. The market is witnessing an increase in the availability of electronic/digital offerings for domestic consumers. With slow cooking and limited functionality of traditional kitchen appliances, homeowners are increasingly seeking technological advanced and intelligent kitchen appliances, in order to enhance kitchen aesthetics.
Also, the introduction of air-driven technology encourages consumers to transition towards smart kitchen configurations. Companies operating in the air fryer market are leveraging advances in IoT to address the growing demand for such equipment for residential user applications.
How Wattage Play a Crucial Role While Purchasing Air Fryer?
Most air fryers wattage ranges between 800 watts to 2175 watts. The normal wattage accordingly works out to around 1425 watts. In general higher the wattage, the higher temperatures the air fryer is able to generate.
The measure of power that an air fryer consumes is moderately low. This is in contrast with the deep fryer, microwave, and traditional oven. Moreover, rapid growth in gastronomy and hospitality industry with the continuous development in product usefulness and execution alongside consistent buyer feedback have allowed the players to sustain in the market.
Why Consumers are Preferring Premium Air Fryers?
In the present era, consumers want satisfaction, happiness, and comfort in their lives and are ready to pay high price for air fryers because, throughout the time the brand has made an impression of value, consistency, and trust.
Further, companies nowadays are more consumer centric as they bring out memories and feelings related with the product they provide to consumers. Consequently, companies offering air fryers at premium price consistently convey a positive experience, consumers form an evaluation that the brand is trustworthy, which gives them true serenity while purchasing the product.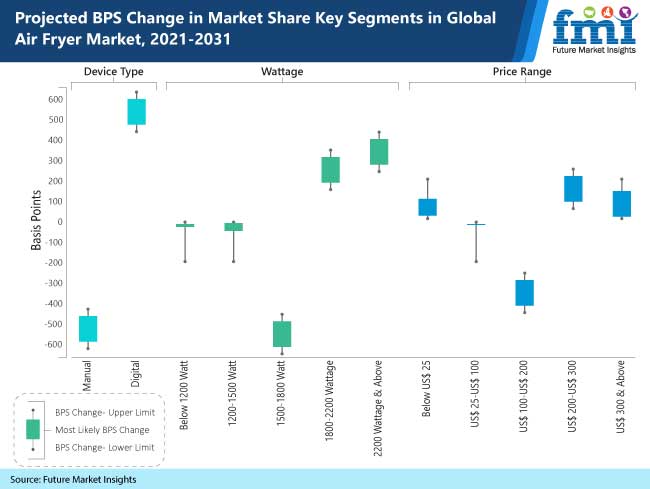 Competitive Landscape
The air fryer market is highly fragmented with the presence of large number of players, and it's intensely competitive. However, large players compete to integrate novel technologies to render effective products and services. Such advancements are aimed to serve the high demand for air fryer in large commercial and residential sector.
Major brands in the sector are increasingly involved in the development of models for mass production and sales with low cost offerings to keep up in an increasingly competitive industry.
In March 2021, Xiaomi launched the MIJIA Smart Air Fryer 3.5 L at a price of 399 Yuan, which can also function as an oven, microwave, yogurt maker, and fruit presser.
Also, Chefman launched a 8-quart TurboFry Touch Air Fryer, at a price of US$ 67.49 with a viewing window capacitive touch controls and LED shake reminder feature.
Some of the leading companies operating in the market are:
Koninklijke Philips N.V.
Breville Group Limited
Groupe SEB
SharkNinja Operating LLC (CDH Private Equity)
Cuisinart Corporation (Conair Corporation)
Meyer Manufacturing Company Limited
GoWISE USA (Ming's Mark Inc)
NuWave, LLC
De' Longhi Appliances S.r.l
*The list is not exhaustive, and only for representational purposes. Full competitive intelligence with SWOT analysis available in the report.
Scope of the Report
Attribute

Details

Forecast Period

2021-2031

Historical Data Available for

2016-2020

Market Analysis

USD Million for value

Key Regions Covered

North America, Latin America, Europe, East Asia, South Asia, Oceania Middle East & Africa

Key Countries Covered

US, Canada, Brazil, Mexico, Germany, France, UK, Italy, Spain, Poland, Russia, China, Japan, South Korea, India, Thailand, Malaysia, Vietnam, Indonesia, Australia, New Zealand, GCC Countries, Turkey, Northern Africa, and South Africa.

Key Segments Covered

Product Type, Service Type, End-Users, Application, and Region

Key Companies Profiled

Koninklijke Philips N.V.
Stanley Black & Decker, Inc.
Breville Group Limited
Groupe SEB
SharkNinja Operating LLC (CDH Private Equity)
Cuisinart Corporation (Conair Corporation)
Meyer Manufacturing Company Limited
GoWISE USA
NuWave, LLC
De' Longhi Appliances S.r.l.
DOMU Brands Ltd
TAURUS GROUP
Bajaj Electricals Ltd.
Newell Brands, Inc.

Report Coverage

Market Forecast, brand share analysis, competition intelligence, DROT analysis, Market Dynamics and Challenges, Strategic Growth Initiatives

Customization & Pricing
Key Questions Answered in the Report
What is the air fryer market size?

The global air fryer market is expected to witness a CAGR of 7.3% during the forecast period 2021-2031. As per Future Market Insights, the global air fryer market valuation is around US$ 917.1 Mn in 2021.

Which end-user segment witnesses most lucrative growth opportunities?

Air fryer market holds the highest value share in residential category however, growth opportunity will continue to expand the market in commercial sector such as hotels, restaurants and hospitals.

Which sales channel will be the most lucrative in future?

Online platforms will be the most lucrative sales channel during the forecast owing to vast product availability on online platforms to compare price, product design & features, secured transaction/ payment and at door step delivery. Moreover, return or exchange policy on online platforms attracts the consumers towards online purchase.
World's Most Profilic Intelligence Engine
Get Access To The World's Largest Market Research Database. Ngage with a revolutionary intelligence engine that scale and pricing that flexes as per your needs
Sign Up Now
Air Fryer Market by Category
Device Type
Wattage
Below 1200 Watt
1200-1500 Watt
1500-1800 Watt
1800-2200 Wattage
2200 Wattage & Above
End Use
Price Range
Below US$ 25
US$ 25 - US$ 100
US$ 100 - US$ 200
US$ 200- US$ 300
US$ 300 & Above
Sales Channel
Direct Sales
Supermarket/Hypermarket
Department Stores
Specialty Stores
Online Retailers
Other Sales Channel
Region
North America
Latin America
Europe
East Asia
South Asia
Oceania
Middle East and Africa (MEA)
Need specific information?