Anti-pollution Ingredients Market By Ingredient Type (Activated Charcoal, Algae and Kelp, Chinese Herbs, Antioxidants, Minerals, Polymer Based Ingredients), Application (Skin Care, Hair Care) & Region - Forecast 2019 - 2029
Anti-pollution Ingredients Market - Analysis, Outlook, Growth, Trends, Forecasts
June 2019

REP-GB-6829

300 pages
Anti-pollution ingredients market – Key Research Findings
The global anti-pollution ingredients market size in 2018 – nearly US$ 809.7 Mn.
The global anti-pollution ingredients market is expected to grow at a CAGR of more than 5% over 2019-2029.
According to National Geographic Society, there are different causes of air pollution, however, the most common cause is the excessive usage of vehicles by people. This has resulted in increased premature aging, skin damage, inflammation and clogged pores, which is boosting the demand for products that help protect the skin from pollution. This is expected to drive the global anti-pollution ingredients market during the forecast period.
Increasing awareness among people about skincare products, especially in the East Asia and South Asian regions, has boosted the sales of anti-pollution ingredients. Difference in the type of pollution in different regions has given rise to the production of various anti-pollution skin care products to suit each region.
East Asia and South Asia are expected to remain prominent regional markets for anti-pollution ingredients

Although the demand for anti-pollution products started in Asia, it has been rapidly gaining momentum in the Europe and North America regions. Moreover, the global anti-pollution ingredients market is expected to witness major growth in the Asia Pacific market, due to increasing levels of pollution, which is caused by the increased usage of pollutant-emitting vehicles, as compared to Europe and North America.

In addition, the rising focus on environment-friendly products has significantly boosted the demand for anti-pollution ingredients among consumers, which is also expected to drive the growth of the global anti-pollution ingredients market.
Growth in the urban population in the West and the growth of the middle-class income group in the East has created, various opportunities for the growth of the global anti-pollution ingredients market during the forecast period.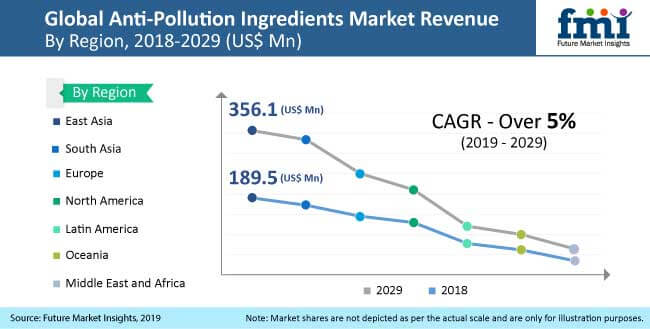 Top 3 factors shaping the anti-pollution ingredients market
Threat of premature skin aging and polluted city air

According to a recent study conducted by L'Oreal, people living in very populated cities have lower levels of Vitamin E as compared to those living in rural areas. The Particulate Matter present in the air with sizes about 2.5 microns and 10 microns (PM 2.5 and PM 10), is coated with Polyaromatic Carbons, heavy metals and other contaminants, which when exposed to skin and hair, is likely to penetrate into the deeper layers, thus causing cellular damage, inflammation, dryness, pigmentation and premature skin ageing. The World Health Organization estimated 7 million premature deaths and cardiovascular diseases such as cancer, stroke, heart disease and other respiratory diseases are caused solely due to air pollution.

Moreover, cities such as Shanghai and Beijing in China, New Delhi and Bangalore in India, and Karachi in Pakistan, are listed as the most populous cities in the world. According to the World Health Organization, 99% of population in these cities is regularly exposed to PM 2.5 with concentration levels that are higher than recommended, thus making products containing anti-pollution ingredients the need of the hour.

Product diversification according to regions

Earlier, consumers were more aligned towards fairness products, however changes in the environment have forced them to opt for pollution-free skin care products, thus providing a wide range of growth opportunities to the global anti-pollution ingredients market.
Population of different regions suffers from different problems due to exposure to pollution. For instance, in China, the increasing health concern drives the market, whereas in America, the driving trend is more focused on premature skin ageing. Moreover, the Indian anti-pollution ingredients market contributes to US$ 61.1 Mn, and the South Asia anti-pollution ingredients market contributes 21.3% to the global anti-pollution ingredients market in 2018.
Initially, anti-pollution products were focused on facial skin care, however, their scope was increased to include sun protection, skin cleansers, colour cosmetics and hair care products, which has resulted in the significant growth of the global anti-pollution ingredients market. The anti-pollution product market is day by day adding new offerings in its product portfolio, for consumers of all age groups. Moreover, increasing consumer demand for dermatologically tested products is expected to drive the anti-pollution ingredients market during the upcoming years.
Increasing demand for environment-friendly and Ayurvedic products

Nowadays, consumers have become more aware and concerned about anti-pollution skin care products than ever before. The consumption of products that contain anti-pollution ingredients is expected to increase among individuals of all age groups, mainly 20-40 years of age, which is expected to drive the growth of global anti-pollution ingredients market.
In the past few years, the demand for natural products has encouraged the usage of natural anti-pollution ingredients in skin care products. This has led to the introduction of cleansing masks that contain absorbent clays, as well as balancing toners and, deep cleansing products that do not compromise the skin's pH levels, and oil-based cleansing products that contain natural ingredients.
Anti-pollution Ingredients Market Structure Analysis
The global anti-pollution ingredients market is a fragmented market with a number of major market players and regional players.
Some of the prominent companies in the global anti-pollution ingredients market include Silab Company, Algues & Mer, Solabia Group, Lucas Meyer Cosmetics S.A.S., and The Lubrizol Corporation.
Most of the key players maintain a strategic focus on the development of distribution partnerships and agreements for global market expansion.
Anti-pollution Ingredients – Future Proofing Skin with Antioxidants
With several altercations regarding negative impact of environmental risks and challenges associated with the use of chemical ingredients on skin, cosmetics manufacturers are introducing a range of products with natural and effective ingredients, having a protective action on skin. With rising consumer awareness about the correlation between pollution and skin ageing and availability of anti-pollution haircare and skincare products, it is highly likely that these products will witness high demand over the coming years.
The Market Size Set to Expand over 1.6X between 2019 and 2029
On account of aggravating climatic conditions, the demand for anti-pollution skincare products is on a constant rise, thereby driving sales of anti-pollution ingredients among personal care products and cosmetics manufacturers.
Furthermore, as young adults with a comparatively more environmentally sensitive skin are more susceptible to major challenges with the globally increasing pollution scenario, the anti-pollution ingredients market players are likely to capture profitable opportunities in market.
Anti-pollution Ingredient Claims Revolve around 'Region-specific' Requirements
Market growth remains concentrated in East Asia, South Asia, and MEA, and East Asia will lead the way in global market. Brands are however particularly targeting millennials. In China and Japan, products are focused on hydration, whitening, and UV protection claims, whereas the preference for antioxidants and vitamin fortified claims for anti-aging and brightening effects remains higher in developed regional markets. Skincare products with novel ingredients are such as CBD skincare products being launched to cater to such distinctive demand-side determinants.
A Broader Viewpoint
Consumers are looking for customized solutions that cater to their specific demands pertaining to skin type, which will remain a prime factor encouraging manufacturers to develop innovation skincare solutions. The continuous R&D efforts to determine the efficacy of anti-pollution ingredients further boost the credibility and product value, allowing brands to attain consumer loyalty.
How Growth will Unfold
As more consumers are willing to pay a higher price when it comes to effective skin protection from pollution, stakeholders in the premium products category are likely to flourish in years to come. Some are also implementing the rebranding strategy to garner consumer attention, with mere changes in product ingredients.
World's Most Profilic Intelligence Engine
Get Access To The World's Largest Market Research Database.
Sign Up Now
ANTI-POLLUTION INGREDIENTS MARKET TAXONOMY
The global anti-pollution ingredients market is segmented in detail to cover every aspect of the market and present a complete market intelligence approach in front of the reader.
By Ingredient Type
Activated Charcoal
Algae and Kelp
Chinese Herbs
Antioxidants

Vitamin A
Vitamin B
Vitamin C
Vitamin E

Minerals

Sea Salt Minerals
Malachite Extract

Polymer Based Ingredients
Others
By Application
Skin Care

Sun Care Products
Anti agers
Moisturizers
Facial Masks
Cleansers
Others

Hair Care

Shampoo
Conditioner
Others
Color cosmetics
Region
North America
Latin America
Europe
South Asia
East Asia
Oceania
Middle East & Africa
Need specific information?
Our Clients