APEJ Automotive Aftermarket By Category (Parts, Accessories, Services), Vehicle Type (Passenger Cars, Commercial Vehicles) & Region - Forecast to 2021 – 2031
APEJ Automotive AfterMarket - Analysis, Outlook, Growth, Trends, Forecasts
February 2021

REP-AP-689

192 pages
APEJ Automotive Aftermarket - About the Report
[192 Pages Report] The automotive aftermarket is an integral part of the automotive industry. The auto-components market has expanded multifold in the past few years at regional as well as global levels. The global automotive industry is majorly identified by mergers & acquisitions and re-provisioning of production facilities in emerging economies. The increasing capacity, competition, redundancy, and overlap has resulted in a strong aftermarket business.
In its new study, ESOMAR-certified market research and consulting firm Future Market Insights (FMI) offers insights about key factors driving demand in the APEJ automotive aftermarket. The report tracks the APEJ sales of automotive aftermarket components in high-growth markets, along with analyzing the impact COVID-19 has had on the automotive industry in general, and APEJ Automotive aftermarket in particular.
What Is The Future Outlook On APEJ Automotive Aftermarket In Comparison To Historical Sales?
The automotive aftermarket industry has been exhibiting great strength over the last few years, facing numerous challenges, handling volatility and operational hardships. It has been undergoing transformation driven by dynamic consumer preference and product innovations. The transposition of a duopolistic market to a fiercely competitive commercial vehicle market has enabled automotive aftermarket exhibit growth in the two-wheeler space, apart from experience qualitative changes in terms of better performance, improved fuel efficiency, enhanced safety and comfort, technology adaptation, improved activities to streamline connectivity. With all these changes, the aftermarket has held its momentum, with companies introducing innovative solutions with a wider network reach, digital solutions and many other initiatives.
Automotive aftermarket components are gaining higher usage in APEJ region and they are likely to continue to impact automotive industry growth. Due to COVID-19, the production has seen a minor slump yet the consumption will improve post the recovery.
The COVID-19 pandemic is currently impacting the global economy at various levels and the impact is seen on automotive aftermarket as well. The APEJ automotive aftermarket growth is projected to be affected by the COVID-19 pandemic crisis and is expected to witness a significant drop in demand in 2021. With a number of end use industries affected in several countries, the profitable growth has also been impacted due to challenges in retail environment and supply chain. The oversupply and shortage in demand are expected to result in a significant drop in Y-O-Y growth yet FMI expects APEJ Automotive aftermarket to grow at 7.1% CAGR through 2031.
What is the Commercial Potential of automotive components?
The changing dynamics of the automotive players and their deciding strategies have led to an identifiable shift and restructure in the automotive components industry. Mergers and acquisitions have created mega-suppliers who have been responsible to meet the intrinsic needs of automotive customers. These suppliers and part distributors have in turn reorganized the rest of the value chain, effectively managing the tier-2 suppliers and developed supply systems in more than one location. The automotive components industry is now increasingly focused on companies which can design, manufacture and provide systems and sub-assemblies across different markets.
Some of the leading companies are investing in research and development activities to gain competitive advantage. Product development strategies and product positioning is adopted by suppliers to establish a market foothold of APEJ Automotive aftermarket. The manufacturers are partnering with technical service providers to gain technical expertise in the field. With companies around the world increasingly focusing on research initiatives, expansion is on card.
The transformation of the mobility sector is likely to influence the automotive aftermarket, re-initiating production processes, parts design, supply chains and research and development (R&D) initiatives. New production facilities will have to be prepared for these future trends considering the rising demand for electric vehicles.
What is the Regulatory Impact on APEJ Automotive Aftermarket?
A significant number of regulations and government policies over the automobile industry are expected to impact the production, installation and usage of automotive aftermarket components. These need for regulations has risen from the necessity of standardizing equipment, regional segregation of markets, and identifying organized sectors across the automotive industry. The automotive aftermarket in APEJ is subject to various regulations imposed by governments. These regulations often determine the way automobiles are designed, the process followed for manufacturing vehicle parts, and safety standards. In fact, the sector has to comply with various emission control regulations.
For instance, in 2016 the government of India announced that the country would altogether skip BS V forms and jump straight into BS VI regulations by 2020. In fact recently, the Supreme Court of India has banned sales and registration of vehicles confirming to Bharat Stage IV standard, starting April 2020 onwards. Implementation of stringent regulations such as these is expected to have profound impact on automotive aftermarket.
APEJ Automotive Aftermarket Country-wise Insights
How big is the Opportunity in China?
The turbulent automotive aftermarket growth in China has attracted several global automakers since the past few years. The country is now seen as the largest automotive market in the world, with growing inclination towards the aftermarket. The shift from new auto sales to the rapid advancement in the country's automotive aftermarket provides fruitful opportunities for Chinese market. Activities related with manufacturing, distribution, remanufacturing, retail and installation of auto-components, auto parts, accessories and services are among the core areas of the aftermarket.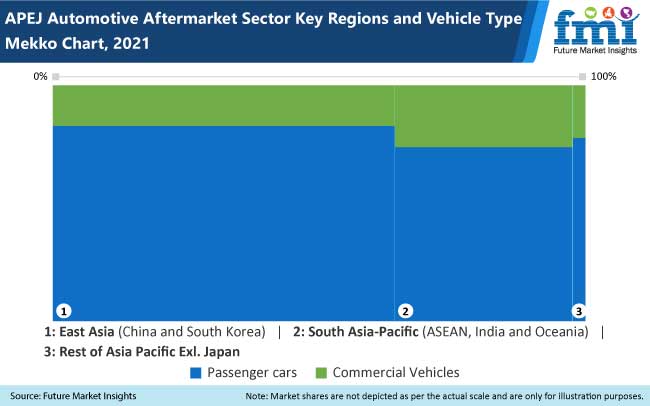 A notable contribution to the aftermarket growth comes from consumables directly related to mileage covered. Recently, the government of China has pushed for adopting the use of new-energy vehicles (NEVs), to reduce high emissions from petrol as well as gas engines. The government has laid a strong exemption from tax for consumers purchasing NEVs, to increase usage, acceptance and reduce pollution
The industry structure is said to offer attractive growth opportunities based on a thorough understanding of the market dynamics. A study of customer requirements will help to build a profitable business model. As the industry is witnessing higher degree of competition, it is moving towards consolidation. Government policy directives that had been issued over the past few years have focused at minimizing the number of auto-component suppliers which have led to market consolidation.
How is the Automotive Aftermarket Concentrated in India?
FMI has projected India to remain one of the most lucrative markets throughout the course of the forecast period. One of the key factors supporting growth is the government's announcement to abolish the Goods and Services Tax (GST) followed by the reintroduction of Sales and Services Tax (SST) which came into effect on 1 September 2018. Therefore, sales of new vehicles boosted.
The rising population in the country means that vehicle fleet is bound to grow in the next few years hence the aftermarket is optimistic towards growing sales and increasing customer expectations. Also, India is attracting a lot of global car brands. Backed by these factors, India remains one of the largest markets for automotive aftermarket players and makes it a lucrative pocket for manufacturers.
How is the Automotive Aftermarket Expected to Expand in South Korea?
The automotive industry in Korea has played a very significant role in shaping the country's economy. Some of the key automotive players in Korea are Hyundai Motors, Kia Motors, General Motors and Renault Samsung. The country's market value increased 1.2 times in the last 5 years. This growth was due to influence of government agencies, regulating automobiles and automobile parts sales and production in Korea.
All automobiles and their parts and components must comply with the Korean Motor Vehicle Safety Standards (KMVSS) underlined by the Motor Vehicle Management Act. In order to produce or import automobiles in the country, the owner must obtain emission and noise certifications under concerned government bodies. Currently, all diesel driven vehicles are subject to the Euro 6 standards in the country. These factors provide fruitful opportunities for aftermarket players.
What will Support Automotive Aftermarket Expansion in Thailand?
Among ASEAN countries, Thailand is one of the largest market for automotive aftermarket. The emerging automotive aftermarket in Thailand is expected to grow considerably in the coming years. In the country, Bangkok will maintain its position to be the key driver of the independent aftermarket, while the Northern territories will be contributing markets in the aftermarket growth in the coming five years. The growth in ownership of passenger cars, will be due to the growing cross-border trade between Thailand and Lao PDR.
How Will The Automotive Aftermarket Flourish in Malaysia?
The increase in market share of car brands, like Hyundai and Kia, and Chinese brands in the commercial vehicles segment in the country cites new opportunities in the domestic automotive aftermarket. The key attributing factors are market liberalization that will lead to more vehicle availability, and increase the number of products needed in the aftermarket, that will drive the industrial growth in the country.
APEJ Automotive Aftermarket Category-wise Insights
What's the Market Share of Passenger Cars in APEJ Automotive Aftermarket?
The passenger cars segment will continue accounting for more than half of the global share among products through the forecast period. According to FMI, the segment is expected to hold a little above 70% of the market, by the end of 2031. This is because passenger car users rely heavily on a vast network of parts/component distributors/suppliers, maintenance and repair professionals and rely on holistic repair solutions to keep their vehicles in efficient performance and longevity.
A typical commercial vehicle is subjected to more odd driving conditions than a passenger vehicle hence the role of aftermarket is intended to provide a longer service life to these vehicles to ensure optimum running. Since a lot of fleet operators are experiencing challenges concerning costs, the aftermarket targets to reduce the total cost of ownership of a commercial vehicle, by providing robust solutions.
Which Category is Witnessing High Demand?
Parts constitute the leading share among product types in automotive aftermarket. The rising demand for tires, batteries, lighting, and filters, among others is directly related with the surging car sales. Innovations in automotive parts to complement state-of-the-art designs of modern vehicles have been a key contributor towards growth registered in the category. This trend is expected to continue, sealing dominance of the parts segment through the forecast period.
Competitive Landscape
The APEJ automotive aftermarket is highly competitive, marked by the presence of global as well as regional players offering cost-competitive products. Some of the players are focusing to carve a niche for specific demography. The APEJ automotive aftermarket is characterized by large supplier base and strong B2B networks. The participants have a robust technical know-how in a cut-throat competition.
Existing players are engaging in tie-ups with technical associations and researchers. There is ample focus on innovations. Developments in raw materials, such as rubber, plastic, and steel will create new avenues for product positioning. Suppliers are adopting acquisition and regional expansion strategies to establish a strong foothold. Brand consciousness and aggressive marketing makes it challenging for new entrants in the APEJ Automotive market. Through these developments, companies are aiming at competitive advantage. A slew of new launches will be likely seen in the coming years.
For instance,
Bosch Malaysia launched Aeristo Premium Cabin Filter for passenger cars, in Nov 2020. The filter is designed with features that include anti-bacteria and anti-virus properties.
ZF launches series production for EV Braking System, a brake control system that will be used across complete model ranges of Volkswagen's MEB platform.
Schaeffler India's automotive aftermarket division launched a mobile training center called the REPXPERT Truck, to provide technical training facilities, introduction to products and spare parts for service personnel, in Oct 2020
Nippon Paint inked partnership with HMSI, to authorize aftermarket paints and ancillary products in India, in June 2019
Bridgestone's webfleet solutions enables vehicle manufacturers to connect their vehicles to fleet management solutions. This allows to access rich OEM data and customers can benefit from actionable, data-driven insights easily, eliminating the need for aftermarket hardware installations.
Some of the leading companies operating in the market are:
Bosch
Denso Corporation
Hella KGaA Hueck & Co.
Continental AG
Delphi Automotive PLC
3M
Aisin Seiki Co., Ltd.
Bridgestone Corporation
ZF Friedrichshafen AG
Mahle GmbH
*The list is not exhaustive, and only for representational purposes. Full competitive intelligence with SWOT analysis available in the report.
Scope of the Report
Attribute

Details

Forecast Period

2021-2031

Historical Data Available for

2016-2020

Market Analysis

USD Million for value

Key Countries Covered

India, China, South Korea, ASEAN, Oceania and Rest of APEJ

Key Segments Covered

Category, Vehicle Type and Country

Key Companies Profiled

Bosch
Denso Corporation
Hella KGaA Hueck & Co.
Continental AG
Delphi Automotive PLC
3M
Aisin Seiki Co., Ltd.
Bridgestone Corporation
ZF Friedrichshafen AG
Mahle GmbH

Report Coverage

Market Forecast, brand share analysis, competition intelligence, DROT analysis, Market Dynamics and Challenges, Strategic Growth Initiatives

Customization & Pricing
World's Most Profilic Intelligence Engine
Get Access To The World's Largest Market Research Database.
Sign Up Now
APEJ Automotive Aftermarket Key Segments
Category
Parts

Tires
Batteries
Filters
Starters and Alternators
Lighting
Exhaust components
Spark Plugs
Lubricants
Collision body
Wear and Tear Parts

Accessories
Services

General automotive repair
Automotive transmission and others
Vehicle Type
Passenger Cars
Commercial Vehicles
Country
India
China
South Korea
Oceania
ASEAN
Rest of APEJ
Key Questions Answered in the Report
Q1. Which is the most lucrative market for APEJ Automotive aftermarket?
China currently leads the APEJ Automotive aftermarket. Sales in China will be over 60% of total demand throughout the forecast period.
Q2. Which Automotive Part is Highly Sought-after APEJ Automotive aftermarket?
The tires segment is highly sought auto-part, witnessing high demand in the automotive aftermarket. The demand is expected to continue surging in the near future.
Q3. Which are some of the leading companies in the APEJ Automotive Aftermarket?
Some of the leading companies in the APEJ Automotive aftermarket are Bridgestone, Continental and Bosch.
Q4. Which vehicle type is driving sales of APEJ Automotive aftermarket?
The passenger vehicles type is driving sales of automotive aftermarket because they come at lesser cost than commercial vehicles. Increasing ownership of passenger vehicles as a result of increasing disposable income in APEJ, will aid in overall expansion of automotive aftermarket in the region.
Need specific information?
Our Clients