APAC Automotive Telematics Market - Key Research Findings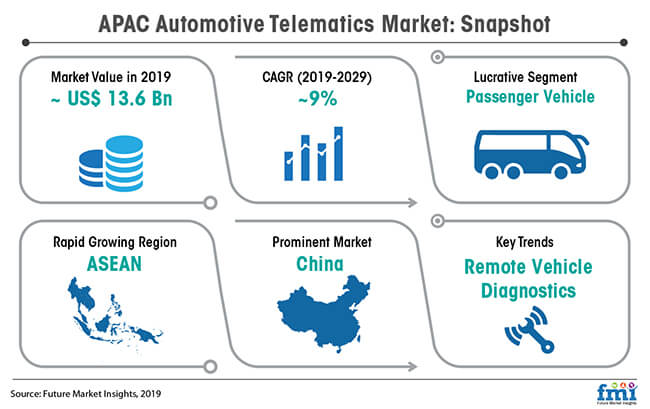 Asia Pacific (APAC) automotive telematics market revenue is expected to reach ~US$ 13.6 Bn in 2019.
The market for automotive telematics in APAC is projected to expand at a CAGR of ~9% during the forecast period (2019-2029).
Application of automotive telematics in commercial vehicles is growing at a rapid pace, offering substantial impetus to the market growth.

Rapid incorporation in passenger vehicles continues to account for relatively high sales of automotive telematics.
Increasing installation of automotive telematics in commercial vehicles is likely to result in increased market share.

Contribution from OEMs in the APAC automotive telematics market is likely to increase further by the end of 2029.

At present, OEMs reign supreme in the overall market in APAC, but in countries such as South Korea where the OEM telematics service is not available, aftermarket of automotive telematics continues to garner significant traction.

Embedded system or technology based telematics solutions account for higher demand as compared to tethered technology, in the view of low cost, faster-to-load, and easy-to-manage aspects.
Installation of automotive telematics for safety and security services and infotainment in vehicles is expected to witness a noteworthy increment in APAC, as customers are increasingly demanding for better vehicle performance and in-car ambience.
China is expected to be a prominent market, holding half of the volume and value share in APAC automotive telematics
Important Factors Shaping APAC Automotive Telematics Market
Favorable Government Initiatives and Rising Technology Penetration

Owing to favourable government initiatives, telecom infrastructure has registered significant growth in APAC. For instance, the installation of telematics systems and satellite positioning in commercial vehicles has been made mandatory by the Chinese government. Moreover, increasing smartphone penetration is likely to create a strong base for telematics.

The smartphone adoption rate in Australia was nearly 70-80% in 2017. By 2020, the usage of smartphone in South Korea, China, and Japan is estimated to be more than half. In addition, the rollout of new generation network is expected to further drive the growth of the APAC automotive telematics market.
Major Focus on Compatible Telematics with Advanced Features

In the current scenario, the automotive telematics industry is moving towards big data connectivity for robust and reliable information storage. For instance, Japan is planning a single national automotive big data platform from 2020. According to this plan, all vehicle-related information will be integrated into a single platform, and random access will be restricted. Government of Japan plans to charge fees to the public for accessing the data platform.

Furthermore, telematics manufacturers are focusing on making telematics compatible with multiple operating systems and software platforms. For example, mirror telematics unit – a rear-view mirror telematics unit equipped with LTE communication module – is the first application in the Japanese car electronics market to utilise cloud services. Such factors are most likely to positively affect the growth of the APAC automotive telematics market during the forecast period.
Transforming Road and Telecom Infrastructure

Internet penetration has increased globally, along with the increased adoption of advanced wireless technology. Enhanced wireless technologies such as 3G, 4G, 5G and LTE are expected to be used widely in future. In most parts of the world, there is constant improvement in the road and carrier infrastructure in telecom. Major countries in APAC region such as India, Singapore, Japan, Australia, New Zealand, and China are taking the initiative to transform their road and telecom infrastructure. The result is likely to result in the upsurge in demand for automotive telematics in the region.
APAC Automotive Telematics Market Structure Analysis
The APAC automotive telematics market is a fragmented landscape when it comes to assessing the competition pattern.
Despite the presence of a large number of manufacturers, there are various small and medium sized manufacturers in automotive telematics landscape. The latter hold a sizeable revenue share in automotive telematics market in the region.
Some of the key market participants in the APAC automotive telematics market include Trimble Inc., Aplicom Oy, Visteon Corporation, Scorpion Automotive Ltd., Airbiquity Inc, Shenzhen Concox Information & Technology Co., Ltd., iTriangle Infotech Pvt Ltd., idem telematics GmbH, Minda Corporation Limited, ACTIA Group, Road Track, Microlise Limited, Lavinta Buana Sakti, Redtail Telematics Corporation, and BOX Telematics.
Automotive Telematics Market: Segmentation
Vehicle Type
Technology Type
Embedded
Tethered
Integrated/Smartphone
End Use
Infotainment
Safety
Navigation
Diagnostics
Channel Type
Region
China
Japan
South Korea
India
ASEAN
Oceania
Need specific information?