An Incisive, In-depth Analysis on the Automatic Identification System Market
This study offers a comprehensive, 360 degree analysis on the Automatic Identification System market, bringing to fore insights that can help stakeholders identify the opportunities as well as challenges. It tracks the global Automatic Identification System market across key regions, and offers in-depth commentary and accurate quantitative insights. The study also includes incisive competitive landscape analysis, and provides key recommendations to market players on winning imperatives and successful strategies.
COVID -19 : Impact Analysis
Request the coronavirus impact analysis across industries and markets
Request Covid -19 Impact
The global automatic identification system market to witness a significant rise in demand across different regions
The technological advancements taking place in various industries, has increased its demand from various regions worldwide. Sea freight is witnessing a huge growth across the globe. There are also huge investments made for marine industry in developed and developing countries, which has led to an increase in demand of automatic identification system especially for vessel tracking. The increasing concern for security and safety is a major reason for the growth of the vessel tracking, globally. According to the regional market analysis, APEJ is expected to lead the global automatic identification system with an expected market size of over US$ 130 Mn by the end of 2027, growing at a value CAGR of 7.1% during the forecast period. Growth of APEJ's automatic identification market is associated with high traffic in the Malacca Strait Route creating high space for AIS. The Malacca Strait experiences high density vessel traffic, and is one of the busiest routes among all sea routes. Due to the narrow route, there is the high potential of collisions. To avoid collisions, enhance security and safety, and also manage sea traffic, APEJ is projected to have a huge demand for advanced Automatic Identification System for real-time navigation.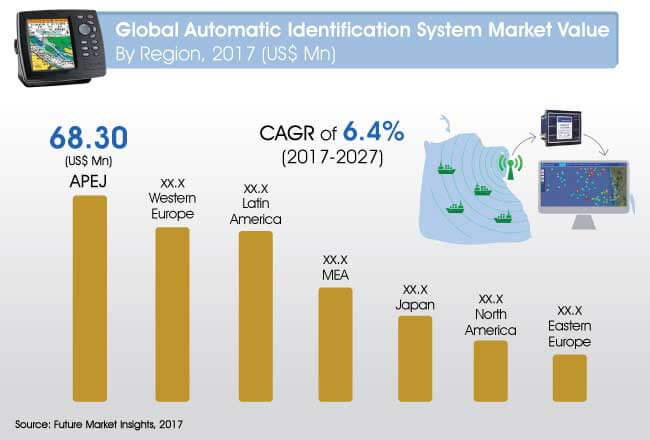 After APEJ, MEA is also expected to showcase high lucrativeness in the global automatic identification system market
MEA is also expected to stay a lucrative region during the forecast period. It is expected to grow at a CAGR of 6.5% during 2017-2027. The growth of MEA's automatic identification system is driven with the rise of oil business in gulf countries. These countries have a huge sea operations due to oil exports. This oil business is creating a huge demand for AIS. High speed two-way communication and navigation is required for security purposes. This region is witnessing a significant demand for AIS, and is expected to contribute to the growth of the AIS market during the forecast period. Qatar's National Security Shield Project, is also focusing on AIS, including the latest technology for the security of coastal areas. This demand from the government is creating a huge competition among vendors to stay ahead in terms of technology. The high demand for AIS in this region is fuelling the global AIS market. Furthermore, the countries in Middle East are developing the IT sector. The integration of IT in Automatic Identification System has paved the way for usage of AIS in a large number of applications, thereby greatly
enhancing its utility. For instance, the use of Big Data Analytics on AIS helps defense agencies predict and detect anti-national activities with the support of domain awareness and maritime intelligence.
The incompetency of software may hinder the growth of the global market in many regions
In spite of continuous technological advancements in the software for AIS, the software still lags behind many attacking methods developed till now. The technology will still take some more time to reach perfection. For instance, the software in AIS is not able to check if messages actually originate from vessels sending them, which gives a chance for attackers to spoof or hijack information. These technical complexities which the software still lags behind and can pose restraints for the AIS market growth. The Automatic Identification System sometimes predict wrong weather. The transmission of fake weather forecasts related to Automatic Identification System Market can also pose a great challenge for its market growth.
Our exhaustive research report on the automatic identification system market provides a comprehensive analysis on every facet of the market along with forecasts. This research report will give the reader an explicit understanding of the global market with which informed decisions can be chalked to stay in pace with the changing market scenario. It will introduce a broad gamut of several aspects involved along with forecasts thus supporting the reader to identify major revenue pockets.
Global perspective at your doorstep
The research report on global automatic identification system market provides an exhaustive analysis on market shares, demand and supply analysis, sales volume and value analysis of various companies along with segmental analysis, with respect to important geographies of North America, Western Europe, Eastern Europe, Asia Pacific excluding Japan (APEJ), Latin America, Japan and Middle East and Africa (MEA) along with a regional breakdown. These regions are analysed keeping in view several aspects which influence the growth of the global automatic identification system market. The report contains an outline of forces which affect the global market scenario. This gives an idea of how to plan market entry strategies, establish connect with the various customers as well as target audience and to establish hold in that area. An unbiased holistic 3600 view of the global automatic identification system market is portrayed in this research study that supports the reader in making informed decisions based on strong data analysis and key recommendations.
Understand your competition better
The research report on global automatic identification system market covers product portfolios, pipeline analysis of key companies, their strategies to maintain their present scenario in the market, their global presence and future expansion plans, mergers and acquisitions, distribution channel analysis, pricing analysis, product positioning tactics, etc. An entire section is dedicated to competitive landscape which includes information on such major key players in the global automatic identification system market.
Exquisite research methodology applied to glean market data
A more robust, unique and effective research methodology has been followed by Future Market Insights in crafting the global automatic identification system market study which enables a near 100 percent accuracy in all angles. The research process uses primary research, secondary research and expert opinions to get a thorough understanding of the global market. Secondary research is the base of market understanding which is used to obtain a broad view of the market, based on which primary interviews are conducted and this stage is marked by data gleaning and analysis along with cross evaluations. Expert opinions are tabulated and the data is cross verified again. Thus, each data point is cross checked and re-evaluated as the primary interview stage progresses. This enables the analysts to carry out data crunching with optimum accuracy. With this study it is possible to obtain actionable intelligence with which the reader can take informed decisions and implement strategies.
Future Market Insights partners with fortune 500 clients to support them in their endeavour to gather market information across domains and verticals and coordinating and assisting them to achieve their objectives and goals with a view to achieve market stability giving rise to an expanded global foot print. Few highlights to support the above statement
An unbiased third party opinion is what the research delivers

Actionable intelligence which accompanies at every step

24x7 analyst support to resolve queries or attend any requirement pertaining to respective market along with respective domain experts

A near to 100 percent accuracy in data and statistics

In-depth weighted analysis with a deep dive in the market across several regions with a detailed market segmentation

Analytically strong ten year forecasts to assist in planning future moves

Covers market influencing aspects, key developments and innovations from strategic and technological standpoints
Market Segmentation
Category

Application

Region

Vessel Based

Shore Based

AIS base stations

AIS AtoN

Others

Fleet Management

Vessel Tracking

Maritime Security

Others

North America

Western Europe

Eastern Europe

Latin America

APEJ

Japan

MEA
Harish Tiwari
Global Head - Business Development
Akshay Godge
Client Partner - Global Business Development
CASE STUDIES
See how our work makes an impact.
At FMI, we design strategies that are adaptive, impactful, and implementable.