Introduction
The antilock braking system (ABS) prevents wheels of vehicles to suddenly stop moving or lock at the time of sudden or hard braking. ABS operates by braking successively for providing better control to drivers in critical situations, and decreasing stopping distances in case of an emergency. An electronic stability control (ESC) is known to be the best safety system for vehicles when they are moving sideways. In emergency situations ESC operates through sensors provided in vehicles that account for ABS, steering & throttle by assessing potential skid, apply necessary brakes, and cutting power for counteracting the slide.
New Window of Growth Opportunity for ABS and ESC Market in Developing Economies
Active safety systems are becoming an integral part of passenger cars, with higher demand among consumers for systems such as ESC and ABS that avert accidents, particularly in developing countries. Legislations in developing economies are catching up rapidly, opening window of growth opportunity for ABS and ESC market. A number of institution such as New Car Assessment Program (NCAP) are awarding cars with safety ratings on the basis of their safety performance.
Governments across the globe are imposing stringent safety norms on vehicles. Leading manufacturers are taking initiatives for increasing awareness of various safety systems in vehicles through marketing campaigns. Technological advancements in the automotive sector have made the provision of safety systems such as ABS and ESC affordable.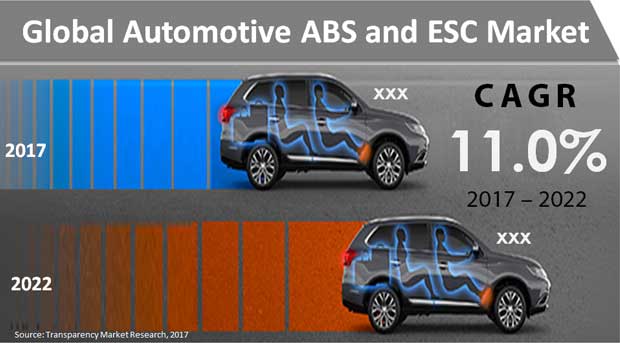 The demand for luxury cars is expected to surge in the upcoming years, especially across regions such as Asia-Pacific excluding Japan (APEJ) and Europe. With recognized benefits of ABS and ESC and a number of regions moving to legislate these safety systems, several manufacturers across the globe are making their fitment in vehicles mandatory. Although ESC and ABS are effective safety systems, they cannot surpass limits of driving physics. The vehicles equipped with ABS and ESC may go off control when driven too fast, hinting at these systems in not being a license for rough driving style.
According to a new report by Future Market Insights (FMI), the global automotive ABS and ESC market will record a double-digit CAGR during the assessment period (2017-2022). Revenues from the global automotive ABS and ESC market are forecast to exceed US$ 100,000 Mn by 2022-end.
Europe to Remain Dominant in Global Automotive ABS and ESC Market
In terms of revenues, Europe is expected to remain dominant in the global automotive ABS and ESC market, followed by North America. However, the market in North America is expected to expand at a comparatively higher CAGR than that in Europe through 2022. In addition, revenue shares of Japan and Middle-East & Africa in the market is anticipated to remain relatively lower than all the other regional segments throughout the assessment period.
On the basis of technology type, ESC will continue to be the most lucrative, with revenues poised to account for over half share of the market in 2017. Demand for ESC technology in vehicles will further witness a significant rise among consumers by 2022-end. Between three channel ABS and four channel ABS, the former is expected to remain comparatively more lucrative than the latter during the assessment period.
Light Commercial Vehicles and Heavy Commercial Vehicles to Expand at Similar CAGRs in Automotive ABS and ESC Market
Based on vehicle type, sales of ABS and ESC in light commercial vehicles and heavy commercial vehicles are projected to expand at similar CAGRs through 2022. Light commercial vehicles will remain more lucrative than heavy commercial vehicles in the global automotive ABS and ESC market. Compact vehicles and mid-sized vehicles are anticipated to remain sought-after among manufacturers for integration of ABS and ESC systems, owing to high consumer demand for these vehicles.
OEM will continue to be the most attractive sales channel for automotive ABS and ESC, with sales estimated to reach revenues nearly US$ 100,000 Mn by 2022-end. Although accounting for a very low revenue share of the market, aftermarket is expected to witness an impressive expansion in sales of automotive ABS and ESC through 2022.
Market Taxonomy
Region
North America
Latin America
Europe
Japan
APEJ
MEA
Technology Type
Three Channel ABS
Four Channel ABS
ESC
Vehicle Type
Compact Vehicle
Mid-Sized Vehicle
Premium Vehicle
Luxury Vehicle
Commercial Vehicle
Heavy Commercial Vehicle
Sales Channel
Need specific information?
Talk Show:
The Rise of Intelligent Packaging
Personalized, Connected and Sustainable
November 18, 2021
11:00-11:45 AM PST (USA & Canada)
This is a LIVE session