Automotive Exterior Trim Parts Market By Product type (Front Bumper, Rear Bumper, Outside Rear View Mirror, Rocker Panel, Radiator Grills, Wheel arch Cladding, Outside Door Handles, Exterior Car Door Trim, Mud Guard), Vehicle Type (Passenger Cars, Commercial Vehicles, Heavy Trucks and Buses) & Region - Forecast to 2020 - 2030
Automotive Exterior Trim Parts Market - Analysis, Outlook, Growth, Trends, Forecasts
July 2020

REP-GB-11934

250 pages
Automotive Exterior Trim Parts Market Outlook & Key Findings
Automotive exterior trim parts market to grow at a CAGR of 4.6% through 2030
Sales in top 3 countries collectively accounted for nearly 46% of overall market in 2019
Compression molded composites touted to be 20%-30% lighter than aluminum will gain traction in new generation of vehicles
Automotive Exterior Trim Parts Market Analysis – Light-weighting Hits Sustainability Targets
The market for automotive exterior trim parts is benefiting immensely with the use of light-weight plastics which are proving to be critical in the use of vehicle trim and exteriors.
These are not only helping to reduce vehicle weight but are also weather resistant and help to reduce overall emissions and are more fuel efficient. The market is also seeing a high influx of beautifully engineered and dynamic front and rear bumpers that portray greater design freedom.
Polyamides, polyesters, thermoplastic olefins and polypropylene are some of the stylized plastics that are enhancing functionality in vehicle trim. Not only are some of these recyclable but are also helping reduce overall environmental footprint.
Manufacturers are able to use these scrap materials in a highly cost-effective manner. Whilst reducing the overall cost of the material millions of pounds of toxic plastic is saved from going into landfills.
Hybrid materials which use a mix of steel and plastic are being used in exterior trims offering structural strength and greater crash-resistance.
Design Meets Technology - The Bumper Segment to Capture 13% of Value Share
Amidst automotive exterior trims and parts, bumpers have evolved into intricate and beautifully designed pieces that are aesthetically fitted on to vehicles. Plastic and polymer built bumpers are bespoke and speak of elegance and freedom in design.
Thermoplastic olefins, PP, polyamides and polyesters are some of the commonly used plastics. With additional reinforcement provided to them, modern-day car bumpers have very high impact resistance. Recyclable plastics and polymers are also helping manufacturers lower their carbon footprint. This also has the potential of reducing the poundage that is added to landfills every year.
Bumper designs such as those with air splitters that are controlled by computers are soaring on popularity. Cars such as the Alfa Romeo Guilia are showcasing this new design. The splitter opens up on braking with an adequate down force of 220lb/100 kg. This greatly improves the vehicle's aerodynamics.
Cars such as the Fiat Panda are showcasing state-of-the-art hybrid bumpers that are made of a combination of both plastic and steel. Through this, manufacturers have not only achieved light-weighting but also in-built crash resistance.
The bumper is made of honeycombs made out of plastic which crush on impact, thus reducing overall damage and also absorbing the impact. The bumper segment is set to capture 13% of value share through 2030.
Automotive Exterior Trim Parts Market Trends – Lightweight Materials Support Recyclability Goals
With the trend of light-weighting proliferating, materials such as aluminum have gained considerable share from conventional materials such as iron and steel.
The use of aluminum in exterior trim parts has risen nearly 3%, tantamount to 420 pounds per vehicle. This has led to an uptick of parts used in trucks in the heavy vehicle segment. Aluminum is used in the following:
Body panels – 40% lighter over conventional iron and steel
Details on the exteriors of the vehicle such as roof rails
Following suit are polymers, composites and plastics which have also garnered sufficient traction in the use of automotive parts. In the exterior trim parts, plastics and polymers have bought about unprecedented revolution in textures and designs. From roof rails to bumpers, the use of plastic and composites have not only given car makers huge leeway for innovative concepts but also better gas mileage.
This also allows manufacturers to manage energy, lower their manufacturing costs and use techniques for lithe and sleek exteriors.
Towards this, bio plastics such as bio-based polyamides are being increasingly used in automotive. These are partly derived from castor beans and sugarcane which are renewable feedstock. An instance of this would be the translucent roof PLA/kenaf and bio-composites used in Toyota 1/x plug-in hybrid vehicles. Currently bio-composites account for 10% of plastic parts in any modern car
Automotive Exterior Trim Parts Market Manufacturers - On the Path to Innovations and Acquisitions
The automotive exterior trim parts market is fairly fragmented, thus entry barriers to it are low. Manufacturers have been on an M&A spree with automotive majors undertaking large-scale cross border acquisitions.
In China, for instance HASCO, one of the most prominent car exterior parts manufacturer entered into a joint venture with Johnson Controls - Yanfeng Automotive interiors to cater to the diverse needs of automotive majors such as BMW, Mercedes Benz, Ford, BMW and GM across different countries in Asia, Europe and North America.
The presence of foreign companies in various regions has further strengthened their foothold. A good example would be of Bosch which has close to 38 plants in China with a staggering 60,000 people at its helm.
Efforts are also being channelized towards the use of greener, bio-based polypropylene from 100% renewable feedstock. Mazda in its R&D extensively researched on a prolific bio-route to innovate and produce polypropylene from a cellulosic biomass which will be used in roofs, bumpers, sidings, dashboard carriers, door pockets and consoles.
Similarly, the Tong Yang Group with huge manufacturing plants in Taiwan, China, US and Italy is innovating extensively in plastic trim parts by techniques such as PU Forming, SPM, Vibration welding etc. Their injection molding techniques are being used to produce grilles, covers for automotive bumpers and vehicle instrument panels.
Automotive Exterior Trim Parts Regional Analysis - East Asia in the Vanguard
Regionally East Asia is slated to account for a formidable 33% of the market share in 2020.
China's exponential growth in East Asia can be attributed to car parts businesses shifting from traditional exterior trims to EV parts with the spurt in volume growth of electric vehicles.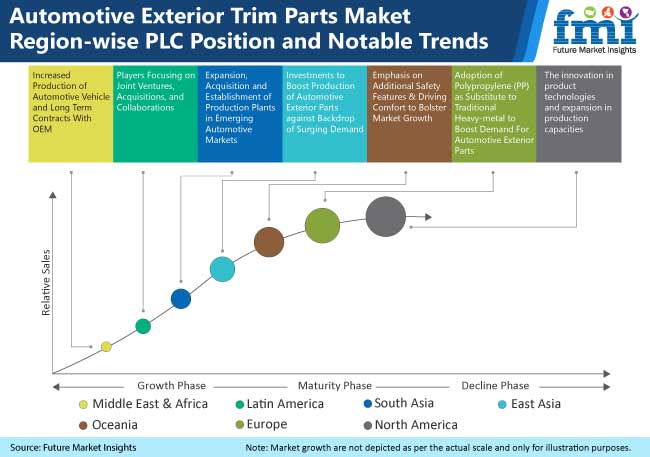 Following East Asia is North America which is projected to create an incremental opportunity 1.6X that of Latin America through 2030.
Within North America, US will account for a staggering 84% of the market by the end of 2030. Within North America, growth of mid-size automotive exterior trim parts suppliers has been very high.
A large chunk of them have been able to sustain growth with Revenues growth coming from a highly specific, technology enabled product range.
Trade has also been an instrumental factor in the market's expansion. Imports of exterior trim parts have risen considerably, by at least 13% Y-OY from the year 2017.
Germany and Japan have led trade being two of the largest suppliers of automotive trim parts accounting for 27% and 25% respectively with US being the major importer.
Digitized Business Models and Mobility to Become New Normal in Automotive Exterior Trim Parts Market
With digitization seeping into almost every sphere of automotive, exterior trim parts suppliers too will greatly benefit. This coupled with enhanced mobility solutions will bring in superlative changes in market dynamics.
Future Market Insights in its analysis predicts that the following aspects will greatly determine the future of automotive exterior trim parts market:
Ride sharing firms are scaling up extensively. This will aggressively boost demand growth for automotive exterior trim parts. They are also fuelling technological changes and will leverage partnerships with parts suppliers
Electric mobility and autonomous driving will sustain with high focus on cost-effective parts materials, safety and efficiency. Leading players here have already established themselves
A fragmented market will make it easier for new players and SMEs to enter thus heightening competition in the market
Capital access will be slightly more difficult as the attractiveness of the overall automotive market has shrunk with the ongoing pandemic
World's Most Profilic Intelligence Engine
Get Access To The World's Largest Market Research Database.
Sign Up Now
Automotive exterior trim parts Market: Segmentation
Product type
Front Bumper
Rear Bumper
Outside Rear View Mirror (ORVM)
Rocker Panel (Under Cover)
Radiator Grills
Wheel arch Cladding (Fender Liner)
Outside Door Handles
Exterior Car Door Trim
Mud Guard
Exterior trims parts
Vehicle Type
Passenger Cars

Compact
Mid-size
Luxury
Sedan
SUVs

Commercial Vehicles
Heavy Trucks and Buses
Sales Channel
Region
North America
Latin America
Europe
South Asia
East Asia
Middle East & Africa
Oceania
Need specific information?
Our Clients