Introduction
The growing disposable income of consumers has led to rise in the demand for high-end and fully automated cars across the globe. With growing affluence among consumers, their purchasing power is also evidently increasing, which is eventually pushing the market for leisure products such as automotive infotainment SoCs. Advancements in the automotive industry ecosystem is one of the core reasons behind swelling adoption of automotive infotainment SoCs both in passenger cars as well as commercial vehicles.
Connectivity is surfacing as a key competitive differentiator in the scenario of the automotive market. The automotive industry is surging towards connected vehicle technologies such as V2P (vehicle-to-pedestrian), V2I (vehicle-to infrastructure), V2V (vehicle-to-vehicle), and V2D (vehicle-to-device), as well as automotive manufacturers are implementing advanced features like voice control, wireless charging capabilities, back-up cameras, blind spot awareness, and many others.
For implementing these next generation technologies with automotive OEMs, telecom service providers, vehicles, electronic instruments manufacturers, and IT service providers have already been collaborating with each other. Moreover, several brands are adopting more collaborative ways of working towards innovations in connected car technology.
These progressions in the automotive industry are projected to augment the growth of the global automotive infotainment SoCs market. Increasing R&D investments have also been identified to be a significantly impactful factor supporting the development of novel products, especially by the manufacturers of passenger and luxury cars.
Integration of automotive infotainment SoCs in passenger cars is expected to remain significantly high than in commercial cars
Several leading companies across the globe are introducing new automotive infotainment technologies in order to gain the attention of the leading automotive manufacturers and also expand the sales of their products. The burgeoning demand for luxury and sedan cars has also stirred up the demand for automotive infotainment SoCs from passenger car manufacturers. For instance, in April 2014, Google launched the 'Open Automotive Alliance', a global alliance of technology and automotive companies, including Audi, Honda, GM, and Hyundai.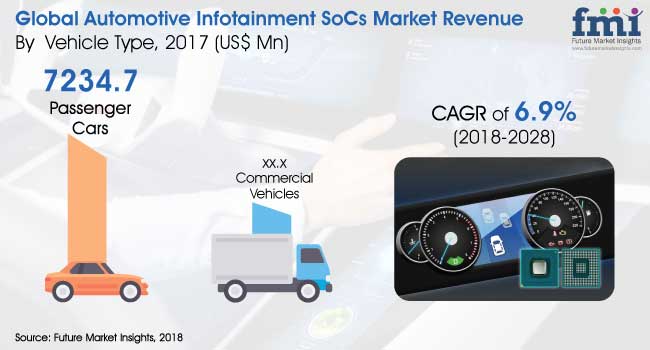 Automotive giants prominently dealing with passenger, luxury, and sedan cars are focusing on gaining traction through powerful processors in semi-autonomous and self-driving cars
At present, technology giants and car manufacturers are introducing complex technologies potentially supporting self-driving cars. In order to implement self-driving features in cars, automakers are using advanced and powerful processors (system-on-chips), as a self-driving car uses complex image recognition and a radar/lidar system to detect objects on the road.
With the help of powerful processors (system-on-chips), automakers implement advanced functions such as machine vision, GPU power, electric power, image recognition, and object detection. In addition, it has been observed that, individual and corporate interest is growing in semi-autonomous cars. The growing interest of consumers and corporate in autonomous cars is anticipated to drive the growth of the global automotive infotainment SoCs market during forecast period.
Market Taxonomy
The global automotive infotainment SoCs market has been segmented into:
By Vehicle Type
Passenger Cars
Commercial Vehicles
Light Commercial Vehicles
Heavy Commercial Vehicles
By Region
North America
Latin America
Western Europe
Eastern Europe
SEA &Other APAC
China
Japan
Middle East & Africa
Need specific information?