TOP FACTORS SHAPING GLOBAL AUTOMOTIVE PERFORMANCE PARTS MARKET
Average Vehicle Age at All-time High
Advancements in technology have led to improvements in the quality of materials used for automobile manufacturing. The average age and reliability of light vehicles such as pickup trucks and light vans has increased over the years. Moreover, customers are increasingly keeping their old cars as second hand vehicles rather than reselling or scrapping them. As a result of this, significant need for repair and maintenance is expected, bolstering demand for performance parts.
For instance, parts such as brake pads, suspension bushings, spark plugs, and air filters need to be replaced at regular intervals. Longer-lasting cars present a lucrative opportunity for aftermarket performance part manufacturers, as older vehicles require more repairs and maintenance, thereby necessitating more aftermarket performance parts.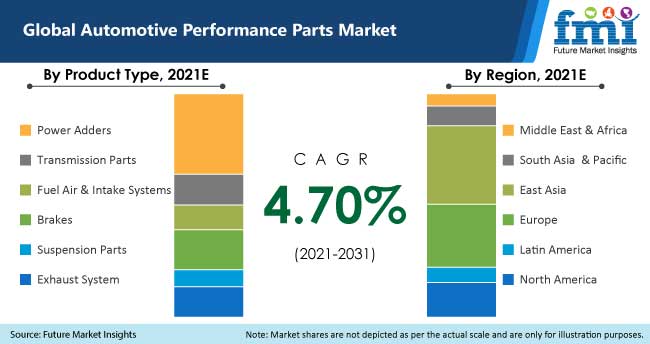 Expanding Automotive Production in Developing Regions
East Asia will be highly lucrative for the leading manufacturers in automotive performance parts market, as the region is a global hub for automotive production. In terms of growth, South Asia and the Middle East and Africa (MEA) will particularly reflect a relatively high growth potential in the automotive performance parts landscape. This growth has been attributed to the expanding automobile production across these regions, particularly in Indonesia, Algeria, Morocco, UAE, and Thailand.
Surge in Fleet Aggregators
In order to ensure maximum fuel economy, fleet owners get their vehicles serviced regularly. Surge in fleet aggregators is anticipated to be one of the key factors fueling the demand for automotive performance parts. Booming fleet aggregators particularly in developing countries are expected to disrupt the transportation industry in the coming years.
Fleet owners including taxi operators like Ola, Uber, SheTaxi, Baxi and AutonCabs, shuttle bus operators like Shuttl, Cityflo and Zipgo, and on-demand transport companies like Quikhop, Rivigo, Trukky, LetsTransport, ThePorter, Blackbuck and Truckola are creating significant opportunities in the promising India market. Large fleet owners project significant demand for features such as improved vehicle power, ease of handling, and optimum fuel economy, which in turn, is creating lucrative growth opportunities for automotive performance parts market.
AUTOMOTIVE PERFORMANCE PARTS MARKET STRUCTURE ANALYSIS
The global automotive performance parts market is fairly fragmented where the unorganized sector, which includes tier-2 and tier- 3 players, holds significant market share. The market consists of a large number of local and unorganized players serving mainly in the aftermarket.
Robert Bosch Gmbh, Denso Corporation, Mitsubishi Heavy Industries Ltd., Delphi Automotive, Continental AG, and Honeywell International Inc. are identified as some of the key participants in the global automotive performance parts market.
Power Adders and Brakes Top Selling, with Collective Share of 50%
Accounting for revenues worth over US$ 100 Bn, power adders continue to influence the growth tactics of market players. This study reveals that power adder manufacturers would reap substantial profits by 2022. Demand for brakes is also witnessing a significant upsurge, with major contribution from brake calipers and brake master cylinders. On the other hand, transmission parts are reflecting lucrative prospects. Torque converters hold about half of revenues under transmission parts and clutch pressure plates are gaining modest traction.
Manufacturers to Target Europe and East Asia
The automotive performance parts market in Europe continues to reflect significant opportunistic potential, primarily attributing to increasing production of passenger vehicles (PVs). While sales will be majorly concentrated in Germany, Russia's growth as a potential market will be steadfast, positioning the country ahead of Spain by 2029 end.
Asia Pacific (APAC) also accounts for a noteworthy market share, banking on massive production volumes of compact PVs and heavy commercial vehicles (HCVs) in China. Growing automotive industry in India, and ASEAN countries would also be crucial in shaping demand for automotive performance parts across APAC.
Customization and E-tailing Hold Key to Winning over Competition
The E-commerce ecosystem has been expanding rapidly, particularly in developing regions. This has influenced manufacturers of automotive performance parts to strategize on online retail channels. For instance, Donaldson Company Inc. has launched its E-commerce platform for selling air and fuel filters.
Customization is another differentiating strategy trending among prominent market players. Manufacturers are developing customized automotive performance parts that offer operational benefits as well as comply with existing regulatory framework.
How Growth will Unfold
Adoption of automotive performance parts in PVs currently generates significant revenues and employment of automotive performance parts in PVs would remain prominent across most regional markets. Application in light commercial vehicles (LCVs) is however set to surpass the US$ 100 Bn mark by 2029 end. Automotive performance parts are also finding application in HCVs.
AUTOMOTIVE PERFORMANCE PARTS MARKET TAXONOMY
The global automotive performance parts market is segmented in detail to cover every aspect of the market and present complete market intelligence to the reader.
Product
Exhaust System

Headers
Mufflers
Oxygen Sensors
Exhaust Pipes
Catalytic Converters

Suspension Parts

Suspension Bushing
Sway Bars
Shock Absorbers

Brakes

Brake Pads
Brake Rotors
Brake Calipers
Brake Lines
Brake Master Cylinders
Vacuum Pumps

Transmission Parts

Clutch Pressure Plates
Flywheels
Torque Converters
Clutch Linkage

Fuel Air & Intake Systems

Air Filters
MAF Sensors
Intake Manifolds
Throttle Bodies
Fuel Filters
Spark Plugs
Fuel Injectors
Fuel Pumps

Power Adders

Turbochargers
Nitrous Oxide Systems
Intercooler
Superchargers
Product
Passenger Vehicles
Light Commercial Vehicles
Heavy Commercial Vehicles
Sales Channel
Region
North America
Latin America
Europe
East Asia
South Asia & Pacific
Middle East & Africa
Need specific information?