An Incisive, In-depth Analysis on the Card Printer Ribbons Market
This study offers a comprehensive, 360 degree analysis on the Card Printer Ribbons market, bringing to fore insights that can help stakeholders identify the opportunities as well as challenges. It tracks the global Card Printer Ribbons market across key regions, and offers in-depth commentary and accurate quantitative insights. The study also includes incisive competitive landscape analysis, and provides key recommendations to market players on winning imperatives and successful strategies.
Growth in banking sector and rising adoption of ID cards in manufacturing sector to largely contribute to the growth of the global market
Card printer ribbons are essentially those consumables that hold the printing ink that is to be printed on cards, especially bank cards and ID cards. They guarantee sharp barcodes, crisp text and accurate colour patterns. Card printer ribbons print the card with the help of thermal technology and using ribbon cartridges. Typically, they do not have PLC (Programmable Logic Controllers) and have to rely on external computers.
Manufacturers involved in card printers and associated consumables are investing in research and development to develop and innovate new products to cater to changing customer requirements. Earlier, ink was used for printing purposes, however, with technological advancements, the consumables used for printing cards have changed. New card printing machines use ribbons as they offer high quality ID cards with crisp detailing. This has pushed the application of card printers and its consumables in different industries such as banking, healthcare, manufacturing etc.
Analysis of card printer ribbons says that the global market is dominated by limited number of manufacturers. They are introducing new products and technologies and are strategically focusing on reinforcing their base in the early phase of the product life cycle. According to our research, the global market for card printer ribbons is projected to expand at a value CAGR of 3.9% during the period of forecast, 2018-2028. In 2017, the sales of card ribbon printers reflected a value of US$ 653.4 Mn and are expected to touch a valuation a little under US$ 1 Bn by the end of the year of assessment (2028).
Growing banking sector to significantly push the demand for card printer ribbons
Banking sector has witnessed noteworthy growth since the past several years across the globe. Governments in several developing countries are aiding their citizens to open bank accounts and are promoting use of credit and debit cards. Banks are looking forward to gain incremental profitability from service or product innovations that are deployed through digital channels. This profitability can be achieved through efficiencies that are derived from process optimization and requisite operational changes. Consequently, banks are looking for better quality advanced ID cards for customers. This has pushed the demand for ID card printers and their consumables, such as card printer ribbons.
Increasing adoption of ID cards in manufacturing industry to boost sales of card printer ribbons
Post 2008 economic crisis, the manufacturing sectors has shown steady growth path, albeit at a slower rate. With emergence of technological advancements, streamlining of manufacturing operations and automation are being carried out by various manufacturers across industry verticals worldwide, with a view to reduce material wastage and time and enhance output and efficiency. Growth in the manufacturing sector is anticipated to generate significant growth opportunities with respect to sale of for card printers, barcoding being one of the main reason, which is widely used in manufacturing sector. This is expected to trigger the sale of card printer ribbons at a significant pace in the coming years. In addition, fabrication industry is also expected to witness moderate growth during the assessment period, which is expected to contribute to the growth of the global card printer ribbons market.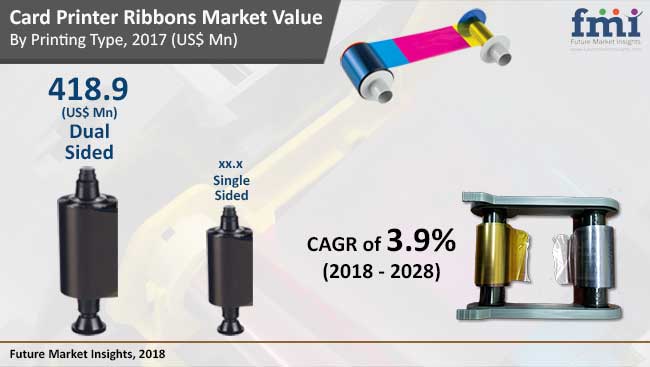 Dual sided printing to witness increased adoption during the assessment period
Dual sided ribbons are most preferred by end users due to their capability to hold printing ink on both sides. This feature enhances their usability as compared to single sided ribbons. The dual sided segment in the printing type category is expected to be highly attractive and the largest with respect to value and volume. This segment is anticipated to dominate the global market and is expected to reach a high market estimation of more than US$ 670 Mn by end of 2028.
The insightful research report on global card printer ribbons provides a comprehensive analysis on every facet of the market along with forecasts. This research report will give the reader an explicit understanding of the global market with which informed decisions can be chalked to stay in pace with the changing market scenario. It will introduce a broad spectrum of several aspects involved along with forecasts thus supporting to detect major revenue pockets.
Portraying a global perspective
The research report on global card printer ribbons market provides an exhaustive analysis on market shares, demand and supply analysis, sales volume and value analysis of various companies along with segmental analysis, with respect to important geographies of North America, Western Europe, Eastern Europe, Asia Pacific excluding Japan (APEJ), Latin America, Japan and Middle East and Africa (MEA) along with a regional breakdown. These regions are analysed keeping in view several aspects which influence the growth of the global card printer ribbons market. The report contains an outline of forces which affect the global market scenario. This gives an idea of how to plan market entry strategies, establish connect with the various customers as well as target audience and to establish hold in that area. An unbiased holistic 3600 view of the global card printer ribbons market is portrayed in the research report which supports the reader in making informed decisions based on strong data analysis and key recommendations.
Understand the competition
The research report on global card printer ribbons market covers product portfolios, pipeline analysis of key companies, for instance as big as Cargill, their strategies to maintain their present scenario in the market, their global presence and future expansion plans, mergers and acquisitions, distribution channel analysis, pricing analysis, product positioning tactics, etc. An entire section is dedicated to competitive landscape which includes information on the major key players in the global card printer ribbons market both from the manufacturing side as well as the demand side.
A one-of-its-kind research methodology
A more robust, unique and effective research methodology has been followed by Future Market Insights in crafting the global card printer ribbons market study which enables a near 100 percent accuracy in all angles. The research process uses primary research, secondary research and expert opinions to get a thorough understanding of the global market. Secondary research is the base of market understanding which is used to obtain a broad view of the market, basis which primary interviews are conducted during which data gleaning starts. Expert opinions are also tabulated and the data is cross verified. Each data point is cross checked and re-evaluated as the primary interview progresses. This enables the analysts to carry out data crunching with optimum accuracy. With this study it is possible to obtain actionable intelligence which delivers value addition to the reader.
Market Segmentation
By Product Type

By Printing Type

By End Use

By Region

Banking

Government

Information Technology

Retail

Healthcare

Others

North America

Latin America

Western Europe

Eastern Europe

South East Asia & Pacific

China

India

Japan

Middle East & Africa (MEA)
Future Market Insights extends support to organizations by doing all the research heavy weight lifting and coordinating with their research teams to assist them in their tasks and achieve their goals and research milestones.
COVID -19 : Impact Analysis
Request the coronavirus impact analysis across industries and markets
Request Covid -19 Impact
CASE STUDIES
See how our work makes an impact.
At FMI, we design strategies that are adaptive, impactful, and implementable.