KEY HIGHLIGHTS
CONCENTRATED MILK FAT MARKET – KEY RESEARCH FINDINGS
The concentrated milk fat market is set to cross a valuation worth US$ 100 Mn by 2028.

COVID-19 is expected to affect the annual growth forecast of 5% in 2020.

While liquid concentrated milk fat accounts for greater sales, demand for their dry counterparts is expected to remain strong going forward.
Europe remain in the vanguard with 1/3rd of the global market value

Manufacturers are eyeing opportunities in Asia Pacific with India standing as the world's largest milk producer.

Strong sales of dairy products continue to influence growth strategies of manufacturers.

Rapidly growing application in bakery & confectionery is expected to result in increased market share.
KEY FACTORS SHAPING CONCENTRATED MILK FAT MARKET
Significant Growth of the Dairy Industry
The global dairy industry has been on a tear for years, with ever-increasing number of population and changing lifestyles. Robust advances in dairy processing equipment and technologies have brought numerous products to the marketplace, and concentrated milk fat is no exception. Highly influenced by increased shelf-life, product flexibility, convenience, easy storage, and low-cost transportation aspects, demand for concentrated milk fat continues to move on an upward swing.
High Application Potential in Bakery & Confectionery Industry
Concentrated milk fat and related dairy products are widely used as multi-functional ingredients in bakeries. As retail bakeries & confectioneries and in-store offerings are brimming with innovative ideas, the concentrated milk fat market is expected to witness robust growth in the future. Additionally, the recent outbreak of COVID-19 has been fueling the trend of at-home baking and food preparation, which in turn remains instrumental to the sales of concentrated milk fat.
Decline in Demand from Foodservice Sectors During the Pandemic
Despite an unprecedented spike in sales through retail stores, mass closures of restaurants and schools – the wholesale foodservice markets – is creating logistical and revenue nightmares for stakeholders in the concentrated milk fat market. With enforcement of social distancing requirements and stay-at-home orders, the foodservice sector is largely shutdown worldwide which will negatively impact the market growth in near future. With mass milk dumping on the horizon and halt in manufacturing and supply chain operations, COVID-19 is posing as a potential threat to the market.
CONCENTRATED MILK FAT MARKET STRUCTURE ANALYSIS
The concentrated milk fat market shows a fair level of fragmentation.
A number of startups and new entrants vying for a slice of this lucrative market continue to grow with each passing year.
Manufacturers are leveraging unique strategies to maintain business continuity during the pandemic.
M&A activities and product innovations remain key focus area of leading market players.
Base year considered - 2019
Actual estimates/Historical data - 2014 – 2018
Forecast period - 2019 – 2028
Market Value in 2019 - US$ 68 Mn
Segments covered - Nature, Application, Form, Distribution Channel
Regions covered - North America, Latin America, Europe, APEJ, Japan, and MEA
Key Players - Darigold, Inc., Grassland Dairy, Lactalis Ingredients, Pine River Dairy, MCT Dairies, Fonterra, Campina Original, Hoogwegt U.S., G&R Foods Inc., California Dairies, Inc., JLS Foods, and FIT
Growth Drivers -

Strong growth of dairy industry
Increased scope of application in bakery & confectionery industry

Key Restraints -

Rise of lactose intolerance among consumers
Mass closure of foodservice industry due to COVID-19
Liquid Concentrated Milk Fat Stays in Greater Demand
Liquid form of concentrated milk fat continues to witness higher sales and investments, owing to its versatility and 'ease-of-use' quotient. Accounting for nearly 3/5th of the total sales, manufacturers have been specifically focused in this category. However, relatively short shelf life and perishable nature of the product as compared to dry form is expected to boost demand for the latter in near future.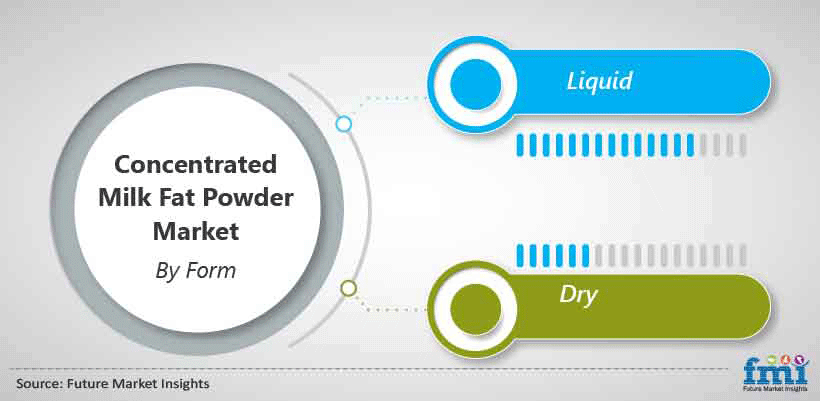 Concentrated Milk Fat Market - Regional Analysis
Europe remains at the forefront of the global concentrated milk fat market, accounting for 34% of the total revenue. Strong dairy industry and greater access to advanced technologies in the region are significantly contributing to the market growth.
On the other hand, Asia Pacific is expected to offer greater opportunities for market players with the emergence of India as the world's largest milk producer. However, in the current scenario, the dairy industry has been hit faster and harder by the COVID-19 disruptions, and the emergence of the U.S. and EU5 as worst-hit countries will have a negative impact on the market growth.
A Host of Disruptions During COVID-19 Pandemic
Despite strong demand for basic and essential foods such as dairy products amid the COVID-19 crisis, the milk supply chain is facing significant disruptions and the impact on the concentrated milk fat market has been evident. Halt in manufacturing and supply chain operations and inability to get produce to the market are compelling dairy farmers to dump their milk.
This, in turn, will create a hindrance in production and supply of concentrated milk fat in the immediate future. Additionally, growing popularity of dairy alternatives and lactose free dairy products, in the view of mounting animal welfare concerns and rising lactose intolerance, will remain major roadblocks to the market growth.
How Growth will Unfold
Growing popularity of a wide range of dairy products including dairy blends and fortified dairy products continues to widen the application scope of concentrated milk fat. Considering strong growth of the bakery & confectionery industry worldwide, on the account of experience-hungry millennials and Gen-Z becoming the generation with the biggest purchasing power, manufacturers are identifying and leveraging white spaces in the application of their products. However, a drop in demand from significant end users during the COVID-19 pandemic will affect the growth forecast of the market in 2020.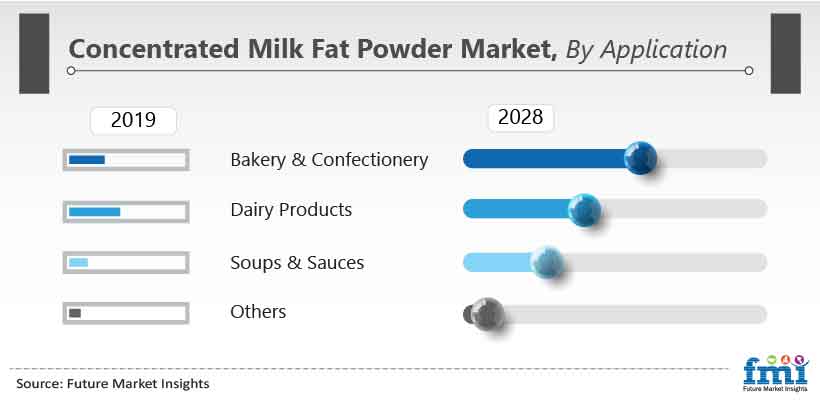 CONCENTRATED MILK FAT MARKET TAXONOMY
The global concentrated milk fat market is segmented in detail to cover every aspect of the market and present complete market intelligence to readers.
Nature
Application
Bakery & Confectionery
Dairy Products
Soups & Sauces
Others
Form
Distribution Channel
Direct Sales/ B2B
Indirect Sales/ B2C
Region
North America
Latin America
Europe
APEJ
Japan
Middle East & Africa
Need specific information?