Egg Packaging Market- Key Research Findings
Estimated size of global egg packaging market in 2019 – Around US$ 5.6 Bn
The global egg packaging market is projected to expand at a CAGR of 6.2% during the forecast period 2019-2029.
According to a recent study by the Food & Agriculture Organization of the UN (FAO), China is the largest egg producer globally, producing approximately 30,000 metric tonnes of eggs, annually.
From the last three decades, the world egg production has increased by more than 150%, of which a majority is accounted by Asian markets, where production has seen almost 4X growth.
According to FMI, East & South Asia will contribute a share of approximately 50% in the global egg packaging market.
The moulded fibre material segment is estimated to expand at a healthy CAGR of 6.5% in the egg packaging market.

The growth of adoption rate of moulded fibre is attributed to increasing consumer and manufacturer preference for eco-friendly and biodegradable products.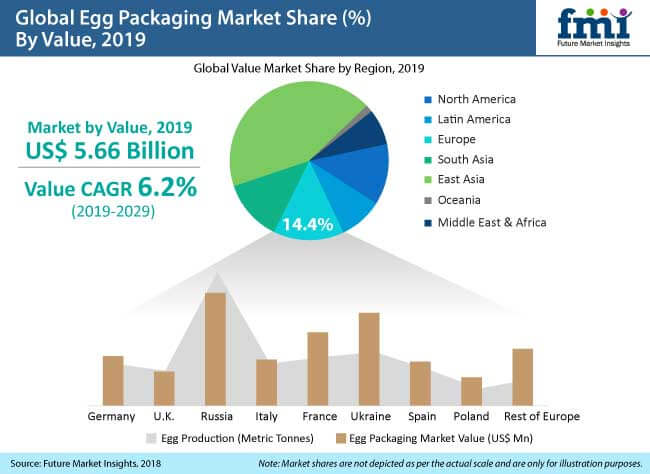 Top 5 Factors Influencing the Egg Packaging Market
High Preference for Convenience in Transporting Eggs
Eggs demand careful handling before, during, and post transit, which is why the packaging of egg plays a crucial role. Trays and cartons that are typically used for egg packaging are constructed in such a manner that they can be stacked and placed in crates or boxes during a longer transit time. Effective egg packaging ensures egg quality by absorbing stress and shock during transportation.
Growing Focus on Sustainable Packaging to Proliferate Market Growth
Egg packaging manufacturers are adopting moulded fibre-based products that will reduce carbon footprint. Packaging experts and consumer product companies in the egg packaging market are focusing on 'green packaging', as polystyrene is not easily recyclable and requires larger amount of fossil fuel in the production.
Modern retail penetration will boost the demand for sustainable solutions such as molded fibre cartons, in the egg packaging market. Egg packaging plays a key role in maintaining the shelf life of eggs, in addition to effectively decreasing the negative impact of dust and dirt during transit.
Increasing Number of Food Chains and Restaurants Create Opportunities for Egg Packaging Manufacturers
Spectacular increase in the per capita expenditure on eating out has been subsequently bolstering the rate of multiplying food chains and restaurants. The ever-expanding foodservice industry is expected to contribute majorly to growth of the egg packaging market. In addition to this, the cumulatively expanding consumer base within Asian economies is propelling rate of regular egg consumption, thereby pushing the demand for egg packaging in the market.
Rye Grass Cartons Trending in the Egg Packaging Market
Rye grass cartons are an excellent alternative to traditional cartons in the egg packaging market. These cartons are made up of rye grass & cardboard which tend to promote sustainability in the egg packaging market.
Huhtamaki, a key market player, has introduced "GreeNest" egg cartons in the egg packaging segment. These cartons are 100% recyclable as they reduce carbon footprint by 10% and require less consumption of water compared to the traditional ones.
Anti-plastic Regulations Continue to Hamper Egg Packaging Market Growth
Packaging manufacturers are looking forward to reducing the cost of packaging material to achieve maximum profit. However, stringent government regulations against the use of plastics and efforts for sustainability are likely to hamper the egg packaging market in the near future. Therefore, the environmental concerns have forced manufacturers to take steps and use bioplastics or molded fibre for egg packaging. This is a prominent reason degrading the demand for plastic trays and cartons in the egg packaging market.
Egg Packaging Market Structure Analysis
Vendor landscape remains highly splintered in the global egg packaging market wherein Tier 1 companies hold more than 12% revenue share.
The topmost players in the egg packaging market are Huhtamaki Oyj, Brodrene Hartmann A/S, Sonoco Products Company, Pactiv LLC, and Mauser Packaging Solutions.
A majority of prominent players competing in the global egg packaging market are focusing on expansion through organic and inorganic growth strategies.
Key Segment
On the basis of material,
Need specific information?