EGG WHITE POWDER MARKET - KEY RESEARCH FINDINGS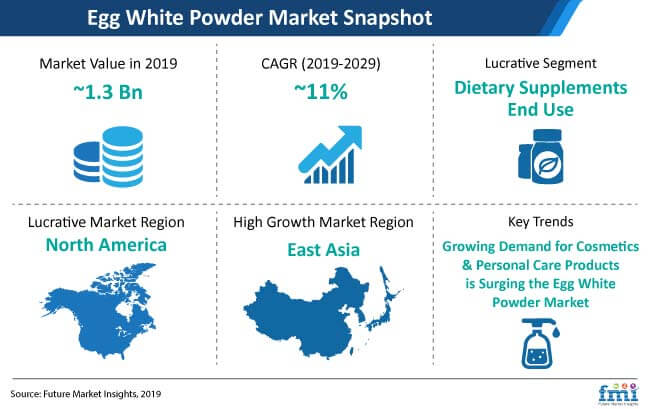 The global egg white powder market size in 2019 (E) – ~ US$ 1.3 Bn.
The egg white powder market will observe ~11% CAGR over 2019-2029.
Some individuals are lactose intolerant due to which demand for egg white powder-based products has been increasing rapidly. The egg white powder is used as an important raw material in various food products and dietary nutrients.
Collectively, East Asia and North America are likely to account for half of the revenue shares in the global egg white powder market by the end of 2029.

North America, due to the strong presence of egg and egg-based products industry, will continue to be a prominent regional market for egg white powder manufacturers.

Food & beverage and dietary supplement industries are expected to remain prominent application areas to invest in for egg white powder market players.

Food & beverage and dietary supplement industries have witnessed significant growth over the last few years, due to the increasing awareness of healthy lifestyle and nutritious food across the globe.
Key Factors Shaping the Egg White Powder Market
Growing Consumer Focus on Protein Consumption
Consumers are becoming fitness-conscious and giving more attention to their diets. They prefer gluten-free, sugar-free, and fat-free products because these help them manage their weight and ensure good health. Sufficient intake of protein is also important to maintain good health.
According to sports scientist Jim Stoppani, the digestion speed of proteins in egg white is moderate. Whey is a fast-digesting protein & casein is a slow-digesting protein. As egg white powder falls somewhere in the middle, it keeps muscle protein synthesis going on for longer. It is also an excellent source of protein for individuals who are lactose-intolerant.
Whey and Casein are both dairy-based and hence, not useful for individuals with dairy allergies. Egg white powder is lactose-free, making it a good alternative to dairy-based protein powders. Many individuals have dairy allergies and hence, the demand for egg white powder is increasing rapidly.
Usage in Shampoos, Conditioners, and Body Creams Propelling the Market Demand
Egg white protein powder nourishes hair and prevents damage and dryness. So, egg white protein powder can be used in the production of shampoos and conditioners. Egg white protein powder can be used in the production of sunscreen, moisturizers, face washes, etc., as well.
The demand for egg white protein powder will increase rapidly in the near future as the manufacturers of cosmetics will use egg white protein powder as a primary ingredient to take maximum advantage of its benefits. The spending on cosmetic products is increasing rapidly due to the growing number of working women.
Online Retail Expected to Have the Fastest Growth
With strong growth of internet retailing, increasing number of manufacturers have launched stores on leading internet retailing websites. Although the share of the revenue from internet retailing is still low as compared to traditional retailing channels, the forecast period is expected to see rapid development of integrated internet retailing platforms and logistics, improvements in the online buying experience for consumers, and a wider range of online payment systems.
Consequently, internet retailing is expected to be the fastest-growing sales channel for egg white powder during the forecast period.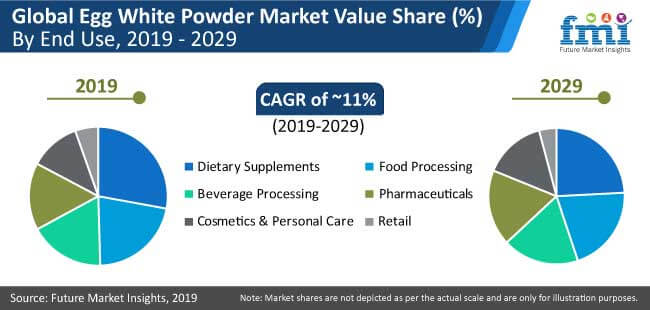 Egg White Powder Market Structure Analysis
The global egg white powder market represents a fairly consolidated competition landscape, where majority of key players maintain their strategic focus on the development of solid distribution partnerships and joint ventures, targeting a firmer global footprint.
The egg white powder market has been relatively moderate in size, which remains a key factor for its dynamic competitive nature.
Leading manufacturers of egg white powder are currently prioritizing R&D and new product launches to resonate with the booming consumption of eco-friendly products in North America, Europe, and Asia Pacific.
Portfolio extension is also identified to remain one of the key developmental strategies adopted by manufacturers of egg white powder.
For a stronger foothold in target markets, egg white powder manufacturers will continue to rely on inorganic strategies, such as mergers and acquisitions.
A deeper understanding of the market trends and preferential shifts of end-use segments across various regions are likely to create a bottleneck for prominent players, looking forward to untapped opportunities in the egg white powder market.
Egg White Powder - Way Ahead of Whey
The healthcare industry is witnessing a considerably rapid shift to a 'preventative' approach over treatment, which has been offering a new dimension to the perception of clinicians and patients, about the overall industry. While nutraceuticals constitute one of the key beneficiaries of this trend, it is highly likely that the opportunities will remain abound in the nutraceuticals category, for pharma and food companies, to enter the preventative healthcare landscape.
By complementing each other's strengths, dietary supplements and pharmaceuticals have blurred the application barriers of complete protein powders, such as egg white powder. This presents an exciting new opportunity to market players so as to diversify their offerings, for food processing and pharmaceutical companies.
The growth of health & wellness trend is further reinforcing the prospects of egg white powder, primarily for the fact that this complete protein is diet-friendly, lactose-free, and aids in repairing of muscles. The lactose-free attribute of egg white powder has been lately garnering interests as a potential replacement for dairy based whey counterparts.
Rise in the demand for protein powder has its roots digging deeper in the proliferating trend of health & wellness, with leading market players capitalizing on the growing craze for naturally high-protein foods. Leading companies in the market are vying on the back of the clean label profile of egg white powder to expand in terms of revenues.
Food Processing Sector Opening Doors of Opportunities
Powdered eggs have been around since the initial phase of the 20th century, and have evolved in terms of applications over the years. Looking at the increasing number food allergy and intolerance cases, products such as egg white powder are being perceived as profitable investments to enter the food ingredients category.
In addition to protein-rich attributes, egg white powder is capable of fulfilling the typically recommended dose of amino acids, calcium, and cholesterol-free protein. The meat-free nature of egg white powder further substantiates sales, particularly within the vegetarian consumer population. With an evident shift of consumers to vegetarianism, it is highly likely that egg white powder market will continue to witness strong gains in years to come.
Moreover, the future growth outlook of egg white powder market looks promising owing to its mild flavor that enables its usage as a complementary ingredient in processed food products, without compromising on the taste of other added ingredients.
'Free-from' Labels - The Masterstroke Assuring Consumer Retention
Natural and 'free-from' products have always managed to appeal consumers as well as manufactures in the food & beverages industry. In addition to the meat-free, protein-rich profile of egg white powder, its allergen-free profile has been and will continue to work in the favor of the sales of egg white powder.
Amid the growing quest of food processing companies to unleash protein-rich profile of clean label ingredients to appeal to the widening pool of health-conscious consumers, the stakeholders in egg white powder market are likely to keep an eye on the opportunities arising in East Asia. Gains remain concentrated in the expanding food processing industry, within China, South Korea, and Japan.
Innovation - A Path Forward for Stakeholders
Innovation and product diversification remain in the stakeholders' arsenal to seize a significant pie of the market revenues. Several innovations have made their mark in arming the gains of partakers in the egg white powder market, wherein manufacturers have placed their focus on new and innovative flavors of egg white powders.
Egg white powder manufacturers have shifted their goalposts to customer-centric product offerings, as consumers are seemingly re-shifting preferences to traditional and novel flavors and tastes.
This is opening a window of opportunities for manufacturers looking to experiment with permutations and combinations, to launch unusual offerings. Innovation-driven strategies are enabling the companies to develop a roadmap to manufacture products that address consumer prerequisites and constantly launch new in-trend products. With innovation imparting new dimensions to the capabilities of egg white powder manufacturers, the lucrativeness of the market will steadily grow in years to come.
How Growth Will Unfold?
Given the steady demand for unique clean label ingredients, egg white powder market is highly likely to witness a new stream of opportunities in terms of applications taking shape in the forthcoming years. End user demand for high-quality and safe ingredients will continue to expand, and manufacturers, in response to the same, will leverage consumer-centric approaches to render rewarding product developments.
Sensing the lucrativeness of cosmetics and personal care industry, from egg white powder application point of view, companies are leveraging online retailing to enable easy availability of cosmetic egg white products, such as lotions, creams, and soaps. High focus of leading players on increasing market penetration of egg white powder products via online-based retailing is expected to fuel the adoption of egg white powder in cosmetic sector.
For this matter, several companies have even launched new online stores that are dedicated to sales of egg white powder products.
Key Segments
By End Use
Food Processing
Cosmetics & Personal Care
Pharmaceuticals
Beverage Processing
Retail
By Grade
Food Grade
Technical Grade
By Sales Channel
B2B
B2C

Store-based Retail

Modern Trade
Convenience Stores
Specialty Sports Stores
Online Retail
Other Sales Channels

Online Retail
By Region
North America
Latin America
Europe
South Asia
East Asia
Oceania
MEA
Need specific information?