Food Thickening Agents Market
Food Thickeners Agents Market by Source (Plant, Seaweed) & Region - Forecast 2022 - 2032
January 2022

REP-GB-7244

350 pages
Food Thickeners Agents Market - Overview
[350 Pages Report] The global food thickeners agents market size is estimated to be USD 2.6 Bn in 2022 and is expected to grow at a compounded annual growth rate (CAGR) of 3.8% from 2022 to 2032 and reach a valuation of USD 3.8 Bn by 2032 end.
| | |
| --- | --- |
| Attribute | Details |
| Market Size Value in 2022 | USD 2.6 Bn |
| Market Forecast Value in 2032 | USD 3.8 Bn |
| Global Growth Rate | 3.8% |
| Forecast Period | 2022-2032 |
Consumer preferences are constantly varying, and there is a continual shift toward convenience foods. Factors such as a busy lifestyle, the retail industry's increasing traction, introduction of new conveniently packaged food products along with added nutritional benefits, and high demand for ready-to-eat products are all driving market revenue growth for processed foods.
Market expansion is being fuelled by a rise in global exports and imports, as well as trade operations associated to processed foods, all of which are aimed at enhancing and maintaining food quality and cleanliness.
The ability of agar gels to survive extreme temps is boosting their appeal and choice in the confectionery and baking business as a stabiliser and thickening in pie icings and fillings. Agars developed from Gracilaria chilensis, in particular, are commonly employed in high-sugar confectionary, such as fruit sweets. Because agar has no flavour and has no effect on the taste of foods, its use in various food and beverage items is growing.
During the forecast period, rising demand for dressings and sauces is likely to fuel market expansion. Hydrocolloids are thickening agents used in sauces. Alginates, locust bean gum, and starches are widely used to replace synthetic waxes like sorbitan monostearate and polyoxyethylene. Alginates, locust bean gum, and xanthan gum are used to thicken dressings, whereas starch is used to thicken sauces. Various thickeners, including gum Arabic, are employed in sauces and dressings depending on thickener accessibility. Multi-functional flours are used as thickening ingredients in commercial sauces.
In the near future, rising demand for non-alcoholic beverages is likely to boost market revenue growth. In a variety of beverage applications, food thickeners such as xanthan gum, agar, alginate, and CMC are often used. Aside from that, thickeners like arabinogalactan are used by numerous beverage manufacturers (bio-polymer). The thickening process for beverages includes procedures such as suspended, clinging, mouthfeel, pour, pump, and sprays. Food thickeners are commonly used in fruit-based drinks around the world.
However, high R&D expenditures incurred by food thickener manufacture, as well as volatility in prices of hydrocolloid raw material, are likely to stifle revenue growth in the worldwide food thickeners agents market throughout the forecast period.
Regional Analysis
Due to rising demand for food thickeners in countries like the United States, Canada, and Mexico, North America is likely to account for a greater revenue share among other markets during the forecast period. The highly developed food and beverage industries in these nations are projected to continue to drive revenue growth in the North American market.
Food thickeners are in high demand because to the strong presence of many worldwide food processing and production enterprises. Muffins, cakes, and pastries have seen an increase in popularity in North America in recent years. Companies in the baking and confectionery industries are introducing innovations into their offerings by using various thickeners, which is projected to enhance market growth.
During the forecast period, Europe is anticipated to have a significantly consistent revenue growth rate. In Europe, demand for food thickeners is likely to be driven by a well-developed bakery and confectionery sector, as well as increased consumer demand for related products.
In the future, rising demand for energy drinks and packaged juice is likely to drive market revenue growth. Several food thickener companies in Europe export value-added goods such mixtures of various thickeners and flavour additives. The majority of exporters are based in Western Europe, whereas producers are expanding their footprint in Eastern Europe.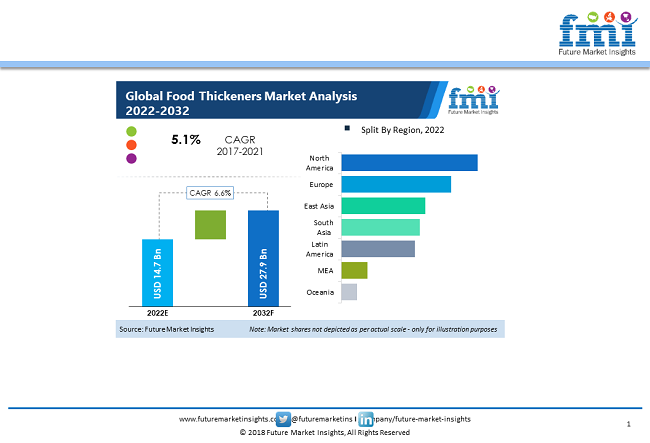 Category-Wise Insights
Plant-based Food Thickening Agents Exhibit High Growth
Due to the rising popularity of vegan foods, food thickeners made from plants are in great demand among customers, notably in the confectionery, bakery, and packaged food industries. The segment's revenue growth is predicted to be aided by the easy availability of raw materials for the development of food thickeners derived from plants.
Because of their great effectiveness and low cost, plant-based components are the most extensively used ingredients in most applications, including bakery, confectionery, and ready-to-eat meals. Corn-starch, agar, tapioca, pectin, xanthan gum, and rice flour are some of the most often used plant-based food thickeners
Bakery and Confectionery Segment to drive Food Thickeners Market
Bakery is predicted to lead the global market in terms of revenue contribution over the forecast period, based on application. This segment's sales is predicted to expand due to rising demand for organic baked goods and a quick shift toward healthier snacks. Cakes, pizzas, brownies, cookies and bread are just a few of the baked goods that contain food thickeners.
The most common use of hydrocolloid-based food thickeners is in bakery items. Food thickeners provide the appropriate viscosity without compromising nutritious content, and such products are frequently used in fruit pulps and energetic beverages, hence revenue in the beverages category is predicted to grow at a considerable CAGR throughout the forecast period.
The adoption of a healthy lifestyle by consumers has resulted in an increase in demand for healthy drinks, which will drive demand for food thickeners in beverages application.
Competition Landscape: Top Food Thickener Manufacturers
Top manufacturers have been attempting to build a foothold in the industry by expanding regionally. In the food thickeners manufacturing business, key players are using numerous strategies, including strategic agreements, mergers and acquisitions, and contracts, adopting more advanced technologies, and creating, testing, and releasing new and more efficient food thickeners.
According to the market research Cargill Inc., Ingredion Incorporated., Archer Daniels Midland Company, Kerry Group plc, DuPont de Nemours Inc., Tate & Lyle PLC, TIC Gums, Inc., CP Kelco U.S., Medline Industries, Inc., Inc., Fuerst Day Lawson Limited, are among the key players in the Micronized Salt market.
Scope of Report
Attribute

Details

Market Size Value in 2022

USD 2.6 Bn

Market Forecast Value in 2032

USD 3.8 Bn

Global Growth Rate

3.8%

Forecast Period

2022-2032

Historical Data Available for

2017-2021

Market Analysis

MT for Volume and USD Bn for Value.

Key Regions Covered

North America, Latin America, Europe, East Asia, South Asia, Oceania and Middle East and Africa

Key Countries Covered

United States, Canada, Brazil, Mexico, Germany, UK, France, Italy, Spain, Nordic, Russia, Poland, China, India, Thailand, Indonesia, Australia and New Zealand, Japan, GCC countries, North Africa, South Africa, others.

Key Market Segments Covered

Source, Application, and Region

Key Companies Profiled

Ingredion Incorporated.
Archer Daniels Midland Company
Kerry Group plc
Tate & Lyle PLC
TIC Gum, Inc.
Medline Industries, Inc.
Fuerst Day Lawson Limited

Pricing

Available upon Request
World's Most Profilic Intelligence Engine
Get Access To The World's Largest Market Research Database.
Sign Up Now
Key Segments Covered
By Source:
Plant

Guar Gum
Gum Arabic
Locust Bean Gum
Pectin
Starches
Other Plant Sources

Seaweed

Carrageenan
Agar
Alginate

Microbial

Gellan Gum
Curdlan
Xanthan Gum

Animal (Gelatin)
Synthetic

Carboxy Methyl Cellulose
Methyl Cellulose
By Application:
Bakery & Confectionery
Meat & Poultry
Sauces & Dressings
Beverages
Dairy Products
Other Applications
By Region:
North America
Western Europe
Eastern Europe
Latin America
Asia Pacific excluding Japan
Japan
Middle East & Africa
Key Questions Answered in the Report
How much is the food thickening agents market current worth?
Currently food thickening agents market is worth more than USD 2.5 Bn.
At what CAGR is the market expected to grow?
Food thickening agents' consumption is expected to grow at a CAGR of around 3.8% during the period 2022-2032.
How was the performance in the last five years?
In terms of revenue, food thickening agents grew at a CAGR of around 2.5% during 2017-2021
What is boosting food thickening agent's sales?
The primary factor driving the growth of the food thickening agents market is the rising appeal in the processed food industry due to its consistency and purity.
How are market players reacting to the new developments in the market?
Market players are opting for technological advancement, new product developments and production capacity expansion.
How much share does the top 5 companies hold?
The top 5 producers of food thickening agents hold around 15-17% of the market share.
Which are the major countries driving demand for food thickening agents?
The US, and UK are the major countries driving demand for food thickening agents.
Who are the major players in food thickening agents market?
The major players involved in the food thickening agents market are Cargill Inc. , Ingredion Incorporated., Archer Daniels Midland Company , Kerry Group plc, DuPont de Nemours Inc., Tate & Lyle PLC, TIC Gums, Inc., CP Kelco U.S., Medline Industries, Inc. , Inc., Fuerst Day Lawson Limited.
What outlook does North America provide?
North America holds around 36.5% of the total food thickening agents' revenue share.
At what rate will the U.S. food thickening agents market grow?
US food thickening agents market is projected to grow at a CAGR of around 3.5% over the next ten years.
Need specific information?
Our Clients