Introduction
The global fresh figs market revenue has been estimated to grow at a CAGR of 5.3% between 2018 and 2027. The increasing growth of the fresh figs market is attributed to the increasing applications of fresh figs in health-based foods and functional food products due to their nutritional composition.
Both, fresh figs and the fig based processed products are used by manufacturers for incorporation into various food products and beverages. Recently, the increasing availability of organic fresh figs has also been boosting their demand in developed countries.
Top 4 Factors Shaping the Fresh Figs Market
Demand for Health-Based Food and Functional Food Products with Fresh Fig Ingredients has Increased
Nowadays, lifestyles are becoming tenser and the prevalence of serious diseases has increased tremendously. This has led to the increased adoption of healthy diets and increased consumption of functional food with the recommended dietary allowance (RDA). The health benefits of consuming fresh figs have led to their increased inclusion in various food and beverages, in common households as well as in processing industries.
The demand for fresh figs from households is also increasing, as people are becoming aware of their associated health benefits. Also, increasing health concerns have led to consumers opting for external supplements to obtain the required nutrients. This has increased the demand for functional and health-based food products such as protein bars, protein shakes, etc., which, in turn, has increased the demand fresh figs from these industries.
Fluctuations in Weather Conditions Negatively Impact the Fresh Figs Production, thus Increasing the Demand-Supply Gap
The climate is fluctuating across the globe, which has a paramount impact on agricultural output. The regional climate in Mediterranean countries is also fluctuating to a great extent. As fresh figs grow only once a year in a particular season, any adverse climatic conditions could negatively affect the cultivation of this fruit, and can also affect its quality. Also, fresh figs are prone to diseases, and thus, the effect of climate on the production of fresh figs is a major factor that affects supply.
Turkey, situated in the Mediterranean region, is one of the leading fig producing countries in the world. Varying climatic conditions in this region are highly restraining production output, and producing uncertainty in the fresh figs as well as dried figs market. The production value of fresh figs in Turkey has been impacted by the fluctuating climate in the country, leading to a significant decline in the production of fresh figs.
However, there are many other regions that have started growing fig trees, and this factor might help in reducing the overall demand-supply gap.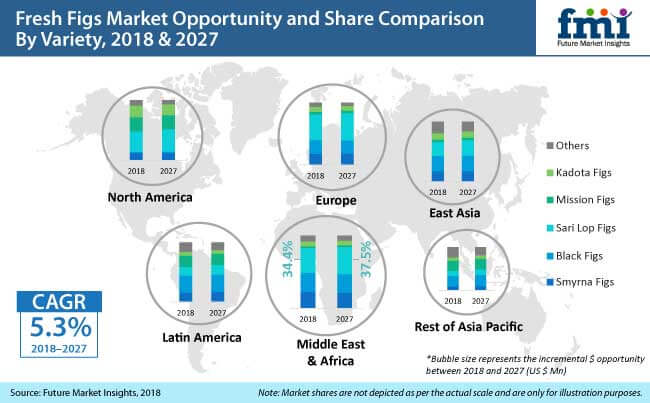 Organically Produced Fresh Figs Remain Most Sought-after; European and North American Markets Prove Lucrative
Organic food products are showing tremendous growth in the global market. The same growth pattern is being observed for fresh figs. The demand for organic fresh figs in North America and Europe is very high, and thus, the farmers of fresh figs in various countries, including Turkey, the U.S., and Greece, are growing figs organically, tapping into the current market trend for organic products.
Also, organic fresh figs have a higher value in the global market as compared to conventional fresh figs. But the producers of organic dried figs are more than those who produce organic fresh figs. This is due to the reason that fresh figs have a shorter shelf life, and there is the need to use preservative techniques for increasing the shelf life of fresh figs. This eliminates the organic property of the figs.
Organic fresh figs are also witness high demand in the Middle East, especially in the United Arab Emirates, as the people in this region have become well aware of organic products.
Increasing Number of Foodservice Operators Bolster Fresh Fig Sales in the EU
Almost 65% of the variety of Black Figs and 50% of the dried figs from Turkey are exported to Europe. Out of all the fresh figs imported as well as produced in Europe, a major share is used by foodservice operators.
Fresh figs are mainly being used in food processing industries and by foodservice operators. The use of fresh figs in a variety of bakery products, dairy products, and in salads and desserts has boosted their demand in this region. As many European countries have a well-developed and uniform foodservice industry that caters to the demand various consumers, Europe is likely to create lucrative opportunities for fresh figs market players in the upcoming years.
Greece, Italy, and France remain the leading European countries to contribute to the increasing consumption of fresh figs and dried figs in the European region, and most of the fresh figs are imported in these countries from Turkey.
Fresh Figs Market: Segmentation
Analysis by Nature
Analysis by Variety
Smyrna Figs
Black Figs
Sari Lop Figs
Mission Figs
Kadota Figs
Others
Analysis by Sales Channel
Modern Trade
Specialty Stores
e-Retailers
Grocery Stores
Wholesale Stores
Industrial
Foodservice/HoReCa
Analysis by Region
North America
Latin America
Europe
East Asia
Rest of Asia Pacific
Middle East and Africa
Need specific information?