Introduction
Fungal infections affect over 1 billion people, with mortality rates estimated at 1-2 million annually. Advancements in modern medicine, including bone marrow and solid organ transplants or anti-neoplastic chemotherapy have induced a major uptick in the incidence of opportunistic fungal infections.
Rising government expenditure on developing cost-effective diagnostic kits is likely to drive growth of the fungal testing kits market. To fulfil this objective, local governments are entering into partnerships, collaborations and tenders with prominent manufacturers. Most of these initiatives are visible across the developing world.
In light of the aforementioned trends, the global fungal testing kits market is projected to expand stupendously at a CAGR of 10.2% during the 2020-2030 forecast period.
Commercial Availability of Improved Tests
As the incidence of various fungal infections proliferate, commercial availability of diagnostic tests is burgeoning. These tests include real time polymerase chain reaction (RT-PCR), immunofluorescence assays, serology, fungal culture, rapid molecular assays and antigen testing.
Out of these, PCR techniques are proving to be the most effective, enabling scientists to identify novel genes, gene expression and genetic variation in the fungal tissue. They are easily quantifiable, thus enabling medical professionals to easily pinpoint and isolate the fungal strain and eradicate it from the body.
Additionally, PCR assays can have detection limits of a few gene copies per reaction, providing the ability to detect a fraction of an organism while targeting genes present in multiple copies per fungal genome. Such developments are expected to elevate the fungal testing market to higher echelons in the long-run.
Growing Geriatric Population
As healthcare infrastructure improves worldwide, life expectancy is increasing. This is especially true for emerging economies. Countries such as the U.S and Japan have formulated patient conducive healthcare policies, allowing them to afford them on a much larger scale. Consequently, they can undergo diagnosis for several chronic ailments.
Hence, the proportion of geriatric population around the world has witnessed immense proliferation. Since the vulnerability of the elderly to fungal infections is manifold, the market for fungal testing kits is highly likely to register an impressive upsurge in the long term.
FMI projects the global geriatric population to reach 15 billion by 2050, most of them belonging to the age group of 65 years and above. Going by this trend, a valuation of US$ 3.4 Bn is predicted for the market throughout the forecast period.
Green Spaces in Molecular Diagnostic Testing
Multiplexed molecular diagnostics is being touted as an effective approach towards fungal infection diagnosis. Technologies such as loop mediated isothermal amplification and nucleic acid sequence-based amplification are being deployed to detect fungal pathogens. Vendors are concentrating on introducing new molecular technologies to diagnose fungal infections.
Players such as La-Roche and GenMark Diagnostics Inc. have released serological assays such as the COBAS LIAT PCR system consisting of four assays and the ePlex Blood Culture Identification (BCID) panel serological assay to identify fungal infection subtypes. Penetration into untapped markets shall open up new avenues for revenue maximization.
However, mere availability of these tests is not sufficient. Making them cost-effective and affordable is at the cornerstone of fungal testing kit vendors, as majority of the population in emerging economies have low personal disposable incomes. Therefore, efforts are underway to provide inexpensive testing kits in these regions.
Social & Cultural Perceptions
Conservative cultural and social perceptions about certain diseases are expected to hinder growth prospects. Most fungal infections occur in the genitals such as the vagina or near the scrotum or penis. Countries like India, Columbia, Mexico and Africa have an extremely conservative outlook in combating genital disorders.
Most of the fungal infection burden is associated with vaginitis, typically occurring within sexually active females. The risk of transmission increases manifold during sexual intercourse. Despite this heightened vulnerability, societal norms have prevented effective penetration of sophisticated fungal infection treatments in these regions.
The reluctance to embrace technological advancements in this respect is also attributed to limited education due to extreme poverty. Consequently, there is a lack of awareness about reproductive and genital health. Thus, governments are accelerating efforts to overcome these barriers
Fungal Testing Kits Market- Regional Overview
North America Fungal Testing Kits Market
North America is projected to emerge as the global hegemon, attributed to high prevalence and diagnostics of infectious diseases. In recent years, awareness regarding fungal diseases has escalated. Moreover, adequate insurance and reimbursement coverage is attracting multiple vendors in the North American landscape.
In the U.S, for instance, managed care plans such as Health Maintenance Organizations (HMOs), Preferred Provider Organizations (PPOs) and Point of Service (POS) have helped provide financial incentives to patients, thus accelerating fungal testing kits usage.
In addition, private health insurance plans are extensively utilized to cover medical expenses by individuals. In 2015, nearly 70% of the U.S population was covered by private health insurance, with employment-based purchases forming the bulk of single health insurance.
Molecular tests are anticipated to account for more than half of the market share, with most of them being used to detect skin and vaginal secretion based infections. An impressive 9.9% CAGR is predicted for the 2020-2030 forecast period.
Request a sample specific to the North American market
Asia-Pacific Fungal Testing Kits Market
The fungal testing kits market is experiencing the highest growth across several Asian countries including India, Japan, South Korea and China. These economies represent tremendous growth potential for various healthcare devices in the wake of surging healthcare expenditure and large patient pool.
Infections such as Candidiasis and invasive fungal diseases are rampant in the aforementioned countries. Hence, companies are increasing their presence across these regions. In 2013, Omron Healthcare Inc. established a subsidiary in South Kore to market medical devices for professional and household usage, including fungal testing kits.
Based on the aforementioned trends, the East & South Asian markets will surpass the US$ 1 Bn mark by 2030, growing astoundingly at a CAGR of 23.0%.
Request a sample specific to the Asia Pacific market
Europe Fungal Testing Kits Market
The European market is expected to hold considerable sway, capturing nearly 30% of the global revenue share throughout the forecast period. Amongst all countries, Germany is expected to be the most lucrative, generating an attractiveness index of 2.2.
Growing awareness programs for education and diagnosis of fungal diseases, increasing burden of the disease and commercial availability of tests are major drivers steering the European market.
All manufacturers need to acquire the CE mark before establishing their businesses across the continent. By affixing this certification, a manufacturer declares the product to meet all the legal requirements. This is also applicable to fungal testing kit vendors, who have successfully met all the standards, leading to their heightened presence.
Request a sample specific to the European market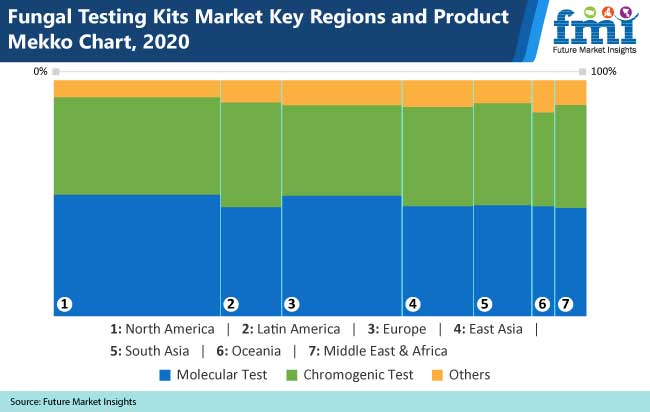 Category-wise Insights
By Test
Molecular fungal tests are acquiring major momentum, expected to capture nearly 50% of the global market share. The time consuming nature of alternative methods such as phenotypic and biochemical identification have increased demand for new molecular diagnostic methods for fungal identification.
Chromogenic tests are anticipated to hold considerable sway, expanding at an astounding 11.1% CAGR from 2020-2030. Increasing prevalence of fungal infections from the candida albicans strain is driving adoption of these tests. It accounts for 3/4th of the yeasts recovered from the infection site.
By Sample
Rising prevalence of vaginitis among females is accelerating vaginal secretion sample collection for diagnosing fungal infections. The segment is poised to account for nearly one-third of the market share, reaching US$ 1.1 Bn by 2030, growing at a CAGR of 10.4%.
However, skin-based sampling is expected to remain the kingpin, attributed to an increasing frequency of superficial fungal infections such as ringworm, athlete's foot and yeast infections. Skin samples are likely to account for 2/5th of the revenue share during the forecast period.
By Application
Tremendous advancements in medical science has led to the increased uptake of advanced fungal testing kits in the medical diagnostics segment. Many countries today still depend on conventional testing procedures such as histopathology which offer low sensitivity.
This underscores the need for developing advanced means of detecting fungal infectious agents. Tests such as β-glucan, PCR, matrix-assisted laser desorption ionization (MALDI) and fluorescence in-situ hybridization (FISH) have emerged as lucrative molecular medical diagnostics approaches.
Vendors Leveraging Online Marketing
The COVID-19 pandemic has drastically altered the global healthcare landscape. As country level healthcare policies reorient towards eradicating the deadly virus, a visible impact is noted on the fungal testing kits market. Suspended supply chains due to logistical constraints have hindered market availability of testing kits.
Fortunately, this impact has been short-lived, with prominent vendors and healthcare providers relying on online channels to ensure a consistent supply of essential testing equipment. While footfalls in hospitals and clinics have fallen, patients are offsetting this gap by purchasing online over-the-counter antifungal medicines to treat their infections, sustaining demand.
According to Future Market Insights' projections, the market has registered a slowdown by almost 1.1%, with recovery signs being exhibited post-June 2020. Demand is likely to remain sustained due to increased vulnerabilities of COVID-19 positive patients contracting fungal infections by inadvertently breathing in mold.
According to estimates put forth by the MRC Center for Molecular Bacteriology, drugs such as the corticosteroid dexamethasone may aggravate COVID-19 associated pulmonary aspergillosis (CAPA). Some hospitals have already reported a 20-35 % increase. Therefore, the uptake of fungal testing kits is bound to augment during the pandemic.
Strategic Mergers & Acquisitions
Characterized by the presence of multiple vendors, the global fungal testing kits market is fairly fragmented. Prominent players in the landscape include Merck KGaA, Thermo Fisher Scientific, bioMerieux SA, ELITech Group and PerkinElmer which account for nearly 50% of the market share.
Other prominent players include GenMark Diagnostics Inc., Norgen Biotek, C.P.M Diagnostic Research SAS, Biomed Diagnostics Inc., PCRmax, F. Hoffman La-Roche Ltd., Hologic Inc and Bioquochem*. All the players rely on product launches, strategic acquisitions and collaborations to remain afloat.
In May 2019, Thermo Fisher Scientific announced the acquisition of Brammer Bio, a leader in viral vector manufacturing for gene and cell therapies for US$ 1.7 billion. The acquisition has helped the former enhance its laboratory products and services portfolio.
Also, in 2018, the company doled out the MicroSEQ ID Fungal Gene Library v2018, a digital software to be used in conjunction with the MicroSEQ ID Microbial Identification Software versions 3.0 & 3.1 respectively. The software contains over 1300 reference sequences, helping determine mold sequences.
The same year, PerkinElmer Inc. acquired Shanghai Spectrum Instruments Co. Ltd. with the intention of solidifying its presence in the Chinese market. Additionally, the company has also developed the Quasar C-18 used to compare Clotrimazole HPLC analysis.
In February 2020, GenMark Diagnostics Inc. published a pipeline study detailing the effectiveness of a PCR-based digital microfluidics and electrochemical detection system for rapid identification of 15 fungal pathogens. The system aims at detecting pathogenic activity directly from positive blood cultures. In June 2017, it launched ePlex fungal detection system.
Fungal Testing Kits Market- Report Scope
| | |
| --- | --- |
| Attribute | Details |
| Forecast Period | 2020-2030 |
| Historical Data Available for | 2015-2019 |
| Market Analysis | USD Million for Value |
| Key Regions Covered | North America, Latin America, Europe, East Asia, South Asia, Oceania and Middle East & Africa |
| Key Countries Covered | U.S, Canada, Mexico, Brazil, Germany, Italy, Argentina, France, U.K, Spain, BENELUX, Russia, China, Japan, South Korea, India, ASEAN, Australia & New Zealand, GCC, Turkey and South Africa |
| Key Segments Covered | Test Type, Sample Type, Application & End-User |
| Key Companies Profiled | Merck KGaA, Thermo Fisher Scientific, bioMerieux SA, ELITech Group, PerkinElmer Inc., GenMark Diagnostics Inc., Norgen Biotek, C.P.M Diagnostic Research SAS, Biomed Diagnostics Inc., PCRmax, F. Hoffman La-Roche Ltd., Hologic Inc and Bioquochem. |
| Report Coverage | Market Overview, Key Trends, Market Context, Demand Analysis, Pricing Analysis, Market Background, DROT Analysis, Segmental Overview, Regional Profiling, COVID-19 Impact Analysis and Competition Analysis |
| Customization & Pricing | Available upon Request |
Key Questions Answered in the Report
How has the Fungal Testing Kits Market fared?

The global fungal testing kits market was valued at US$ 889.6 Mn in 2015 and acquired a value of US$ 1.2 Bn in 2019. This upsurge was largely a product of rising innovations and technological advancements to cater to the rapidly increasing incidences of fungal infections.

What is the future of fungal testing kits market?

According to FMI, the fungal testing kits market will represent an incremental $ opportunity worth US$ 2.1 Bn between 2020 and 2030, and an absolute opportunity of US$ 118.7 Mn in 2021 over the current year. An astounding 10.2% CAGR is predicted for the 2020-2030 forecast decade.

What drivers underpin market expansion for the upcoming decade?

Rising incidence of superficial and systemic fungal infections, ongoing initiatives to develop and promote testing of antifungal drugs, wider commercial availability of improved diagnostics, growing awareness programs, development of real-time testing techniques and heightening life expectancy are all expected to drive the fungal testing kits market growth in future.

What are the possible impediments or hindrances to the predicted trajectory?

High costs associated with procuring testing kits, combined with social and cultural barriers regarding fungal infection determination in certain body parts are anticipated to mar expansion prospects in the long-run.

Will the COVID-19 pandemic impact sales of fungal testing kits?

Yes. The COVID-19 pandemic is expected to have an impact on the fungal testing kits market, albeit on a small-scale. As lockdown restrictions tighten, patients and healthcare providers are exploiting online fora to avail their supply of drugs and equipment, helping sustain market demand.

Outline the degree of competition and identify the prominent players.

The global fungal testing kits market is fairly fragmented, characterized by the presence of multiple vendors. The landscape is interspersed with product launches, research & development projects, strategic acquisitions & collaborations, and academic publications.

Prominent players in the landscape are as follows: Merck KGaA, Thermo Fisher Scientific, bioMerieux SA, ELITech Group, PerkinElmer Inc., GenMark Diagnostics Inc., Norgen Biotek, C.P.M Diagnostic Research SAS, Biomed Diagnostics Inc., PCRmax, F. Hoffman La-Roche Ltd., Hologic Inc and Bioquochem.
Enquiry before Buying
Is this research conducted by Future Market Insights?

Yes, the fungal testing kits market research has been conducted by expert analysts of Future Market Insights through a combination of primary research and secondary research. To know more about how the research was conducted, you can speak to the research analyst

What research methodology is followed by FMI?

FMI follows a methodology that encompasses the demand side assessment of the market, and triangulates the same through a supply side analysis. This methodology is based on use of standard market structure, methods and definitions. Request detailed methodology.

Who are the respondents for primary research?

FMI speaks to stakeholders across the spectrum, including C-level executives, distributors, product manufacturers, industry experts. For a full list of primary respondents, please reach out to us.

What are the sources of secondary research?

FMI conducts extensive secondary research through proprietary databases, paid databases, and information available in the public domain. We refer to industry associations, company press releases, annual reports, investor presentations, and research papers. More information about desk research is available upon request.

Is a sample of this report available for evaluation?

Yes, you can request a sample and it will be sent to you through an email.

How can I buy this report?

FMI provides a secure online payment system to buy report seamlessly. You can buy the report securely and safely.
Key Segment
Test Type
Molecular Test
Chromogenic Test
Others
Sample Type
Skin
Urine
Vaginal Secretions
Blood
Cerebral
Others
Application
Research
Susceptibility Testing
Medical Diagnosis
Others
End-User
Diagnostic Laboratory
Hospitals
Pharmaceutical Companies
Research and Academic Institutes
Region
North America (U.S & Canada)
Latin America (Mexico, Brazil, Argentina and Rest of Latin America)
Europe (EU-5, BENELUX, Russia and Rest of Europe)
East Asia (China, Japan and South Korea)
South Asia (India, ASEAN and Rest of South Asia)
Oceania (Australia & New Zealand)
Middle East and Africa (GCC, Turkey, South Africa & Rest of MEA)
Need specific information?
Talk Show:
The Rise of Intelligent Packaging
Personalized, Connected and Sustainable
November 18, 2021
11:00-11:45 AM PST (USA & Canada)
This is a LIVE session