Increasing Awareness for Health Related Conditions Fuels Demand
Growing awareness of patients about the treatment of various diseases, unhealthy lifestyle, growing geriatric population base globally are some of the main drivers for the potential growth of the l-carnitine industry. Additionally, obesity related complication such as chronic fatigue, diabetes, and heart attack are some of the key driver which can increase the consumption of l-carnitine in the near future.
However, along with these positive factors, some other factors which can restrict the growth of market such as, fluctuating raw material prices, cheap prices of substitutes, etc. Manufacturers have a strong opportunity to develop a manufacturing hub in China and India as a result of rising raw material production efficiency, cheap price, and low-rate labor availability are some of the factors that can create more opportunities for manufacturers in the coming evaluation period.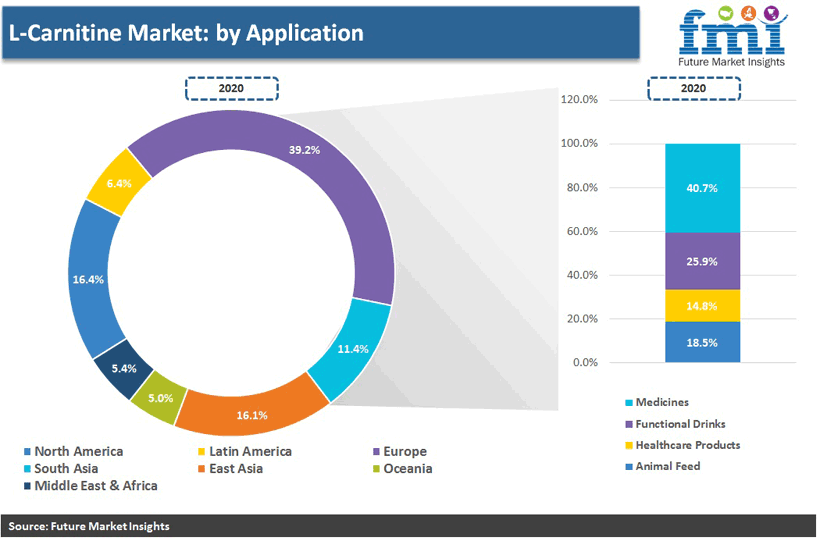 Developing Countries Offer Lucrative Growth Opportunities
Overall, North America is experiencing the positive outlook in L-carnitine production potential due to the high prevalence of obesity among the population base and the rising incidence of related issues, and is being used in growing end-use industries, including food, pharmaceutical and personal care industries. The l-carnitine market is anticipated to register healthy growth owing to increasing end-user application across the world.
The Asia Pacific market is expected to witness for rapid growth during the forecast period, especially in China and India. Moreover, increasing manufacturing capacity, cheap prices of raw materials quality standard of products, increasing health concern and growing population in emerging economics such as India and China is expected to boost the growth the Asia Pacific L-carnitine market.
However, the recent coronavirus outbreak may hamper the growth of the market to an extent. Lockdown imposed in China, India and other countries to contain the spread of COVID-19 has caused disruptions in supply chain. This can negatively impact the overall market.
Low customer awareness in Eastern Europe and the Middle East & Africa area over the forecast period is expected to be prominent constraints on market growth. Latin America, as compared to the Middle East & Africa region, is expected to see weak growth. A number of countries around the world have started to implement very tough steps to avoid the spread of the Covid-19 outbreak. Countries and world capital were placed under tight lockdown, putting a total halt to the major manufacturing chains.
L-Carnitine Increasing Manufacturing Innovations Witness Growth
The L-carnitine market is expected to witness significant growth over the forecast period owing to increasing innovations in manufacturing processes. Chemical synthesis and bioprocess are the commonly used processes for manufacturing. Bioprocess generated a large market share in 2018, and the trend is projected to continue over the forecast period due to the highest yield and environmental benefits it provides.
Chemical synthesis is gaining traction on the market gradually though. Chemical multistep racemization is the most commonly used chemical synthesis process for the manufacturing of L-carnitine, which generates racemic mixture with D-carnitine as a byproduct. In general, the cycle starts with the inclusion of raw materials such as epichlorohydrin and trimethylamine, accompanied by the isolation of a racemic mixture by fractional crystallization.
How Growth will Unfold
With increased implementation of new rules regarding supplement markets in different countries, market players are hard pressed to adjust their marketing strategies to each country's regulations. Such players emphasize further the distinction of nutritional statements and product ingredients according to the rules and consumer expectations for an increased customer base and a stronger global presence. It has contributed to emphasis on launching new product portfolio line, thus maintaining a reliable, high-quality raw material supply through mergers and acquisitions.
Manufactures are integrating a line of vegan L-carnitine supplements into their product range in an effort to reach rising vegan consumers. For instance, in October 2019, Lonza announced the launch of vegan ingredient formulation called MuscleGuard - a patent blend of four nutrients - L-carnitine, Leucine, and Creatine with vitamin D.
World's Most Profilic Intelligence Engine
Get Access To The World's Largest Market Research Database. Ngage with a revolutionary intelligence engine that scale and pricing that flexes as per your needs
Sign Up Now
L-CARNITINE SUPPLEMENTS MARKET TAXONOMY
The global L-Carnitine market is segmented in detail to cover every aspect of the market and present complete market intelligence to readers.
Grade
Food Grade
Pharmaceutical Grade
Feed Grade
Application
Functional Drink
Medicine
Healthcare Product
Animal Food
End use
Male Infertility
Kidney Treatment
Bone Mass
Distribution channel
Region
North America
Latin America
Europe
East Asia
South Asia
Oceania
MEA
Need specific information?