L-Carnitine Supplements Market Value to Surpass US$ 378.7 Bn in 2030
The global L-carnitine supplements market exhibits CAGR of 3.2% and will surpass the mark of US$ 378.7 Bn by 2030. This FMI study reveals that the market will grow at a steady pace during 2020 - 2030.
L-carnitine additives are used to increase the rate of lactation in cows. Alternatively, oral administration of L-carnitine is recommended for increasing sheep in order to improve plasma glucose concentrations. Consistent use of L-carnitine supplements, however, has been shown to have positive effects on growth efficiency, carcass composition, and pig breeding. Changing the eating habits of the elderly population often means reduced appetite and lower energy rates. The reduction in the consumption of nutritious food results in a decline in dietary intake of both L-carnitine and L-carnitine. This reduction in energy metabolism can be reversed with L-carnitine supplementation because of the low levels of L-carnitine.
KEY RESEARCH FINDINGS
Majorly buoyed by the thriving health & wellness trend among consumers and continued application in animal feed industry, consumption of L-carnitine supplements sustains in global market.
Sales of L-carnitine supplements are poised at a sluggish rate over the projection period, 2020 – 2030.
Technological advancements related to manufacturing techniques are projected to play a significant role in driving market growth.
North America continues to be the key market for L-carnitine supplements.
Market consolidation in Asia Pacific remains key to gaining a distinct advantage due to growing consumer spending on health products and rapid adoption of fitness trends, especially among proactive millennial population.
Increasing government investments in healthcare and similar industries is further expected to present lucrative opportunities for key players in the L-carnitine supplements market.
Rising manufacturing efficiency, low prices of product quality standards for raw materials, increasing health concerns and growing populations in emerging economies such as India and China are expected to fuel growth in the Asia Pacific L-carnitine market.
KEY FACTORS SHAPING THE L-CARNITINE SUPPLEMENTS MARKET
Rising Consumer Inclination Towards Health-centric Regime
Rising health concerns among consumers, especially geriatric cohort, are primarily responsible for increasing adoption of L-carnitine supplements. As the older generation is more prone to disorders related to heart, and kidney, L-carnitine supplements are increasingly becoming key ingredient in therapeutics. In addition, consumers worldwide are showing greater inclination towards health-centric products as part of their preventive healthcare. This again is auguring well for L-carnitine market.
Animal Feed Remains Primary Application Area
L-carnitine supplements are increasingly finding immense use in animal feed. Driven by rising concerns regarding overall safety and quality of meat and meat products, producers are leveraging L-carnitine supplements in such products, thus, boding well for global L-carnitine market. L-carnitine is used in producing of feed for several animals including, pigeons, pigs, and racing horses, with the aim to enhance their daily performance, average rate of gain, and overall progress. Such use cases are providing further impetus to L-carnitine supplements market in coming years.
COVID-19 Impact on L-carnitine Supplements Market
The coronavirus (COVID-19) pandemic is affecting not only humankind, but also global economic order. The pandemic is putting squeezing on L-carnitine supplements market, especially in China, where the virus originated. As such, governments in several countries in APAC including, China, and India, have imposed nationwide bans, and logistics restrictions to curb the contagion of the pandemic. This has resulted in severe disruptions in supply chain of L-carnitine supplements market.
L-CARNITINE SUPPLEMENTS MARKET STRUCTURE ANALYSIS
Market players are focused on providing vast product portfolio, better customer service, and enhanced value to their customers
In addition, they are offering standalone or integrated and cost-effective solutions to assist organizations.
They put high emphasis on providing customized products to their clients to gain a competitive edge.
These companies ensure to equip their facilities with high technical expertise and operational capacity to offer integrated services to their clients.
Report Metric

Details

Base year considered

2019

Actual estimates/Historical data

2015 – 2019

Forecast period

2020 – 2030

Forecast units

Value (USD) Bn

Segments covered

Grade, Application, End use. 

Regions covered

North America, Latin America, Europe, APEJ, Japan, and MEA.

Key Players

Lonza Group Ltd., Northeast Pharmaceutical Group Co., Ltd. (NEPG), Biosint S.p.A., Cayman Chemical, Merck KGaA, Tokyo Chemical Industry Co., Ltd., Ceva Santé Animale S.A., Kaiyuan Hengtai Chemical Co., Ltd., Chengda Pharmaceuticals Co. Ltd., Huanggang Huayang Pharmaceutical Co. Ltd., and Hubei Yuancheng Technology Co. Ltd.

Growth Drivers

Rising concerns among consumers regarding health.
Greater emphasis on R&D to sustain market competitiveness.

Report coverage

Revenue forecast, company share, competitive landscape, growth factors, and trends
Increasing Awareness for Health Related Conditions Fuels Demand
Growing awareness of patients about the treatment of various diseases, unhealthy lifestyle, growing geriatric population base globally are some of the main drivers for the potential growth of the l-carnitine industry. Additionally, obesity related complication such as chronic fatigue, diabetes, and heart attack are some of the key driver which can increase the consumption of l-carnitine in the near future. However, along with these positive factors, some other factors which can restrict the growth of market such as, fluctuating raw material prices, cheap prices of substitutes, etc. Manufacturers have a strong opportunity to develop a manufacturing hub in China and India as a result of rising raw material production efficiency, cheap price, and low-rate labor availability are some of the factors that can create more opportunities for manufacturers in the coming evaluation period.
Developing Countries Offer Lucrative Growth Opportunities
Overall, North America is experiencing the positive outlook in L-carnitine production potential due to the high prevalence of obesity among the population base and the rising incidence of related issues, and is being used in growing end-use industries, including food, pharmaceutical and personal care industries. The l-carnitine market is anticipated to register healthy growth owing to increasing end-user application across the world.  
The Asia Pacific market is expected to witness for rapid growth during the forecast period, especially in China and India. Moreover, increasing manufacturing capacity, cheap prices of raw materials quality standard of products, increasing health concern and growing population in emerging economics such as India and China is expected to boost the growth the Asia Pacific L-carnitine market. However, the recent coronavirus outbreak may hamper the growth of the market to an extent. Lockdown imposed in China, India and other countries to contain the spread of COVID-19 has caused disruptions in supply chain. This can negatively impact the overall market.
Low customer awareness in Eastern Europe and the Middle East & Africa area over the forecast period is expected to be prominent constraints on market growth. Latin America, as compared to the Middle East & Africa region, is expected to see weak growth. A number of countries around the world have started to implement very tough steps to avoid the spread of the Covid-19 outbreak. Countries and world capital were placed under tight lockdown, putting a total halt to the major manufacturing chains.
L-Carnitine Increasing Manufacturing Innovations Witness Growth
The L-carnitine market is expected to witness significant growth over the forecast period owing to increasing innovations in manufacturing processes. Chemical synthesis and bioprocess are the commonly used processes for manufacturing. Bioprocess generated a large market share in 2018, and the trend is projected to continue over the forecast period due to the highest yield and environmental benefits it provides. Chemical synthesis is gaining traction on the market gradually though. Chemical multistep racemization is the most commonly used chemical synthesis process for the manufacturing of L-carnitine, which generates racemic mixture with D-carnitine as a byproduct. In general, the cycle starts with the inclusion of raw materials such as epichlorohydrin and trimethylamine, accompanied by the isolation of a racemic mixture by fractional crystallization.
Animal feed holds leading revenue share
Healthcare products to showcase noteworthy CAGR
Chemical synthesis accounts for highest market share
Bioprocess to rapidly grow over the forecast period
How Growth will Unfold
With increased implementation of new rules regarding supplement markets in different countries, market players are hard pressed to adjust their marketing strategies to each country's regulations. Such players emphasize further the distinction of nutritional statements and product ingredients according to the rules and consumer expectations for an increased customer base and a stronger global presence. It has contributed to emphasis on launching new product portfolio line, thus maintaining a reliable, high-quality raw material supply through mergers and acquisitions.
Manufactures are integrating a line of vegan L-carnitine supplements into their product range in an effort to reach rising vegan consumers. For instance, in October 2019, Lonza announced the launch of vegan ingredient formulation called MuscleGuard - a patent blend of four nutrients - L-carnitine, Leucine, and Creatine with vitamin D.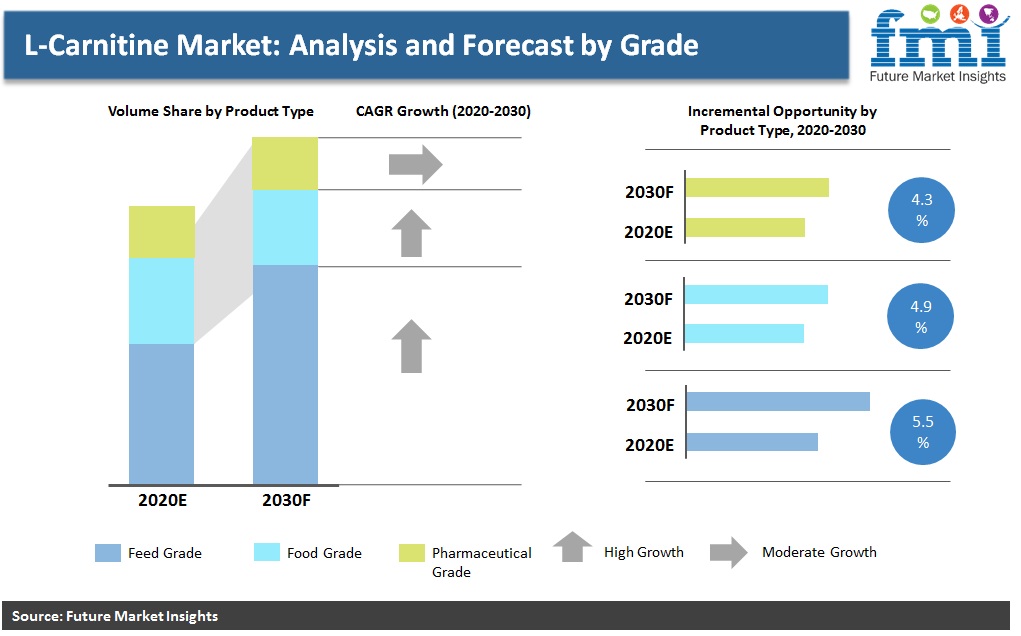 * This data is only a representation. Actual data may vary and will be available in report.
Click Here To Know How The Growth Will Unfold
Custom Market Research Services
FMI offers custom market research services that help clients to get information on their business scenario required where syndicated solutions are not enough.
Overview
L-Carnitine Market: Global Industry Analysis 2015-2019 & Opportunity Assessment 2020-2030
A recent market study published by Future Market Insights on the L-Carnitine market offers global industry analysis for 2015-2019 & opportunity assessment for 2020-2030. The study offers a comprehensive assessment of the most important market dynamics. After conducting a thorough research on the historical, as well as current growth parameters of the L-Carnitine market, the growth prospects of the market are obtained with maximum precision.
L-carnitine Supplements Market Taxonomy
The global L-Carnitine market is segmented in detail to cover every aspect of the market and present complete market intelligence to readers.
Grade
Food Grade
Pharmaceutical Grade
Feed Grade
Application
Functional Drink
Medicine
Healthcare Product
Animal Food
End use
Male Infertility
Kidney Treatment
Bone Mass
Region
North America
Latin America
Europe
East Asia
South Asia
Oceania
MEA
How the research was conducted?
Primary Research
C - Level Executives
Marketing Directors
Sales Heads
Production Managers
Distributors Heads
Sales Executives
Product Manufacturers
Distributors
Traders
Industry Experts
End Users
Current Market Dynamics and Challenges
Market Characteristics
Market Performance and Growth Quadrants
Competition Structure and Market Structure
Strategic Growth Initiatives
Near-term and Long-term Market Growth Prospects
Market Segment Splits and Authenticity
Opinions on Market Projections and Validity Of Assumptions
Secondary Research
Industry Publications

Industrial Week
Industrial Product Review
Industrial Magazine

Industry Associations

Dieticians Association
Food and Agriculture Organization

Company Press Releases
Annual Reports and Investor Presentations
Research Papers
Government Websites and Publications
Trade Websites
Primary Interview Splits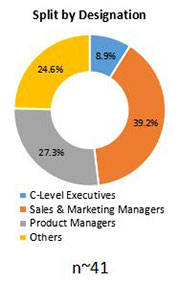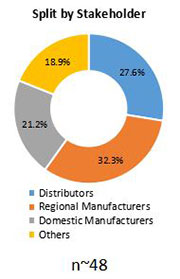 To Learn More About our Comprehensive Perspective on L-carnitine Supplements Market,
Get in touch
COVID -19 : Impact Analysis
Request the coronavirus impact analysis across industries and markets
Request Covid -19 Impact
CASE STUDIES
See how our work makes an impact.
At FMI, we design strategies that are adaptive, impactful, and implementable.