Direct Flat-panel Detectors Capture 45% of Revenue Share
Direct flat-panel detectors continue to account for relatively high revenue share as compared to their indirect counterparts and computed radiography (CR) detectors. Flat-panel detectors are emerging as the ideal diagnostic X-ray systems which perform all current radiological modalities at reduced dose, in addition to providing high-quality radiograph which can be used for real-time imaging.
In terms of panel size, large-area flat-panel detectors are in demand against their small-area variants. As 7 in 10 units of medical X-ray detectors sold in 2019 were large-area flat-panel, manufacturers have specifically focused on this category.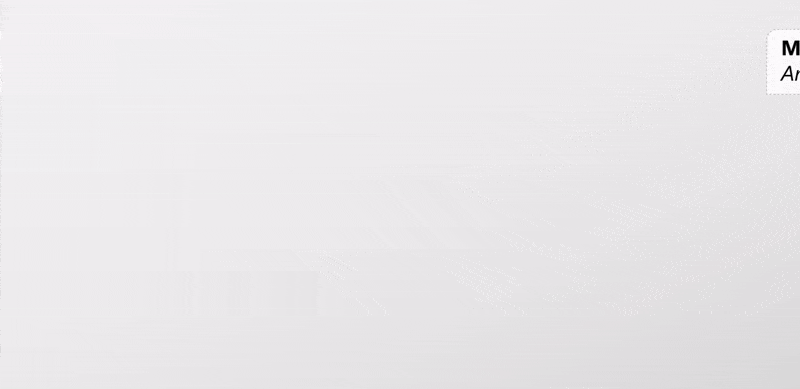 North America in Vanguard, East Asia Promises New Opportunities
Accounting for 35% of total sales value, North America continues to maintain its lead in the global medical X-ray detectors market. With patients at the center of health model and growing pace of digital transformations, the war of innovation supremacy among key market players are intensifying in the region. Manufacturers are also setting their eyes on key opportunities in East Asia, on the back of rising government investments in patient empowerment, healthcare technology trends, and more precise interventions and treatments. Sales of medical X-ray detectors in East Asia are set to witness an average annual increase of 6.5% during the period 2019-2029.
Cloud-based Medical Imaging and Portable Technologies to Dictate New Trends
As storage of increasing volume of patient data generated from imaging modalities are emerging as key challenges in the healthcare industry, manufactures are focusing on addition of cloud computing services in their product offering. Additionally, an embrace of R&D has been underway for the development of portable X-ray detectors using flexible electronics that in combination with portable X-ray sources could fit into ambulances for diagnosis on the road. A shift from silicon to plastic-based X-ray detectors and from analog to digital detectors, in line with manufacturers' focus on leveraging advanced technologies, are expected to remain instrumental to future growth of the medical X-ray detectors market.
How Growth will Unfold
Over the years, demand for medical X-ray detectors is gaining a boost from strong focus on prevention and early diagnosis of diseases along with introduction of advanced technologies in fluoroscopy devices and C-arms devices. In terms of module, digital X-ray equipment are witnessing higher demand and innovations as compared to retrofit X-ray systems. By 2029, retrofit X-ray systems are expected to lose their revenue share to the former system which is projected to account for 70% of the total sales. However, high cost of advanced medical imaging equipment and other costs associated with installation and radiation shielding are adding to reluctance of end users, especially in low- and mid-income countries.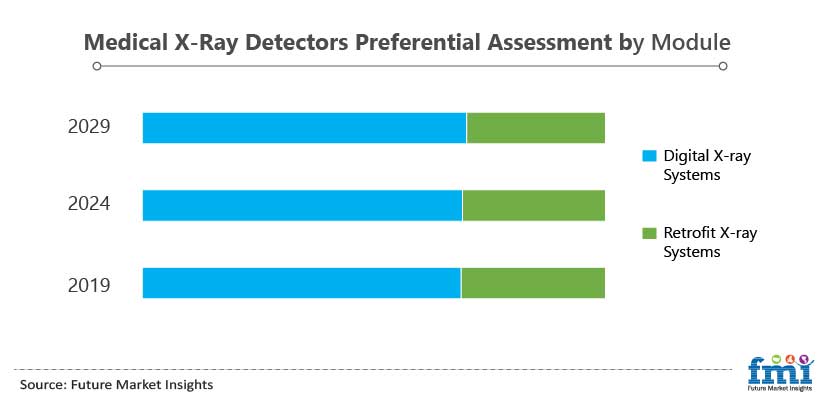 FREQUENTLY ASKED QUESTIONS ABOUT MEDICAL X-RAY DETECTORS MARKET
What are the factors contributing to the growth of medical X-ray detectors market?
Increase in number of radiography tests performed globally each year, new and advanced product introductions by market players are expected to boost the market revenues. Early diagnosis rate will continue to significantly benefit the medical X-ray detectors market.
How is the cost associated with X-ray detectors hampering market growth in emerging economies?
Cost of digital X-ray detectors is comparatively higher than traditional x–ray systems due to which, adoption of these systems in lower- and middle-income countries is low. Moreover, other costs associated with accessories of X-ray leads to economic burden on healthcare facilities, which in turn reduce adoption rate of digital X–ray detector.
What are the leading trends among end users contributing to growth of the medical X-ray detectors market?
Adoption and installation of digital and portable devices in healthcare facilities are leading trends in the global medical X-ray detectors market. To enhance customer experience and streamline diagnostic imaging process, healthcare facilitates are now replacing conventional devices by portable and technologically advanced imaging devices.
Which type of detector has noteworthy growth potential during the forecast period?
Market for major diagnostic imaging modalities including conventional X-ray device i.e. stationary analog devices, are reaching to maturity stage in developed countries such as the U.S. and the U.K. This signifies that much of the future demand in these imaging segments will be for alternative and efficient devices thus pushing the sales of digital mobile X-ray device.
Which region is expected to offer lucrative growth opportunities for the medical X-ray detectors market?
North America and Europe, being highly mature markets with expertise and resources, are expected to dominate the global medical X-ray detectors market. Also, Asia Pacific is expected to be lucrative region as majority of manufacturers of X-ray detectors are focusing to launch their products in the region.
How is the competition scenario in the medical X-ray detectors market?
Leading players in medical X-ray detectors market such as GE Healthcare, Canon, Philips and Hitachi, are focusing on business expansions by entering into partnership, mergers, sales agreement, and acquisitions with local manufactures from emerging economies.
MEDICAL X-RAY DETECTORS MARKET TAXONOMY
The global medical X-ray detectors market is segmented in detail to cover every aspect of the market and present a complete market intelligence approach to the reader.
Product
Indirect Flat-Panel Detectors
Direct Flat-Panel Detectors
Computed Radiography (CR) Detectors
Panel Size
Large-Area Flat-Panel Detectors
Small-Area Flat-Panel Detectors
Modality
Portable Detectors
Fixed Detectors
Module
Digital X-ray Systems
Retrofit X-ray Systems
End User
Hospitals
Diagnostic Centers
Region
North America
Europe
Latin America
South Asia
East Asia
Oceania
Middle East And Africa
Need specific information?