An Incisive, In-depth Analysis on the Medication Management System Market
This study offers a comprehensive, 360 degree analysis on the Medication Management System market, bringing to fore insights that can help stakeholders identify the opportunities as well as challenges. It tracks the global Medication Management System market across key regions, and offers in-depth commentary and accurate quantitative insights. The study also includes incisive competitive landscape analysis, and provides key recommendations to market players on winning imperatives and successful strategies.
The conventional procedure of medication, from pharmaceutical distribution centers and pharmacies to patients, has been both inefficient and error-prone. This has significantly delayed therapies, escalated costs, increased risks, and complicated efforts for meeting regulatory requirements. This has further led pharmacists, administrators, and nurses are discovering benefits of automating medication use processes, thereby resulting into the development of medication management systems.
Pharmacies are Adopting Medication Management Systems for Improving Efficiency of their Operations
Growing requirement for streamlining workflow to impart efficient and better care to patients had led pharmacies to adopt medication management systems, which are user-friendly and enable easy integration with ERP. Pharmacy management system providers are consequently helping these pharmacies with effective management solutions, which enable customization and streamlining of workflow with a variety of functions & features. Pharmacies adopting medication management systems have realized improvements in profitability, safety and efficacy of their operations, which in turn has enabled them in providing better care. Introduction of new features in medication management systems is being witnessed as one of the latest trends in the market. Vendors in the global medication management systems market are increasingly competing with one another by innovating their product offerings equipped with features including productivity tools, and touchscreen systems for enabling easy navigation.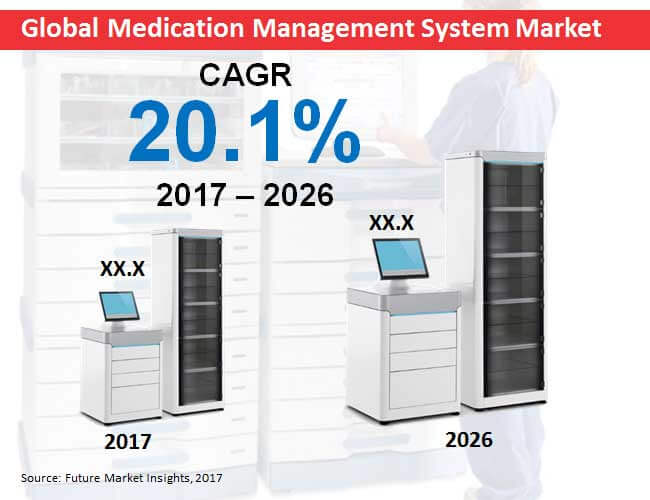 Retail pharmacy outlets are becoming aware about advantages of medication management systems in smooth workflow of operations and enhancing productivity. These systems enable optimization, reducing patient waiting time & operational costs, and alleviating profit margins through the development of IT infrastructure. Healthcare organizations are deploying medication management systems owing to their provision of process improvements in terms of quality and productivity. Managing information is significantly facilitated by use of medication management systems when it comes to vital parameters including regulatory & compliance information, patient analysis, account balances, supplier costs, and valuation analysis. Meanwhile these systems help healthcare settings in generating reports on the administrative & clinical performance that can be utilized for practice improvement plans.
North America to Dominate the Market in Terms of Revenues
North America will continue to dominate the global market for medication management system, in terms of revenues. The region's dominance in the market can be attributed to robust adoption of Hospital Information Systems, mounting incidences of chronic and infectious diseases, technological advancements, and growing number of prescriptions from physicians. The market in Asia-Pacific excluding Japan (APEJ) has been poised to exhibit the highest CAGR through 2026. Rapid improvements in healthcare infrastructure, growing number of hospitals and occupancy of large patient pool are major factor driving the market growth in APEJ.
Medication, along with its associated cost accounts for a huge portion of the pharmacy and hospital budgets. Healthcare systems across the globe are striving to reduce spending and curtail wastage of resources. This has further led to an imperative requirement for workflow standardization, efficient procurement of inventory, and streamlining processes in various healthcare settings. Inventory management solutions are therefore expected to be the most lucrative software in the market during 2017 to 2026.
Key Research Findings from FMI's Report
Hospitals will continue to be the most remunerative end use segment in the global market for medication management system

Based on mode of delivery, web-based solutions are projected to reflect the fastest expansion through 2026
Competition Tracking
Key participants in the global market for medication management system are increasingly focusing on strategies such as M&A for increasing their market reach. Several leading market players are concentrating on the acquisition of smaller firms or new entrants for capitalizing on their technological innovations, which in turn will enable them in enhancing their product portfolio. Companies profiled by the report include Omnicell, Inc., Cerner Corporation, McKesson Corporation, Medication Management Systems, Inc., Talyst, GE Healthcare, Becton, Dickinson and Company, and Allscripts.
Medication management systems currently available in the market fail to impart improvements in patient safety, as they lack software capabilities and additional interfaces alongside complex product designs. This consequently creates challenges in their utilization, and burden the patients owing to additional prices associated with the device subscriptions. The requirement for increased value offerings is quite high in medication management systems. In addition, greater emphasis is being given on the provision of real-time medical intervention, reduction in unnecessary hospital readmissions & visits, and enhancing connectivity between patients & doctors.
A new insightful report has been developed recently by Future Market Insights (FMI), titled "Medication Management System Market: Global Industry Analysis (2012-2016) & Opportunity Assessment (2017-2026)". Forecasts on the global medication management system market have been delivered in the report, and the market has been examined in detail. The report offers important dynamics that impact the market expansion. Coupled with the information about latest market trends, augmenting factors and restraining factors that affect growth of the market, the report includes an in-depth study on the data with regard to multiple market parameters.
Report Structure
The report begins with a chapter on the "executive summary", which propounds a précis of the global medication management system market, in accordance with the information about crucial market numbers such as the historical CAGR (2012-2016) & the forecast CAGR (2017-2026). These market numbers rendered are related to the segments included in the report. A chapter titled "overview" trails the executive summary, incorporating the definition of "medication management system" that succeeds a succinct market introduction. This chapter clearly depicts the wide scope of the global medication management system market. Few chapters in the report deliver intelligence on the pricing analysis along with the cost structure apropos to current condition of the global medication management system market.
Market Taxonomy
Moving further, the report imparts forecast on global market for medication management system based on a segmentation-wise analysis. Classifying the global market for medication management system into four key segments viz. mode of delivery, end-use, software type, and region, the report provides associated market numbers on the basis of Y-o-Y growth comparison, the market share comparison, and revenue comparison. Geographically, the global medication management system market has been characterized into Middle East & Africa (MEA), North America, Latin America, Asia-Pacific excluding Japan (APEJ), Europe, and Japan.
| Region | Software Type | End Use | Mode of Delivery |
| --- | --- | --- | --- |
| | Computerized Physician Order Entry | | |
| | Clinical Decision Support System Solutions | | |
| | Electronic Medication Administration Record | Other Healthcare Institutions | |
| | Inventory Management Solutions | | |
| | | | |
| | | | |
Competition Landscape
An attentive analysis of the global medication management system market's competition landscape is issued in the report's concluding chapter, which incorporates information about prominent industries significantly contributing to the market expansion. The occupancy of the market players has been tracked and profiled in the report with the help of an intensity map. The report identifies key market participants scrupulously, and offers insights based on key financials, key developments, company overview, SWOT analysis, and product overview.
Research Methodology
A robust, proven & tested research methodology has been leveraged by FMI's analysts for compiling the report on the global medication management system market. This research methodology has helped the analysts in delivering accurate insights appertaining to the global medication management system market. The research methodology used depends completely upon secondary & primary researches, to glean important information related to the market. The intelligence offered has been validated numerous times by analysts for ensuring its authenticity, and for making the report an authoritative & reliable reference source for its readers.
COVID -19 : Impact Analysis
Request the coronavirus impact analysis across industries and markets
Request Covid -19 Impact
CASE STUDIES
See how our work makes an impact.
At FMI, we design strategies that are adaptive, impactful, and implementable.